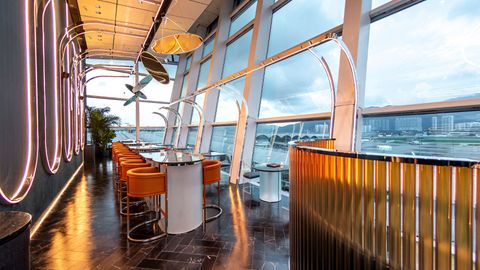 Paging to departures: anyone looking for a flight before their flight. Intervals is a brand-new cocktail bar in Hong Kong Airport that offers first-class seats to some of the best views, drinks and dining in town. We sidled up to the bar with the founder and architect for a few strong beverages and to chat about making airports great again.
LET'S SAY YOU HAVE 15 minutes before boarding. You could browse the bookstore, grab a coffee… or have a pair of sip-sized craft cocktails inspired by a dream destination, with delicious pintxos to pair. We know where we're heading. Perched atop the skybridge that links Hong Kong Terminal 1 to its new extension of gates is Intervals, the only cocktail bar in HKG and the highest spot you can get without being in the aircraft control tower. Outside the bar is lush with greenery and the interior is all about time, travel and reflection. This is the place to indulge in a flight before your flights, with a bird's-eye view of all the other flights coming and going from this revitalized hub.
The menu and the seating are tailored for how much time you have before you need to hop your plane: 15 minutes is a two-drink flight. Half an hour works out to four beautiful mini-cocktails. And if you've got 45 minutes, then it's a stunning six-drink flight. All of which will not only inspire you with their playful flavors from liquors native to spots all over the globe, but also ensure you're properly blissed out before boarding. (Yeah, they're strong; definitely order food. And non-drinkers, not to worry, they have an equally well-considered mocktail menu.)
Join our editor-in-chief for drinks and laughs at Intervals with founder Mei Mei Song and designer Mitch Squires in the video here:
From the folks behind Plaza Premium Group – that pioneering family who invented the concept of airport lounges where you can pay to enter, without airline status or tickets in the pointy end of the plane – Intervals is part of their next-generation evolution to make travel fun again. Just take a look at their fleet of vibrant violet ALLWAYS electric-airport buggies zipping smart travelers around HKG to see what we mean.
Like many leaders in travel, Intervals specifically and Plaza Premium in general are harkening back to the golden age of flying, where heading to the airport was an easy-breezy, luxury experience, but coupling it with modern ideas like showstopping design, small-batch and local Hong Kong-based producers, and of course Instagram-friendliness.
So, we suggest getting to HKG early, or even scheduling a long layover – not to beat the lines (there are barely any in this efficient airport anyway) but to while away your time in a gorgeous glass box where every sip will provide inspiration for your next trip or conjure memories of a past one. Which, incidentally, sounds to us like a sentiment the 50 Best Bars voting academy might swoon for as well.
Watch the rest of our series with Plaza Premium Group, We Make Travel Better, here.
---
Article sponsored by Plaza Premium Group.
Images courtesy of Plaza Premium Group.
Written By