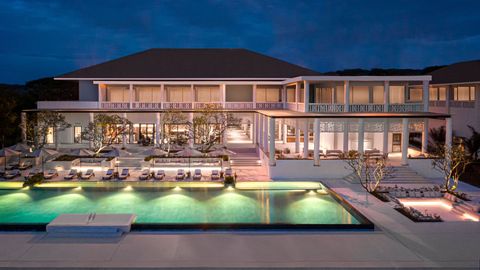 You probably know him as the founder of Aman, but we can thank Adrian Zecha for a host of groundbreaking hospitality and media endeavors, many of which we chatted about during a leisurely conversation — don't call it an interview; he doesn't do those anymore! — at the new Azerai Ke Ga Bay. Read on for some of his musings on publishing, serendipity, disobeying his dad, and asking the right people the right questions at the right time. DATELINE: THE BRAND-NEW Azerai Ke Ga Bay, in Vietnam, just a few hours east of Saigon. Travel+Leisure Southeast Asia, Hong Kong and Macau was invited for an exclusive weekend for the resort's long-awaited grand opening (and to preview the upcoming residences) with hotelier legend Adrian Zecha, just a couple of months after his 90th birthday. We thought we'd bring you along! Overachiever, the man certainly is, but did you know Adrian Zecha almost got kicked out of college? Luckily, his dad, who had been the first Indonesian-national to get a university diploma in the U.S., was several steps ahead of him, and had sent his somewhat wayward third son to study pre-med at a school where an old friend of his was the dean. It was called Dickinson College, in Carlise, Pennsylvania, and I know it because I spent my high school summers there at nerd camp. This astonishing (Dickinson is a tiny school) point of commonality kick-started our conversation, and then the next bonkers thing I learned was he ditched his dad's doctor dreams for him and began working as a reporter at Time magazine exactly half a century before I did.
His assignments were decidedly more, er, consequential than mine, though: Cuba, Japan and the Philippines in the late 1950s, during some absurdly key periods in those countries' respective histories. Then, at age 27, he left to go off on his own and sell all his earthly belongings to found the culturally focused Asia Magazine. Based in Hong Kong, it was distributed all across the region inside English-language newspapers, many of which he persuaded to invest in his business and from most of which he even poached a prized writer. When his seed capital was nearly used up shortly after launch, Mr. Zecha went hat-in-hand to an investor who put him in touch with an upstart he knew in Australia. Turns out it was a young Rupert Murdoch. Mr. Zecha flew out to meet him, was on the ground in Oz for less than a day, and the company was saved. Murdoch bought 40 percent of the magazine. "I'm very lucky. I've always said, I'm not dumb or particularly clever. It's luck," he insists. "Luck is the opportunity… Now, of course, once the opportunity hits you and you do nothing, nothing will happen. You have to work it out. But it can only happen because that opportunity came. It has nothing to do with your freaking ability."
Perhaps, but the birth of Asia Magazine as well as the well-trod Aman origin story — that he was looking for a vacation home in Phuket and, over the two years it took to acquire the land, he realized some of his friends might want one, too, so then he thought he should build a club, then thought bigger and conceived of a hotel, which he eventually opened with 19 owners — clearly demonstrate that he has a lifelong ability for finding his own luck. He was also a co-founder of the Regent Hotels, another high-end hospitality pioneer, and GHM.
River Villa Swimming Pool at Azerai Can Tho

Bar Terrace at Azerai La Residence, Hue

A tradtional cyclo at Azerai La Residence, Hue
Now's come Azerai, a relatively new, affordable-luxury brand with three locations in Vietnam: Azerai La Residence, a century-old grande dame in the former royal capital of Hue; Azerai Can Tho, a residential-style riverine island in the Mekong Delta; and Azerai Ke Ga Bay, on the up-and-coming south-central coast.
"I have always liked Vietnam," he explains. "I was here when the cannons were going during the war. Remember when the Vietnamese soldier was able to escape from Saigon on a chinook with his family? [N.B.: Look up the story of Ba Van Nguyen – it's badass.] Yeah, I was here a week before that!" Of course he was. And 14 years later he was back with his floating hotel.
Pool Suite, Azerai Ke Ga Bay

Yoga at Sunset by Pool of Azerai Ke Ga Bay
OK, rewind! So maybe you've seen the YouTube videos of the floating hotel in North Korea? That was originally built for the Great Barrier Reef, but when the owner couldn't draw enough visitors to his far-flung location in Australia, he asked Mr. Zecha, his friend, to take it off his hands. They had it refurbed in Singapore then towed up the Saigon River, where, in the first post-war tourism boom, it thrived from 1989 to 1997, complete with a pool on a pontoon in central District 1.
I lived in Saigon a dozen years ago – incidentally, about five blocks from where the floating hotel used to be – and the Mui Ne / Phan Thiet area (check out our review of another new beach resort there here) was the closest beautiful beach vacation destination within drive distance. Known for its wind and waves for kiteboarding, otherworldly sand dunes for dune surfing, and behind-the-beach strip of bars and restaurants, the area was the go-to weekend getaway for city dwellers. There were a couple of great golf courses and the seafood was amazing, particularly the squid. Just try not to find yourself upwind of the fish sauce factories! But back then, "drive distance" could mean more than five hours from Ho Chi Minh City… until now. Just days before my visit, Vietnam finally opened a brand new expressway from the city to the coast that cut the drive to 2.5 relatively quick hours. Gamechanger. So, while Azerai Ke Ga Bay opened during the pandemic, they just now had their grand opening. Think: Clean Japanese lines. White lattice architectural elements juxtaposed against the stunning shadows the sun casts through the rich green gardens and walkways. The #viewsfordays beachfront pool, which Mr. Zecha himself commissioned.
You can see the oldest lighthouse in Southeast Asia offshore. And now this destination is a new beacon for light and life on the south coast of Vietnam.
azerai.com/resorts/azerai-ke-ga-bay; doubles from US$250.
---
Images courtesy of Azerai, unless otherwise noted.
Written By