Meet the Interior Designer of the Year. You've Probably Slept in One of His Rooms
What is it like to visit one of the world's top new resorts with its architect who also happens to be seeing it for the first time? T+L SEA accompanied Blink Design Group founder Clint Nagata on an exclusive trip to Regent Phu Quoc, in Vietnam. We talked about his new projects from Japan to Saudi Arabi, simplification, the sound of water, and his friendship with fellow starchitect Bill Bensley.
LONG BEFORE INTERIOR DESIGNER of the Year Clint Nagata received the accolade at the Design Excellence Awards in Singapore this month, Blink Design Group, the architecture and design firm he founded and for which he acts as creative partner, has been winning prizes and praise around the world. Among the recent additions to Blink's portfolio, you may have heard of the W Mina Seyahi in Dubai, Fullerton Hotel Ocean Park in Hong Kong, the JW Marriott Khao Lak in Thailand, and Roku Kyoto in Japan. Also hotly anticipated in Kyoto is a new Six Senses, and they're designing a Banyan Tree in Dongguan, China, and the NEOM Morgans Original in Saudi Arabia. Travel+Leisure Southeast Asia was invited to spend three days with Nagata in Vietnam on his first trip to see one of his recently completed properties, Regent Phu Quoc. The pandemic meant that Nagata had to manage this (and many other) projects remotely. Despite having a packed schedule of meetings and site inspections, the designer and architect makes time to show us around and chat about his work.
As his expert eyes pick out gradations in finishes and details in the grain of the flooring that a layman would never notice, Nagata shares a key factor that determines how he judges a hotel, whether crafted by his team or someone else—"I think guest rooms need to have a certain sex appeal"—but dodges a question about defining a "Blink style." Rather, he prefers to highlight what he considers their strength: the team's ability to tune into the wishes of the owner, and translate that into a guest experience before any customers even set eyes on a finished hotel.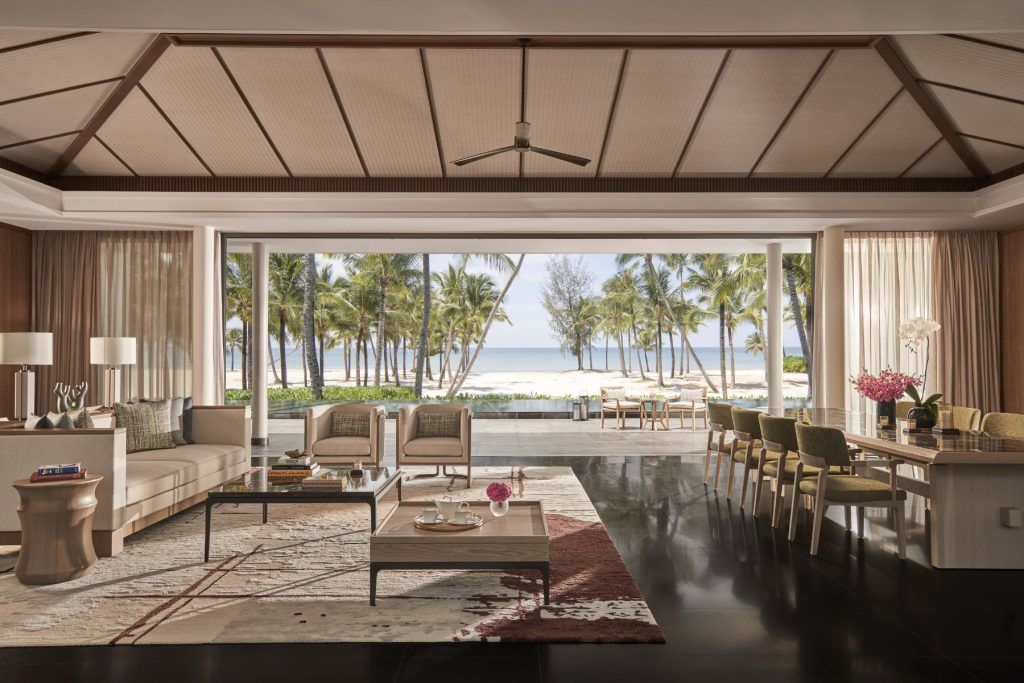 He had met BIM Group chairman Doan Quoc Viet on this very spot. Though they didn't share a spoken language, they found other ways to communicate. "He drew a diagram of the water," recalls Nagata, "and rooms that look at the bodies of water or the sea."
Nagata translated that into pools of water throughout Regent Phu Quoc, and not just for visual effect. "The sound of water is very important," Nagata says. At the same time, the Vietnamese-influenced architecture creates sightlines that lead to the sea. "To make the architecture go away was our challenge," he says, and they succeeded. On this property, you see walls but not roofs in the landscape. Many surfaces are covered in intricate Vietnamese eggshell lacquer and the plants are indigenous. Ideas attuned to the surroundings also came from further afield. Rattan-like abaca weaving from Java fits right in with the tropical setting and contemporary Czech glassmaker Lasvit was brought on to create a marine-inspired mural sculpture. 
"I don't feel that I impose my vision," he says. "Like for a suit, I'm the tailor. Does the customer want this cut or that cut? That's how I've always approached design. I find that part of my job very satisfying."
And what if you ask the tailor to reconceptualize a suit someone else originally made you? In the expansion and refit of JW Marriott in Khao Lak, the challenge was breathing new life into a Thai hotel that had been built 15 years ago with red teak floors, a lobby with a Thai roof, and older furniture. "We had to keep a lot of that, focusing on elements that make sense, looking at things that would elevate the room." Now, the vibe is calmer and more contemporary, thanks in part to the addition of pieces designed by celebrated Thai textile artist Ploenchan 'Mook' Vinyaratn in the guest rooms. 
Nagata calls the process "editing": de-coloring… creating a softer palette that works better together, like painting stained wood white… reducing… simplifying.
Finally, I ask if his style could be defined as uncluttered clean lines, and he pauses before conceding, "that's a fair assessment."  
"That's one thing that's Japanese about me," laughs Nagata, who grew up in Hawaii in a place so quiet it didn't have a traffic light.
Even with such synergies of mindset, in Japan, like anywhere, a new project can present its own challenges. Six Senses Kyoto, due to open in 2024, has the luxury wellness brand at its core, but in the ancient capital will exist in an urban setting on a long, narrow slice of land—a "tough" juxtaposition, he says. "This owner is a history buff," Nagata adds, "and there is a temple across the street built in the Heian period, so all of the design elements are inspired by that."
When he opened Blink in Bangkok 17 years ago, the small-town boy was drawn by the chaos of the big city. He also met fellow American-born, Bangkok-based hotel designer Bill Bensley, whom he credits with pointing out all the resources available there. "He made me realize how creative Thais were as designers," he said. "I like how he works with artisans."
That however is about where their similarities end. "Design-wise we sit at opposite ends of the spectrum—we hardly ever compete against each other," Nagata says about the also-prolific Bensley, who is known for his bigger-than-life, more-is-more sensibility. "I respect his work a lot."
Don't be surprised if a string of your new favorite hotels continue to have his name attached. The praise for Nagata keeps pouring in, such as the Interior Designer of the Year Award that he picked up in Singapore earlier in March. "The award wasn't necessarily for me, it was for us as a team," he modestly tells me. "I just happen to have some silly ideas sometimes." Ed. Note: Nagata is one of the most respected in his field, but we've also found his winning combo of innovation and collaboration in some of the coolest up-and-coming personalities in hospitality and design around Asia-Pacific. Can't wait to introduce them to you in our new series, Generation Create, out next week! —Jeninne