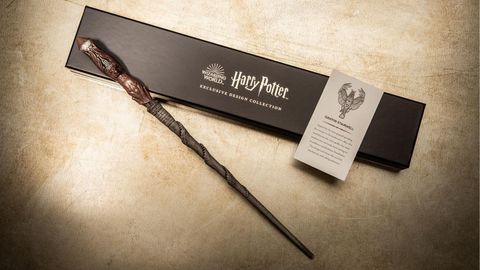 The biggest present for any Potterhead has to be a trip to Hogwarts on the famous Hogwarts Express. Growing up, that was a core fantasy we all had. Since platform 9 ¾ doesn't exist IRL, the next best thing to settle for is Harry Potter items, collector's edition. As some of them got to live their dreams, we look at the most expensive Harry Potter items ever sold at an auction.
As JK Rowling's famous Harry Potter books were brought to life over the years with the Harry Potter film franchise, the fandom continued to grow in leaps and bounds. Today, it is one of the most loved and sought-after franchises in the entire world. So, it is not surprising that Harry Potter items are sold and bought for small fortunes around the world. We have listed the most expensive ones, because we at Lifestyle Asia, love the stories behind expensive things.
Most expensive Harry Potter items ever sold
Tales Of Beedle the Bard One of my favourite Harry Potter trivia is that the most expensive Harry Potter book is not even a part of the original series. Featured in The Deathly Hallows as a story-within-a-story, this book is leather-bound and embellished with silver. But that's not what contributed to its whopping selling price. This book containing five fairy tales was inscribed and illustrated by J.K. Rowling and has only seven copies. It was sold for nearly USD 4 million at Sotheby's auction in 2007.
First edition of Philosopher's Stone The second most expensive Harry Potter item ever sold is the first edition of Philosopher's Stone. This rare edition in mint condition fetched USD 471,000, the highest amount ever for a piece of fiction in the 20th century. The auction happened in Texas in December 2021 and was bought by a mystery buyer. What makes this edition even more special is that the first edition had printed only 500 copies worldwide, out of which 300 copies were sent to libraries. This copy was one of the remaining 200.
J.K Rowling's chair No, this chair wasn't a part of the books or the movies, but this chair has a different commemorative value. This is the one that Rowling sat on during writing the first two books. This chair belongs to the set of vintage dining room chairs that Rowling got in 1995. When the chair was sold, it came with a note from Rowling herself, which mentioned that she chose it because it was the comfiest of the lot. It was initially auctioned in 2002 at a charity auction for USD 21,000 until it was auctioned again in 2013 by Sotheby's, where it sold for USD 228,000.
Original Philosopher's Stone cover illustration The cover illustration of Philosopher's Stone is just as iconic as the first edition of the book. The franchise had acquired cult status by 2001, which is when the cover illustration was bought by a private American collector of antiques for USD 110, 297.22. The illustration was done by artist Thomas Taylor using watercolour. Interestingly, this was the only illustration done by Taylor for the Harry Potter franchise.
Harry Potter's glasses
View this post on Instagram
If you thought only the books sought that kind of price at auctions, wait till you read about the Harry Potter items used in movies. The round, black, wire-framed glasses became synonymous with Harry Potter, as Daniel Radcliffe immortalised them. This legendary wardrobe piece in the films was sold for USD 20,000 in the US in 2015. This was one of the many glasses that were used over the years for the films.
Sirius Black's grey linen overcoat An indispensable character in Harry Potter, Sirius Black's graph was something that no one saw coming. Harry's godfather, played by Gary Oldman, did not appear in all the movies, but he had a profound impact on Harry's life. Throughout the movie, Sirius was seen wearing a grey linen overcoat with a suede collar and wooden buttons. This coat sold for USD 17,000 at Bonhams in 2007.
Harry Potter's Hogwarts acceptance letter A part of Harry's unforgettable Hogwarts experience was the owl delivering the Hogwarts acceptance letters at the doorstep of his Dursley home. While we saw the Dursley house being flooded with many envelopes from Hogwarts, one of them made it to a London auction. The priceless letter was sold for about USD 6,000. This letter had the original wax seal on when it was sold.
This story first appeared here.
Hero and Featured Image: Courtesy harrypotterny/Instagram
Related: Visit These Harry Potter Movie Locations On Your Next Trip To The UK!
Frequently Asked Questions (FAQs)
Question: Where can I watch all 8 movies of Harry Potter?
Answer: All eight Harry Potter films are currently streaming on Amazon Prime Video in India.
Question: How many Harry Potter movies are there total?
Answer: The franchise has eight fantasy films, beginning with Harry Potter and the Philosopher's Stone (2001) and culminating with Harry Potter and the Deathly Hallows – Part 2 (2011).
Question: Why is Harry Potter famous?
Answer: Harry Potter is famous because of its unique and easy to read storyline. It's a perfect blend of fantasy and fiction.
Question: Is Harry Potter on prime video for free
Answer: Yes, all the eight Harry Potter movies are available on Prime Video for free.
Written By