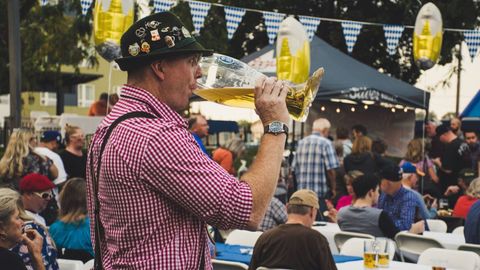 The world's largest celebration of beer, Bavarian culture, and brotherhood, Oktoberfest 2023 is rearing to trump all parties and show us how it's really done. This German festival is headlined by local beer, Lederhosen (traditional leather breeches), Dirndl (customary Bavarian women's dress), regional bites, and music! Every year, millions of people gather on the Oktoberfest grounds; merry-making rings true as they head to beer tents bedecked with benches, hop on exhilarating carnival rides, and cultivate friendships over Festbier (festival beer).
The OG Oktoberfest in Munich inspires several local celebrations across the globe, so much so that it's become a household term for party-goers. So it's likely that you've heard of a rendition of the Oktoberfest at your city's biggest mall, but if you're determined to taste the iconic carbohydrate-laden, upbeat commemoration at where it all began, we recommend you shift the gears to Munich. If this is your first time attending the annual revelry, read on for all things Oktoberfest 2023 – dates, history, what to wear, things to eat, and everything in between.
What is Oktoberfest?
The largest and most magnificent folk festival in the world, Oktoberfest is a true celebration of the senses. Held annually in Munich, the capital of Bavaria, this cultural extravaganza pays homage to the Bavarian way of life. Have you ever noticed something unique about the festival's spelling? In the German language, 'October' is spelled with a 'K'. Therefore, in reverence to the festival's origins, the original spelling, 'Oktoberfest', is preserved. The colossal celebration features a flurry of indigenous beer options, the beats of ceremonial German music played by live bands, the Riflemen's Procession, cultural performances, and carnival swings.
Oktoberfest History
The origins of this German festival can be traced back to the 1800s. It all started with the royal wedding of King Ludwig I and Crown Princess Therese of Saxony-Hildburghausen on October 12, 1818. The citizens of Munich were invited to witness the royal festivities, which included horse races, drinks, and dance. The joyous celebrations sparked such enthusiasm that it evolved into an annual tradition for the residents, eventually becoming known as Oktoberfest. The wedding was held at Theresienwiese (Therese's Meadow), which still serves as the festival's venue today.
Oktoberfest menu — food & drink
When at Oktoberfest, make sure to sample the traditional fare that spans a slew of regional delicacies. Sausage salad (Wurstsalat), headcheese (Presssack), sweet dumplings, apple strudel (Apfelstrudel), fish rolls (Fischsemmel), and Bavarian meatloaf (Leberkas) should definitely be on your radar.
Don't miss the opportunity to savor the diverse beer selection sourced from renowned Munich breweries like Paulaner and Augustiner (Munich's oldest brewery). If beer isn't your preference, don't worry; Oktoberfest offers a multitude of alternative beverages, including wine, champagne, Radler (beer mixed with lemonade), gin, vodka, Jägermeister, non-alcoholic beer, coffee, and soft drinks, among others. It's worth noting that the beer barrels at Oktoberfest don't contain just any ordinary beers; they hold specific brews produced in accordance with the Rheinheitsgebot, the German law that dictates the ingredients of beer. According to this mandate, these beers must be brewed within Munich's city limits and must fall into the categories of Marzen or Festbier. The traditional dark amber Marzen (March beer) is known for its delicate notes of German hops, while Festbier is lighter in color and less sweet by comparison.
Things to explore at Oktoberfest Penning down your checklist for Oktoberfest 2023? Make sure to include special events like the Costume and Hunters' parade, iconic Bavarian concerts, witnessing the landlords of the beer tents make an entrance on horse-drawn carriages and the traditional gun salute that marks the culmination of the fest for the year. We also recommend attending the free Wiesn Landlords' concert by the Lady Bavaria statue. Elevate the fun by hopping onto one of the many carnival rides like the Ferris wheel, Toboggan, Hau den Lukas and Teufelsrad (Devil's Wheel). Additionally, the unofficial closing ceremony in the Hacker Pschorr tent is a sight to behold.
Oktoberfest — tickets & dates
In 2023, Munich will host the 188th Oktoberfest, which will run from September 16 to October 3. The festival will kickstart with the Parade of the landlords and breweries on day one, followed by the opening and tapping of the beer fest. On September 17, thousands of folklorists will parade through the city centre. Four days later, on September 21, the Ecumenical mass will take place in the Marstall festival tent. The fourth Sunday of the month, September 24, 2023, will feature the musical highlight of Oktoberfest, culminating in the grand finale on October 3. Regrettably, Oktoberfest tickets cannot be purchased online; they must be obtained directly from the respective beer tents. Purchasing tickets from third-party vendors is illegal. However, there is a silver lining: if you plan to attend the festival in the morning or on a weekday, you won't need a ticket at all. But if you wish to witness the opening and closing day ceremonies and revel into the early hours of the morning, having a ticket is essential.
Oktoberfest dress code
While there's no hard and fast dress code, it's recommended to don the traditional garb (or elements thereof) to savour the Oktoberfest experience to the fullest. Wondering how to add Bavarian elements to your attire? We recommend traditional dirndl dresses for women, lederhosen shorts for men or a classic Bavarian jacket. Additionally, ensure that your bag is as small as possible. Larger bags are not only inconvenient to carry but are also not permitted inside the beer tents.
Main and Feature Image Credit: Brett Sayles/Pexels
Related: These Are The Must Have Travel Apps You Need Before Visiting A New Country
FAQs
When does Oktoberfest take place?
Oktoberfest is usually held between mid/late September to the first Sunday of October. The official duration of Oktoberfest 2023 is September 16 to October 3.
Where is Oktoberfest held?
It is held in Bavaria's capital city, Munich, in Germany.
Is Oktoberfest all about beer, or are there other attractions?
There's more to Oktoberfest than just beer. Other attractions include carnival rides, traditional German fare, and the Costume and Riflemen parade. One can also indulge in music, dance, and shared experiences that make Oktoberfest a global phenomenon.
What types of beer are served at Oktoberfest?
At Oktoberfest, you can savor traditional German beer that is brewed within Munich's geographical boundaries and adheres to German laws governing its ingredients. Specifically, you'll find Marzen and Festbier varieties on offer.
Is there a dress code for Oktoberfest?
While there isn't a formal dress code for Oktoberfest, we recommend wearing traditional attire or incorporating some elements of it into your outfit. If you want to fully immerse yourself in the experience, mingle with the locals, and capture unique photos to cherish forever.
Is Oktoberfest family-friendly? Can I bring my children?
Yes, you can bring your kids as they're allowed on the festival grounds where they can enjoy the carnival rides. Additionally, they are allowed inside the beer tents. However, it's important to note that children under 6 years of age must exit the tents by 8 pm.
Are there any special events or parades during Oktoberfest?
Oktoberfest takes great pride in hosting a variety of renowned parades and ceremonies, including the opening ceremony, the Costume and Hunters' parade, Bavarian concerts, and the traditional gun salute, among others.
Are there non-alcoholic or alternative drink options available at Oktoberfest?
Yes, Oktoberfest offers a wide selection of non-alcoholic choices, including coffee, soft drinks, lemon soda, and non-alcoholic beer. It also offers alternative alcoholic beverages like wine, champagne, gin, vodka, Jäger, and more to choose from.
How do I get to Oktoberfest?
Once you're in Munich, Germany, you can easily reach the Oktoberfest venue using public transportation options such as the U-bahn, S-bahn, bus, and tram. Additionally, the venue is conveniently located within a 10-15 minute walking distance from Munich Central Station (Hauptbahnhof).
Is Oktoberfest safe for tourists?
Yes, it is safe for tourists. However, as with any major festival, attendees should be mindful of their surroundings and keep their belongings safe at the Oktoberfest celebrations.
Can I bring my food and drinks to Oktoberfest?
While it's allowed to bring beverages to the festival ground, you cannot carry them to the tents or beer gardens. Additionally, carrying the beverages in glass bottles is not permitted.
Written By