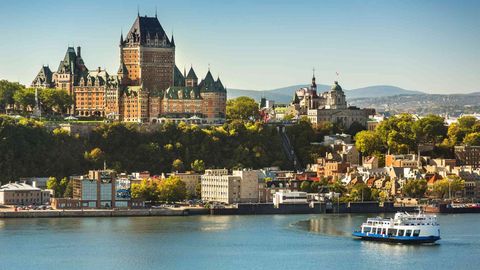 Canada is calling remote workers — with a specific skill set — to make the country home in a new digital nomad initiative.
Currently, digital nomads who work for a foreign employer can enter Canada under visitor status for up to six months at a time. Going forward, Canada will consider offering "additional policies to attract digital nomads," according to the government.
Make Canada your home in this digital nomad initiative The decision to promote the country as an ideal spot for digital nomads is part of Canada's overall tech talent strategy. The Immigration, Refugees and Citizenship Canada department said in a statement it expects these skilled digital nomads may later look to work for a Canadian employer.
"We're enthusiastic about the ambitious goals we have set in immigration because they aren't just about numbers — they are strategic," Sean Fraser, the minister of immigration, refugees and citizenship, said in a statement. "With Canada's first-ever immigration Tech Talent Strategy, we're targeting newcomers that can help enshrine Canada as a world leader in a variety of emerging technologies… Having a fast and flexible approach, one that is broadly supported by Canadians is truly Canada's immigration advantage."
In addition to trying to attract digital nomads, Canada is making it easier for skilled workers in the United States to enter by creating a streamlined work permit for H-1B specialty occupation visa holders. Approved applicants will receive an open work permit for up to three years.
Canada will also look to promote itself as a destination for skilled workers by improving existing programs that cater to workers in high-skill tech occupations like the Start-up Visa (SUV) Program, which "provides a path to permanent residence for foreign entrepreneurs who gain the support of a designated Canadian venture capital fund, angel investor organisation or business incubator for their start-up."
Canada isn't the only country that welcomes digital nomads. Countries around the world have welcomed these remote workers with open arms, including Lithuania and Costa Rica.
Shop the best travel experiences here
(Hero and feature image credit: Pgiam/Getty Images)
This story first appeared on travelandleisure.com
Related: Canada Calling! The Great White North Announces Visa-Free Travel For 13 Countries
Written By