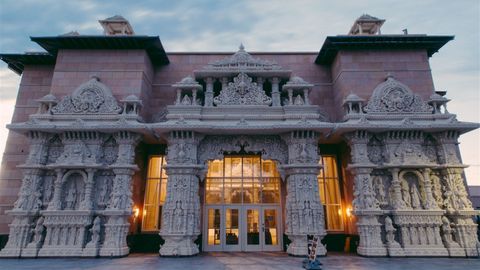 New Jersey will soon be home to the largest Hindu temple in the USA. The BAPS Swaminarayan Akshardham Temple in Robbinsville Township is all for a grand inauguration on October 8, 2023.
The temple is located about 96.5 km south of Times Square, New York City, and 289.6 km north of Washington DC.
All we know about the new temple in New Jersey The structure of the temple has been constructed over 12 years (from 2011 to 2023) by over 12,500 volunteers, according to an ANI report. It has been crafted with hand-carved stone and sprawls across 185 acres. The temple has been meticulously designed with a deep reverence for ancient Hindu scriptures, incorporating elements deeply rooted in the country's cultural heritage.
BAPS Akshardham Temple in New Jersey is home to at least 10,000 statues and statuettes along with detailed carvings that depict music, art and dance. It draws in visitors not only from the Hindu faith, but also from diverse religious backgrounds.
For the temple's construction, European stones were sourced and transported to India, where volunteers shaped them into the temple's majestic structure. These stones were subsequently transported to the US for assembly, all under the watchful eye of skilled Indian artisans.
As per the report, the ground level and primary mandir in this New Jersey temple are in the final stages of refinement, while the remaining construction progresses swiftly. The peak of the Mahamandir has a golden vessel (or kalash), and above it soars the flag (dhaja) that symbolises the victory of good over evil. Inside the temple, complex stone-carved structures pay homage not only to India's cultural heritage but also to the country's sages, saints and spiritual leaders who have been instrumental in advancing Hinduism.
While this temple stands as the largest in the USA, it's worth noting that the BAPS Swaminarayan Akshardham in Delhi currently holds the Guinness World Record for being the most expansive and comprehensive Hindu temple worldwide.
Hero and Featured Image credit: BAPS.org
Related: Get Lost In The Architectural Beauty Of These Temples In East India
Written By