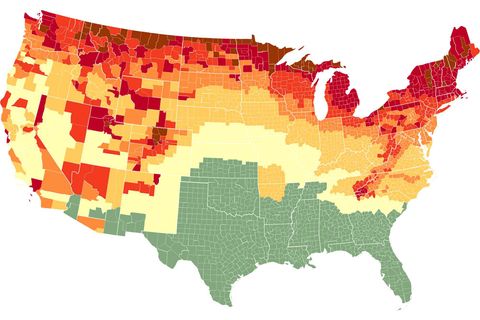 Summer is coming to an end and that means cosy sweaters, PSLs, apple picking, and gorgeous fall foliage. But predicting exactly when the changing leaves will peak has always been a bit of a guessing game.
That's where SmokyMountains.com comes in, using data like temperature and precipitation, historical trends, user-generated reports, and the type of trees in each area to produce an annual Fall Leaf Map. And now, the 2023 version is ready, the company shared with Travel + Leisure.
The interactive map allows users to drag a tool across the timeline, seeing peak foliage move across the country.
This interactive fall foliage map predicts when the changing leaves will peak "Similar to a weekend weather forecast, the timing of our map update is important," the map's creator David Angotti said in a statement provided to T+L. "The backbone of the map is meteorology… With our unique blend of historical and forecast data, we are able to make a highly accurate prediction by the end of August. The drastic year-to-year changes dictate that we create a new map from scratch with new data each year. Our end goal is to produce a map that's useful and fun."
Fall foliage is expected to start to peak in the northern parts of New York state around late September and last until about October 7. Further down, New York will see peak foliage from about October 9 through October 13.
A similar timeline can be found in other East Coast states like in Vermont when the ultimate peak is expected to hit around October 9 to October 13 (though the company added it may go later in some southern parts of the state), and in Maine when peak foliage will occur around the same time.
Predictions are also similar on the West Coast as leaf peepers can expect to see peak colours change around the same October 9 to October 13 dates in Washington state.
Travellers hoping to extend the foliage season should head further south to states like North Carolina where peak colours won't come out until October 23 through about October 30.
SmokyMountains.com produces a fall foliage map every year, but this year they've gone a step further to improve it. Starting in 2023, users who fill out a fall foliage report will also be able to submit photos, helping improve the accuracy for future prediction maps.
Shop the best travel experiences here
(Hero and feature image credit: SmokyMountains.com)
This story first appeared on travelandleisure.com
Related: This 19-Day Train Trip Takes You Through Some Of Canada's Most Spectacular Fall Foliage
Written By