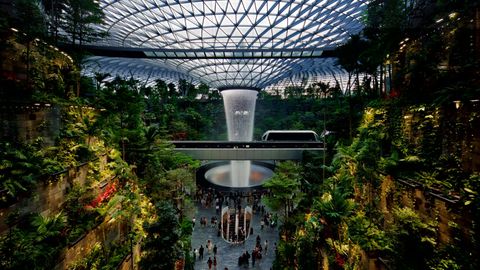 For travellers who have debated whether a layover counts as visiting a particular destination or a dreaded experience, the Singapore Changi Airport will now answer your question. The Southeast Asian airport has been voted the number one layover 'destination' in the world. Not far behind, Incheon International Airport in South Korea comes in at an impressive second, and the Hong Kong International Airport completes the top three.
It is not us who are making this claim but a new study by Betway has revealed the best International airports for a layover. The airports in this study have been ranked considering parameters such as the number of culinary options, retail and shopping services, wellness facilities, attractions in and around the airport and most importantly, the passenger ratings for WiFi connectivity and lounges.
Here are the world's best layover airports 1. Singapore Changi Airport, Singapore
Here, you would want your flight to get delayed. The world's best layover airport has over 200 shops for an immersive retail experience and 200 food outlets for a culinary treat of international cuisines.
2. Incheon International Airport, South Korea
This airport in South Korea features 33 outlets for world-class shopping and more than 250 dining options for the temporary citizens of transit.
3. Hong Kong International Airport, China
The airport impresses with 102 stores of luxury and international brands and restaurants offering a diverse range of flavours to satisfy any palate.
4. Dubai International Airport, UAE
Don't beat yourself up if you get lost in this shopping paradise. One of the largest airports in the world, it has luxury fashion brands and duty-free shops, making up 56 shopping outlets. Also, the airport has almost 60 places that represent the gastronomic diversity of the globe.
5. Hartsfield – Jackson Atlanta International Airport, USA
The busiest airport on the planet also has no dearth of shopping and food outlets. It has 86 shops that sell luxury brands and speciality items. The 122 eateries serve food ranging from classic American dishes to culinary delights from all around the world.
6. Dallas-Fort Worth International Airport, USA
The 99 outlets at this airport have something for every shopper ranging from luxury brands to electronics. With more than 150 food options, travellers can choose from traditional American dishes and global cuisines.
7. Munich Airport, Germany
This German airport houses 150 shops that sell a diverse range of local products, international luxury items and fashion accessories. When it comes to dining, passengers can try out Bavarian specialities to gourmet meals from 60 outlets.
8. Chhatrapati Shivaji International Airport, Mumbai
Located in India's financial capital, this airport has 82 shopping outlets selling clothing accessories to luxury brands and duty-free items. Passengers can choose from more than 60 food places serving traditional Indian sweets and delicacies and International cuisines.
9. Amsterdam Airport Schiphol, Netherlands
This Dutch airport has about 67 shopping spaces that sell souvenirs, local items, books and more. The culinary journey through the 62 restaurants will bring you across traditional Dutch cuisine, grab-and-go snacks and beers.
10. Denver International Airport, USA
This American airport has 85 shopping outlets, and people can buy clothes, electronics and fashion accessories. The 98 food options are popular for serving craft beers, Colorado-style barbeque and Asian cuisine.
11. Taiwan Taoyuan International Airport
This Taiwanese airport has upwards of 50 shopping outlets selling cosmetics and perfume, souvenirs and traditional handicrafts and jewellery. From the 47 food outlets, people can indulge in fast food, Taiwanese, Korean and Japanese cuisine.
12. Indira Gandhi International Airport, Delhi, India
There are 75 shopping outlets at the airport, offering a diverse range of products, including clothing accessories, luxury brands, and duty-free products. Similarly, there are at least 70 dining options available, serving traditional Indian delicacies, bar bites, fast food, and a variety of international cuisines.
13. Frankfurt International Airport
There won't be any dull moment during the layover in Germany's largest airport. With over 120 shops to choose from, passengers can buy fragrances, care products and luxury labels for watches and jewellery, tobacco products, spirits or the finest chocolates in the world.
14. Orlando International Airport, USA
Over here, there are about 83 shops that sell airport staples such as convenience and duty-free items, electronics, books and a few boutique brands. The 101 eateries consist of burger joints, grills and steakhouses and also some gourmet options.
15. Heathrow Airport, United Kingdom
The 64 shopping outlets give you options ranging from luxury labels to travel essentials to trending gadgets. The 33 restaurants at this airport offer a spectrum of eating options, from fine dining to coffee shops to bars.
What you need to know about some of the popular airports in the world!
Singapore Changi airport
Singapore Changi Airport is globally recognised as one of the finest airports, offering a range of magical attractions. The HSBC Rain Vortex steals the spotlight as the world's tallest indoor waterfall. The Heritage Zone, Canopy Park, Arrival Garden, Shiseido Forest Valley, and the free Singapore tours are some of the notable highlights that engage and delight travellers. From stunning water features and lush green spaces to immersive cultural experiences and the chance to explore the city's Iconic landmarks, it is truly the world's best layover airport.
Note: Please check eligibility requirements before booking the free tours.
Hong Kong International Airport
Located on the Island of Chek Lap Kok, the airport has gained popularity because of the SkyCity Nine Eagles Golf Course, an 18-hole golf course located near the terminal. It is also famous because of the IMAX cinema at terminal 2, luxury and international brands, restaurants serving local and international cuisines and the Aviation discovery centre. The lounges, spas and rooftop garden offer many options to rejuvenate and relax for passengers before their next flight.
Chhatrapati Shivaji International Airport
Chhatrapati Shivaji International Airport in Mumbai offers several attractions and amenities to keep transit passengers engaged. One of the notable attractions is the Jaya He GVK Museum which features unique art installations. It also features local boutiques, tax-free shopping outlets, an Indian handicrafts section, luxury wellness centres and multi-cuisine culinary options. The international airport is extremely popular for hosting cultural performances and events.
Indira Gandhi International Airport
Indira Gandhi International Airport, located in Delhi, India, is a bustling and popular airport known for its wide range of facilities and services. Travellers can explore a variety of duty-free shops, boutiques, and souvenir stores. From art installations and aviation museums to relaxing lounges and spa facilities, the airport provides a variety of options for passengers to explore, relax, and enjoy their time at the airport.
(Hero and feature image credit: Matteo Morando/CC BY-SA 4.0/Wikipedia)
Related: Singapore Changi Airport Named World's Best Airport 2023 By Skytrax
Written By