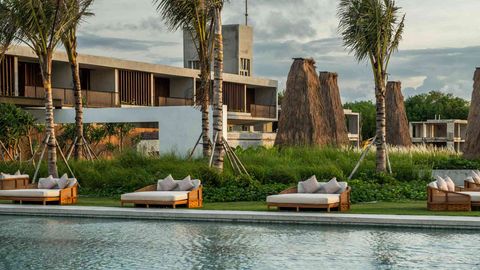 There is nothing easy about building a luxury resort on 15 acres of previously untouched beaches. And that's especially true in Indonesia. Yet that is what first-time hoteliers Evguenia and Fabrice Ivara have done on Sumba, an island most of the world has never heard of. The eagerly anticipated Cap Karoso, which offers 47 rooms and 20 villas, is now in its soft-opening phase, with a grand opening planned for August of this year. The journey has been long, but the results are grand.
In typical French style — read: characteristically relaxed — Evguenia (who goes by Eve) and Fabrice dreamed up Cap Karoso back in 2017. The couple fell in love with this plot of land on Karoso Beach, especially with its unobstructed panoramas of the sun dropping into the Indian Ocean, a display that changes dramatically with the moon and the tide, cloud cover, and wind.
Eve, a luxury marketing expert, and Fabrice, a Parisian food blogger, are determined to make this a very personal project. Instead of leaning on a major resort company to manage things, they designed their own precise and principled vision for how to tastefully operate on Sumba Island, which may as well be the end of the Earth. They don't offer swimming with horses like Nihi Sumba, and they don't do floating breakfasts. "It's my project, so if my mom sees Cap Karoso reposting a naked lady eating a floating breakfast, she will say it's my shame," Eve told me, laughing.
Sumba is twice the size of Bali — which is reachable via a 1.5-hour flight — but it has one-fifth of its population. There is little by way of development, and beaches here look completely different than those on Indonesia's most famous island. It is also possible to drive for 20 minutes on a lush, gentle rollercoaster of a paved road without seeing a single other vehicle, motorbike, or person. Cap Karoso's location is singular and off-the-beaten-path in the island's western Kodi district, even more, less travelled than the region south of Tambolaka's domestic airport.
This luxury hotel in Indonesia is a nod to Island and French cultures During my own visit, I never saw another Westerner, not when our party was swimming blissfully in the surreal blue saltwater of Weekuri Lagoon, nor when we toured the village of Waikaroko, where the grey-haired chief invited us into his home and offered us coconuts to drink. In the resort's generous studios, suites, and villas, guests will find carved wood details that nod to local ikat patterns, as well as Indigenous statues, used books in English and French, textured ceramics that playoff Sumbanese traditional roof shapes, and outdoor bathrooms with soaking tubs. And beyond these walls are pages worth of excursions and experiences to try. "French never replicate, it's not in the culture," Eve explained, adding that they want guests to have fun, meet people, and learn something while here. This is not a place designed to trap patrons on property day and night, which is wise, as the shell-strewn sandy beach and wide, vibrant sunsets are pretty compelling. Those making the long trek to Sumba should get out and explore the unexplored. To that end, the Ivaras and their team have come up with dozens of opportunities to do so, either guided or on your own, via car, e-bike or e-Mini Moke. And there are fine waves for surfing right out front, or a short jaunt away, and places to stand-up paddleboard and snorkel. The design of this luxury hotel in Indonesia is not a literal interpretation of Sumba — there are no ikat textiles hanging on walls, and the only traditional thatched roofs on the property to the six-room Malala Spa and the Technogym-equipped fitness centre structures — but a subtler one that also feels quite French. The original art was commissioned through a gallery in Jakarta and, if you look closely, you'll notice abstract visual references to the island. Every detail matters to the Ivaras. Staff uniforms are casually elegant, with ever-so-slightly nautical combinations of white tunic tops and wide-leg deep blue pants, cinched with woven belts. Eve was willing to wait (fairly) patiently for the beautifully tactile Pierre Frey fabrics that cover dining chairs, bar stools, sofas, and daybeds — even bespoke high chairs — made with curvy bamboo and cane. At the open-air Beach Club, which has its own seaside pool, guests gather and socialise over beautifully crafted cocktails (and outstanding mocktails) such as an old fashioned with croissant-infused bourbon, a sandalwood Negroni with coconut oil gin, and the clarified Kota Sumba with soy milk and green coconut sambal syrup. These were dreamed up by French mixology star Nico de Soto, who has trained Sumbanese bartenders in his ways. Flowers and herbs from the seven-acre organic farm turn up in these glasses, as well as in dishes created by executive chef Antoine LeVacon, whose breakfast, lunch, and dinner menus are served in the Beach Club, too.
Shop the best travel experiences here
A gourmet experience with a pinch of Indonesian flavour! Foodies will love watching the magic happen in the open kitchen, or simply sitting back and savouring the plates that might be best described as Mediterranean with a pinch of Indonesia flavour think crudo with ponzu and sambal, Sumba Gnocchi with a cashew pesto sauce (cashews are a major crop on the island), and salt-crusted fish with buerre blanc. Indo favourites like fried rice and fried noodles are also available from morning until night. Outside, the blue and white custom Acunto pizza oven is unmissable, and the pies coming out of it are, too, especially the classic Napoli with prosciutto and basil from the farm.
Perched at the top of the property is Apicine, an evening dining venue serving Indo-Basque pinxtos and tapas, including pan con tomate and anchovy, and a killer guacamole. Past the football field–sized infinity pool is restaurant Julang. This is Fabrice's baby, where guest chefs from across the globe will preside over the space in residencies ranging from three to six weeks. During their stays, the chefs present a creative prix-fixe dinner menu, and prepare it at one end of the 30-foot communal table where guests dine. The highlight of my meal here, by chef Katsuaki Okiyama of the now-closed Abri in Paris and his two-person team, was the king prawn that, along with flan, asparagus, and cardamom foam, was so delightful I wished I could ask for more.
More will probably be a common wish for guests of Cap Karoso, who surely won't want the experience to end. Departing past the lobby's monolithic travertine front desks and reception installation by an ikat master was, to me, a reminder that I had entered another world and I was now leaving it, more fulfilled and enriched than when I'd come. The food and drink nourished my body and the design appealed to my senses, while the interactions with sweet staff members and locals spoke to my soul. And if that's not a perfect hospitality experience, I don't know what is.
Here are other luxury hotels in Bali you can stay at!
Four Seasons Resort Bali at Jimbaran Bay
Book your stay at Four Seasons Resort Bali at Jimbaran Bay via Booking.com
Book your stay at Four Seasons Resort Bali at Jimbaran Bay via Agoda.com
Capella Ubud, Bali
Book your stay at Capella Ubud, Bali via Booking.com
Book your stay at Capella Ubud via Agoda.com
Raffles Bali
Book your stay at Raffles Bali via Booking.com
Book your stay at Raffles Bali via Agoda.com
(Hero and feature image credit: ALEX GRABCHILEV/Cap Karoso)
This story first appeared on travelandleisure.com
Related: Sumba Island Is the Wild Indonesian Escape You've Been Dreaming Of
Written By