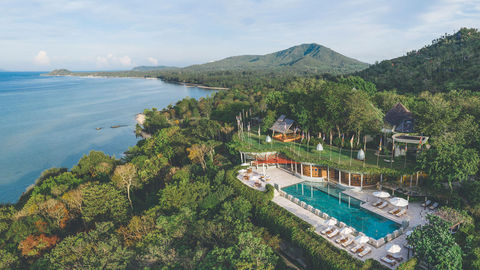 There's a reason half of the guests at Kamalaya Wellness Retreat are repeat visitors – the place is all heart. We meet the founders during a much-needed, thoroughly restorative post-Covid detox.
GET YOURSELF A PARTNER who looks at you the way John Stewart looks at his wife Karina and she looks at him. The founders of Kamalaya Wellness Sanctuary and Holistic Spa Retreat in Koh Samui are effortlessly and adorably all over each other and during a long lunch I have with them, they finish each other's sentences, compliment each other, give credit, offer gratitude – and it all feels so natural and non-saccharine somehow that it doesn't make me want to puke up my three-course plant-based meal all over the poolside gazebo where we're sitting.
If I could pinpoint a root cause of what sets Kamalaya Koh Samui apart, what makes their clientele keep coming back to the retreat, their staff so loyal, their wellness programming so nurturing, it's that they are in love and this is their baby. Kamalaya has been enticing wellness seekers to the south side of Koh Samui for 16 years with its absurdly comprehensive health offerings that cover much of the Eastern canon, such as Traditional Chinese Medicine (TCM), Ayurveda, aqua therapy, reiki, yogic and Buddhist practices, as well as physiotherapy, chiropractics and sundry other functional-medicine and life-enhancement retreats that focus on sleep, fitness, gut health, immunity, cellular regeneration, beauty, weight, anxiety and that ever-looming fear: change.
They are in the process of introducing more cutting-edge science; think epigenetics and skin DNA, screenings for microbiome and food intolerances, and genetic tests for nutritional and fitness traits and predisposition to diseases. The goal is to help them craft even more personalized programs for individual guests, and provide real takeaways to help you lead your best life after you go home.
Oh, and man is the food good. Even if you're on the outer bands of the spectrum – going for hard-core fitness purposes or just looking for a pretty place to vacation – at Kamalaya you're sure to find your mood lifted and your mindfulness supercharged.
If it sounds like I drank the Kool-Aid, well, I guess I did, but it was made of green apple, ginger, coconut water, tahini paste and tamarind, as part of my Introduction to Detox retreat. There's a sala at the property's apex built for meditation but just walking up and down the hills of this (very hilly) place, amid the butterflies and sun-shadows dancing in the greenery, the chipmunks on bent branches prying out pods to eat, the fluttering Tibetan prayer flags that a monk blesses and ships to Kamalaya every few months… all of this instills a sense of calm impossible to find not just in a city but possibly anywhere without a monk's cave and, for that matter, an actual monk at its heart.
Let me tell you a story.
At age 16, John ran away from the U.S. and – not incidentally – the Vietnam War draft after attending a high school graduation party in the woods at which he met a man who told him about a great spiritual teacher, a yogi master in the foothills of the Himalayas known as Herakhan Babaji.
For the next 16 years, John lived as a yogic monk in northern India, most days getting up at 3 a.m., bathing in a river and eating one meal a day, with no electricity or modern conveniences. Some days he was in town, at the request of his teacher, helping those in need and running a business to support the charitable work.
A few years into this simple life, John encountered Karina 108 steps up a hill, sitting on a bench. She was an undergrad at Princeton who herself had taken a year off to meet Herakhan Babaji. The two spoke for a while, and afterwards he told his teacher, "I just met the woman I want to marry." Not yet, the teacher replied. "After 12 years, leave here and get married, and go build something. I'm preparing you to return to the world." During the six months she was in India, Karina also embraced the simple life (she had only four saris!) and met with John to talk and share tea. After she returned to the States, they wrote aerograms (for you young people, that was a thin paper letter that if you folded became its own envelope, complete with seal) to each other for 11 years.
When John's time as a monk was up, he pursued Karina to California, and "she was, luckily, unmarried," he says, grinning. She had by then obtained a Master's in Traditional Chinese Medicine (TCM). He proposed and they moved to Kathmandu and opened a wellness center.
Karina is a force, a polymath authority on Eastern medicine, functional medicine, nutritional medicine. "Traditional medicine is just medicine," she says with a wink. "Modern medicine is 'alternative.'" She is responsible for creating the Kamalaya wellness programs and the healthy menus. She is also, John says, responsible for saving his life after he was diagnosed with hepatitis C and given a few months to live – back in 1999.
Signature detox rolls

Intro to Detox
At this point, Karina became an expert on the liver, changed his diet and nutritional intake, and kept him alive until modern science came up with a cure 14 years later. These learnings are the basis of the Kamalaya detox program. Later, John developed lower-back pain, Karina endeavored to fix it ("his core was like a baby," she says)… et voila! Kamalaya's structural revival program.
Two important points here: first, Karina is a woman you want on your side. Second, if you would like to know about any of these programs, ask literally anyone who works there. During the Covid shut- and slowdowns, Kamalaya physically rotated all the staff members around in thirds: on-site at the resort, in quarantine, and at their homes. Everyone – waitstaff, gardeners, therapists – went through every single wellness treatment and exercise, in the hopes of boosting their immunity, empowering them as individuals and engendering community. You might call it sharing the love.
At Kamalaya I awoke every morning in time for breakfast before Pilates class.
The menu is annotated with the best options for those on the detox program. For the five days I was there, this wine-fueled carnivore abstained from meat, alcohol, dairy, gluten, simple carbs, unhealthy fats, sugar, tomatoes, bell peppers, sprouts and more. The food on my plan is all hypoallergenic, hypo-inflammatory, hypoglycemic and vegetarian, and vibrantly and enticingly presented in recipes that aren't trying to be "meat-alternatives." Spice usually comes from wasabi, and protein intake is boosted by twice-daily shakes from the wellness center – though before exercise each day I did have a single poached egg with avocado mash for breakfast, along with carrot-and-ginger soup, pumpkin-and-seed pancakes, dragon fruit, steamed asparagus, a three-pack of detoxifying and nutrient-rich shots, and a latte with almond milk.
Image Credit: Jeninne Lee-St. John

Image Credit: Jeninne Lee-St. John

Image Credit: Jeninne Lee-St. John

Image Credit: Jeninne Lee-St. John
(T+L Tip The menu changes daily so you don't get bored, so if you see the following, be sure to order: Zesty cabbage rolls. Mung bean glass noodles stir-fried with veggies. Jicama and bok choy salad. Spicy mushroom porridge. And the BZP – roasted beets, zucchini and pumpkin with cashew hummus on rosemary carrot bread. Yes, Kamalaya made me like beets.)
The garden-ensconced pilates studio has five reformers and two excellent teachers, who share intel with each other on your progress. One day I had a private session with Poom, and he fixed my knee alignment and my chin positioning, and taught me to do more effective crunches–three things I wouldn't have thought needed correcting after six years of Pilates. I've taken these lessons home with me. Intuition, expertise and a sentiment of caring are integral and interrelated in wellness, and I found the levels of all three at Kamalaya off the charts.
"How was your sleep last night?" asked my therapist Vincent before he commenced an Asian foot reflexology treatment. As I opened my mouth to reply, he said–rather ironically in hindsight–"Interrupted." "How did you know?" I gaped. "It's my job to see into your soul," he deadpanned. Then he reminded me that I was in a new place and many people sleep fitfully in unfamiliar surroundings.
OK, you got me, even relaxed me a bit going into the reflexology session, which I find extremely painful, despite having them regularly, and so usually distract myself by listening to a podcast, which would surely be verboten in digital detox Kamalaya, so I really was nervous about what I was going to do. But these wise souls have fashioned a neighborhood of open-air treatment rooms, from which you can hear the birds and the leaves rustling and sense the ocean on the horizon. It's enough to get you through the low-level torture session by thinking happy thoughts. At least until Vincent issued his diagnoses. First, respiratory issues. "Your lungs aren't getting full capacity," he said. "Your mind is racing, thinking about many things." As these things are connected, he prescribed pranayama, the yogic practice of controlling your breath. "It's hard when we have to wear masks all the time so while you're here, take some time to sit on top of the hill and breathe the air here and feel the energy of the place."
Second, he told me I had an issue with my kidneys and was likely dehydrated–which a trip to the doctor upon my return to Bangkok confirmed. And finally, my middle-to-upper back pain shone through in the soles of my feet.
Aor, a physiotherapist who performed myofascial release – a deep massage of the tissues that connect, surround and support your muscles – was as surprised as I was to discover that the left side of my neck was as distressed as the right side, where I have had chronic pain for years. "You get headaches in the afternoon," she said pointing to my left temple. "Medicine doesn't work. Only sleep works, right?" Yes, yes and yes. Her assessment: my daily 5 p.m. mini-migraine isn't entirely from dehydration or anxiety, as I'd suspected, but from muscle tension restricting blood flow to my head. Lying down helps best because blood circulation is about gravity. Aor performed some ultrasound on my right hand where I think I'm getting carpal tunnel from my phone, and taped my back to keep my scapula and shoulders in the right places. As I type this, I'm doing the neck and shoulder exercises she taught me to keep loose.
My detox treatment regimen also included qi ne tsang (tummy massage that helps you detox and places your organs back in the right places), Asian hand massage (meant to drop cortisol levels and unblock emotions), lymphatic drainage therapy, an oil massage, and two sessions in the far infrared sauna. In between, I paddleboarded around the resort's glassy, sheltered bay; swam laps in the pool on the mountaintop; made friends with a Canadian woman fleeing winter and a really, really shitty year. She was staying for three weeks, and most others I spoke with were there from a week to two months; one woman was on her seventh visit, a surprisingly not uncommon club at Kamalaya. The general manager of Kamalaya, Pierre Lang, a warm, sincere native East German who himself had been a guest at the retreat three times before taking the job, persuaded me to stay on Samui an extra day to really settle in, soak up more wellness vibes. We both, actually, wanted me to stay longer, but obligations, family, life called.
I returned to Bangkok craving fresh air, a BZP and birdsong – and so have been consciously trying harder to find plant-forward foods and places of peace within my routines. "I learned to live life the best that you can," John told me about leaving the monkhood and returning to society. "Not that there's a separate spiritual life and material life." And not, I would add, that there's anything you can't do with a great love fueling you. kamalaya.com; doubles from Bt8,100; special offers for Thailand residents from Bt6,600; check the website for wellness programs and rates.
---
Images credit: Kamalaya, unless otherwise noted.
Written By