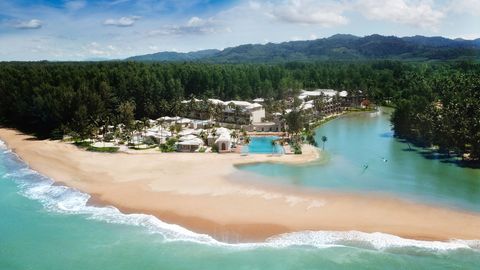 A design gem that's more than meets the eye, Devasom Khao Lak Beach Resort and Villas offers relaxation with a dash of local history.
AS SOON AS I ARRIVED at Devasom Khao Lak, I didn't find it hard to get into the gentle groove at all. Khao Lak, an hour's drive north of Phuket airport on the Andaman coast, is known for its low-key vibe and great surfing, but something first time visitors may not notice right away is that it has also become a base for creatives from Bangkok and beyond who have given up the bright lights and the big city. Sea, surf and serenity are a magnet for visitors and residents alike. Within minutes of my arrival, restaurant captain Tang was guiding me in mixing my own reinvigorating refreshment, but this was not a purely hedonistic retreat. Throughout the days there were, for example, meditation and yoga (check), or paddle boarding in the resort's semi-private inlet and surfing lessons at nearby Memories Beach (not this time). One morning, my butler, Kobie, enthusiastically showed us around the garden, explaining the herbs and plants used in the kitchens and spa, where my Thai massage left me battered, in the best possible way. More often than not, however, I was paddling around my own pool or drinking up wowza sunsets on the beach.
Takola Restaurant
I also spent a fair amount of time in the restaurants. Takola, rated a Bib Gourmand in the latest Michelin Guide, serves up classically Thai dishes like lon coconut crab dip. The "Takola Journey" is an eight-course feast of Southern delicacies like black crab curry with wild betel leaves, and nam choop kayam, a zesty relish made of salacca and shrimp. The Beach Grill and Bar offers an all-day dining menu and on Fridays it also hosts the meat-and-seafood Churrasco Night, complete with a fire show and resident DJ.
As I explored the Devasom Khao Lak, I realized that not everything was at eye-level. That's on purpose and by design of brand co-owner Is 'Bon' Atirak, who takes a special interest in the aesthetics here. On the ground floor, the covered galleries provide shade from the midday sun, but above they form elevated, greenery-draped walkways that connect the lobby to the rooms and spa, with a commanding view over the resort.
Fire Show Performance

Churrasco Night

Churrasco Night
By the time you reach the beachfront, you see the dramatic tower with its glassed-in conservatory where I had yoga and meditation sessions. My editor tells me she had a perhaps more vigorous muay Thai class in the same spot—regardless of your wellness activity, it's easy to feel a bit smug here as other guests passing by for a lazy swim take note of your virtue.
Upstairs a panoramic mirador that looks like it might be defending an ancient walled city is the perfect spot for an intimate dinner by candlelight. If you're more of a romance-by-sunset pair, book the beachfront sundowners experience and the hotel will set up your own little caravan tent, poufs and pillows to laze on, and canapes and drinks to whet your evening appetite. As you return from the beach and take in the fairy-tale castle façade, gaze up at the stairs to the spa and you'll see a jagged cut-out that is reminiscent of stepwells in India, or maybe an M.C. Escher print. Many features are inspired by the long-lost port of Takola, the same city that gives the restaurant its name. Sometimes aligned with the sprawling Srivijaya Empire, the small kingdom built on maritime trade during the first millennium is believed to have been located a little further north in Phang Nga, though no traces of the ancient culture have been identified with certainty.
That historic theme is subtly carried throughout the resort. The rooms have the same stone walls and light furnishings found in the library and restaurants. My beach pool villa had a separate living room and a pool that could be accessed from both the foyer and the bedroom. The showstopper on the accommodation front however is the 430-square-meter sky view villa, which in actual fact is a penthouse with its own 17-meter infinity pool.
Beach Pool Villa

Beach Pool Villa
The resort provides free shuttles into town, where you can see first-hand how former urbanites are settling into the neighborhood. Start at new-age Soul Friend and Spiritual Garden, where you'll find everything from inspirational books to sound therapy sessions. Do you recognize the friendly guy behind the counter? You should. Khun Pipe moonlights as the in-house DJ who spins vinyl at the Friday night barbecues at Devasom. At his shop, you can purchase excellent coffee or medical grade greenery. Personally, I went for a luscious hot chocolate from single origin Thai cacao, which was more than relaxing enough for me.
Devasom Khao Lak Beach Resort and Villas is about a 90-minute drive from Phuket International Airport. Beach Pool Villas starts at Bt31,000. The eight-course Takola Journey is Bt2,800, with an optional wine pairing at Bt1,500.
---
All Images Credit: Devasom Khao Lak Beach Resort and Villas.
Written By