Aesthetic refinement is a given, but it takes a talented, intuitive team to create a gilded luxury retreat that's also so homey. We get behind the beautiful details of the city's most striking skyscraper.
LAYERS OF HISTORY and culture intertwine seamlessly and shimmy their ways skyward in the sleek, silvery Park Hyatt Bangkok, the most centrally located luxury retreat in the city. A centrally located tranquil oasis in their PAÑPURI Spa spreads? Yes, indeed. Just stepping into this building feels like a shift to calmer dimension, their Panpuri spa spreads Zen over two floors, and when you see the hotel's leafy saltwater-pool area with tiers of cabanas cantilevered over parklands, you'll realize that not all tropical vacation destinations come beach-required.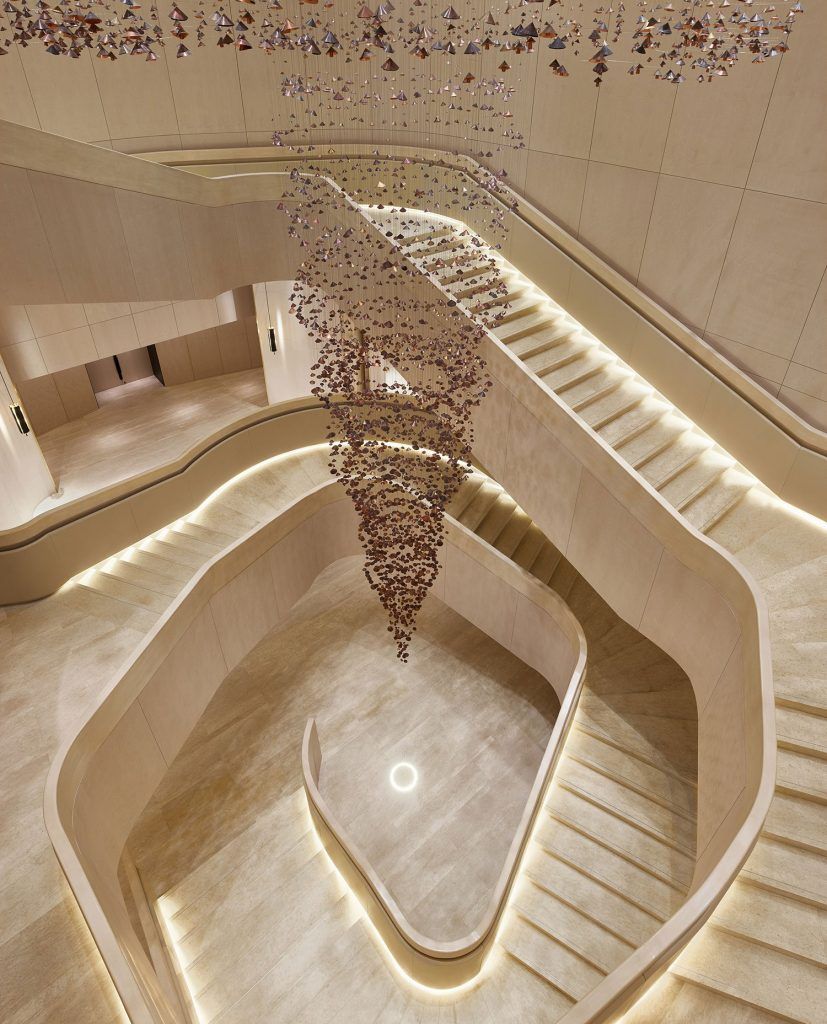 Shaped like an auspicious No. 8, the sophisticated Park Hyatt Bangkok occupies the coveted plot of the former residence of the British ambassador to Thailand, and is filled with art evocative of Asia, from the inverted "Pagoda Mirage" by Japanese artist Hirotoshi Sawada to the water dragon "Naga" that brings life to the Living Room ceiling. The dining and drinking outlets compound further cultural connections, especially now that elevated Catalan cuisine has entered the mix in the airy Embassy Room.
Credit the external architecture and unmissable-from-any-rooftop-in-the-city extruding aluminum-tile façade to a joint effort of AL_A, the London based studio founded by Amanda Levete, and Bangkok's own Pi Design. Yabu Pushelberg is responsible for the tranquil flowing inside, including 222 guest rooms in an astonishing 57 different configurations—which means you could change rooms every day for nearly two months and each time have a different take on Park Hyatt's unique luxury experience. Floor-to-ceiling windows letting the light and life of the city in, creamy stone walls adorned with hand-carved lotus blooms, bespoke Le Labo toiletries. No matter your room or suite, it's totally serenity now.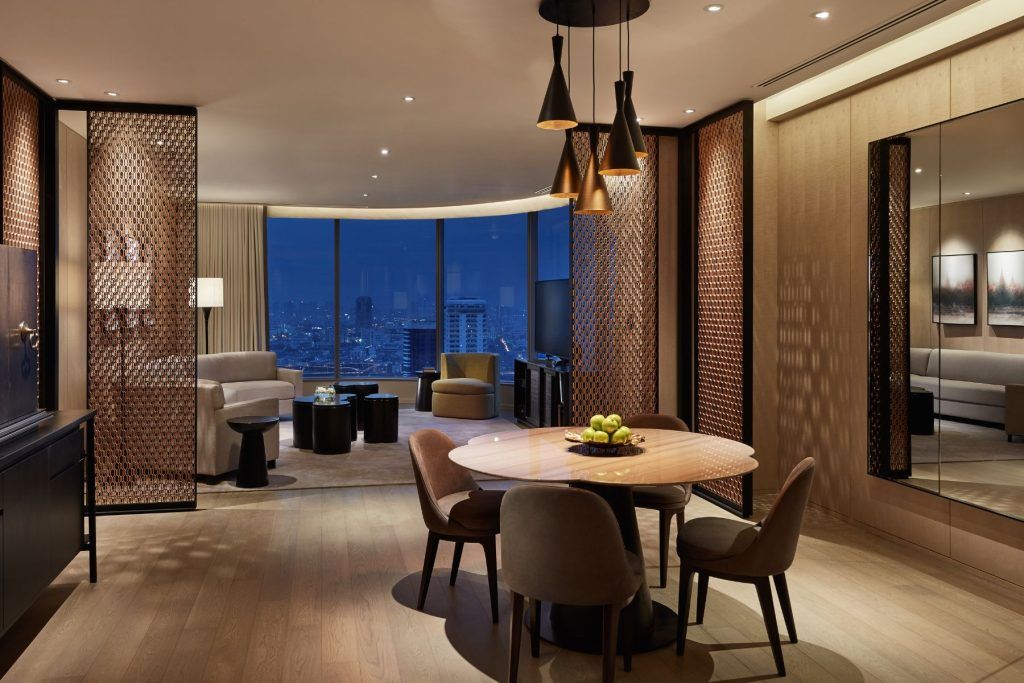 This is a brand that has not only elegance but also eating and drinking in its DNA—in fact, this property's general manager, Mark de Leeuwerk, is a food and beverage connoisseur, so your appetite couldn't be in safer hands—thus special attention is owed to the three uppermost floors designed by AvroKO: Penthouse Bar + Grill. Savor coconut-charcoal-fired meats and seafood, have an exclusive tasting menu at the Chef's Table, sample all the whiskies your heart desires in the speakeasy, or gather with friends for glam skyline views at the roofbar.
Let's head back down to Embassy Room – Catalan Cuisine, where de Leeuwerk has recruited charming, talented chef Ferran Tadeo to introduce a fine-dining concept wholly unprecedented in this white-tablecloth- and Michelin-enamored town. Sit down and strap in for his parade of delicious delights from Catalonia, that autonomous region of Spain whose capital is everyone's favorite Barcelona. Chef Ferran mixes elevated tapas-style bites, like mackerel, red pepper and eggplant on a filo disc, with heartier crave-worthy plates that'll reward your palate and IG feed equally—see: the unforgettable lobster Wellington. Give yourself over to the alcohol pairing that takes in sherries and Rias Baixas, and keep an eye on this divine spot come awards season. It would be following in the award-winning footsteps of this hotel's design, a study in modern refinement that itself pairs perfect with the service and will seduce any luxury lover. "We found the perfect interior for Park Hyatt Bangkok is when all the parts—the lighting, materials, space, texture—work as a whole," designer Glenn Pushelberg says, "and you get this sense of calmness, of sensuality." We are utterly seduced, and couldn't be readier to make ourselves at home
www.hyatt.com/en-US/hotel/thailand/park-hyatt-bangkok/bkkph
---
All Images Credit: Courtesy of Park Hyatt Bangkok.