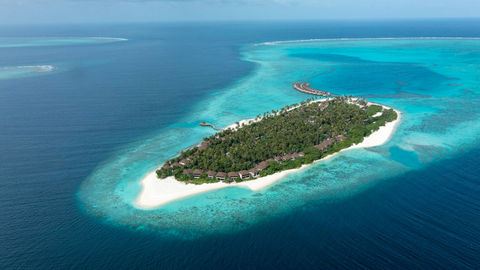 Pitched as one of the most exciting openings of 2023, Minor Hotels' Avani brand is gearing up to make its debut in the Maldives with the launch of Avani+ Fares Maldives Resort.
---
Lauded hotel brand Avani is making another splash on the hospitality scene with the launch of Avani+ Fares. So, if you fancy indulging in this brand-new experience from the perfect paradise of the breathtaking Baa Atoll UNESCO Biosphere Reserve, get a booking now.
Avani+ Fares Maldives Resort, which marks Minor's sixth property in the Maldives, is the first hotel to open its doors in the pristine area for more than three years – and it's poised to shake-up the hospitality landscape. To ensure guests leave pledging to return, the idyllic private island resort will offer memorable experiences and unparalleled service. This tranquil haven vows to bring fun for all, whether you're a family, couple, or traveling with friends, with accommodations to cater to every individual need. Chill in one of the striking beach pool villas or luxurious four-bedroom beach pavilions. Alternatively, soak up the sea breeze from a three-bedroom over-water villa that sits across the island's large turquoise bay. Whatever you choose, care has been put into ensuring each is a stylish modern sanctuary that takes advantage of the gentle breeze while incorporating innovative tech-focused amenities.
Its location on a naturally-protected island on the western edge of Baa Atoll, means guests have easy access to dive into the vibrant underwater world the Maldives is famed for. Sitting close by is the world famous Hanifaru Bay, which houses the Indian Ocean's coolest collection of biodiversity and underwater ecosystems. It's also a top spot to see manta rays. Avid divers will also be in heaven as there are a staggering 12 individual dive sites off the beach at Fares. In addition, guests will have access to the Avani house reef. This magical 220-meter reef is teeming with marine life, giving you the unique opportunity to swim alongside turtles and dolphins. The nearby Fares reef sits 600 meters off the shore and is home to even more colourful marine life.
In front of the island sits a postcard-perfect 2.6-kilometre lagoon that's ideal for taking a refreshing dip. It also serves as the perfect backdrop for incredible sunsets – and social media snaps that will be the envy of everyone back home! Sitting in stark contrast to the inviting turquoise waters are startling powder-white sands. The resorts positioning – the attention to detail is to be applauded – at the edge of the atoll means there is no light pollution, the perfect setting for stargazing. After a 35-minute flight by seaplane from Velana International Airport – keep your camera at the ready to capture the beauty below – guests can sink into laidback Maldivian life. Savour decadent Maldivian and international dishes at the resort's seven restaurants. Alternatively, enjoy a range of cuisines from the comfort of the private beach or in your room. Sustainability is high on the agenda, with menus comprised of seasonal ingredients to reduce carbon footprint. Organic produce will also be sourced from the resort's mini farm and the catch-of-the-day delivered daily by local fishermen. Youngsters can also ditch the parents at the Maldives' first kids-only restaurant.
For all those gym bunnies out there, AvaniFit delivers a new gym concept by offering fitness programs designed in partnership with a high-performance coach. Those seeking to bliss out and indulge in some pampering can escape the world in style at AvaniSpa, which will offer various rejuvenating treatments alongside thoughtful wellness options. And the kids can constantly be kept entertained at AvaniKids while parents enjoy some time alone. "The arrival of Avani+ Fares in the Maldives meets a growing niche in demand for guests seeking alternatives to traditional luxury by providing a contemporary new offering, enabling a wider audience to experience one of the world's most exclusive destinations," said William Costley, Minor Hotels' Senior Vice President of Operations for Asia. "Avani+ Fares will continue to highlight Avani as a trailblazing hotel brand, filling a gap in the Maldivian hotel landscape and delivering exceptional products in a fresh and accessible manner."
The resort is slated to start welcoming guests in early Q2 2023, so start preparing for the vacation of a lifetime.
www.avanihotels.com/en/fares-maldives
---
Article sponsored by Avani Hotels & Resorts.
All Images Credit: Courtesy of Minor Hotels.
---
Written By