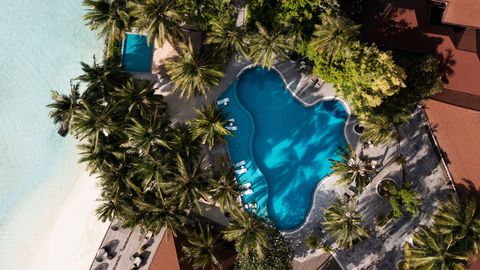 From thrilling parasailing excursions to soothing local herbal treatments, Kurumba Maldives has wellness options for all.
GLORIOUSLY POSITIONED IN the Indian Ocean's North Male Atoll — a place where sea, sun, and sand come together to create an idyllic paradise — Kurumba Maldives offers the same untamed beauty that first made visitors fall in love with the country half a century ago. The resort's carefully designed and natural landscape is a landmark and standard in The Maldives, and the resort also offers an alluring collection of wellness services and healthy amenities for discerning global travellers hoping to indulge in an energetic holiday and wellness getaway at the same time.
Raising Heartbeats For guests seeking a heart-pumping vacation that never loses sight of their fitness goals, the resort's fitness centre is equipped with a wide range of cardio and weight machines and is open around the clock and accessible via keycard.
Kurumba have a tennis court and multiple-use court can be used for a variety of other sports, and a professional coach can be booked in advance to help you improve your backswing or practice against a skilled opponent. There is also a wide range of water sports available at the resort, and each guest room receives 45 minutes of complimentary use for Kayaking. From windsurfing to parasailing, if it sees you gliding across the glittering Maldivian waves, you can try it at Kurumba Maldives.
Families at Kurumba love taking out the fun tubes, trying waterski knee-boarding, and riding on banana boats with their little ones. For families with older kids, catamaran adventures are fun for everyone, as are snorkeling outings in Kurumba's house reef, which is home to a colourful variety of fish, turtles, rays and friendly sharks. Fishing is one of the most popular pastimes for Maldivians and visitors alike. Kurumba Maldives has a fleet of boats specifically designed for sports fishing and boasting all the latest fishing equipment. Expect to latch on to species such as yellowfin tuna, barracuda, trevally, wahoo, sailfish and dorado on the resort's fishing expeditions.
Calm and Conscious For guests looking to calm their heartbeat and find their center, Kurumba's luxury spa is housed in a traditional Maldivian structure with domed vaults, elegant arcades, impressive columns, and a historical theme that provides a sense of time while visitors enjoy space for healing. Free daily yoga classes are aimed at beginners and provide the perfect introduction to the peaceful pastime. The sessions focus on easy postures, breathing exercises, and meditation, the art of focusing your complete attention on one idea — whether that be your breathing or a mantra — that leads you to a state of peace and harmony.
The resort can also provide prenatal yoga, yoga for back pain and yoga for stress relief.
Sun and Spa To feel more aligned with nature, Kurumba Maldives offers outdoor treatments in a stunning setting surrounded by the lapping Indian Ocean for an experience you will never forget. Imagine marveling at the night sky while receiving a gentle evening massage with warm Maldivian coconut oil poured from local cowrie shells, which are used to soothe away tension.
Relax in the post-treatment glow with Champagne and chocolate-dipped fruits served under the night sky. For more local treatments, try a Dhivehi Beys appointment at Veli Spa. This school of traditional Maldivian herbal medicine includes treatments and recipes passed down from generation to generation.
The spa's therapists take great care in preserving the ancient remedies by adapting them to modern-day spa therapies using locally sourced ingredients and indigenous plants, roots and oils. These respected remedies recipes are still used by many Maldivians today to relieve ailments such as joint pain, nerve tightness, fluid retention, migraines and muscle tension.
Kurumba Maldives is the first spa resort in the Maldives to share these traditional remedies with guests and actively works toward protecting them for future generations. The spa's Signature Treatment, known as Akarakara Theyo Dhemun, was specially created for Veli Spa and can be tailored to your need for soft, medium, or strong pressure. The therapy includes a hot sand poultice used alongside the spa's signature healing herbal oil that leaves skin soft, minds soothed and spirits lightened.
Whether you choose to calm your mind, soothe your body, or challenge your abilities and skills, you'll find the perfect range of healthy activities and amenities at Kurumba Maldives.
To learn more about Kurumba Maldives or to book your visit today, visit www.kurumba.com
---
Article Sponsored by Kurumba Maldives.
All images courtesy of Kurumba Maldives.
Written By