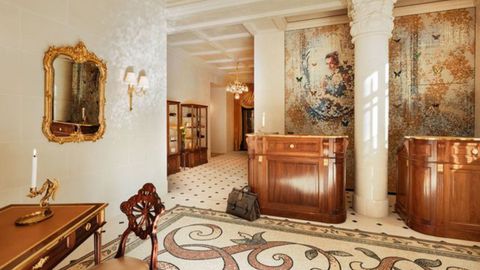 Back before computers and cell phones, people wrote letters. Star-crossed lovers professed amorous desires. Presidents shared wartime worries with trusted generals. Parents checked on their children in other states. Authors scribbled ideas to literary confidants. And all these correspondences were sent to their intended recipient by the postal service. It didn't take long for cities to begin erecting grand buildings to house mail depots.
Fast forward a few hundred years, and the invention of email and a major shift toward tech-based forms of communication have changed the scope and scale of the postal service. So what became of these extraordinary temples to snail mail? Some old post offices around the world — from Washington, DC to Singapore — are having a fascinating second act as luxury hotels worth writing home about. Here, are a few of our favourites.
These historic post offices were converted into luxury hotels
1898 The Post, Ghent, Belgium Tucked away in the corner of a neo-Gothic landmark originally built for the 1913 World Expo, 1898 the Post is a boutique hideaway set where Ghent's central post office functioned for many years, and it brings postal chic into the present moment. After entering through the courtyard on a cobbled side street, guests ascend a spiral staircase. Once inside, the quirky charm of the historic building comes into focus; the hallways slope down at the sides and some accommodations are couched inside turrets. Inspired by Old World offices but with a contemporary overlay, rooms and suites feature built-in bookcases, rotary phones, and antique writing desks topped with paperweights, pencil boxes, postcards, and paper.
Book your stay at 1898 The Post via Booking.com
Book your stay at 1898 The Post via Agoda.com
Kimpton Hotel Monaco Washington, D.C. The story of the Kimpton Hotel Monaco Washington, D.C. dates back to the 1830s with the construction of the General Post Office. After nearly 150 years of official government use, the first all-marble building in the nation's capital sat abandoned. And so the job of restoration and transformation began. The rehabbed property honours American history and heritage in an impressive way. Original elements, including a pair of circular staircases, monumental columns, and a neoclassical fireplace framed by gold bald eagles, are complemented by draperies and pillows crafted from contemporary fabrics. The postmaster's library is now a ballroom, and the mail sorting room houses Dirty Habit, a stylish bar and restaurant.
Book your stay at Kimpton Hotel Monaco Washington DC, an IHG Hotel via Booking.com
Book your stay at Kimpton Hotel Monaco Washington DC, an IHG Hotel via Agoda.com
The Fullerton Hotel, Singapore Many travellers are familiar with The Fullerton Hotel, Singapore, as it's one of the most iconic and popular places to stay in the city centre, but few know much about its intriguing history. Before pivoting to the luxury hospitality sector, the 1928 neoclassical building was home to the central post office for nearly a century. Today, the prestigious 400-key property and national landmark channels the heritage of yesteryear with its preserved (and magnificent) portes-cochères, Doric columns, and commanding marble staircase. Having traditional afternoon tea here is a treat complete with finger sandwiches, freshly baked scones pastries, and harp music in the atrium.
Book your stay at The Fullerton Hotel Singapore via Booking.com
Book your stay at The Fullerton Hotel via Agoda.com
Hôtel Madame Rêve, Paris Hôtel Madame Rêve reanimates the 19th-century Louvre post office building, which was built toward the end of the Second Empire of Napoleon III. The impeccably executed project makes incredible use of the structure's Haussmann proportions while weaving in period details like intricate mouldings, parquet floors, and chandeliers, which provide even more art nouveau character. Poised in the first arrondissement — a hub of designer shopping, world-class museums, and sidewalk cafes — the World's Best Award–winning property is a fashionable base for exploring. Though it is admittedly pretty tempting to stay put on the property, given its stylish boudoirs accented by mail-themed art, roof terrace with panoramic city views, and tranquil spa.
Book your stay at Hôtel Madame Rêve via Booking.com
Book your stay at Hôtel Madame Rêve via Agoda.com
Shop the best travel experiences here
COMO The Treasury, Perth, Australia Located on the corner of St Georges Terrace and Barrack Street in one of Perth's oldest neighbourhoods, COMO The Treasury shares a lot of commonalities with its environs: both are steeped in history and were recently revitalised. The collection of 19th-century state buildings that used to harbour the post office, land titles office, and treasury now welcomes business and leisure travellers visiting the capital of Western Australia. In contrast to the Victorian-era façade, the 48 accommodations take a decidedly contemporary approach to design with muted hues, natural wood, and sun-drenched spaces. Post, the on-site Italian osteria, serves seasonal pastas and more.
Book your stay at COMO The Treasury via Booking.com
Book your stay at COMO The Treasury via Agoda.com
Villa Copenhagen, Denmark Built in 1912, the architectural marvel that's now home to Villa Copenhagen, part of the Nordic Hotels & Resorts, spent 104 years as the Danish Central Post and Telegraph Head Office. Billed as a grand dame for the 21st century, the recently opened property offers 390 bedrooms that reflect a deep-rooted understanding of Scandinavian minimalism and hygge. Herringbone wood floors, crisp linens, and soft shades create an exceptionally serene atmosphere. Other standout spaces include the rooftop swimming pool, sauna, courtyard bar, brasserie, and T37, a cosy drinking den named after the code postal employees used for after-work gatherings.
Book your stay at Villa Copenhagen via Booking.com
Book your stay at Villa Copenhagen via Agoda.com
BoHo Prague Hotel, Czech Republic A short walk from Old Town Square, BoHo Prague Hotel, a member of SLH, breathes new life into an art deco post office. While the building's past may have been focused on sorting, filing, and delivering letters, its latest iteration as a polished boutique retreat gives few signs — other than, perhaps, the giant windows — that it might have served any purpose other than delighting guests with contemporary design, warm hospitality, and bespoke amenities. Intimate, swathed in neutral tones, and exuding cosmopolitan sophistication, the property supplies 57 soundproof rooms and suites, a cocktail bar, an international restaurant concept, and a sleek wellness area with a heated pool.
Book your stay at BoHo Prague Hotel - Small Luxury Hotels via Booking.com
Book your stay at BoHo Prague Hotel via Agoda.com
(Hero and feature image credit: Hôtel Madame Rêve)
This story first appeared on travelandleisure.com
Related: Some Of The Most Expensive Luxury Resorts Around The Globe
Written By