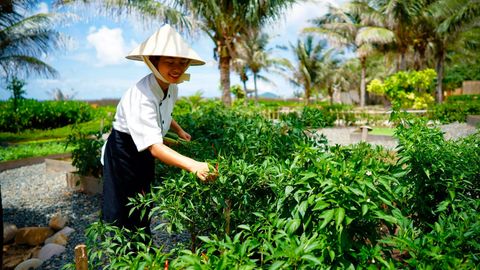 Fusion Resort Cam Ranh in Vietnam is taking sustainability to a whole new level with one of Southeast Asia's largest organic resort farms. SPEAK TO ANYONE in the hospitality and tourism industry in Vietnam and they'll tell you that sustainability is an essential component of their strategies moving forward. While an immediate priority is to get people back traveling again to at least pre-Covid levels as soon as possible, so is ensuring they travel in a way that does less damage to the environment. But this remains a massive challenge for a nation like Vietnam, which ranked an abysmal 96 out of 99 in Euromonitor's Sustainable Travel Index in 2020, which measured indicators such as destination health, impact of travel on the local environment and the general state of tourism in a country. It doesn't quite paint the quintessential picture-perfect postcard of Vietnam you'd expect. But responsible resorts and private operators have been working on greening on their own. Just a few examples: Meliá Hanoi and Meliá Ba Vi Mountain Retreat recently became the first hotels in Vietnam to launch PlasticShreds, an upcycling initiative that converts single-use plastic into chips that are then combined with bitumen or asphalt for smoothing surfaces such as roads and badminton courts. Every Six Senses resort, of course, has an on-site gardens or farms, has never allowed single-use plastics, and their Con Dao property has a turtle-nesting-and-release program. Mango Bay, the original eco-resort pioneer in Phu Quoc, has been joined in recent years by bigger hotel brands keen to help that island stay pristine in the face of rapid development.
I was keen to meet with hoteliers in Vietnam diving knee-deep in sustainability, so I called up Fusion Hotels to learn about what the travel sector here can do to effect green change. Currently the upscale, home-grown, boutique-hotel company is investing in environmentally friendly practices such as eradicating single-use plastics and more: they're sourcing sustainable suppliers for interior decor at Fusion Original Saigon Centre in Ho Chi Minh City (due to open in July), growing organic produce on Alba Wellness Resort's own farm in the mountains of central Vietnam near Hue, and have at Fusion Resort Cam Ranh created one of the largest resort farms in Southeast Asia spanning more than 4,000 square meters. Importantly, they are dedicating a lot of energy to educating the local population. You see, while globally, travelers are indicating they desire more sustainable stays, in Vietnam this kind of demand is lagging well behind most other countries. Staying at sustainable properties just isn't top-of-mind with the majority of Vietnamese domestic tourists yet. In fact, Euromonitor in the same report highlighted Vietnam's poor ranking of 88 out of 99 countries when measuring sustainable tourism demand. While programs can be implemented to reduce strain on travel infrastructure and the environment here, there still needs to be buy-in from local communities for them to be effective long-term.
In short, as clichéd as it may sound, education is key to ensuring this buy-in happens.
Dawid Koeglenberg, the general manager of Fusion Resort Cam Ranh, is as aware as anyone of the non-negotiables resorts must address in order to become sustainable, but even he, despite his exuberant and positive outlook, concedes it's a struggle when "some guests don't care where products come from" especially when price-sensitivity during this post-Covid recovery period has a strong effect on choices. "We're conscious that cage-free eggs and organic vegetables can be a lot more expensive than 'normal' products," he tells me over dinner at the resort he's managed since 2019, "but adding these to menus at a higher price simply doesn't work."

Nevertheless, Dawid is spearheading change with a sustainability plan of action at his property 30 kilometers south of Nha Trang on Vietnam's south-central coast, a scenic three-hour drive from the country's romantic central highlands town of Da Lat.

Dawid and his team are almost halfway into an ambitious plan for Fusion Resort Cam Ranh to have abandoned single-use plastic, be supporting only local sustainable seafood and vegetable suppliers and using only 100-percent cage-free eggs by 2025. The strategy also includes using gray water for all of the resort gardens, manufacturing staff uniforms from recycled plastic and offering lessons on sustainability at local primary schools.

"I really think it needs to start with education," says the South African who has more than a decade of experience in managing properties in Asia. "We've found that farmers are reluctant to change due to the initial investment they have to make, but if they're prepared to produce cage-free eggs, it'll be easier to sell to international brands that are increasingly exploring more sustainable and healthy options."

Dawid's most audacious project yet at Cam Ranh is the establishment of one of the largest resort farms in the entire region. What started out akin to a hobby farm during the long lockdowns over the past two years has flourished into a full-fledged organic farm, now with its own manager, that's home to more than 350 animals, most of which are chickens and ducks that supply the resort kitchen with eggs.

Currently each month, Fusion Farm is producing 1,200 eggs—on target to supply 100 percent of those needed at the resort by 2024—as well as 450 kilograms of fruit and vegetables and around 700 coconuts destined for the bellies of satisfied guests secure in the knowledge that what they're consuming is chemical-free. The growing population of goats on the property, some with names like Banh Mi, Sausage and BBQ, ensure there's never a shortage of fertilizer.

But the most endearing, and perhaps most critical, aspect of the project is that farms accessible to resort guests and community members also act as educational facilities for young and old alike. Each morning guests are encouraged to visit the farm to not only collect eggs for their breakfast that are then cooked at the hotel restaurant, but also to learn about sustainable food production and proper animal welfare practices—a great way to introduce such concepts to a new generation.

[gallery ids="34076,34077"]

When I visited in May, I was overwhelmed by the hands-on experience down on the farm where ducks and all kinds of chickens roam freely and jostle among themselves to be fed by guests. It's an uplifting experience, not to mention educational, even for an ex-farm boy like me. In addition, the impact of such an experience on guest health and wellbeing, long the raison d'etre of all Fusion resorts, would be immeasurable.

And the project is already having a positive influence beyond the resort down the long stretch of white sand rimming the bay that Fusion Resort Cam Ranh shares with other properties. Since the one at Fusion resort launched, four other hotels nearby have begun growing their own vegetables and even investing in some chickens and creating their own farms. It seems that not just the kids are learning. "It's incredibly easy to do something," says Dawid. "Anyone can make a difference if they try." And in case you're wondering, the eggs were delicious and the vegetables made a very memorable sup muop—or loofah soup, after the gourd that's used in it, which can be dried and sectioned to be used as a loofah… yet another delightful sort of sustainable sourcing.
camranh.fusionresorts.com; doubles from US$238 for Chic Suite, including breakfast and one spa treatment per adult per night.
Written By