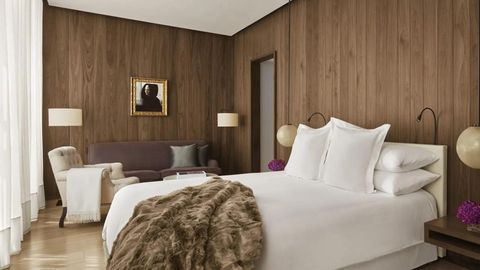 The day Studio 54 opened was the day that nightlife was redefined. The 1970s disco nightclub in the Midtown Manhattan neighbourhood of New York City was the fever dream of excess, disco, scandal, and everything in between. More so because it had a guestbook that was signed off by Andy Warhol, Cher, Mick Jagger…you get the drift. But we're not here for the now-defunct Studio 54, but rather for the man behind this legendary club, Ian Schrager, and his first EDITION hotel, the London EDITION.
Here's a look at the extravagant LONDON Edition Hotel: Unlike Studio 54, the London EDITION is an exercise in restraint and sophistication. Like any good speakeasy, the hotel isn't recognisable from a mile away. It sits quietly amongst the other neoclassical architecture on Berner's Street with no big signs or elaborate shrubbery. Instead, it's the bulb-embossed entrance that gives it away. Set in the former Berners Hotel, the property in central London's Fitzrovia is quite literally in the thick of the action, with plenty to do, see, and eat in the vicinity. But as one of the city's hippest hangout spots, you'd be hard-pressed to leave, for Shrager and the Marriott Group have created something truly special within.
The party, quite literally, starts when you walk in, because the lobby is basically also a bar, complete with a giant chrome egg by German lighting designer Ingo Maurer, a billiards table, and plush sofas, the latter of which is permanently occupied by some of London's trendiest folks. The London EDITION was, after all, designed to embody Schrager's 'new kind of gathering place'. Despite being in a heritage building – as most properties in the capital are – the hotel manages to sneak in the present and future here. At first glance, you'll find touches of aristocratic English country manor but look closely and you'll notice the slickness of a London gentlemen's club. The time-tested marble columns, grand fireplace, and intricately-carved stucco ceilings within are juxtaposed by futuristic touches like the shiny egg and a hypnotic Portal creation by Korean artist Chul Hyun Ahn, giving an edginess that's rare within old bones like these.
Check-in was extremely easy thanks to Nazly, who kept our spirits up (more like going) despite us dropping in hot from a 15-hour plane ride early in the morning. The staff here are all extremely personable and knowledgeable about the ins and outs of the building, so getting information about the property was extremely easy.
Rooms They call it rooms, but they felt more like cabins. Really cosy and chic cabins. Wood is a big theme here and you'll find it on the oak floors and wall panelling, its warmth permeating into the clean white sheets. The Scandi-vibe is paired with a rather eclectic gold-framed photograph by artist Hendrik Kerstens, as well as contemporary lamps and lighting fixtures. The bed is plush, and there's a faux fur throw to add to the quiet luxury aesthetic. Bathrooms are quite the contrast – white, minimalist, and cool – although there are still enough wooden accents throughout to tie the two spaces together. Only a handful have bathtubs, but the rain shower here is plenty big enough for two to have a cheeky go-together – if that's what you're into. Our favourite part? The Le Labo products with a specially designed scent, which you can also purchase at their store to bring home.
Food and drinks The city's full of stellar restaurants, bars, and pubs, but when the who's who of London is coming to The London EDITION, why would you want to leave? Berners Tavern is currently one of the city's hottest spots for a good night out, especially because star chef Jason Atherton has single-handedly quashed the stereotype about British food.
The seasonal menu we tried saw Michelin-starred Atherton serve up hits that celebrated Spring. This included a very hearty Charcoal-Cooked Char Siu Dingley Dell pork chop and Roasted Lemon Sole, but vegetarians will find themselves in equally good company with the Spring Herbs Risotto, a light, a moreish dish that's a fabulous way of tasting fresh British produce.
Meat lovers will enjoy the grass-fed Scottish steaks here, which are sourced only from conscientious farmers, and are prepared on a Mibrasa grill for some of the most beautiful char and juiciest cuts you'll ever see. Top tip: save room for dessert. The Banana and Milk Chocolate Choux Bun with salted caramel and banana ice cream is to die for, but you can also go straight for the Coconut and Pineapple Alaska, which comes served with an Instagrammable fire show. For English Wine Week, there'll also be an exclusive curation of English wine by Head Sommelier Giuseppe D'Aniello from June 18 – 26. Otherwise, get the night going at the buzzy Lobby Bar or Punch Room, both of which are packed even before sundown. Breakfasts also take place at Berners Tavern, and you'll get a better view of the mash-mash of art that has completely taken over the walls. The Full English and Brioche French Toast here are decadent and sinful and worth every calorie, but you'll be equally satisfied with healthier options like the oat porridge with berries, or the avo-toast, which is elevated by a very fragrant Borough Market sourdough bread. The morning staff here were helpful and surprisingly lively, and our waiter even remembered our coffee order the next morning.
Other amenities There's a well-equipped gym. It's not big, but it's enough to get your blood pumping.
Location It doesn't get more convenient than this. The London EDITION is within a stone's throw from some of London's most popular shopping destinations, such as Oxford Street, Regent Street, and Soho. Otherwise, two tube stations – Tottenham Court Road and Oxford Circus – are nearby, and will connect you to the rest of the city pretty easily. Theatres on the West End are also but a short walk away.
Verdict If we could live here, we would. Spectacular social spaces that are filled with London's trendiest, food that's local yet sophisticated, a location that's always in the thick of the action, and when it comes time to retreat, a quiet, intimate space that's effortlessly calming. Then there's that trademark Marriott treatment, which promises smiles and genuine service all around. If there ever was a hotel that epitomised the quiet luxury trend today, it's this one.
Find out more about The London EDITION here.
Book your stay at The London EDITION Hotel via Agoda.com
Book your stay at The London EDITION Hotel via Booking.com
This story first appeared here.
Related: These Are The Best New London Hotels To Visit In 2023
Written By