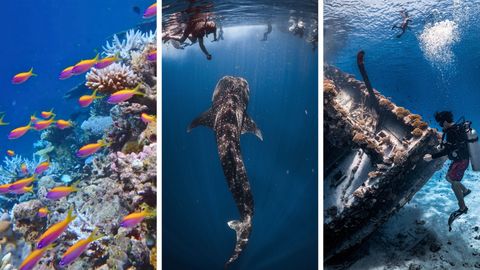 Three legendary Maldives resorts are teaming up to offer diverse and thrilling diving itineraries never seen before.
THE ALLURE OF THE MALDIVES as an idyllic holiday destination is undeniable. Not only is it a retreat for romantics, a haven for nature lovers, and a must for foodies — it's also one of the most mind-blowing diving destinations on the planet.
This bit of tropical perfection in the Indian Ocean features local reefs teeming with coral colonies, schools of colourful fish and unimaginable marine life submerged beneath crystal-clear waters. While most of the top resorts in the country provide a diving centre, others, such as Hilton Maldives Amingiri Resort & Spa, take it a step further. This diving paradise is an SSI-affiliated Diamond Centre.
Through its new Dive with Hilton experiences, Hilton Maldives has teamed up with two other top-tier resorts to offer dives and discussions with legendary marine biologist, master reef guide and underwater photographer Jacinta Shackleton to assist guests in exploring the magical world beneath the waves in the Maldives.
A Legacy of Exploration For the first time, Hilton Maldives Amingiri Resort & Spa, Waldorf Astoria Maldives Ithaafushi and Conrad Maldives Rangali Island come together to present Dive with Hilton, a seasonal collection of distinct dive experiences which place a spotlight on the world-famous rich biodiversity of the region.
In honour of the launch of Dive with Hilton, guests in the coming months will have the privilege of diving with Shackleton — a descendant of famed Antarctic explorer Ernest Shackleton — from July 17 to August 1, 2023. Shackleton will host the dives alongside educational sessions on regional and global conservation at Hilton Maldives Amingiri Resort & Spa from July 17 to 22, Waldorf Astoria Maldives Ithaafushi from July 22 to 27, and Conrad Maldives Rangali Island from July 27 to August 1. Post-launch, all Dive with Hilton experiences will be available through September 30, 2023.
Deep Dive into Discovery
Hilton Maldives

Hilton Maldives
Diving into the waters of Hilton Maldives Amingiri Resort & Spa in North Male, programme participants will be thrilled to discover a thriving ecosystem of reefs, caves and drop-offs that are the habitat of impressively large reef sharks.
This region is amongst the most popular scuba spots in the Maldives, with divers drawn to Anemone Reef to witness clownfish, rays and turtles, and Sandbank Reef, rich with schools of intriguing batfish and shimmering snappers that make their homes amidst the underwater rock and coral formations, called thila.
Submerged Beneath the Stars Over in South Male, Waldorf Astoria Maldives, Ithaafushi allows guests to plunge into 30 mesmerising dive sites — including exciting excursions that allow them to unravel the secrets of four shipwrecks — and guided snorkel tours exploring the turquoise waters that house stingrays, nurse sharks and dolphins.
For guests searching for that special after-dark experience, the resort hosts a night tour where they can witness the chromatic display put on by living coral as it bursts into bloom under cover of twinkling starlight.
Iconic Impact of the Sea
Dive with shark at Conrad Maldives

Dive with shark at Conrad Maldives
Guests of Conrad Maldives Rangali Island, which straddles two islands, will have the honour of delving deep into the domain of the whale shark, found within the azure depths of the South Ari Atoll Marine Park, a protected conservation area and the only place in the world where whale shark sightings are a guaranteed phenomenon every day of the year.
The iconic marine behemoths swim alongside dolphins, manta rays and sea turtles in their enigmatic underwater world.
No matter which diving package guests settle on, it includes an unforgettable whale shark encounter, a 60-minute spa treatment, a mixology masterclass, and complimentary access to non-motorized water sports, including kayaking and snorkelling.
Offering unmatched access to the amazing underwater world of the Maldives, these packages are sure to show divers something they have never seen before. A five-night stay includes six dives, in addition to accommodation in a beach or overwater pool villa, daily half board, roundtrip premium speedboat transfers, and privileges such as a one-time signature treatment at Amingiri Spa. Intrepid guests who wish to extend are also able to book a seven-night stay inclusive of ten dives.
---
Images courtesy of Hilton Maldives.
Written By