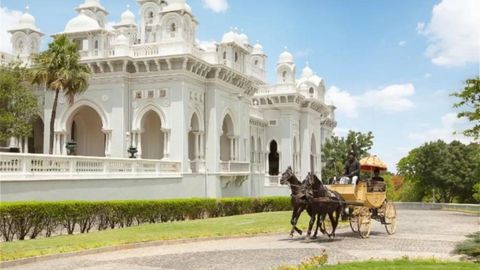 Talk about making a lasting first impression. A growing number of luxury hotels are rolling out lavish arrival experiences to welcome their guests, ensuring that they're pampered even before their vacation has officially begun. We take a closer look at some of the wildest hotel arrival experiences ever.
Most hotel arrivals are quite forgettable. The process typically includes a boring cab ride and ploughing through paperwork at the reception counter before finally getting your keys and the ubiquitous welcome drink. But these creative luxury hotels have taken this up a notch and turned it into an over-the-top experience that'll spoil you silly. Forget waiting till you reach the resort to get that coveted 5-star treatment. At these fancy properties, you will get to make your grand entrance into the hotel by skydiving onto its premises, zip-lining into a bar (where you'll be handed a drink, of course), or pulling up in a horse-drawn carriage Bridgerton-style. Check out the luxury hotels which offer unique welcome experiences that promise to kick your holiday off on a high note.
These luxury hotels offer the best arrival experiences
Four Seasons Resort Bali at Sayan, Bali
Make a splash! One of the most popular hotel chains in the world is now offering an incredible arrival experience by boat. The resort was already famous among tourists due to its enchanting rooftop arrival via a bridge between the forest. Now the Four Seasons Resort Bali at Sayan is offering an all-new river rafting check-in when coming from their sister resort the Four Seasons Jimbaran Bay on Bali's southwest coast.
Instead of a 90-minute long car drive, with a combined stay at both resorts, you can opt to take an hour-long cab ride to the departure point for the rafting point at the Ayung, the longest river in Bali. The two-hour rafting adventure navigates through Class II and Class III rapids with a leisurely view of lush greenery. After landing ashore, a welcome drink and a towel will be awaiting you. Then the hotel staff will escort you to your suite shortly with your previously shipped luggage.
Address: Four Seasons Resort Bali at Sayan, Jl. Raya Sayan, Sayan, Kecamatan Ubud, Kabupaten Gianyar, Bali 80571, Indonesia.
Book your stay with Booking.com
The Peninsula Hong Kong, China
Need to book a hotel transfer? How about having an emerald green Rolls Royce Phantom with a personal chauffeur waiting for you at the airport?
The Peninsula is one of the finest and oldest hotel chains in the world, offering the best of Eastern and Western hospitality with luxe and grandeur. Thanks to its longstanding history with Rolls Royce, the Peninsula Hong Kong alone has 14 Rolls-Royce Phantoms EWB and one 1934 Rolls-Royce Phantom II. And you can book one of them to pick you up from the airport. The service starts at the door of your aircraft and you'll be escorted to customs in a cart by one of the hotel staff. After checking out your luggage you'll be taken to the limousine lobby where their signature ultra-luxury Rolls Royce would be awaiting you.
Address: The Peninsula Hong Kong, Salisbury Road, Kowloon, Hong Kong, SAR
Book your stay with Booking.com
Six Senses Zighy Bay, Oman
View this post on Instagram
A swift landing — that's what you'll get at Six Senses Zigha Bay. Located in Oman's Musandam Peninsula, the resort is surrounded by the Gulf of Oman, the Al Hajar Mountains, and surrounding villages. A 1,000 feet paragliding session from the mountaintop to the hotel lobby will enable you to experience this spectacular view at the time of your arrival.
You'll be taken to the hillside overlooking the hotel and — if wind conditions are ideal — take the leap of faith while strapped to a resident pilot. You'll fly like a bird while enjoying the sight of the blue cobalt waters and the mountains, and land on a white sand beach in front of the resort. You even can request the hotel to write a special message at the place of landing to make it even more memorable. Proposal ideas, perhaps?
Address: Six Senses Zighy Bay, Dibba-Musandam PC 800, 00800, Oman
Book your stay with Booking.com
Soneva Resorts, The Maldives
View this post on Instagram
For tourists in the Maldives, seaplanes are an easy way to commute. But if you are staying at any of the Soneva properties — Soneva Fushi and Soneva Jani, a commercial plane ride just won't do. These resorts use their own Twin Otter seaplanes, exclusively designed for Soneva to pick up their guests from the airport.
Prior to taking off from the Male International Airport, you'll get access to a private lounge to freshen up. Then you will board the luxurious seaplane featuring Soneva-purple Elmosoft leather seats and high-technology equipment to start your 30–minute scenic voyage. Moreover, each guest gets a refreshment kit that comprises towels, a bottle of fresh fruit juice, noise-cancelling headphones, and a tablet. After the private plane ride, a private boat ride will take you straight to the resort.
Address:
Soneva Jani — Medhufaru Island, Manadhoo, Maldives
Book your stay at Soneva Jani with Booking.com
Book your stay at Soneva Jani with Agoda.com
Soneva Fushi — Kunfunadhoo Island, Eydhafushi, Maldives
Book your stay at Soneva Fushi with Booking.com
Book your stay at Soneva Fushi with Agoda.com
Pacuare Lodge, Costa Rica
View this post on Instagram
In the tropical heaven of Costa Rica, Pacuare Lodge is located in such a remote locale that it's almost unreachable by land. But there are two interesting transport options to get to the resort — by river rafting or a helicopter ride.
From the airport, you'd have to reach Costa Rica's old capital city of Cartago and traverse the rushing waters of the Pacuare River to get to the hotel lobby. The short one to two-hour rafting on one of the world's top whitewater rivers will allow you to admire the enchanting vista of waterfalls down the emerald-green cliffs, blue morpho butterflies, and the radiant sun in the indigo sky.
View this post on Instagram
Prefer to stay dry? You can also get to the resort by air. The bird's–eye helicopter ride also allows you to appreciate the unmatched tropical beauty of Costa Rica. Crossing the moving streams, craggy volcanos, dense forests, and colourful farmland — you will land on a sandy beach adjacent to the resort. There's also a way to arrive by road to the lodge if you want to avoid the adventures.
Address: Pacuare Lodge Costa Rica, Limón Province, Limón, Costa Rica
Book your stay with Booking.com
Kenai Fjords Glacier Lodge, Alaska, USA
Located within the bounds of Kenai Fjords National Park, the Kenai Fjords Glacier Lodge is only accessible by boat. Starting from Seward, Alaska, the four to five-hour journey through the national park will take you to see magnificent coastlines and mountains. glaciers, and abundant marine wildlife.
You'll get majestic views of the Pederson Lagoon from the window and back deck of the cabins and a full view of Pedersen Glacier from the lodge. Don't forget to look for wildlife on your way there. You can also book a Marine and Wildlife Cruise experience during your stay.
Address: Kenai Fjords Glacier Lodge, 93FGV7M9+JV, Seward, AK 99664, United States
Book your stay with Alaska Wildland
Shinta Mani Wild, Cambodia
View this post on Instagram
Can you think of a more exhilarating way to enter your tent than literally flying towards it? And no, not on a helicopter as that's just too mainstream — but by zip-lining past trees and into the hotel's bar.
Designed by Bangkok-based designer Bill Bensley, Shinta Mani Wild is a tent-style resort. If you want to enjoy this thrilling hotel arrival experience you have to climb 102 steps of the Eastern Tower. Then, get zipped in properly and memorise all the safety instructions. After that, you can fly at 50 Kmph for 400 metres over the Butterfly tent while the cool breeze of the Tmor Rung River caresses your hair and you gaze at the Raging Big Sister Falls. You'll also get a complimentary gin & tonic at the landing bar.
Address: Shinta Mani Wild, Prey Praseth Village, Ou Bak Rothed Commune, Kampong Seila District Preah Sihanouk Province, Cambodia
Book your stay with Booking.com
Belmond Sanctuary Lodge, Peru Every seasoned traveller has Machu Picchu on their list. The adventure amongst the Andean Mountains is unmatched by any other and Belmond Sanctuary Lodge is the nearest resort to the sacred valley. So, you get unparalleled access to the citadel at both golden hours.
Now if you are up to it, the four to five-day hike through the popular Inca trail will take you to the hotel and Machu Picchu. You will get to see some of the most beautiful mountain scenery on your way.
Address: Belmond Sanctuary Lodge, Carretera Hiram Bingham km 7.5, Machu Picchu, Cusco, Peru
Book your stay with Booking.com
Taj Falaknuma Palace, India Arriving in a horse-drawn carriage in the hotel lobby like royalty in the 1920s. Sounds fun?
Nestled on a 2,000 ft high hill, Taj Falaknama Palace is a former palace of Nizam who was rumoured to be the richest man in the world at one time. If you book a stay here, a luxury car will pick you up from the airport. As you reach the gates of the palace, a horse-drawn carriage will take you to the grand welcome you deserve. There will be butlers to treat you like royalty upon arrival. Scale the grand staircases and be greeted with a flower petal shower.
Address: Taj Falaknuma Palace, Engine Bowli, Falaknuma, Hyderabad, Telangana 500053
Book your stay with Booking.com
Sorrel River Ranch, Utah
View this post on Instagram
Are you all set for an adrenaline-packed vacation filled with horseback riding, mountain biking, rock climbing, and river rafting in Utah? Then what's a better way to kick off the festivities than skydiving to the hotel?
The Above & Beyond Adventure package of Sorrel River Ranch starts with the peerless experience of skydiving. Upon arrival at the airport, skydivers will meet you for a 15-minute plane ride over the Colorado River Valley. From there you'll jump in towards the resort's launching pad while enjoying the awe-inspiring views of one of the most beautiful places in the US.
Address: Sorrel River Ranch, Mile 17 UT-128, Moab, UT 84532, United States
This story first appeared here.
(Main image credits: sixsenseszighybay/Instagram; featured image: Taj Falaknuma Palace official website)
Related: 20 Surprisingly Affordable Luxury Hotels Around The World
Written By