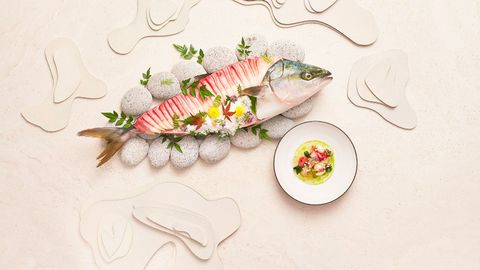 No time like the present to eat, eat, eat your way through the Lion City, whose F&B scene continued to roar its way back last year. These were the best restaurants to open in Singapore in 2022. Just when you thought Singapore couldn't possibly accommodate another fine dining opening, the Lion City wowed again with, oh, we don't know, nearly a couple dozen more. The local culinary scene is buzzing more than ever with new openings, especially those that spotlight heritage and culture or are simply wonderful places to relax and enjoy good food and drinks. Check out the following new restaurants of 2022 to sate your appetite on your next visit to Singapore this year.
Born In a time when we're all expected to "move fast and break things," Born is the outlier that waits patiently for the right moment. Housed in Tanjong Pagar's historic Jinriksha Station, the man behind Born is chef Zor Tan, who's quietly honed his craft over the years as uber-chef Andre Chiang's right-hand-man. Born's impressive menu showcases Tan's deep understanding of French technique and Asian tradition. It is also an autobiography of sorts, referencing key moments in Tan's personal life and career cooking in elite kitchens across the world. The tomato, smoked plum and basil course, for example, recalls Tan's favorite childhood snack of mango and guava slices sprinkled with sour plum powder. The chicken liver dish tips its hat to Chiang's famed foie gras parfait. And a delicate fish maw, Chinese cabbage and smoked eel dish is inspired by the confinement dishes Tan's wife ate after delivering their first child.
The aged beef, oyster and fried bao is a hybrid, inspired by Tan's mother's sizzling oyster pancake and a steamed bun served at Spain's Restaurant DiverXO. A flash-fried "bao" filled with Sichuan peppercorn-marinated aged wagyu beef tartare is placed atop an Irish oyster emulsion, then topped with bresaola, and makes for a delicious combination that could be disastrous in less skilled hands. The drinks menu includes an impressive array of in-house ferments, juices and esoteric teas, some of which are prepared tableside. The whole to-do requires a minimum of three hours, but trust us—it's time for which you won't begrudge Tan.
restaurantborn.com; nine-course dinner menu from S$368/pax
Chez Kai Located in a heritage shophouse in Singapore's once edgy but progressively gentrifying Geylang district, Chez Kai is one of the many private dining experiences that have become full-fledged restaurants after the pandemic. Singaporean chef-owner Yeo Kai Siang's degustation menu centers around traditional Chinese dishes with a French culinary touch. Think a Hakka dish of "abacus seed" where gluten-free yam gnocchi is topped with a 63-degree egg and shaved cured egg yolk; and a delicious duck confit with mandarin, lotus root and pomme puree. The star, however, is the sweet-potato bread perfectly paired with brown butter and spring onion oil. It sells out so quickly each time that orders are now restricted only to restaurant diners.
chezkai.com; degustation menu from S$58/pax for a four-course lunch; no walk-ins, by reservations only
Col Terrific servers and an unstuffy menu are all the reasons you need to come by this cool new kid in the hip Keong Saik neighborhood. Chef-owner Colin Buchan, once private chef to David and Victoria Beckham, delivers sharing plates, hand-crafted pasta and smokey meats, to be enjoyed with your best buds. We love the beef tartare with smoked chipotle and shavings of cured egg yolk, the Iberico pork loin draped with a slice of lardo, and the big-enough-for-two COLPOP popsicle with raspberry rose parfait. Get cocktail or two while you're at it—the spicy margarita is a great bet.
col.com.sg; approximately S$200 for a three-course dinner for two including a cocktail each
Elan This modern French restaurant located off the Orchard Road shopping belt has lots to love on the food and wine fronts. Some gems: a surprisingly light foie gras starter with a kumquat and hazelnut twist; an aromatic roast chicken served with jasmine rice redolent of chicken fat, ginger and lemon grass; and tempura frog legs in scrambled Mangetsu eggs and crème fraiche. Add a fantastic cheese trolley, fun wait staff and quirky artworks, and you get a satisfying re-fueling stop after all the shopping.
elandining.sg; from S$70/pax for four-course set lunch
Esora Esora made headlines earlier this year when it jettisoned its chef (under whose watch the restaurant received its first Michelin star) after incidents of toxic workplace behavior surfaced. But any worries the restaurant might suffer as a result were unfounded. Head chef Takeshi Araki (previously of Tokyo's three-Michelin-starred Nihonryori RyuGin), has taken over his duties with aplomb, upholding Esora's reputation for refined kappo cuisine. Much like his former mentor, chef Seiji Yamamoto, Araki is fanatical about sourcing ingredients at peak seasonality, then creatively embellishing them just enough to let them shine. His hassun, for example, is like a jewel box of treats that changes with the seasons. In summer, it might include a sweetcorn chawanmushi, ponzu-dressed Japanese flatfish with grated daikon and chilli sauce, and pickled summer fruits. Autumn's version might include a burdock chawanmushi made with Japanese hairy crab, binchotan-grilled bonito and mackerel sushi. The omi wagyu is served with seasonal garnishes, while the ultra-fragrant Donabe rice dish (cooked with kombu dashi, oba leaves chives, sesame and diced young ginger) is topped with seasonal fish like golden eye snapper or fatty blackthroat sea perch. Opt for the drinks pairing, which includes an innovative selection of boutique sakes, or a dedicated tea-pairing program, the first of its kind in Singapore.
www.restaurant-esora.com; nine-course lunch from S$298/pax
Kaarla
Murray Cod Fermented Fennel Juice. Image Credit: Courtesy of Kaarla Restaurant and Bar

Salt cured kangaroo sprouted black barley macadamia finger lime. Image Credit: Courtesy of Kaarla Restaurant and Bar
Kaarla takes coastal Australian cuisine to lofty new heights—51 stories up, that is. Perched on the rooftop of CapitaSpring Tower in Singapore's CBD, it's part of an ambitious multi-concept venue made up of restaurants, a cafe and the world's highest urban farm. The latter features five sprawling gardens that produce a respectable bounty including local fruit, Japanese greens and native Australian plants like sea celery and lemon myrtle. Kaarla, which means "where the home fires burn," taps this largesse for its contemporary Australian cuisine, much of which gets a smoky kiss from its custom-built grill and oven. It turns out quintessentially Mod-Oz dishes like a delightfully tender 'carpaccio' of kangaroo loin, Murray cod, wood-fire-seared aged King Island beef with salsa verde or the "Closed Loop Salad," a melange of the day's edible harvest like roselle leaves, Egyptian star or warrigal greens. The food is sustainable, the tableware local (from Singaporean outfit Mud Rock Ceramics) and the wine list heaving with trendy natural and biodynamic Aussie vintages. Even better, a postprandial stroll with both tree- and sea views awaits outside.
kaarla-oumi.sg/kaarla; two-course set lunch from S$52/pax
Nobu There are restaurants, and then there are restaurants that make food history. The Four Seasons Singapore's new crown jewel, Nobu, falls firmly in the latter category because it's home to the Black Cod Miso—the dish that built celebrity chef Nobu Matsuhisa's global empire. Food critics may sniff at Nobu's anachronistic tendencies and quirks (like its overenthusiastic use of coriander as a garnish, for example) but they're vastly outnumbered by its acolytes, which include boldface names like Justin Bieber and the Kardashians, regulars at the Malibu outpost. They all come for the quintessential "Nobu" experience, or Matsuhisa's signature Western take on Japanese flavors, such as salmon tacos, California rolls and yellowtail carpaccio topped with jalapeno slices. There is fresh sashimi and hand-formed nigiri but of course the must-order is the cod: that unctuous, mirin and miso-burnished wedge of fish resting on a banana leaf and accented simply with a ginger spear. Stay classic Matsuhisa with the matcha ice cream and chocolate lava cake presented in a lacquered bento box. Nobu Singapore is the first to feature an outdoor Japanese garden and private dining show kitchen, and two recently unveiled private-dining experiences, the Teppanyaki Omakase menu and the Chef's Table Omakase menu, offer more reasons to return.
www.fourseasons.com/singapore/dining/restaurants/nobu-singapore
Ocean Restaurant
Chef Olivier Bellin. Image Credit: Courtesy of Ocean Restaurant

Strawberry Pavlova, Diplomat Cream with Matcha Tea and Strawberry Sorbet. Image Credit: Courtesy of Ocean Restaurant
A true destination restaurant, Ocean is located in Resorts World Singapore, home to the acclaimed SEA Aquarium and the country's only underwater fine-dining experience. The ever-changing backdrop of giant manta rays, schooling fish and some 40,000 marine creatures demands an equally attention-grabbing menu, one that new chef-patron Olivier Bellin, of two Michelin-starred L'Auberge des Glazicks in Brittany, delivers. The six-course lunch menu (accessibly priced at S$188) showcases Bellin's visually vibrant "land and sea" cuisine, like inky sauteed squid in chilled corn soup, grilled scallop with a smoked beef shard and a fork-tender beef cheek with carrot mousse. A delicious bisque-like seafood reduction accompanies his signature langoustine. With Ocean's new menu (featuring seafood from certified, environmentally responsible fisheries) and its hypnotically stunning underwater views, even those with dud dates will still come out winners here.
www.rwsentosa.com/en/restaurants/signature-restaurants/ocean-restaurant; four-course lunch menu from S$148/pax
Osteria Mozza Popular Italian restaurant Osteria Mozza has finally made its long-anticipated return after shuttering at Marina Bay Sands in 2018. The only Asian outpost of the Michelin-starred restaurant from Los Angeles is now located at the new Hilton Singapore Orchard, serving up its unique blend of Cal-Italian cuisine in a smart yet rustic farmhouse-styled space. Led by artisan bread maestra Nancy Silverton, Mozza is all about unpretentious, in-your-face flavors, from the anchovy-backed umami punch of Silverton's deconstructed Caesar salad to its infamous "love-sticks" (grissini dipped in truffled butter and enrobed in prosciutto) and its beloved woodfired pizzas (only available during lunch). But don't stop at the pizzas, because the pastas, like the fonduta ravioli—made with 25-year-old Modena balsamico and the sausage and Swiss chard orecchiette—are on-point. If you somehow still have room after the mains (and the unabashedly Italian wine list that cherrypicks from Piedmont, Tuscany and Veneto) Mozza's signature butterscotch budino and banana gelato pie await. Come in your stretchiest pants—you'll be glad you did.
www.hilton.com/en/hotels/sinorhi-hilton-singapore-orchard/dining/osteria-mozza
Oumi Chef Lamley Chua's fresh-faced appearance belies his easy confidence helming the pass at Oumi, which adjoins Kaarla. Like its sister restaurant, Oumi also showcases killer views and super-fresh produce from its urban farm. It incorporates some of Kaarla's Australian influences in its contemporary Japanese Kappo cuisine, which highlights the "close-up" interaction between chef and diner. The mood may be less formal, but this doesn't detract from the art of Oumi's dishes. The hassun, or seasonal platter, presents microcosms of the season's best: tempura nori-enrobed Bafun uni, grilled eggplant garnished with deep-fried golden buckwheat, and sliced momotaro tomatoes with miso cheese. Chua's playful approach is seen in flavor mash-ups like the extremely moreish Tempura Crepe, made with a gruyere and tempura flour batter and showered with a colorful riot of Australian scampi, Japanese flying-fish roe, avocado, spicy yoghurt, deep-fried sakura ebi and flower petals. Oumi's monaka—comprising a chilled foie gras ganache sandwiched between two paper-thin wafer shells—is also delicious. Also on offer: fresh seasonal seafood like live Australian abalone or Western Rock lobster, which are ideal washed down with Oumi's boutique Japanese teas and artisanal sakes. The best seats, of course, are at the counter.
kaarla-oumi.sg/oumi; three-course set lunch from S$65/pax
Pangium Located in Singapore Botanic Gardens' quiet and leafy Gallop Extension, Pangium serves contemporary Straits cuisine as envisioned by Malcolm Lee, the sprightly chef behind Michelin-starred Candlenut. Pangium reflects Lee's extensive research into the region's lost ingredients and cuisines and gives these flavors a modern spin, meaning its eight-course menu manages to taste familiar, yet exotic. The highlight is undoubtedly the Nasi Ulam, a platter full of petite crocks of uncommon Asian vegetables, sambals and meat encircling a plate of fresh herb-garnished rice. Highlights among the mini dishes include a sambal tempoyak—fermented durian sambal with fried fish—which references a traditional dish of a whole patin fish cooked in fermented durian curry. Another is a duck satay wrapped in caul fat, glazed with kecap manis and grilled over charcoal; this is Lee's approachable spin on the traditional hati babi bungkus, or liver ball. Must-try dessert: the sagun, inspired by the impossible-to-find sweet treat of roasted, grated coconut mixed with sugar and rice flour. Lee's simple yet elegant version comes topped with a simple sorbet of coconut water, flesh and milk.
www.restaurantpangium.sg; lunch from S$198/pax
Path Chart your own gourmet journey at this elegant restaurant in the CBD, where East Asian ingredients and French culinary finesse come together in homey, hearty dishes. Seafood shout-outs include scallops with pickled kombu salad and Kuhlbarra fish maw in beurre blanc broth aside. But the pièce de résistance is a butter-roasted, Chinese herb-brined French chicken, served with daikon rolls drizzled with the chicken drippings and a cracking scallion-ginger salsa, that would send your heart racing in more ways than one. Wine pairings are taken seriously here, and you may find an emerging label or two that surprises.
pathrestaurant.com.sg; from S$52/pax for a two-course set menu
Seroja The diverse ingredients and flavors in the Malay Archipelago are a complex tome to dissect, but chef Kevin Wong does an admirable job in his first restaurant Seroja (which means "lotus flower" in Malay). The Malaysia-born, former head chef of Michelin-starred Korean restaurant Meta translates childhood and culinary journey inspirations into posh nosh. Case in point: his grandmother's use of lily bulbs with tamarind and fish sauce becomes a pairing sauce for a Hokkaido scallop slow-cooked in garlic oil. From the use of native ingredients such as red rice harvested by the orang asli tribe in mountainous Borneo to handmade Terengganu brassware for the Borneo brown sugar bahulu (similar to a madeleine), it is gentle nudge for diners to explore more of the region. Opt for the non-alcoholic beverage pairing, which yields intriguing finds such as a lactic clarification of Cameron Highland strawberries and tomato broth with brown rice tea.
seroja.sg; Nusantara Menu at S$268/pax
Shikar
Braised Australian Hind Lamb Shanks. Image Credit: Courtesy of Shikar

Pistachio Rose Kulfi. Image Credit: Courtesy of Shikar
Located in the recently rebranded Maxwell Reserve, Autograph Collection, the opulent and regal Indian fine-dining Shikar—which means "to hunt" in Hindi—harkens back India's royal hunting feasts of yore where the spoils became roasted celebrations. Former Master Chef India judge Surjan Singh brings his family recipes to the table and you can't go wrong with anything on the menu especially the charcoal tandoor and Josper grill section. Our fish of the day roasted in lotus leaf, charred cream chicken tikka and biryani with Australian lamb saddle and shoulder were chef's kiss, and the saffron masala chai, the best finish to an amazing meal.
shikar.sg; from S$49/pax for the Thali Set Lunch
Willow This contemporary Asian restaurant is an expression of Singaporean chef-owner Nicolas Tam's journey through top Japanese and European kitchens in Singapore before finally coming into his own. Settle in at the 10-seat chef's counter and watch the young team's camaraderie translate into impeccably balanced, flavorful dishes such as a lightly smoked sawara fish lifted by a preserved plum and rhubarb sauce and an Iberico pork served with mushrooms in mousse, charcoal-salted and pickled iterations. The best is saved for the last: pastry chef Hui Shan is among the brightest sparks on the local scene today and her sour plum sorbet with fresh and preserved guava is one memorable dessert you'll never forget.
willowrestaurant.sg; from S$158/pax for lunch
Yantra This newly renovated Indian fine diner, located at the start of the Tanglin Road shopping belt, has even more brains and brawn now. The elegant interiors are divided into five distinct spaces marked by silk wallpaper, traditional Indian archways and latticed jali screens. The menu, curated by executive chef Pinaki Ray and culinary historian and food revivalist Pritha Sen, celebrates heritage recipes from grandmothers and the exclusive domains of royal chefs, including those rarely served in Indian restaurants these days. Among them is ema datshi, a light but punchy Bhutanese and Tibetan-influenced chili cheese soup, and a butter chicken made in the original Old Delhi style using tomato gravy instead of cream. If you're just feeling thirsty, the bartenders at gin and whisky Corbett Bar will whip up the right drinks for you.
yantra.com.sg; approximately S$160 for a meal for two
---
Hero Image Credit: Wakamatsu Strait Yellowtail. Courtesy of Path.
Written By