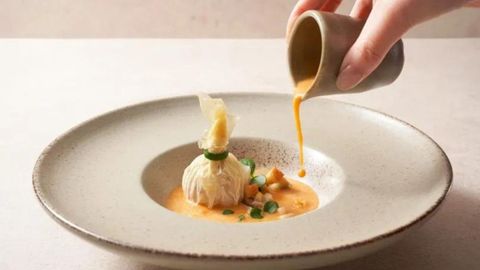 Mod-Asian cuisine isn't new – in fact, it's been done to death, and people often find themselves returning to traditional renditions of their favourite dishes.
Chef Marvas Ng, however, has managed to use classic French techniques to not change, but refine Chinese cuisine to perfection, and this is clearly demonstrated in Path's new Mod-Asian dinner prix fixe menus for 2023.
Ng only launched his inaugural restaurant in partnership with 1855 F&B last year, but the restaurant has already impressed diners by fleshing out the essence of East Asian flavours through intricate French culinary techniques.
On our previous visit, diners got to devise their culinary path for dinner via an a la carte concept. Now, Chef Marvas has introduced an entirely new dinner format via a six-course and eight-course menu, heralding the next chapter of Path restaurant.
Named Voyage and Expedition, the respective six-course and eight-course menus invoke Chef Marvas' career milestones over the past year. This includes winning two gold medals from his participation in the Culinary World Cup 2022 as part of the Singapore team.
Boundless creativity can be seen and tasted in the dishes, which are sumptuously elegant, yet reassuringly familiar and heart-warming. There are no contrived ideas; every culinary approach has its significance.
New dinner prix fixe menus at Path restaurant Hakka Braised Pork Belly with Preserved Vegetables is one of the most iconic dishes in Chinese cuisine. Path restaurant assumes the form of the Pork Trotter Crepinette. Presented as a golden sphere surrounded by a savoury sauce reduction and topped with micro greens, this dish highlights a classic French technique where caul fat wraps the pork and is pan-fried afterwards. This process also reminds Chef Marvan of making the quintessential Teochew dish hei zhor (or crispy prawn roll). Thus, he tapped into those memories when conceptualising this creation.
Mei cai (or Hakka Preserved Vegetables) can be tart-tasting, but Chef Marvan worked his deft culinary skills to perfectly infuse the unique flavour into the pork crepinette as a sauce reduced together with ginger, garlic, shallots, light soy and premium white balsamic vinegar.
Elsewhere, the wrapped minced pork trotters undergo a braised ritual alongside herbs like ginger, garlic, peppercorns and angelica. This method ensures an ideal balance between the collagen-rich pork cut and the caul fat used to wrap it. Expect layered textures and flavours from the crispy yet sticky-tender crepinette when paired with the thick, savoury sauce.
All ingredients complement each other harmoniously at Path restaurant
Shanghainese Hairy Crab Roe

BBQ South African Abalone Risoni
Another menu highlight is the exquisite Shanghainese Hairy Crab Roe. This delicacy is also a tribute to Chef Marvas's two favourite food memories – the buttery hairy crab roe and the savoury version of beancurd. At first glance, this dish may seem like a dead ringer for chawanmushi. But the pairing of both sweet-saltiness of the roe and smooth curd are truly compatible.
Completed by a thin layer of chilli oil, each ingredient brings different textures and taste profiles to offer tender and rich flavours on the palate. The accompanying crusty mini-baguette makes polishing the dish an effortless feat. A harmonious medley of surf and turf happens in the Oriental Bouillabaisse. Based on two housemade stocks – one made of chicken and prawn, another based on fish – this comforting dish offers the deep and rich briny flavours of fresh seafood.
A 'money bag' companion – tofu skin stuffed with sea cucumber innards, shrimp, bamboo shoots, and Beijing cabbage – provides a fitting bite to the savoury broth. The tender BBQ South African Abalone manages to marry both the east and the west, with a rice-like risoni under the shellfish which soaks up the luscious chicken jus.
Sweet dreams are made of these
Petit Four snacks

Mongolian Milk Curd
Rounding up the meal is the sweet and creamy Mogolian Milk Curd. Assembled with Valrhona Ivoire, Greek Yogurt, and blueberries, each spoonful is an explosion of sweet and sour notes. A special mention must go to the unique Petit Fours, which unlike other restaurants aren't just an afterthought. They evoke familiar Asian candied treats, with flavours such as the Red Date Sorbet (chng tng), Lotus Seed Madaleine (an airy mooncake), Citrus Bonbon (mandarin orange chiffon cake), and Hawtorn Gummies (hawthorn flakes). A trip back to the good ol' days indeed. But Chef Marvan's creations are certainly contemporary and modern.
A wine pairing of a flight of three or five is also available with the dinner prix fixe menus. Exceptional wines curated from parent company 1855 F&B, like the fruity Trimbach Gewurztraminer 2018 and Lethbridge 2020 Pinot Noir, enhance both Voyage and Expedition menus.
For lunch, a prix fixe menu titled 'Gourmet Lunch' and a curated a-la-carte lunch menu are available. While a few dishes also appear from the dinner menu, some items (BBQ Brisbane Quail and Braised Ratte Potato with black trumpet mushrooms) remain exclusive to the earlier meal.
Final thoughts in a gif
(All images credit: Path)
The path is located at 12 Marina Boulevard, Tower 3, #01-05/06, Marina Bay Financial Centre, Singapore 018982. Lunch is served from Mondays to Fridays, 11:30 am to 2 pm. Dinner is served from Mondays to Saturdays, 6 pm to 9 pm.
This story first appeared here.
Hero and feature image credits: Path Restaurant
Related: Must-Visit Top Cafes & Restaurants In Singapore Right Now
Written By