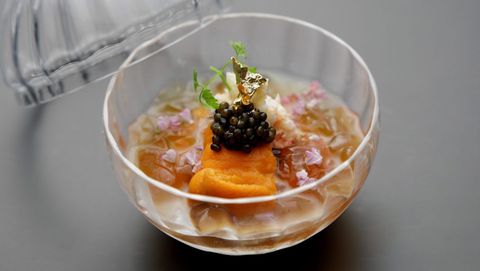 Manabu Saitoh is nearly 50 years old, but he is not thinking about buying a sports car. Instead, he came to a country he has never seen and opened a restaurant.
The Japanese chef has moved on after 30 years of working for other people to launch his own concept, Sushi Sei in Singapore. From the bowels of the Holiday Inn hotel, Saitoh delivers a kaiseki masterclass that is both quietly excellent and charming at the same time.
Sushi Sei is a must-visit on your next trip to Singapore
The 48-year-old has not been to the republic before, but he welcomes the challenge. "I am confident of showcasing dishes that will transport my guests to Japan through their palates," he said. Saitoh was the head chef of Japanese cuisine at Sapporo Grand Hotel previously, and did a stint in Sydney as a young chef.
Book Your Stay In Singapore Here Saitoh runs the ten-seater restaurant with Yu Aung, his Burmese-born, Japanese-speaking wife. The couple met while working at a hotel in Hokkaido, and they have an endearing dynamic. He looks to her for help with explaining dishes in English, she playfully teases him about cooking for her at home.
For dinner, Saitoh serves three kaiseki meals ranging from USD 300++ to USD 450++ he offers a different menu for lunch and takeaway). All evening sets consist of seasonal hot and cold appetisers, followed by nigiri sushi, dessert, and matcha tea.
Saitoh showcases the bounties of his Hokkaido home in various forms. Sea urchin and cod milt lend a custardy texture to tart ponzu jelly, and a sashimi course of prawn, top shell, and two cuts of tuna is plated with a blade of susuki, or Japanese pampas grass that turns shimmery gold in autumn. A type of smoky horseradish called mountain wasabi is used to penetrate the richness of Miyazaki A5 wagyu striploin.
Book Your Stay In Singapore Here Sushi Sei also features delicacies from other parts of Japan. Konowata (cured sea cucumber intestines) is mixed with blue squid sashimi, and the result is something similar to salted egg yolk. Bonito soup with sweet kinki (rockfish) is layered with the bittersweet fragrance of yuzu. Charcoal-grilled unagi and eggplant are simmered in a thick dashi sauce, then finished with a spice that smells like sansho pepper. It hits all the right notes: sweet, salty, sour, bitter, and umami, utterly balanced and unabashedly Japanese.
Saitoh moves very deliberately when preparing the dishes, most evidently when making sushi. He gently sears nodoguro (blackthroat seaperch) skin with charcoal, then crowns it with caviar. With a flick of a brush, he paints kohada (gizzard shard) with sudachi lime juice, adding brightness to the oily fish. Tuna, finely minced and topped with ikura, is as smooth as soft-serve ice cream. Throughout the meal, the dishes were a match with a crisp and saline sparkling sake from Kyoto, and Sushi Sei also has a collection of wines from grand cru Bordeaux to cult Napa Valley labels. Alcohol is also turned into champagne jelly, which zests up a dessert of fresh pear and berries.
Book Your Stay In Singapore Here
At the end, a bowl of Kyoto matcha is served with a whisk, and Saitoh guides the table on how to froth it using only three fingers. Yu Aung said she still fails at the technique, but somehow we succeed. As we sipped on the grassy tea, we imagined ourselves ascending to the rank of tea master, with Saitoh as our guide.
Sushi Sei is located at 11 Cavenagh Road #01-13/14 Holiday Inn Singapore, City Centre, 229616. Book here.
(Hero and feature images credits: Sushi Sei)
This story first appeared on Lifestyle Asia Singapore
Related: 9 Most Expensive Chocolate Brands In The World
Written By