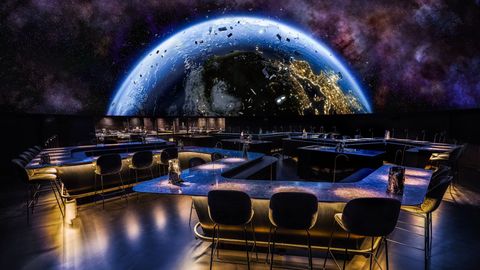 In a world where culinary artistry has reached unparalleled heights, several elite establishments have emerged as true epicentres of indulgence, transforming meals into a mind-blowing sensory journey. Amidst this gastronomic revolution, food transcends its strictly utilitarian function and serves as a blank canvas for unbridled imagination and expression. For the discerning few who are willing to spare no expense in pursuit of the most unique dining encounters, these are the most expensive restaurants in the world that offer a taste of the extraordinary.
Prepare yourself for fine dining experiences that straddle the worlds of luxury, sophistication, and innovation. These culinary temples dispersed all over the world, are a testament to the brilliance of creative chefs who dare to push the boundaries of cooking, redefine traditions, and embrace the unexpected. These culinary havens create signature dishes that are works of art in and of themselves using lavish ingredients gathered from all across the planet. If you're looking to pamper your palate, here are the most expensive restaurants in the world that promise to fulfil your every epicurean desire.
15 most expensive restaurants in the world
Sublimotion — Ibiza, Spain Cost: USD 2,380 per head
The most expensive restaurant in the world is SubliMotion. Helmed by the esteemed two-Michelin-starred chef Paco Roncero, it is no ordinary restaurant. Pioneering haute cuisine with a price tag of USD 2,380 per head, this extraordinary establishment promises an experiential gastronomical trip like no other. Recipient of the prestigious Best Innovation Food & Beverage award in 2014, it elevates fine dining to an art form, capturing the essence of gastronomy and technology in harmony. Only open during the Spanish summer, from June 1st to September 30th, SubliMotion embraces exclusivity, welcoming only 12 unique diners per 'Show One' unique table.
During the meal, a team of 25 will present and guide you through a 20-course menu that unfolds over three enchanting hours. Each dish is a work of art, but the experience doesn't end with the culinary delights. As you savour each course, you'll find yourself immersed in a sensory wonderland. Laser light shows dance around you, virtual reality elements transport you to new dimensions, and projection mapping adds an ethereal touch to the ambience. The fusion of taste and technology enhances every aspect of your dining experience, leaving a lasting impression.
Alchemist — Copenhagen, Denmark Costs: USD 2,205 per person for The Sommelier Table experience
Alchemist is a world-class culinary attraction in Copenhagen, Denmark, that pushes the limits of gastronomy with its avant-garde approach to dining, and its immersive and multi-sensory experience. With each dish served as an edible work of art, dining at Alchemist is like watching a live performance. In order to produce a multi-course tasting menu that tells a compelling story, its founder and head chef Rasmus Munk along with his brilliant team of chefs draw inspiration from a variety of sources, including history, nature, and culture.
Alchemist offers a singular experience with up to 50 captivating impressions matched with your preferred beverages. Guests must buy tickets and sign up for the waitlist when a slot opens up in order to guarantee a spot. Parties of two, four, and six are welcome at the restaurant. Alchemist's meal experience lasts between four and six hours, so customers are encouraged to arrive curious and present. Get ready to go on a gourmet trip that will awaken your senses and broaden your understanding of food.
Masa — New York, United States Costs: USD 750 per person for Omakase; USD 950 per person for Hinoki Counter Experience. (Excluding beverages)
Masa is a culinary gem and one of the most expensive restaurants in New York City with three Michelin stars, where Chef Masayoshi Takayama's professional skill and commitment to excellence have made it one of the most prestigious and sought-after dining locations around the entire globe. Masa, which first opened its doors in 2004, is a tribute to Chef Masa's lifelong commitment to the craft of sushi-making. The eatery is well known for its distinctive omakase dining experience, in which customers trust the chef to construct a customised tasting menu. The customers completely trust Chef Masa's skilful hands with their culinary adventure because there is no menu in sight.
Masa's dining area is intimate and understated, which keeps the spotlight on the culinary artistry. The restaurant only has a few tables, so every customer has an exclusive and cosy dining experience. Masa stands apart due to the premium quality of its ingredients. Chef Masa carefully sources the best and freshest seafood, including exotic and seasonal specialities, from all around the world. Each handcrafted piece of sushi demonstrates the chef's proficiency, accuracy, and reverence for the authentic flavours of the ingredients.
Joel Robuchon — Las Vegas, United States Costs: USD 485 Tasting Menu 12 Courses + wine pairing (USD299 to 999)
The namesake Las Vegas restaurant, which claims to be the most expensive restaurant option in Sin City, stands as the height of elegance and sophistication in honour of the late chef Joel Robuchon. This iconic restaurant, which has received three Michelin stars, pampers sophisticated palates and provides an unparalleled dining experience. The restaurant's opulent setting resembles a lavish Art Deco townhouse, complemented with marble floors and a lush garden terrace.
Joël Robuchon has earned a prestigious collection of accolades, including Forbes Five Star, 32 Michelin stars, AAA Five Diamond, and Wine Spectator's Grand Award, solidifying its status as a game-changer in Vegas dining. Within its quiet and intimate ambience, patrons are promised nothing less than one of the most extraordinary and refined meals of their lives.
Ultraviolet — Shanghai, China Costs: USD 560 per head (approx)
Nestled among the world's most elusive dining destinations, Ultraviolet stands as an unparalleled realm of culinary excellence. The set menu, starting from 4000 RMB and including "Atmosphere and Drinks," sets the stage for an extraordinary culinary journey. A limited seating capacity of just 10 guests at a time makes securing a reservation an arduous task, adding to its allure as the most coveted dining experience. To add to its aura of mystery, Ultraviolet keeps its location under tight wraps, ensuring guests are discreetly whisked away to the undisclosed dining area only after gathering at a meeting point. The journey to this hidden oasis adds an element of surprise, enhancing the enchantment of the evening.
Visitors are treated to an immersive spectacle as they enter the eatery, which is headed by renowned French chef Paul Pairet. A 20-course culinary symphony is in store, with each dish lovingly prepared to suit your palate and highlight the culinary genius that has earned Ultraviolet its prestigious three Michelin stars. The restaurant currently ranks at 35 on the World's 50 Best Restaurants list.
Per Se — New York, United States Costs: USD 265 to USD 450 per person + add ons
Per Se, Thomas Keller's second three-Michelin-starred restaurant opened in 2004 and its exquisite flavours and subtle presentations set it apart from the rest. The nine-course tasting menu featuring French and American cuisine is the most popular option among the three tasting menus that are available to diners. With 19 tables, the restaurant offers stunning views of Central Park and Columbus Circle.
But not only delicious lip-smacking food, Per Se's award-winning wine collection, offering an exceptional range of more than 2,000 bottles to enhance the dining experience, will captivate any wine lovers.
Restaurant De L'Hôtel De Ville — Crissier, Switzerland Costs: USD 390 to USD 470 per person for the tasting menu (excluding drinks)
Restaurant de l'Hôtel de Ville in Crissier, Switzerland, is a celebrated culinary gem with a storied history and global recognition. This three-Michelin-starred restaurant, run by Frank Giovanni and his staff, offers a memorable dining experience with a focus on the best seasonal produce. The place also boasts an extensive, 40-age wine list. The restaurant's five different rooms each have a unique atmosphere that contributes to the overall ambience and makes every visit special and unforgettable.
According to La Liste, Restaurant De L'Hôtel De Ville was one of the 'Top Restaurants of 2019.'
Guy Savoy — Paris, France Costs: USD 220-USD 700 per person (excluding drinks)
Renowned chef Guy Savoy is the proprietor of two outstanding restaurants, one of which is located in Las Vegas and the flagship establishment in Paris, France. Adding to his culinary legacy, he is also recognised for having trained the well-known celebrity chef Gordon Ramsey. No wonder, it is one of the most expensive restaurants in the world.
Visitors to Guy Savoy's premier restaurant in Paris are treated to a set menu called "Colours, Textures, and Flavours," which is skillfully created to feed the entire table. The menu includes a delightful array of amuse bouche, oysters, caviar, smoked sabayon, and more exquisite dishes. With three Michelin stars to its name, the restaurant also offers a lunch menu, catering to the discerning palates of its esteemed clientele. Guests are pampered in one of the six elegant dining rooms, creating a truly memorable and intimate dining experience. With specialities like marinated duck, grilled pigeon, and lobster, Guy Savoy's Parisian restaurant is renowned for serving French cuisine at its finest. Every penny spent on dining at this exceptional establishment is undoubtedly worth it, promising an unforgettable gastronomic journey for all who enter its doors.
Maison Pic Valence — Paris, France Costs: USD 300-630 per person
Continuing the family legacy, chef Anne Sophie Pic now leads this generational restaurant, joining the ranks of the few female chefs in the world to helm a prestigious three-Michelin-starred establishment. The main room exudes elegance, with a crystal chandelier at its centre and luminous windowed bays opening into enchanting gardens. The decor, adorned in feminine shades of grey and powdered pink, pays homage to the restaurant's history and draws inspiration from Japan.
This gastronomic journey, which consists of 10 delectable courses, focuses on the profound integration and elevation of flavours that engage all the senses. Each dish is a harmonious fusion of creative inspiration and taste, culminating in an unparalleled dining experience. The tasting menu features banon goat cheese berlingots, Mediterranean Rouget in saffron broth, deer marinated in sake lees, and a variety of mouthwatering treats.
Kyoto Kitcho Arashiyama — Kyoto, Japan Costs: USD 279 to 829 per person
One of the most expensive restaurants in the world, Kitcho Arashiyama has six locations in Japan, with its Tokyo location holding the coveted three Michelin stars. Nestled in the picturesque hills, Kyoto Kitcho Arashiyama treats diners to breathtaking scenery and an unparalleled fine dining experience. Carefully selected ingredients are masterfully utilised to engage all five senses, ensuring an unforgettable culinary journey. The restaurant's chefs go above and beyond to personalise each meal for guests celebrating a special occasion, adding a unique touch to the experience.
Every aspect of the meal, from the presentation to the timing of each course, is carefully considered, as one would expect from a restaurant of its calibre.
Forum — Hong Kong, China Costs: USD 560 per person
Forum, a Cantonese gastronomic institution with more than 40 years of outstanding service, holds the title of one of the most expensive restaurants in the world. Its trademark dish, the Ah Yat braised abalone that's slow-cooked to tender perfection in a deluxe broth, stands as a tribute to both the restaurant's proprietor, Yeung Koon Yat, and its own renown.
Forum holds three Michelin stars and offers a fixed banquet menu as well as scrumptious à la carte dishes. Classics like steamed barbecued pork buns and popular dishes like the deep-fried taro dumpling with foie gras are a must-try for dim sum lovers.
Aragawa — Japan Costs: USD 260-500 per head
Tucked away in the basement of a Tokyo office building, Aragawa is known for its great range of premium beef dishes, with Kobe and Wagyu taking centre stage. Unlike many upmarket restaurants, these two Michelin-star establishment has a distinctive strategy by providing an à la carte menu in place of the more typical tasting menu.
Aragawa's focus on providing a transcendent beef experience, developed from precise preparation and culinary expertise, has cemented its place as a must-visit location for meat connoisseurs, despite the understated nature of its surroundings.
Restaurant Le Meurice — Paris, France Costs: Starting from USD362 per person for the tasting menu
The dining room at Restaurant Le Meurice draws inspiration from the opulent Salon de la Paix at the Chateau de Versailles, adorned with magnificent mirrors, dazzling crystal chandeliers, and ornate touches of bronze, marble, and frescoes. As you look out of the expansive windows, the picturesque Jardins des Tuileries unfold before you. Indeed, the lavish ambience and sumptuous furnishings wouldn't look out of place in a palace.
Guided by the culinary genius of Alain Ducasse, a stalwart of French gastronomy, the two-Michelin-starred restaurant stands as a pinnacle of excellence. The menu reflects the surroundings' timeless elegance by combining traditional dishes with Ducasse's distinctive lightness of touch. Each dish is a reflection of sophisticated taste and innovation, from the delicate crunchy goat cheese and sorrel amuse-bouche to the decadent blue lobster served with black garlic and sea potatoes. Along with mouthwatering options, the wine list features intriguing choices, such as lesser-known treasures from Greece and other countries, as well as a treasure trove of France's most celebrated vintages.
Ithaa Undersea — The Maldives Costs: USD 390 for dinner and USD 238 for lunch per person
Ithaa Undersea isn't just one of the most expensive restaurants in the world; it's an immersive adventure that marries gastronomy with marine wonder, where guests not only savour remarkable food but also witness the breathtaking beauty of the ocean's depths. Located on the captivating Rangali Island in the Maldives, Ithaa Undersea stands as a testament to ingenuity and natural beauty. As the world's first underwater restaurant, it offers a truly extraordinary dining experience, plunging guests five metres beneath the ocean's surface for an unparalleled view of the stunning coral garden.
Accommodating up to 14 fortunate diners, Ithaa Undersea is a marvel of engineering and design with subtle art deco-inspired interiors. Guests receive either a four-course lunch or a six-course dinner, both thoughtfully paired with some of the world's finest wines. Dishes like succulent lobster and snow crab, perfectly pan-seared sea scallops, and the indulgence of three-mustard-marinated wagyu beef grace the menu, tantalising palates with a symphony of tastes and textures.
Alain Ducasse au Plaza Athénée — Paris, France Costs: USD 230 to USD 435 per person
In the heart of Paris, France, Alain Ducasse au Plaza Athénée shines as a gastronomic star. Situated within Hôtel Plaza Athénée in an ornate dining room, this three-Michelin-starred restaurant is the brainchild of legendary chef Alain Ducasse.
The cuisine embodies French gastronomy's essence — precise, creative, and ingredient-respecting. With a variety of tasting menus that highlight the diversity of modern French cuisine, guests are taken on an unforgettable culinary trip. Each meal, a work of art, beautifully captures the essence of the ingredients while pushing the frontiers of cuisine. The restaurant's "naturalness" philosophy supports the use of sustainably produced, organic, biodynamic, and other ingredients as well as waste reduction and carbon footprint reduction. The wine selection is a reflection of the high calibre of the cuisine, providing prominent French wines, vintages from bygone eras, and one-of-a-kind bottles.
Shop the best travel experience here
This story first appeared here.
(Main image: Alchemist/Facebook; featured image: Ultraviolet/Facebook)
Related: World's 50 Best Restaurants 2023: 4 Bangkok Restaurants Make The 51-100 List
Frequently Asked Questions (FAQs)
Question: Which one is the most expensive restaurant in the world?
Answer: Costing over USD 2,380 per head, Sublimotion in Ibiza, Spain takes the crown for being the most expensive restaurant in the world.
Question: What is the most expensive meal to make?
Answer: Caviar is the most expensive food item in the world.
Question: Which country has the highest restaurant in the world?
Answer: The highest restaurant in world is The Heavenly Jin restaurant, which sits on the 120th floor of the J Hotel Shanghai Tower 1,825 feet above the ground.
Question: What is the meaning of high-end restaurants?
Answer: High-end restaurants are premium establishments that offers delectable cuisines and breathtaking ambience for a hefty price tag.
Written By