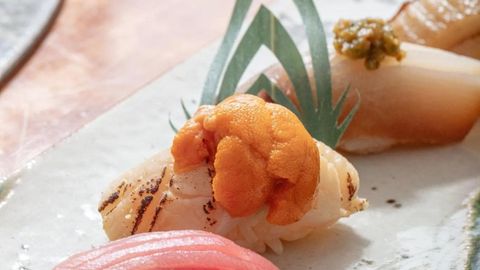 Sushi might be a simple dish, but there's no denying that the profound textures and flavours – from the natural sweetness of fish and the fragrant mix of vinegar and rice to the pungent notes of wasabi and umami from the soy sauce – complement each other perfectly. If you're planning a trip to Kuala Lumpur, here's where to find the best sushi in KL.
Sushi chefs will tell you that the most fundamental element in sushi-making is rice. The right balance of vinegar, fluffy rice and fresh ingredients stretches a long way. The way the chefs explore and prepare sushi is limitless and these creative renditions stem from the fine art of sushi-making, which take years, if not decades to perfect. And while nothing beats having these bite-sized morsels in Japan, these sushi chefs in KL have really stepped up their game to offer some of the best versions in the country, many of which have opened their own sushi bars in the Malaysian capital.
Nevertheless, there are two types of diners in a sushi bar or omakase restaurant – one that sticks to tradition and one that combines non-Japanese ingredients. These sushi bars in Kuala Lumpur know how to please the crowd with unique sushi menus that harp on taste, artistry and creativity, especially establishments like Sushi Ryu and Sushi Oribe, which have put together solid menus that combine traditional techniques with modern sensibilities.
Book your stay at Grand Hyatt Kuala Lumpur Hotel via Agoda
Book your stay at Grand Hyatt Kuala Lumpur Hotel via Booking.com
7 places for the best sushi in KL today:
Jump To / Table of Contents Written By