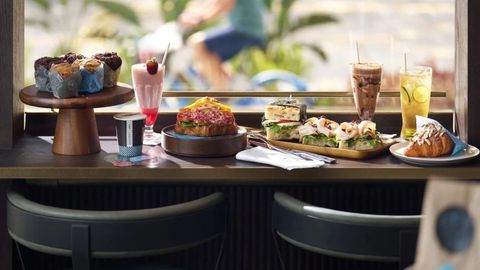 We're now officially in the third quarter of 2023. Looking back, there have been quite a few exciting restaurant openings this year, but always there's more to come. For making it this far, what better way to celebrate than by treating ourselves to these best new restaurants in Singapore in 2023?
Start off by savouring Lebanese cuisine at UMMI Beirut. Helmed by renowned Lebanese-Australian chef Greg Malouf and his protégé, executive chef Ali Assaf, the restaurant offers a modern take on exquisite Middle Eastern flavours. The first outpost of Brasserie Astoria has opened in Singapore too. A known name in Stockholm, Sweden, the menu here is executed by Singaporean Head Chef and Zén alum Emil Cecil Ess.
Other exciting openings include Burma Social, a celebration of cultural fusion with the Feast of Six Kingdoms. This gastronomic adventure gathers the culinary essence of China, Thailand, India, Bangladesh, Laos, and the central pillar – Burmese cuisine. For a taste of nostalgia, head to Great Nanyang, the latest yesteryear kopitiam concept of old Malaysia and Singapore from the founder of Yang Ming Seafood. Familiar dishes like the Hainanese Chicken Cutlet, Nasi Lemak Kukus, and Dry Mee Siam will certainly excite palates.
There are also notable restaurants with new and refreshed menus, including Khiri, which was formerly known as Restaurant Chedi. Despite the name change, Head Chef Miller Mai still sticks to the ethos of showcasing Thai cuisine from a different perspective while remaining true to authenticity and tradition.
Read on for the complete list of all the best new restaurants that have just popped up on our shores this month.
All the best new restaurants and latest menus to check out in Singapore this November 2023:
Tenshima (new restaurant) It's easy to group Tempura as just another Japanese fried dish with other classics like Kushikatsu and Korroke. But Tempura can be elevated under the hands of a distinguished chef. This can be found at Tenshima, a new fine-dining omakase concept that adopts a unique kaiseki approach to tempura.
Debuting an autumn menu consisting of fresh seasonal ingredients like Ginkgo, Abalone, and Sea Bream, Chef Takahiro Shima executes 'kodawari' (the pursuit of perfection) and 'omotenashi' (the art of consummate hospitality) with passion and precision for all omakase dishes. The tempura creations have complexity and depth. Besides locking freshness using light non-gluten flour batter and frying with sunflower oil, Chef Shima also employs kaiseki elements like marination and curing to develop and extract the optimal flavours.
Tenshima is located at 9 Raffles Boulevard, #01-09 Millenia Walk, Singapore 039596.
Restaurant JAG (new menu and location) Michelin-starred establishment Restaurant JAG has found a new home at Robertson Quay. Neighbours with contemporary art gallery STPI, the five-year-old restaurant expands from a 16-seater to seat 40 in a beautifully restored 19th-century warehouse that overlooks the Singapore River, is surrounded by greenery, and welcomes natural light.
Restaurant JAG's new address also coincides with its latest autumn menu. Continuing with a vegetable-centric ideology, diners can appreciate the essence of every seasonal green ingredient created by Chef Jeremy Gillon, restaurateur Anant Tyagi, and their team. Highlights include the Jerusalem Artichoke presented in various iterations – raw slices pickled with pine vinegar and oil, a smooth puree with butter, braised and glazed with sapin and muscovado, and a light and crispy tuille.
The Banana Shallot course hits the spot with its medley too. On the plate, pickled shallots, a puree of banana shallots, grilled sliced shallot and shallot jelly are crown-roasted and paired with puffed buckwheat.
Restaurant JAG is located at 41 Robertson Quay, #02-02, Singapore 238236.
Madison's (new restaurant) The newest joint at Hill Street is a New York-inspired deli Madison's. This day-to-night restaurant serves generously portioned bagels, sandwiches, burgers and more from breakfast to supper. Fuel up with its selection of hearty breakfast creations like Everything Benedict – poached eggs with streaky bacon, smoked salmon and smashed avocado – and Two's Company, a sharing platter of MS3 USDA Prime grain-fed New York strip with sunny-side ups, roasted cherry tomatoes, sweet potato fries and red wine sauce on the side.
Come night, Madison's concoct cocktails are named after New York City neighbourhoods. Sip on Brooklyn, a fig and nutmeg-infused Mitcher's rye whisky, or the thyme-infused gin and vermouth-based Queens. Diners who need a quick bite can also grab grub made from ingredients supplied by local businesses. The gourmet sandwiches, including The Staten Island and The Pullman Pastrami, use artisanal bread from Starter Lab Bakery. As for coffee, the brews from local roasted coffee purveyors Sarnies will certainly keep you awake.
Madison's is located at 1 Hill Street, Pullman Singapore Hill Street, Ground level, Singapore 179949.
Shoukouwa Shinjidai (new restaurant) Up for an exceptional yet uncommon gastronomic experience? Shoukouwa Shinjidai will exceed expectations. The "new age" Japanese Kaiseki restaurant had music undertones with dishes named after song titles and chefs that looked like rock stars.
Delivering both style and substance, the current Yune menu showcased exquisite flavourful delights. 'Hey Big Spender' (the Peggy Lee/Shirley Basset classic hit) epitomises lavishness with an appetiser of caviar served three ways: a mother-of-pearl spoon of oscietra caviar, shiro ebi (baby white shrimp) balancing shadi caviar and sudachi lime zest, to be eaten in a crisp seaweed tart, and kaluga caviar on top of somen with uni sauce.
Follow up 'Comfortably Numb' awes with crunchy wild mushroom and buttery rice blanketed under shaved black winter truffles.
Shoukouwa Shinjidai is located at 1 Cuscaden Rd, #01-03/04 Conrad Singapore, Singapore 249715.
Canopy Changi Village (new restaurant) Temporarily escape city life and bask in sun, sand, sea and delectable food at Canopy Changi Village. Suitable for a family or sizeable gathering of friends, the pet-friendly restaurant chain allows kids to play at the beach while the adults enjoy a live band over dinner.
Fill the table with starters like Kale Salad and Sweet Potato Croquettes to mains like the Asian-inspired Spicy Sambal Baked Salmon and juicy Roasted Duck Breast. Till November 30, children eat for free with every main dish ordered. Otherwise, opt for a complimentary Buffalo Hot Wings with every main dish purchased.
Canopy Changi Village is located at 2 Netheravon Road, Block B, Civil Service Club, Singapore 508503.
Nong Geng Ji Singapore (new restaurant) Craving for spice-centric dishes? Another authentic Chinese F&B brand has debuted its debut overseas outpost in Singapore. Established in 2017 in Shenzhen, Nong Geng Ji, a go-to restaurant chain for Hunan cuisine, currently has over 100 outlets in China. Chinese locals can attest to Nong Geng Ji's authenticity, as it ranks number 1 on DianPing (the Chinese version of business-review sites similar to Yelp and TripAdvisor) in various cities such as Beijing, Shenzhen, and Shanghai.
Dig into Hunan specialities like Stir-Fried Pork with Abalone and Chilli, Signature Grass Fish Fillet with Chilli, and the mortar-presented Pan-Seared Green Chillies with Century Egg. Also get your carb fix with Nong Geng Ji's Wuchang Steamed Rice with Sweet Potato and Red Date, which is served in a piping hot rice cooker pot.
Nong Geng Ji is located at 16 Collyer Quay, #01-01/02 Collyer Quay Centre, Singapore 049318
Yaowarat Seafood (new restaurant) There won't be a need to travel to Bangkok's Chinatown when there's Yaowarat Seafood in Singapore to savour authentic Thai-Chinese seafood cuisine. Named after Bangkok's famous Yaowarat district, the restaurant is inspired by ocean-fresh seafood, particularly grilled specialities.
Located in a heritage old-world shophouse, Yaowarat Seafood conveys the authentic taste of Thai-Chinese flavours in its extensive menu. Start with appetizers like the refreshing Blanched Ark Cockles on Ice before digging into appealing mains like the generous XO Seafood Treasure Pot, meaty Live Mud Crab Vermicelli, tender Homemade Moo Ping (Thai-style Pork Satay) and the iconic fiery Tom Yum Mama Noodles Pot.
Yaowarat Seafood is located at 320 Lavender Street, Singapore 338820.
All the best new restaurants and latest menus to check out in Singapore this October 2023:
KUN (坤) (new restaurant) Established as Singapore's first omakase-style Sichuan restaurant, KUN (坤) showcases quintessential flavours and forgotten Sichuan classics in a 26-seater intimate setting. The newly opened establishment at Amoy Street, helmed by Sichuan-born Singaporean Peng Kun Lin and his mentor Liu Yongmei (a restaurateur who owns 30 hot pot restaurants across China and Japan), upholds the essence of Sichuan cuisine in classic and reinvented dishes.
Look forward to prized ingredients like Tribute Sichuan Peppers and Mount Emei Bamboo Shoots used in royalty-worthy uncommon dishes such as Glutinous Rice Dumplings (叶儿粑), and Braised Pork Belly with Koji Glaze and Apple Puree (热炒东坡肉).
KUN (坤) is located at 74 Amoy Street, Singapore 069893.
Lộ Quậy (new restaurant) The Dandy Collection, which owns dining hotspots in Singapore including contemporary Indian restaurant Firangi Superstar, modern urban izakaya Neon Pigeon, and modern Middle Eastern restaurant Fat Prince, has launched Lộ Quậy (pronounced "Lo Kway"), a new Vietnamese Cuisine restaurant.
Loosely meaning "discover" in Vietnamese, the restaurant pays homage to Chef Quỳnh Brown's native roots and nearly two decades of experience in contemporary Japanese and European cooking with dishes that have been labelled as 'New Vietnamese'. The iconic Pho is presented as a medley of Wagyu beef — raw brisket, deep-fried honeycomb and omasum tripe, and bean sprout jelly — that is warmed through with an intensely flavourful Southern pho-style broth. Other highlights include a contemporary take on bánh mì – petite Iberico Wellington with kombu butter, pork crackling, and housemade pork liver pate wrapped in puffed pastry and served with Maggi-seasoning demi-glace. End your journey here with the Cafe Phin Parfait, which features an espresso sponge with condensed milk and Kahlua coffee parfait.
Lộ Quậy is located at 88 Amoy Street, Singapore 069907.
COMO Cuisine at COMO Metropolitan Singapore (new restaurant) COMO is all about wellness experiences, so it's little wonder that its gastronomic pursuits follow suit. For their new outpost in COMO Metropolitan Singapore, COMO Cuisine has gathered celebrated dishes from COMO Hotels and Resorts worldwide.
Here, the original recipes are kept by using traditional cooking techniques to produce soulful flavours. The menu here – from the tender satay to the creamy lobster roll and fragrant grain bowls to the refreshing papaya salad – will delight the senses while nourishing the body.
COMO Cusine is located at 30 Bideford Road, COMO Metropolitan Singapore, Singapore 229922.
Bacatá (new restaurant) Joining the growing Latin American dining scene in Singapore is Bacatá. Focusing on gourmet Columbian cuisine that's re-imagined from classics to suit the modern palate, diners can still acquire authentic flavours in dishes from their extensive à la carte and tasting menu.
Sink your teeth in Arepa Con Cerd, which features grilled corn cakes paired with pork shoulder slices cooked in the oven. For carbs, the Arroz Caldoso-inspired fragrant Arborio Coconut Rice is cooked with kombu and vinegar and then topped with Plantains chips for added crunch. Pair this with Cordero A Caballo, a luxurious cut of smokey oven-roasted lamb saddle that's topped with bacon & maple glaze, a housemade spice rub and Hogao, one of the most traditional Colombian sauces.
Bacatá is located at 182 Cecil Street, Frasers Tower #03-01/02, Singapore 069657.
Yàn (new menu) Embracing seasonal ingredients, established Cantonese restaurant Yàn presents an updated Autumn menu that's been crafted to complement Singapore's tropical climate while celebrating the authentic flavours of Cantonese cuisine during the season. The featured dishes are a culinary ode to the traditional concept of fortifying the body for cooler months with nourishing delicacies.
Savour the soulful Mini Buddha Jumps Over the Wall, which boasts an eight-hour double-boiling process using treasured ingredients like 3-head whole abalone, sea cucumber, pig's tendons, conpoy, ginseng, and mushrooms. Then, gain vitality with the delicate Steamed Eel, enhanced by aromatic minced garlic with a subtle zest of shredded mandarin peel. Autumn is also hairy crab season, and here you can enjoy this delicacy via the flavourful Stewed Ipoh Hor Fun topped with Hairy Crab Meat, Roe and Vegetables.
Yàn is located at 1 St Andrew's Road, National Gallery Singapore #05-02, Singapore 178957. The Autumn menu is available from September 1 to October 31.
Dragon Chamber (new menu) A speakeasy restaurant and bar is uncommon in Singapore and Ebb & Flow Group does it right with The Dragon Chamber. Start easy with the refreshing Dragon's Eye – a Cheng Tng-inspired signature with longan tea, dark rum, date syrup, citrus, and a finishing whiff of peated whiskey mist – and Umai Dream that delivers a citrusy and frothy sipper featuring umeshu, honey yuzu tea and chocolate bitters.
For a more savoury sip, the Bakkwa Old Fashioned will delight. The bakkwa-infused bourbon within is a smokey and spirit-forward concoction that'll get you started for the night. Otherwise, heat things up with Bangkok Breeze, a spicy and tangy tipple reminiscent of Thailand's beloved hot and sour soup made with tom yum vodka, kaffir lime syrup, fresh lime, and egg white.
If you're with pals, share the Spiced Pu-er that's served hot in a ceremonial teapot and features Peddlers Gin, spiced rum, baijiu with a splash of Pu-er tea and ginger syrup. This concoction is a toasty 开胃酒 (aperitif) or palate cleanser that's best for starting or ending the meal.
The Dragon Chamber is located at 2 Circular Road, Singapore 049358.
All the best new restaurants and latest menus to check out in Singapore this September 2023:
Brasserie Astoria (new restaurant) The buzziest new opening this month has got to be Brasserie Astoria – and for good reason. From the brains behind The Frantzén Group and led by noted Swedish chef Björn Frantzén, this new, more casual Singapore outpost at Victoria Concert Hall is the restaurant's first establishment outside of Sweden. The group is notably in charge of the three-Michelin-star fine-dining restaurant Zén.
Diners can expect an extensive à la carte menu executed by Singaporean Head Chef and Zén alum Emil Cecil Ess. Sink your teeth into Råraka, the Swedish answer to rösti that features crisp Agria potatoes topped with vendace roe. Other highlights include Toast Astoria, a nod to traditional Swedish Toast Skagen with mounds of Baltic prawns and Norwegian king crab dressed with wasabi aioli and served atop crisp sourdough. Complete your meal with drinks from a curated wine list or from the Nordic-Asian-influenced cocktail menu.
Brasserie Astoria is located at 11 Empress Place #01-01, Singapore 179558.
Burma Social (new restaurant) Burma Social doesn't just showcase the best of Burmese cuisine. It also gathers various Asian flavours and culinary essences from China, Thailand, India, Bangladesh, and Laos for a gastronomic adventure via the Feast of Six Kingdoms.
Experience a refined take on dishes made with ingredients frequently used by Burmese. From the umami-rich Raw Coconut Milk and Broccolini with Flying Fish Roe to the refreshing Papaya and Mango Thoke, these creations present a harmonious fusion of flavours and textures. Surprise your palate with uncommon dishes like Laphet Nay Wai Thoke, a vegetarian delight of fermented tea leaves, and Crispy Tohu Jaw. The latter features a blend of Burmese and Thai basil leaves, with the tohu itself crafted from ground Indian chickpeas, and dressed with a Burmese black jaggery sauce that combines the sweetness of Burmese gula Melaka and Indian sugarcane.
Burma Social is located at 34 Tras Street, Singapore 079026.
Great Nanyang (new restaurant) Comforting flavours are always the ones that are most familiar to us. Great Nanyang celebrates the iconic tastes usually found in kopitiams in old Malaysia and Singapore. This concept, created by the founder of Yang Ming Seafood Keith Kang, recreates favourites that our forefathers enjoyed.
The extensive menu is perfect for sharing and those who wish to have a taste of everything. Dig into the crowd favourites like the Hainanese Chicken Cutlet, paired with a sauce made from premium butter and pandan leaves. The fragrant Nasi Lemak Kukus here comes with a choice of either Chicken Berempah Leg, Curry Chicken, Sambal Petai Prawn or Rendang Mutton. Other must-tries include Penang Assam Laksa, Nyonya Curry Laksa, Moonlight Hor Fun, and Hainanese Prawn Fritters.
Great Nanyang is located at 5 Craig Road, Singapore 089665.
UMMI Beirut (new restaurant) Discover a contemporary take on Lebanese cuisine at UMMI Beirut. This uncommon gastronomic experience is presented by renowned Lebanese-Australian chef Greg Malouf and his protégé, executive chef Ali Assaf, ensuring the tastes are kept authentic. Ummi translates to "mother" in Arabic and the restaurant aims to express a mother's love by sourcing only the best ingredients and cooking each dish from scratch, served with warm Lebanese hospitality.
Start with appetising Mezzes like UMMI Silky Hummus with French Lentil Dressing and Makanek Sausages, or spiced lamb sausages. For mains, nosh on assorted meats with the Butcher's Mix Grill — a beef kabab, chicken tawook, lamb cutlet and kofta platter that's been grilled over charcoal for a smoky char. The hearty Saayadiya, a Lebanese pan-seared fish dish with a risotto cooked with a rich crab stock, is also a must-try.
Wrap up the meal with UMMI Kunefe with Apricot. The elevated take on the traditional dessert sees Lebanese cheese and apricot confit atop a decadent kunefe, which is served baked to crispy perfection.
UMMI Beirut is located at 1 Nanson Road, InterContinental Robertson Quay, Singapore 238909.
OMMA Telok Ayer (new restaurant) There isn't a lack of quality Korean barbecue establishments in Singapore. So, what makes OMMA a standout? Already garnered a steady following as Singapore's first woodfire KBBQ that uses five types of carefully selected wood chips (cherrywood, applewood, hickory, mesquite and pecanwood), this new outpost offers something different for diners.
After savouring signature meat favourites like the Japanese A4 Ribeye, A4 Striploin Iberico Pork Jowl, and Beef Tongue, diners can experience a full-fledged Korean BBQ experience with a private karaoke lounge and a secret game room in-house for a memorable night out. For their opening special, a 90-minute all-day free-flow beer package is included with a minimum spend of S$35++ per pax on food.
OMMA is located at 126 Telok Ayer Street, Singapore 068595.
Restaurant Khiri (new menu) Returning for an all-new menu is Restaurant Khiri. Formerly known as Restaurant Chedi, the establishment serves an impressive repertoire of familiar classics from all over Thailand. Now in their second menu, Head Chef Miller Mai continues to deliver them in a degustation format, but with a deeper exploration into Thai cuisine and ingredients over eight courses.
Expect another exciting culinary journey of Thai cuisine starting from Kai pan ta-kra, a homage to the everyday Thai lunch of meat skewers. Chef Miller's version uses hand-chopped chicken that's shaped around a lemongrass stalk and cooked over a charcoal grill.
Diners also have the option to select their mains. Choose from returning favourite Esaan Kor moo yang, Iberico secreto that's marinated with a Northern Thai flavour combination of herbs and aromatics like coriander root and garlic, Kaeng massaman sikhrong kae yang (grilled lamb rack), or Kaeng massaman sikhrong nuea thoon (slow-cooked Australian Angus beef short ribs in the massaman paste).
Khiri is located at is located at 15 Hamilton Road, Singapore 209185.
All the best new restaurants and latest menus to check out in Singapore this August 2023:
Tenshima (new restaurant) Don't expect the new fine-dining Tenshima to serve familiar and expected dishes. The Japanese cuisine establishment finesses the intricate Kaiseki approach to present tempura as a gastronomic art. At the helm is Chef Takahiro Shima.
Driven by 'kodawari' – the Japanese ethos of constant pursuit of perfection and dedication to one's craft – Chef Shima applies this to the tempura by preparing them all by hand. For kisu, he expertly cuts and salts the fish in a manner that eliminates fishy smells and moisture. Other preparation techniques include steaming sweet potatoes for six to seven hours and dry ageing them in the chiller for 2 days to enhance the depth and complexity of their flavour.
Tenshima is located at 9 Raffles Blvd, Millenia Walk #01-09, Singapore 039596
YAO YAO Sauerkraut Fish (new restaurant) The appetite for Chinese Sauerkraut Fish is still going strong and there's certainly room for one more establishment specialising in the dish. YAO YAO, a favourite among Chinese locals since its inception in 2016, has finally arrived in Singapore.
The award-winning name is known for its Signature YAO YAO Sauerkraut Fish, made with tender sliced California White Seabass cooked alongside sauerkraut that's been fermented for 24 days. The two key ingredients are soused in a delicious broth with Sichuan spices that takes eight hours to simmer.
YAO YAO is also the first in Singapore to offer gourmands a combination of two flavours in a bowl. Pair the Signature YAO YAO Sauerkraut Fish with three different options – Hong Kong-style Typhoon Shelter Shrimp with Fries, Sichuan Poached Fish, or Tomato Fish. One unique pairing is the succulent Peking Duck, which is accompanied by housemade sesame-mustard sauce and traditional Peking Duck sauce. Prices of YAO YAO Super Combinations start from SGD53.
YAO YAO is located at VivoCity, 1 HarbourFront Walk, #02-145/146, Singapore 098585
Kou Teppan (new restaurant) Witness refined culinary techniques performed live in front of your eyes at Kou Teppan. Led by Executive Chef Sawada Ko formerly from Itoh Dining by Nobu, this affordable luxury teppanyaki establishment presents a one-of-a-kind dual teppan dining experience featuring seasonal ingredients prepared on both main and personal teppan griddles. The latter allows for an interactive session where diners are granted the freedom to tailor their meal to their liking.
Highlights include Japanese A5 Wagyu with Garlic Chips and Housemade Wasabi Sauce and Lobster & Japanese Oyster served with housemade Red Pepper Sauce.
Kou Teppan is located at 1 Kim Seng Promenade, #B1-134 Great World City, Singapore 237994
Haku Sushi (new restaurant) Presented as the counterpart to Kou Teppan, Haku Sushi also aims to showcase the essence of quintessential Japanese cuisine. Translating Red Teppan (for Kou Teppan) and White Sushi (Taku Sushi), the concepts are purposefully launched as a side-by-side duo bearing the symbolism of the Japanese flag's red and white themes.
Haku Sushi is helmed by Executive Chef Yamamoto Yoshiki (formerly of Michelin-recommended Sushi Ginza Onodera), who presents Kansai-style sushi here. He will also reveal his own version of seasonal sushi shari, a special blend of sushi rice flavoured with red vinegar at Haku Sushi.
Besides freshly prepared seasonal sashimi and nigiri, be surprised with other dishes on the omakase menu like Chawanmushi with a mochi sesame centre, a Crispy Housemade Crab Cream Croquette on a bed of tart Tomato sauce topped with crisp carrot shreds and Hashiyasume – a refreshing jellied broth of Eggplant and Lady's Finger with a hint of Wasabi.
Haku Sushi is located at 1 Kim Seng Promenade, #B1-135 Great World City, Singapore 237994
Sushiro Wisma Atria (new restaurant/outlet) Celebrating their 10th outlet in Singapore, there are no signs of stopping and expanding for the famed Japanese sushi chain Sushiro. This store is also their largest yet at 170 seats. With a mission to provide 'quality sushi at affordable prices, it's no wonder that queues are often spotted at any time of the day outside their outlets.
Other factors that keep diners returning are the freshly made sushi (like the value-for-money salmon belly and seasonal fatty tuna) prepared in-store with ingredients sourced from direct suppliers to ensure consistency.
To coincide with this opening and to celebrate Singapore's National Day, August 2023 in-store promotions include seasonal dishes like Triple Aburi, Double Premium Grilled Eel, and Thick Cut Yellowfin Tuna.
Sushiro is located at 435 Orchard Road, Wisma Atria #02-08, Singapore 238877
Ms Maria and Mr Singh (new menu) Gaggan Anand's Mexican-Indian restaurant, Ms. Maria & Mr. Singh has revamped their food offerings to focus on tasting menus. Value for money is a priority this time – lunch sets start from SGD 48++ (USD 35++) and the priciest dinner option costs SGD 138++ (USD 103++). But the SGD 78++ (USD 58++) degustation dinner will serve customers well.
Highlights include a brightly flavoured papdi chaat with yoghurt and green chutney, silky guacamole that pops with ikura, and brittle tostata with sweet raw scallops. Tacos can barely contain the heaping of spicy pork vindaloo, and the creamy chicken tikka masala demands to be mixed into fluffy coconut rice. For dessert, churros with sticky rice ice cream dance between crunchy, smooth, spicy, and sweet, and is a fine example of how two contrasting cuisines can come together.
Ms Maria & Mr Singh is located at 43 Craig Road, Singapore 089691. The new degustation menu is now available during dinner service.
NOKA (new menu) Also with a new menu this month is NOKA. Focusing on Kaiseki-style dining that's injected with contemporary elements, this Japanese establishment stands out by incorporating locally grown produce with fresh ingredients flown in from Japan, all of which are prepared with touches of modern culinary techniques.
Chef Ryosuke Deguchi, armed with experience from renowned two and three-Michelin-starred restaurants in Kyoto, leads the kitchen to showcase a Summer menu. Feast on the Singapore Sushi Roll featuring a delightful combination of fresh negitoro, daikon, and garden flowers, as well as the Red Miso Glazed Duck, paired with local lion's mane mushroom, eggplant, and mango sauce.
End the meal on a sweet note with a Japanese Sweet Potato dessert that's accompanied by sake kasu ice cream. The dessert is elevated with Tang Oh vegetables instead of Chrysanthemums (commonly used by the Japanese), creating a herbaceous flavourful sauce.
NOKA is located at 109 North Bridge Road, Funan Mall #07-38/39, Singapore 179097
All the best new restaurants and latest menus to check out in Singapore this July 2023:
Mosella (new restaurant) Part of the new F&B offerings at the recently opened Pan Pacific Orchard is Mosella. Here, the establishment focuses on Mediterranean cuisine with a Peruvian twist, which is uncommon in Singapore. Diners can find respite and enjoy their meal while overlooking the lush greenery of the hotel's Forest Terrace.
Highlights on the menu include the Hamachi Tiradito, featuring fresh slices of Japanese amberjack in spicy sauce and Wagyu Beef Tongue that's topped with a traditional Peruvian anticucho sauce and potato puree.
Mosella is located at 10 Claymore Rd, Pan Pacific Orchard, Level 2 Forest Terrace, Singapore 229540.
Bottega di Carna (new restaurant) One can always trust a butcher to provide the best cuts of red meat, which is why Bottega di Carna should be on your list if you're a steak lover. This new concept by Netflix's Chef Table star and famed butcher Dario Cecchini showcases his signature dishes in a relaxed setting.
If you can't decide, order the Chianti Crudo – a beef tartare creation coated in smoked paprika, olive oil, and lemon – as well as the refreshing Zucchini Noodles in basil pesto. Don't forget a glorious meat cut of your choice to share.
Bottega di Carna is located at 16A Duxton Hill, Mondrian Singapore Duxton #03-01, Singapore 089970. Book here.
MIYOSHI by Fat Cow (new restaurant) MIYOSHI, or '三好' in kanji, means 'three graces'. This Japanese cuisine establishment is Fat Cow's sister outpost and taps into this concept to showcase three of the most unique dining experiences of Japanese cuisine: Ramen, teppanyaki and omakase.
Diners can revel in the culinary art in the Teppan-Kaiseki menu up close while the dishes are prepared in sequence. Look forward to juicy Live Lobster, Straw Smoked Hokkaido Scallops as well as a Teppan Style Sukiyaki. Sushi lovers will want to experience the dinner-only Omakase that's held in a separate dining area adjacent to the main dining room. Here, relish in bites that are seasonal, fresh, and prepared in the way the chef thinks it best.
MIYOSHI by Fat Cow is located at 2 Gunner Lane, Mess Hall at Sentosa #01-04/05/06, Singapore 099567.
Sanchos Mexican Bar & Grill (new restaurant) Katrina Group's latest F&B venture in Singapore is an exciting newcomer to the scene. At Sanchos Mexican Bar & Grill, diners can expect favourites like Mexican nachos, fajitas, and ceviches. Customise them with proteins like fish, chicken, beef, and tofu rancheros served either via grilled, shredded, or even cooked confit. Grab your pals to share the juicy Tomahawk Steak, which is served straight from the chargrill with a Mexican spice dry rub, as well as the Barbacoa Tacos that features juicy confit duck with gluten-free blue corn tortilla.
Sanchos Mexican Bar & Grill is located at 3D River Valley Rd, Block D #01-07, Singapore 79023.
Matera (new restaurant) Fine dining buffs will have another restaurant to add to their bucket list this month. Chef Bjoern Alexander of two Michelin-starred Octavium in Hong Kong will make his culinary debut in Singapore with Matera. The spotlight's on Italian cuisine here and the restaurant will showcase a menu of bold flavours prepared made with quality produce and modern culinary techniques.
Savour signatures like the Whole Red Prawn with Sesame Bread and XO Sauce, Hokkaido Scallops Ravioli, and Pigeon with Black Truffle. The lunch menu here starts from SGD$78 for two courses while the dinner menu starts from SHGD$138 for two courses.
Matera is located at 3 Fullerton Rd, The Fullerton Waterboat House #02-01/02/03, Singapore 049215.
CouCou (new restaurant) One need not travel to Switzerland to have authentic Swiss cuisine. CouCou combines traditional, Swiss recipes with a modern twist in their dishes like Filet de Bar with Sauce Vierge – a crispy pan-seared sea bass on a bed of sweet tomatoes and briny capers with a side of velvety celeriac mousse.
Other standouts include the restaurant's signature delicacy, Malakoff. Savour the crunchy golden spherical dome of deep-fried Gruyére that melts in your mouth. The dish is unique to only three villages in Switzerland.
CouCou is located at 9 Craig Road, #01-01, Singapore 089669.
Rosemead (new menu) Quality and freshness have always been Rosemead's culinary philosophy. With their newest menu, indulge in bold and modern American fare that's prepared with farm-to-table produce. Leading the pack are the succulent Wild Tiger Prawns, as well as Rosemead's take on the classic American steak and eggs with Miyazaki Wagyu A4 Striploin and fried Japanese egg.
Elsewhere, the Farm Vegetables' new signatures include fragrant Sweet Potato Gnocchi served with golden cordyceps and the refreshing Momotaro Tomato sourced from Cameron Highlands.
Rosemead is located at 19 Cecil Street, Singapore 049704.
Open Farm Community (new menu) Local flavours and produce get celebrated in Open Farm Community's new menu. Sourced directly from their urban farm, diners can find delight in the Grilled Mangalica Pork Collar with Charred Local Greens and the Char-grilled Koji Aged Beef on a bed of Garam Masala Sauce with Laksa Chimichurri.
To complete the experience, sip on handcrafted cocktails such as the Marigold, a floral rum-infused concoction, and the punchy, spicy Gin-based Habanero.
Open Farm Community is located at 130E Minden Road, Singapore 248819.
All the best new restaurants and latest menus to check out in Singapore this June 2023:
Fico (new restaurant)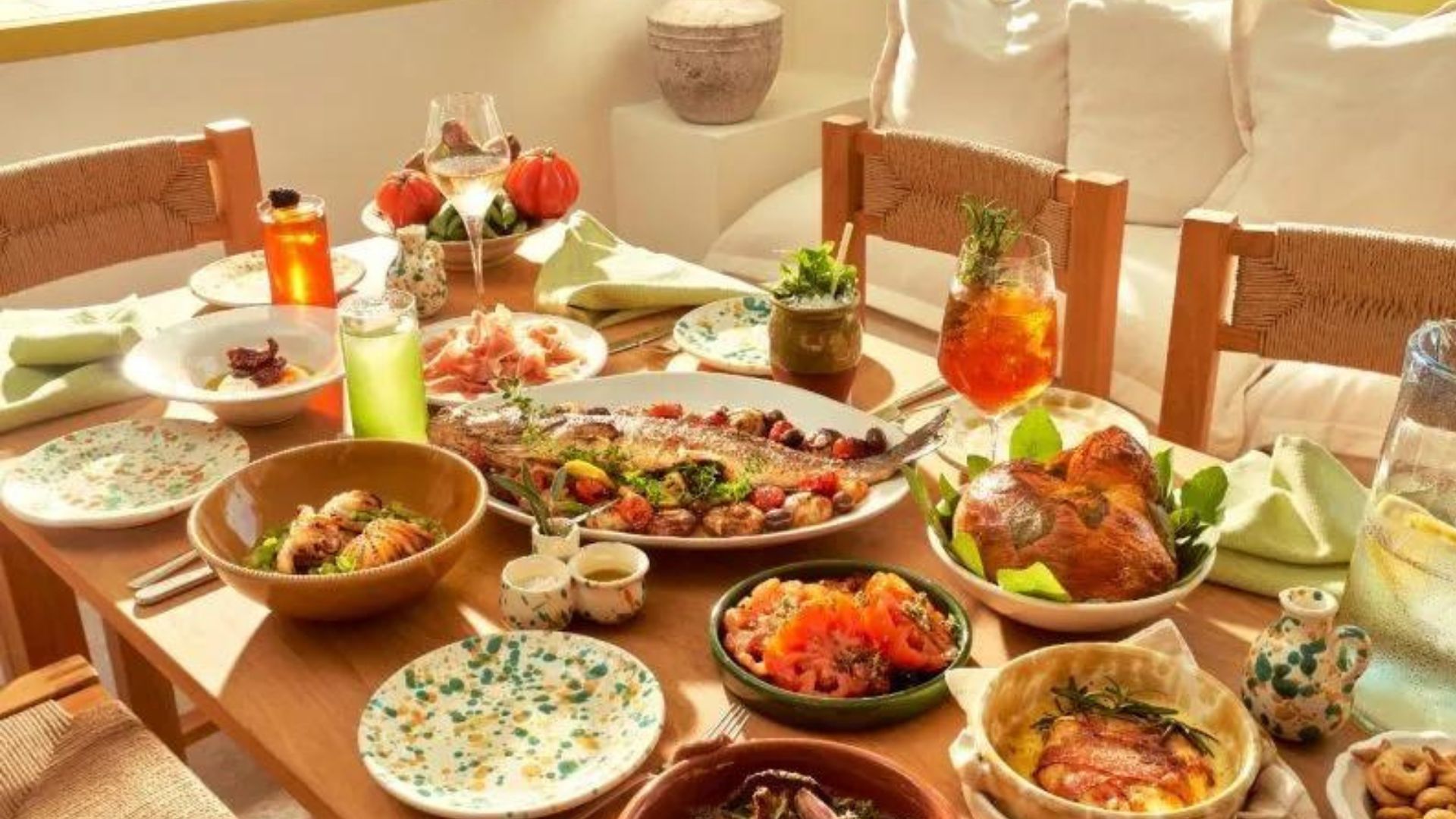 Food connoisseurs will find Chef Mirko Febbrile's name familiar. His pop-up pasta hawker venture at Chinatown Complex Food Centre drew endless crowds. Now, he's the chef-owner of Fico (fig in Italian), a casual Italian concept that's inspired by his native hometown, Puglia. The dishes are created in the spirit of cucina povera; a no-waste philosophy that stretches his creative limits without sacrificing flavour and fun.
Here, you'll get to marvel at the birth of fresh pasta at the live pasta counter. Signatures like Burnt Wheat Balanzoni (aubergine and cacioricotta dressed with a sauce of brown butter and sage) and Denti Del Drago (which translates to 'dragon's teeth' in Italian for its jagged edges and served in a white ragu style) are assembled with utmost pride and care.
You'll find that Fico's glistening sweet Panzerotti will make a deep impression too. The snack-sized leavened dough is stuffed with a medley of fillings like pistachio and then fried until golden.
Fico is located at 1300 East Coast Parkway, Singapore 468964 (next to Carpark F2).
Gyu San Charcoal Bar (new restaurant)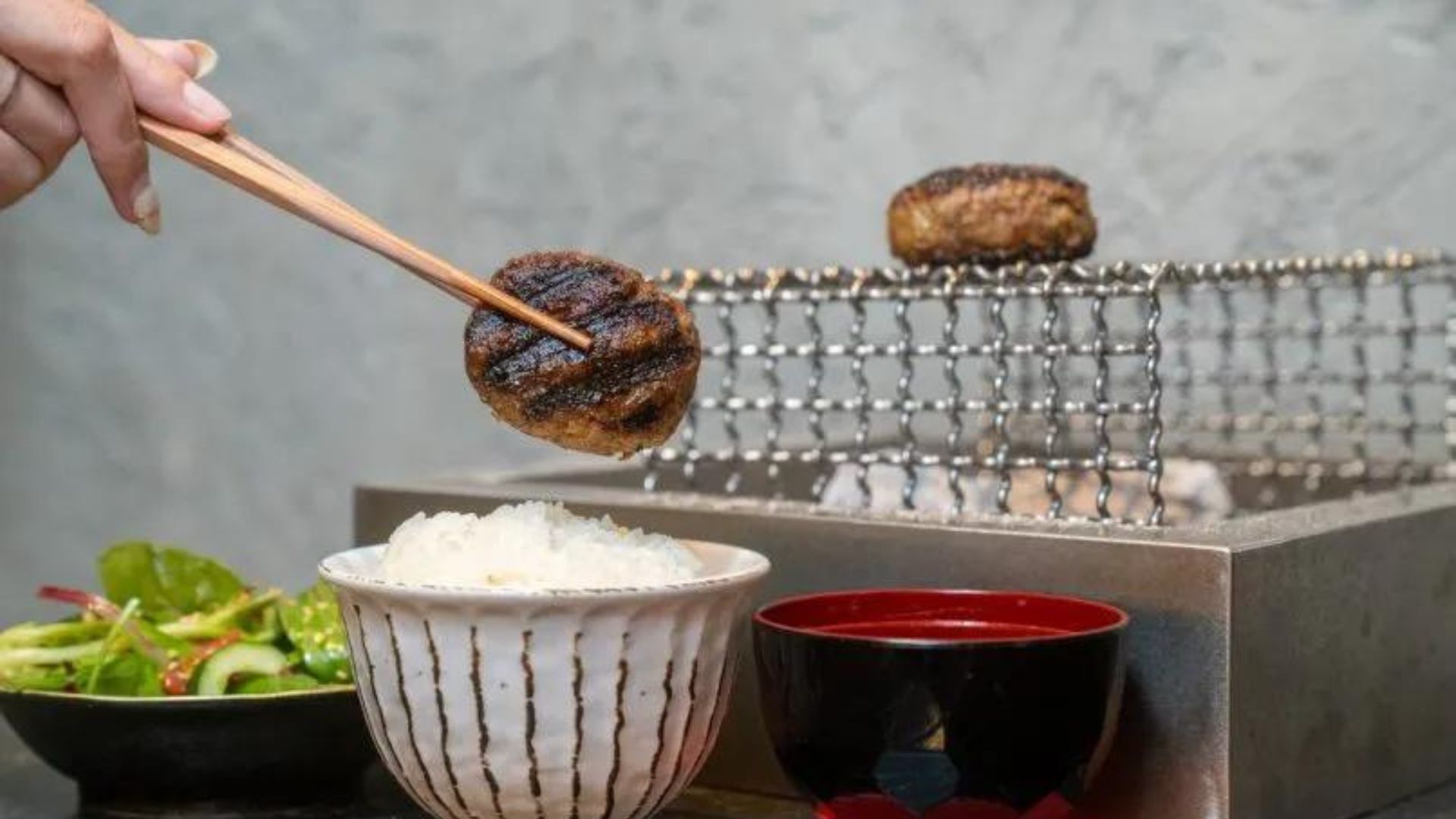 Known for their quality Wagyu cuts, Gyu San is no stranger to making beef taste good. Now, it's making its mark with another Japanese favourite – the juicy hamburg – after winning foodies with their wagyu katsu sandos. The open-concept island charcoal bar allows diners to observe Wagyu hamburgers being expertly crafted from ball to patty before they're grilled a la minute over prized binchotan charcoal.
The signature on the menu is the A5 Wagyu Japanese Hamburg Set. Two 90-gram wagyu patties are prepared from freshly grounded wagyu daily and served alongside South Uonuma Koshihikari rice from Niigata, Japan. Savour the patties in two parts – the first, on its own to truly enjoy the natural flavours of the beef. The other with eight different accompaniments, ranging from traditional yuzu kosho to local Singaporean sambal.
Also available on the menu are smoky and succulent Wagyu skewers, as well as vegetable sides like Shiitake, Kabocha, Shishito, asparagus, Enoki & beef, and baby corn skewers.
Gyu San Charcoal Bar is located at 538 Orchard Road, Forum The Shopping Mall #01-28, Singapore 238884.
Restaurant Fiz (new restaurant) Contemporary Southeast Asian cuisine, in particular, Malay gastronomy, is having its time in the sun. Hot on the heels of author Khir Johari's win for "The Food of Singapore Malays", chef-owner Hafizzul Hashim has launched a new restaurant in Tanjong Pagar that showcases the dishes of the region.
Expect tasting menus that will take you on a journey across Southeast Asia. At launch, the menu titled Episode 1 will take diners on a trip to Northern Malaysia, so expect Malay dishes like ayam percik (grilled chicken) and satay made from blood cockles to be given the elevated treatment, using some of the best ingredients available in Singapore.
Restaurant Fiz is located at 21 Tanjong Pagar Road, #01-01/02, Singapore 088444
Kagayaki by Ishigaki Yoshida (new restaurant) Restaurant-goers can experience elevated teppanyaki at Kagyaki by Ishigaki Yoshida this June 2023. The intimate 18-seater restaurant here is an offshoot of the first Michelin-starred teppanyaki restaurant Ishigaki Yoshida in Tokyo. Kagayaki in Singapore is led by Head Chef Nobuyasu Kamiko from Asakusa, Japan. The 48-year-old chef has over 30 years of experience, half of which was spent working as a teppanyaki chef.
Diners can choose Chef Kamiko's eight-course Kagayaki Menu or Omakase Menu which includes more speciality dishes created by Chef Yoshida. Signatures include Ultimate Crispy Yaki Steak, where the exclusive Masuda Kagayaki Beef is cooked carefully at a low temperature on the teppan and then grilled over ubame oak Tosa binchotan. Another highlight is the Scrambled Eggs with Uni. Premium Japanese eggs are whipped and cooked to a soft, milky texture with a generous amount of creamy uni. Other menu items will rotate according to various seasons and availability.
Kagyaki by Ishigaki Yoshida is located at 27 Keong Saik Road, Singapore 089134.
The Astor Grill (new pop-up restaurant)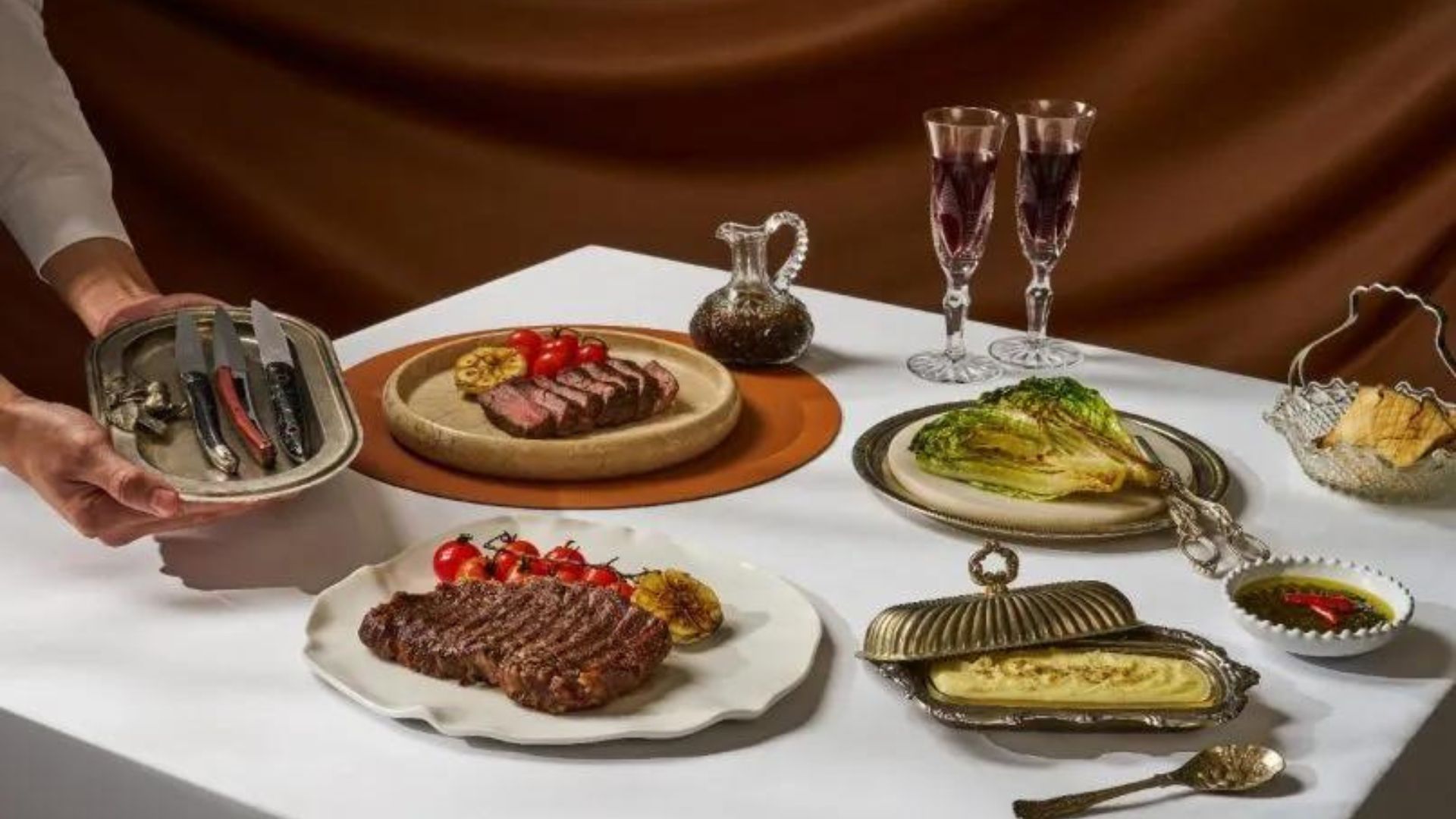 You may know the iconic cocktails shaken at The St. Regis Singapore's Astor Bar. Now, there's The Astor Grill, where you can savour succulent quality meat cuts with your favourite tipples. For three months only until August 31, Brasserie Les Saveurs will host The Astor Grill pop-up restaurant for a la carte lunch and dinner service. Set lunches options are also available from SGD 48++ (USD 35++).
Inspired by the heritage of St. Regis and the original chophouses set in early century New York (a la The Great Gatsby era), this pop-up concept celebrates not only the bespoke dining experiences from the House of Astor but also artisan produce from premium suppliers.
Highlights include artisanal cuts such as the Striplion Japan Full Blood Wagyu A5 500 Days Grain Fed and Bavette Australia Angus 200 Days Barley Fed. Other alternative mains and sharing cuts like Grilled Whole Turbot and Oven Roasted Rack of Lamb shine too. Accompany them with starters like Tiger Prawns 'A la Plancha' with Avocado, Peach, Beef Heart Tomatoes, and King Crab Salad, before ending the night on a sweet note with the deconstructed Astor Tiramisu, ChocolateMi-Cuit, and Sticky Toffee Pudding.
The Astor Grill is located in Brasserie Les Saveurs at St. Regis Singapore, 29 Tanglin Road, Singapore 247911.
JAAN by Kirk Westaway (new menu)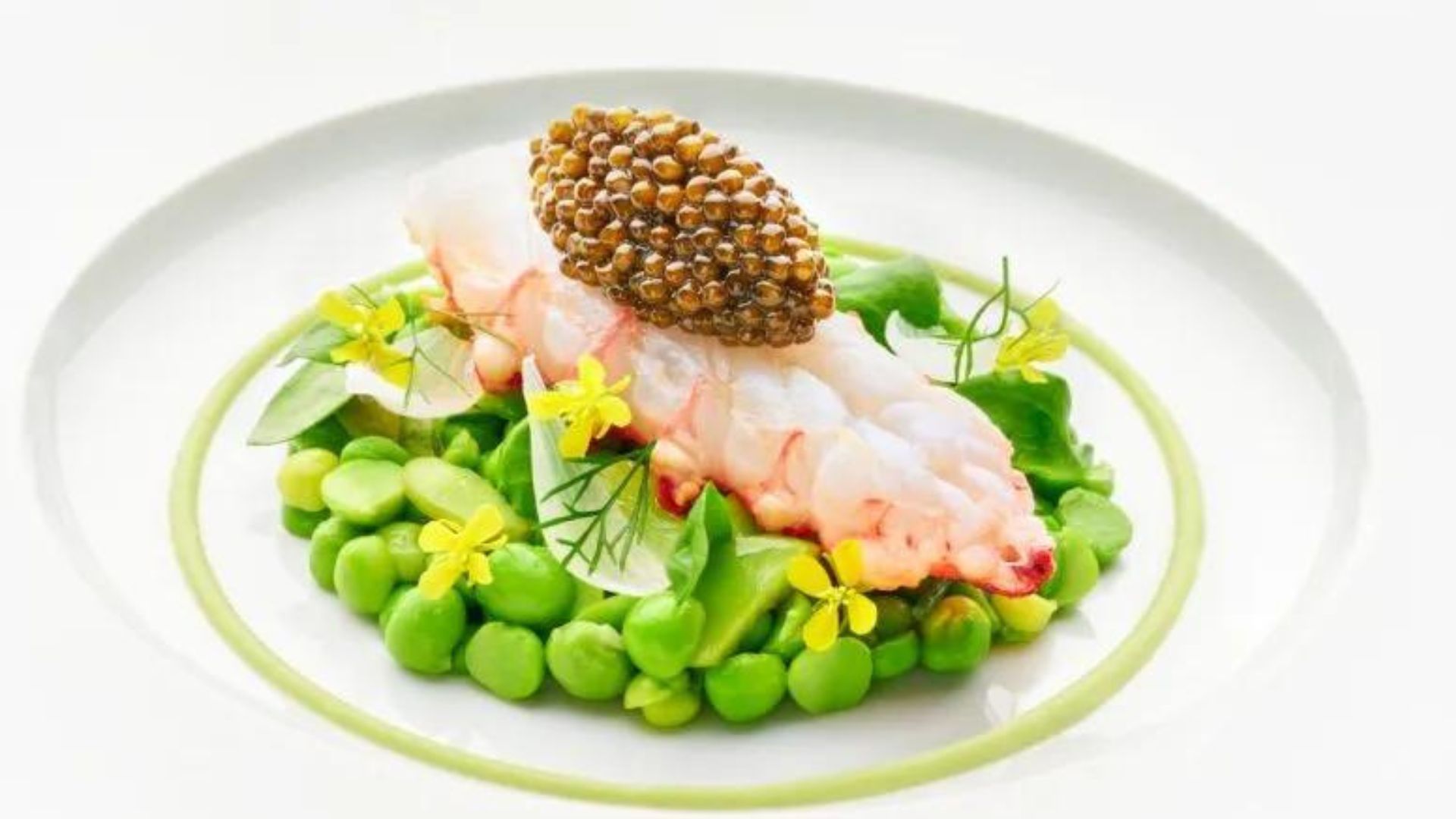 All eyes are on JAAN by Kirk Westaway's executive chef as he introduces a new seasonal evolution to his Modern British menu. Chef Westaway focuses on fresh and vibrant Spring produce while drawing inspiration from his childhood in Devon.
The vegetable-forward menu includes Smoked Cheddar Pancake, an ode to Devon where buckwheat pancakes wrap a delicately-smoked Cheddar that's sourced from a farm located just 10 miles from Chef Kirk's family home. Other highlights include the iconic Hen's Egg Cornish Yarg Nettles, Langoustine with Sweet Peas, and the Strawberry pie, which features a gula melaka biscuit base.
JAAN by Kirk Westaway is located at Swissotel The Stamford Level 70, 2 Stamford Road, Singapore 178882.
SKAI (new menu)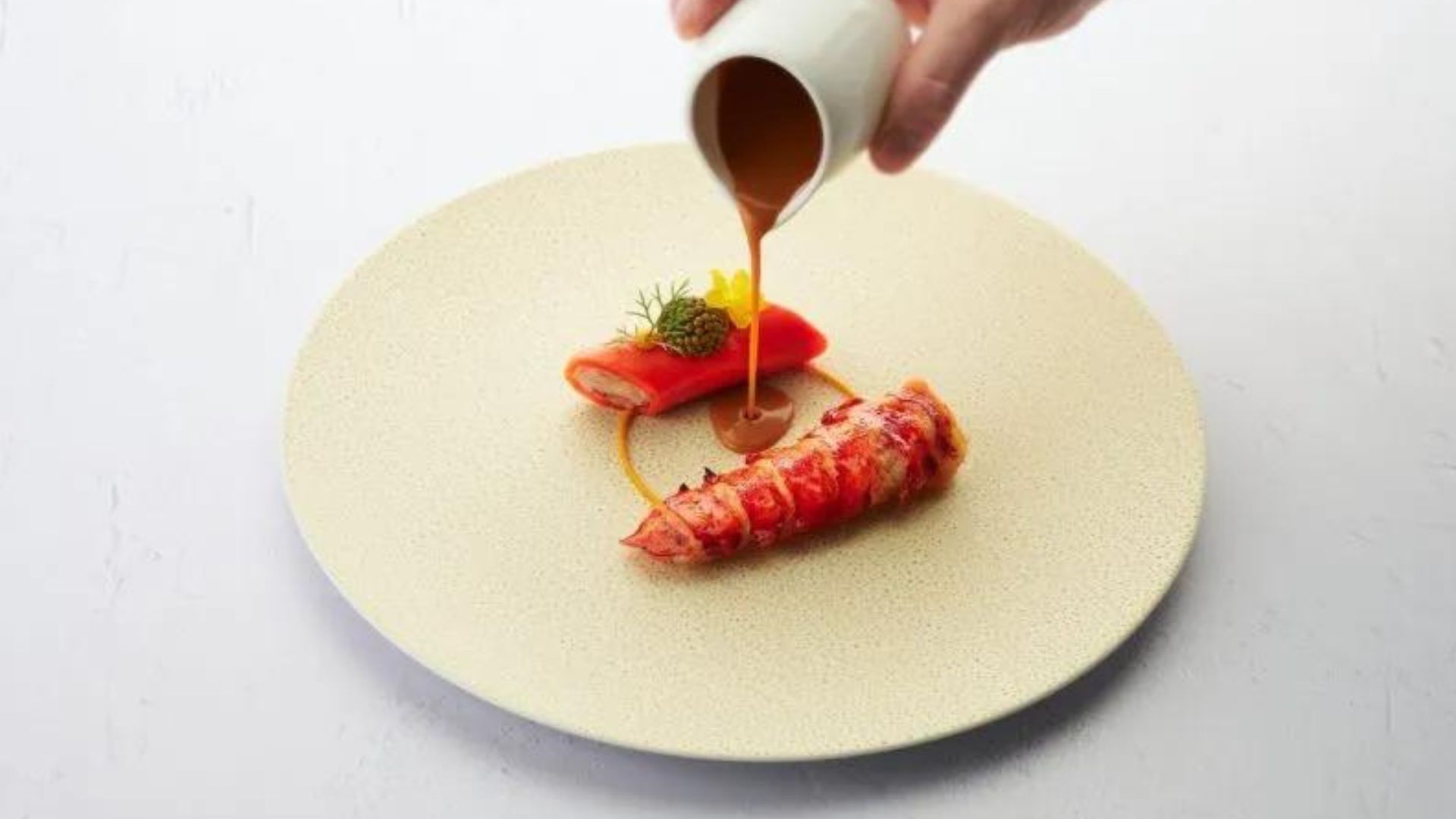 SKAI's new Executive Chef Seumas Smith taps into his 12-year culinary expertise to create an à la carte menu of contemporary grilled dishes shaped by Japanese produce and techniques. Using his passion for the art of Japanese cookery, Chef Smith has successfully incorporated its sensibilities into his new debut menu for SKAI.
Standouts include the Kuruma Ebi – a dish which sees a succulent prawn grilled over the Japanese binchotan and complemented by a Japanese heirloom tomato consommé, Marcona almonds, and basil. This new menu also boasts an exquisite selection of premium beef from around the globe, with a special focus on esteemed Australian and Japanese cuts like Westholme Wagyu Prime Rib, Saga Wagyu A5, Miyazaki Wagyu New York Strip, Mackas Ribeye, and Mackas Tenderloin.
SKAI is located at Swissotel The Stamford #70-02, 2 Stamford Road, Singapore 178882.
All the best new restaurants and latest menus to check out in Singapore this May 2023:
Cuisson (new restaurant) Owner-chef Jonathan Koh of Voyage recognises talent, as he instils protegé Chef Tan Wee Kiat at his newest restaurant Cuisson. Meaning 'Cooking' in French, this lush dining establishment respects food ingredients using French cooking techniques focusing on Japanese seafood and vegetables. It is reflected in intricate dishes like white asparagus royale amuse bouche flavoured with Aged Shoyu-based Blanc Manger.
Also, a highlight is The Textures of Prawns from Menu PYUA is a prawn pasta dish that showcases the crustacean's essence with various textures – Sakura ebi, carabinero croquette, prawn roe, and a coral emulsion.
Cuisson is located at 21 Tanjong Pagar Road #01-04/05, Singapore 088444.
The Marmalade Pantry Anchorpoint (new restaurant)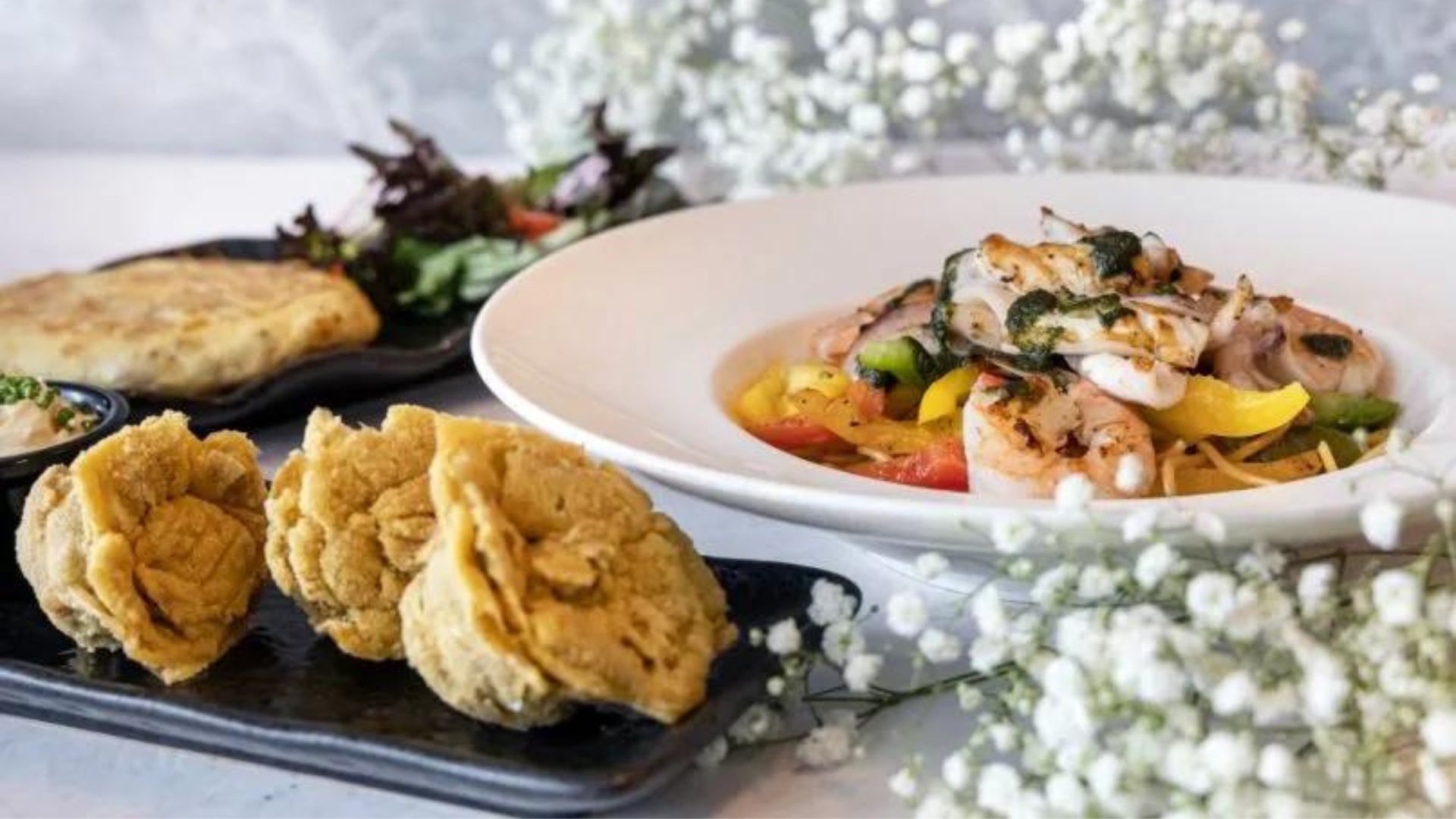 Even before the official opening of The Marmalade Pantry Anchorpoint, shoppers would stop to marvel at the restaurant's striking forest green and wood-accented interior together with visually-appealing confections on display. This eye-catching feast is equally delectable too.
To coincide with its opening, The Marmalade Pantry Anchorpoint will serve a limited-time menu that features Fried Artichoke with Lemon Ricotta and the appetising Black Pepper Seafood Spaghetti, thanks to the tangy charred chive salsa verde sauce. Do pair them with thirst quenchers like the Shimmering Gold Moscato (non-alcohol) and Cinnamon Apple Bliss Tea.
The Marmalade Pantry Anchorpoint is located at 370 Alexandra Road, Anchorpoint Shopping Centre Level One (Central Atrium), Singapore 159953.
Stay Gold Flamingo (new menu)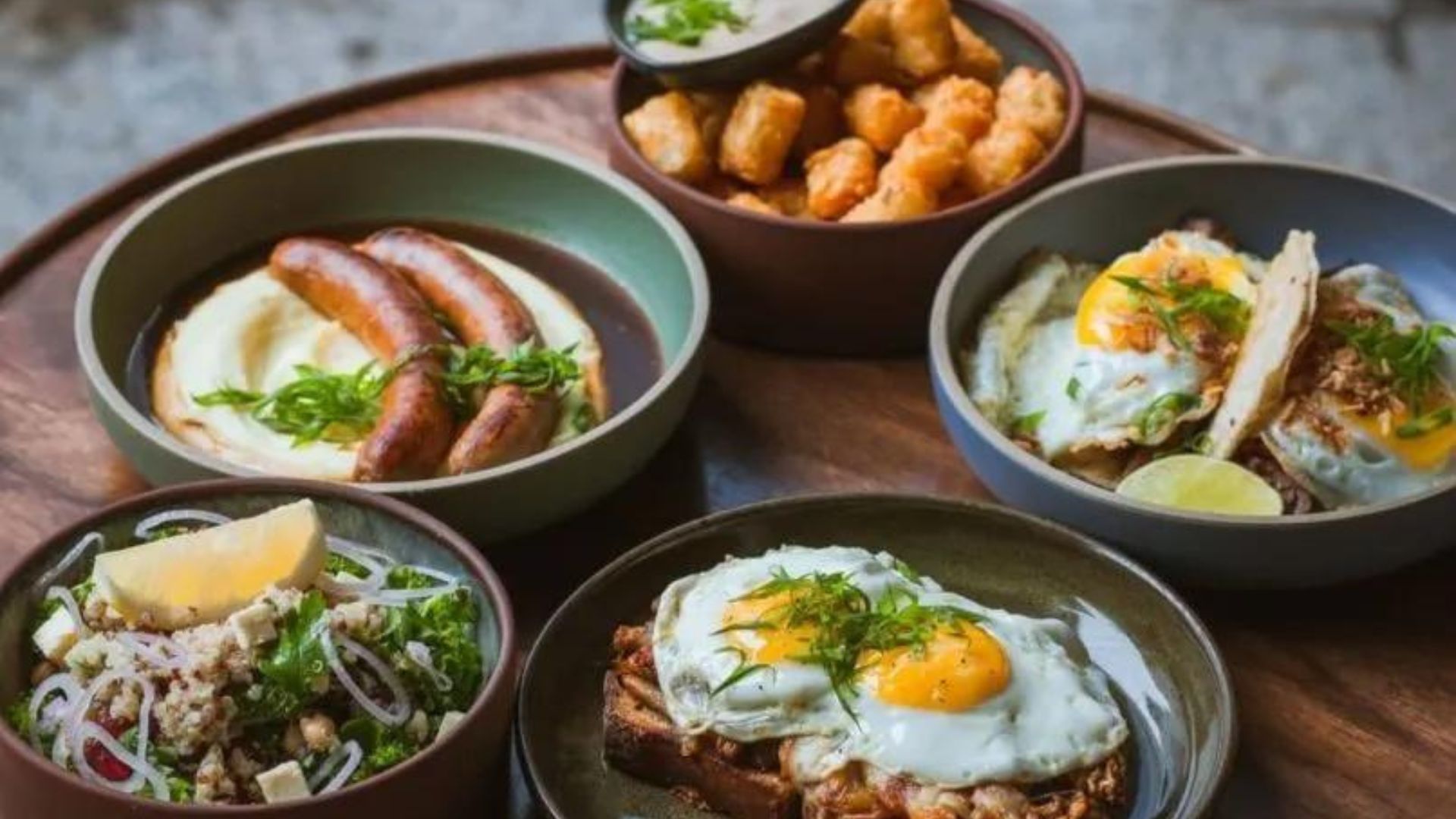 Coffee is an essential that allows one to power through the day. But don't forget that food is fuel too. Café-Bar Stay Gold Flamingo recognises this, presenting customers with an all-new no-frills lunch menu that excites tastebuds.
Those in a rush can chomp on the easy Merguez & Mash, consisting of lamb sausage, mashed potato, and beef jus. Grab the hearty steak-filled Breakfast Taco or savoury X.O. Pasta starring prawns if proper mains are desired. For a safe but yummy choice, choose the Cheese Toastie – a hot sandwich stuffed with four different kinds of cheese (pandesal Pullman, blue cheese, mozzarella, cheddar).
Drinks-wise, all coffee pours are made from a Brazil and Ethiopia blend from Cumulo Coffee. Oat milk is the default choice here if you opt for white coffee, so holler in advance if you prefer the dairy milk option.
Stay Gold Flamingo is located at 69 Amoy Street, Singapore 069888.
Fiamma (new menu)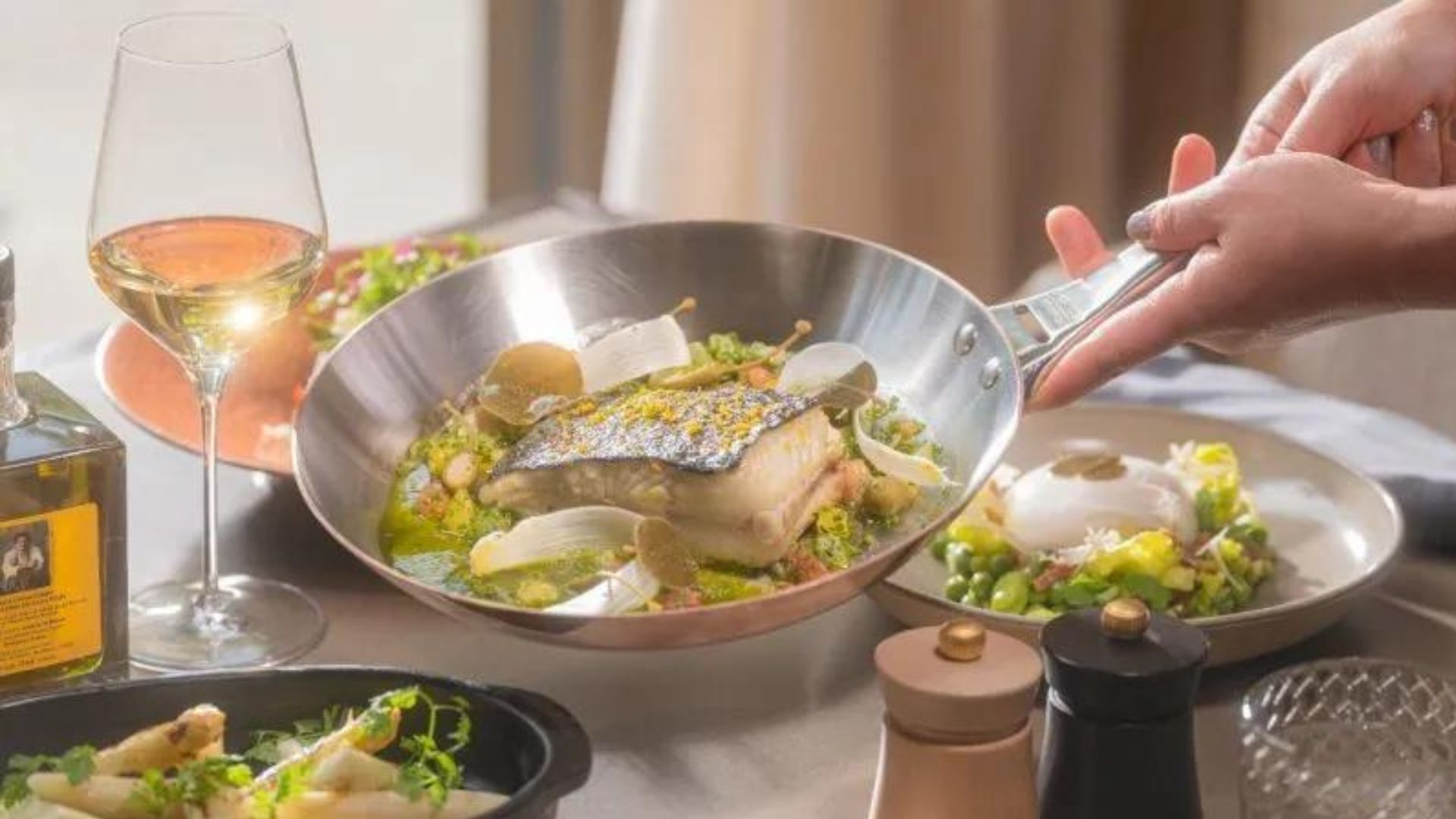 In Italian cuisine, it ain't Spring without any asparagus, fava beans and artichokes in seasonal dishes. Using the freshest current produce from Italy, Chef Mauro Colagreco's Fiamma (and of Mirazur) presents a curated Spring menu inspired by the heritage and spirit of Italian family cuisine.
Find comfort in familiar and inviting antipasti like the fava beans and peas-adorned Burrata Primavera and Asparagi Verdi Alla Griglia (grilled asparagus served with homemade arugula pesto). Fo pasta, highlights include the rice crab and uni-filled Risotto al Granchio e Ricci di Mare and Tortellini Panna Prosciutto e Tartufo. The latter combines decadent creamy truffle sauce, prosciutto, and handmade tortellini – a tribute to Chef Mauro's childhood memories of helping his grandmother to make it. The refreshingly light Delizia al Limone (lemon cream, ice cream and yoghurt espuma) makes an excellent choice to round off this menu.
Fiamma is located at Capella Singapore, 1 The Knolls Sentosa Island, Singapore 098297.
Book your stay at Hilton Singapore Orchard in Singapore via Agoda.com
Book your stay at Hilton Singapore Orchard in Singapore via Booking.com
Akira Back (new menu)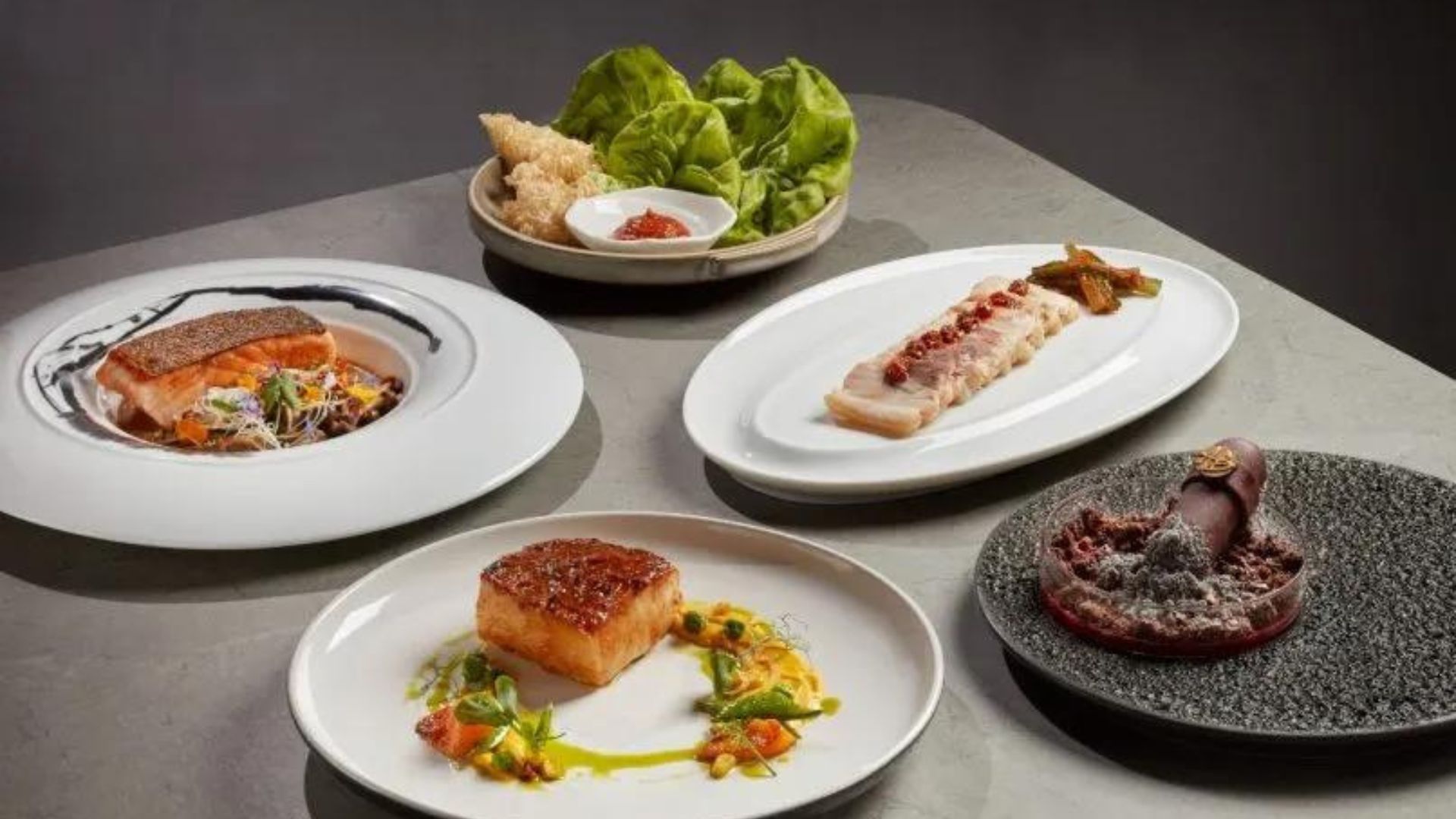 It's a good idea to constantly revitalise and improve ourselves instead of resting on our laurels. Chef Akira Back, who already is famous for his innovative and iconic menu, recently came down to Singapore to launch four new additions to his repertoire of culinary masterpieces. Kicking things off is the familiar Bossam. A classic Korean dish, Chef Akira Back elevated it with a modern Japanese-Korean flavour pairing. After the pork belly is sous vide for 12 hours in apple miso and presented with crispy pork skin and housemade ssamjang after.
For mains, the artfully presented Chilean Seabass – accompanied by the savoury anticucho miso and kabocha puree – easily excites one's palate. In addition, the east-meets-west Grilled Salmon is also a delightful bite from the delightful Japanese Vinegar-based nanbanzu sauce with the textured white and red quinoa.
As the finale, the creative AB Cigar is a showstopper. Previously available at other Akira Back establishments globally, it has finally arrived in Singapore. The cigar is exquisitely crafted with coffee mousse, and macadamia praline while the crunchy 'ash-like' is a blend of 70% guanaja chocolate, brownie chips, cacao nibs and strawberry jelly.
Akira Back is located at JW Marriott Singapore South Beach, 30 Beach Road Level B1M, Singapore 189763.
Madame Fan (new menu)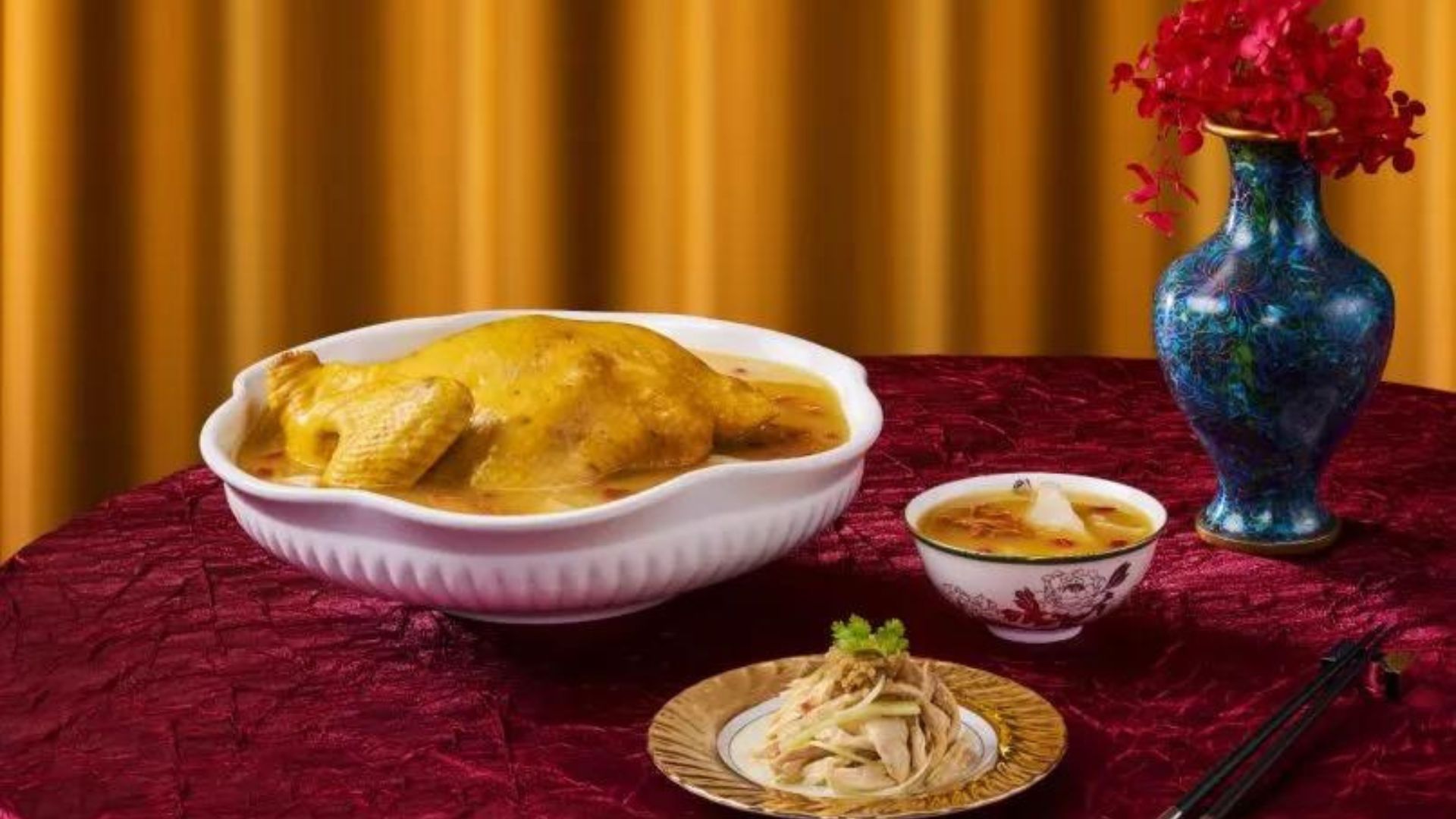 We're sure almost everyone knows what Chinese cuisine is like. But it takes skills to showcase the best of this heritage gastronomic wonder. Contemporary culinary establishment Madame Fan introduces over 10 new creations under the 'Tale of Craft' and 'Intersection of Culture' concepts that elevate ingredients we're familiar with.
'Tale of Craft' delivers modern flavours with authentic Cantonese cooking techniques. Highlights include Slow Cooked Wagyu Oxtail with Hawthorn Lotus Root, which is braised till fork-tender. It's paired with candied hawthorn lotus root that injects sweetness into the homemade cinnamon and star anise umami sauce. The refreshing Alaskan King Crab Cold Somen with Hot & Sour Consommé is also a delight to whet appetites for starters.
'Intersection of Culture' combines familiar ingredients executed in unexpected culinary styles. The nourishing Kampong Chicken Soup with Cordyceps Flower and Bamboo Pith doesn't waste any edible parts of the animal protein as it's presented in two courses – soup and Hand-shredded Chicken in Aged Vinegar Sauce. Another surprise is the mellow Moutai ice cream. There's Rum and Raisin, so why not infuse vanilla ice cream with savoury notes from the decadent Moutai?
Madame Fan is located at 32 Beach Road, The NCO Club, Singapore 189764.
Meadesmoore (new menu)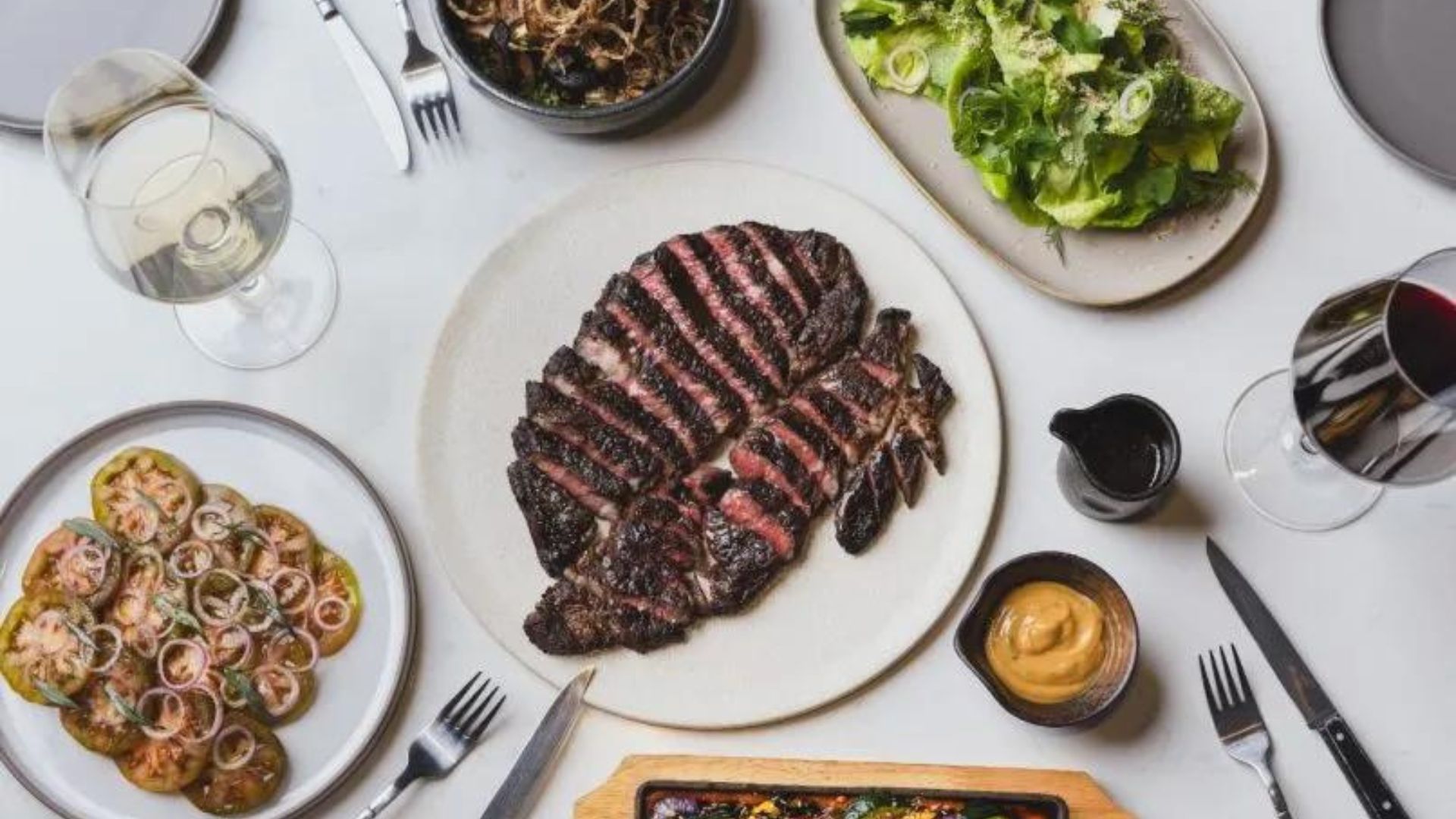 You may have a favourite go-to beef cut. But taking a leap of faith to taste unusual cuts may yield unexpectedly delicious results. Meadesmoore prides itself on the signature Meadesmoore Cut MS 8/9, an exclusive from Australian beef producer 2GR. Extracted from the area between the ribeye and the chuck, this uncommon — and rare — cut is usually used in shabu shabu.
At Meadesmoore, this steak presents three distinct types (under the blade, ribeye cap, and loin) of marbling that result in three deliciously different flavour profiles. Although sauces like Cafe de Paris herb butter and Bordelaise red wine sauce give another dimension to the sliced beef, we feel the juicy cuts are best savoured as it is.
Other mains include the bone-in Mangalica Porterhouse (pork) and meaty Roasted Monkfish Loin. Pair them with vegetables like the refreshing Black Kumato, fragrant Butterhead, and charcoal-grilled Provencal Tian ala a ratatouille. Meadesmoore also introduces a delectable selection of sharing plates like the umami Beef & Crab Tartare, buttery and garlicky Tendon & Escargot, and milky Puglia Burrata.
End the meal with sweet favourites like S'mores, featuring a chocolate sea salt cookie sandwich with sour berries compote and coconut sorbet that comes flambéed with a shot of vodka. Those up for a nostalgia trip can have Popcorn – a corn curd and summer strawberry ice cream dessert drizzled with sea salt caramel sauce, and a sprinkling of sea salt caramel popcorn kernels.
Meadesmoore is located at 21A Boon Tat Street, Singapore 069620.
All the best new restaurants in Singapore to head to this April 2023:
Restaurant Chedi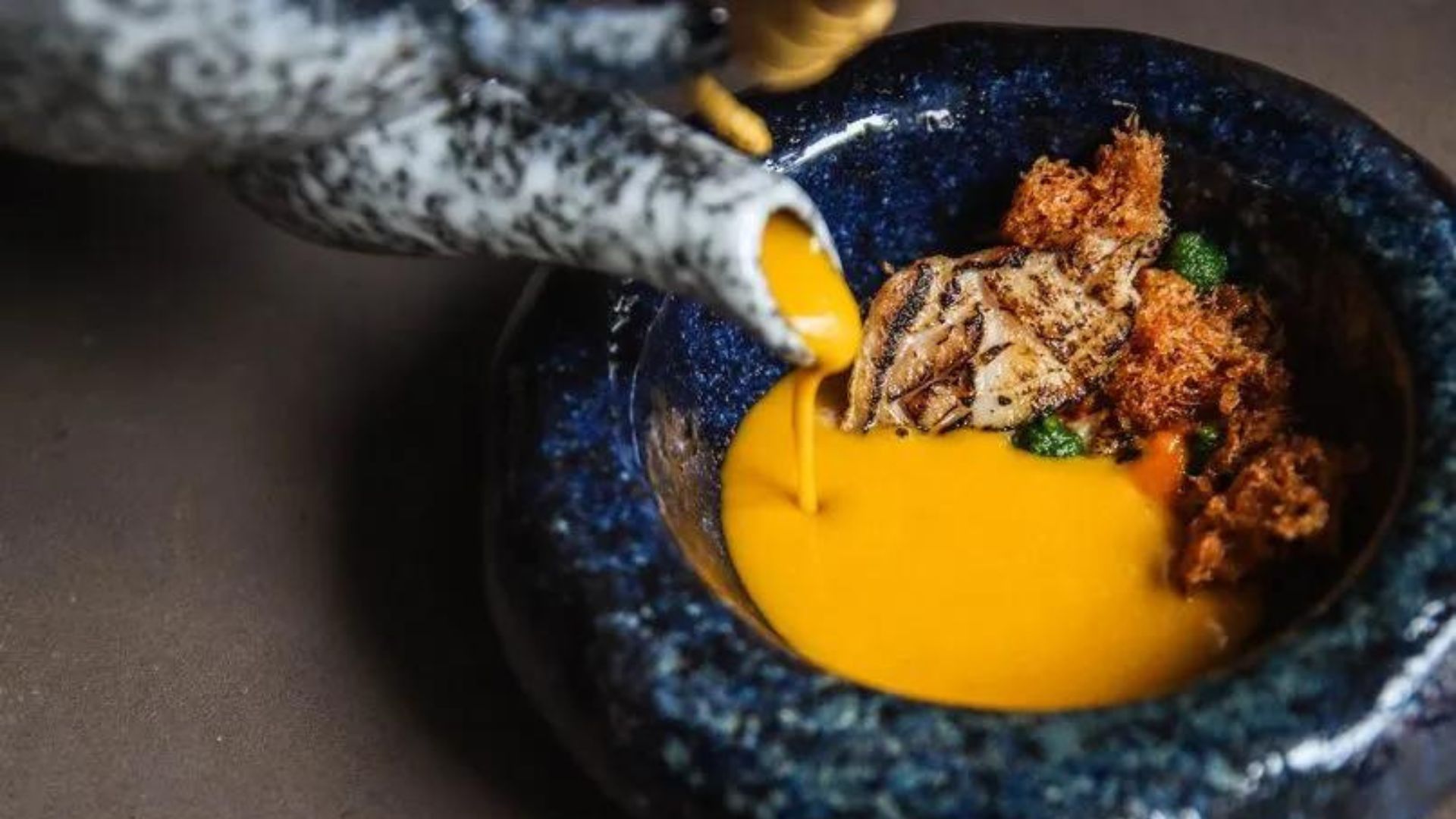 Thai cuisine is more than just crowd favourites like Pad Thai and Tom Yum Koong. Restaurant Chedi's elevated plates also showcase its myriad of flavours with refined finesse. Helmed by chef-owner K-Jin Lim and head chef Miller Mai, Chedi currently only features an eight-course tasting menu that takes diners through the best of Thai cuisine without pretence. From the addictive northern snack of miang kham and gaeng som fak thong (Thai pumpkin curry) to the signature wok hei-rich salted ikan kurau fried rice, these dishes inspired by the Land of Smiles will certainly put a grin on your face.
Restaurant Chedi is located at 15 Hamilton Road, Singapore 209185.
808 Eating House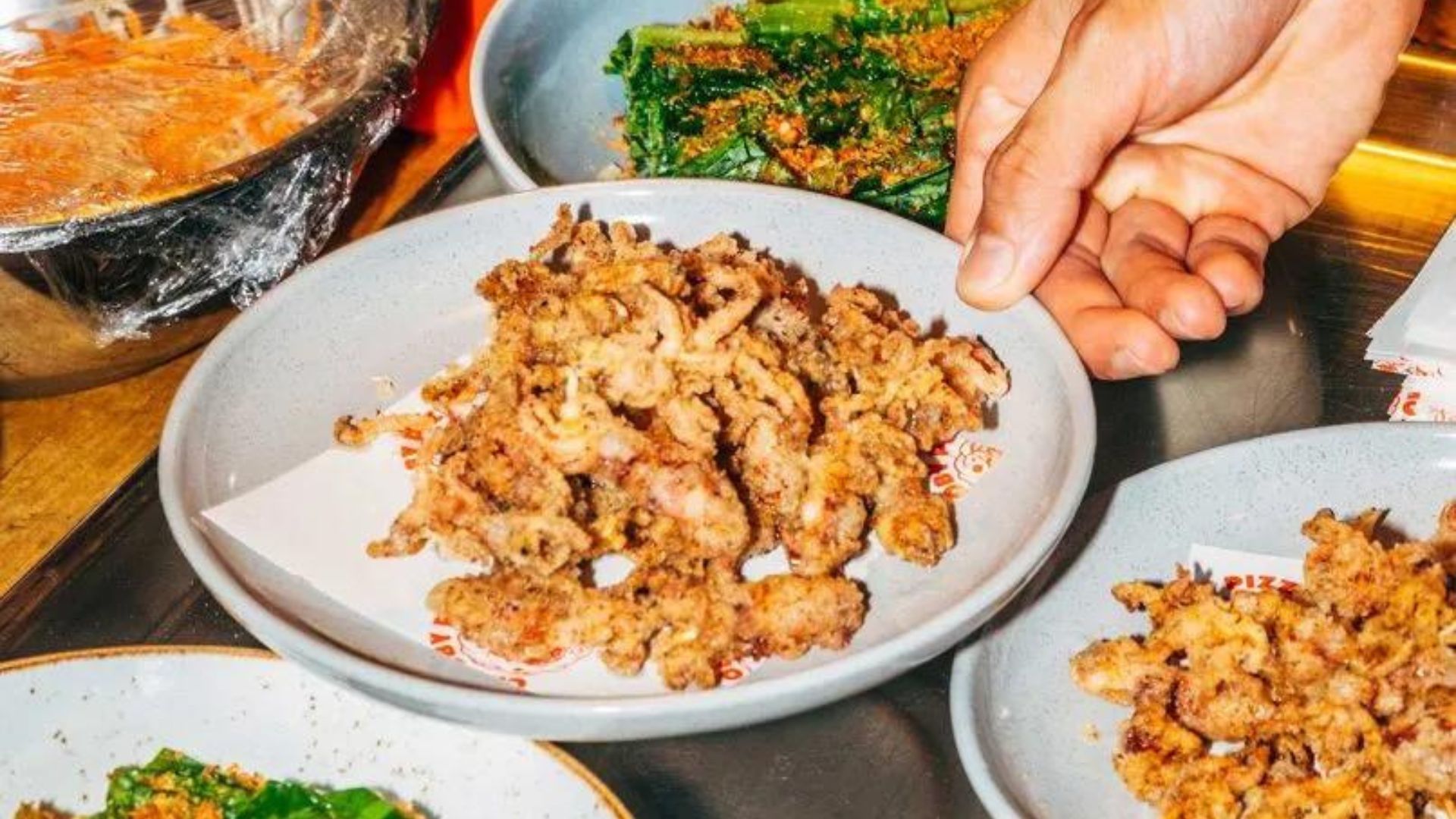 After stints at celebrated dining establishments like the Michelin-starred Atelier Crenn in San Francisco, Cloudstreet, Cheek by Jowl, and Magic Square, rising culinary star Chef Eugene Chee is venturing out on his own with 808 Eating House. As one of two concepts under one roof by the new F&B group The Fillmore Collective, this contemporary Mod-Asian restaurant plans to leave a lasting impression with deep, bold and punchy creations.
Look forward to vibrant dishes like Japanese oysters with papaya sauerkraut, crispy barramundi with garam masala pumpkin puree, and, of course, Chee's signature duck fat financiers layered with velvety chicken liver mousse.
808 Eating House is located at 159 Joo Chiat Road, Singapore 427431.
Ikkagoyo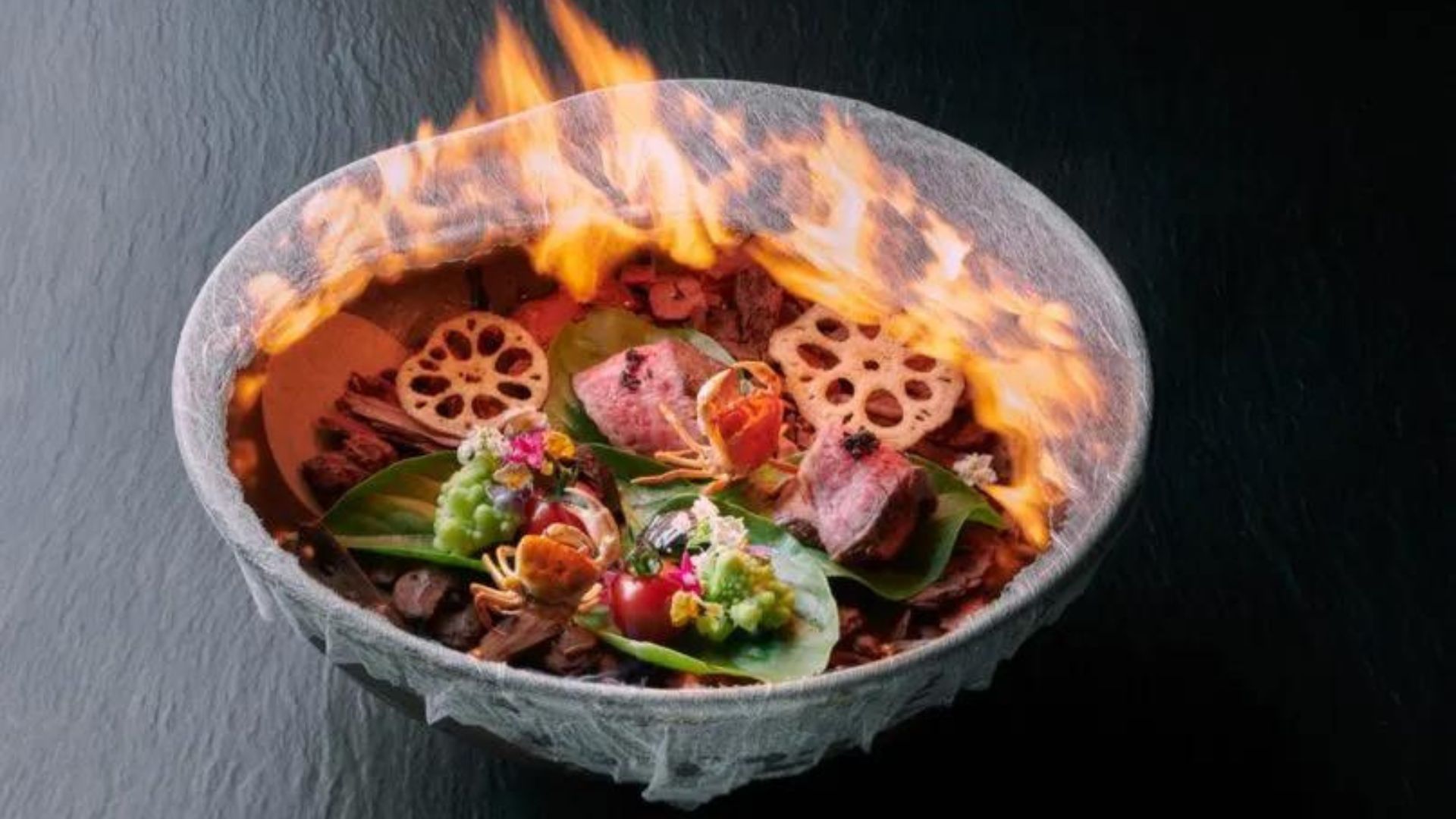 Japanese Kaiseki menus are known to be exquisite, and you can experience an authentic take at the Sukiya-Zukuri-decorated restaurant Ikkagoyo. Leading the kitchen is Chef Mitsutaka Sakamoto from Hyogo, Japan, who boasts over 20 years of kaiseki experience in Japan at acclaimed names like Hyakurakuso, Sushi Arai, and Naruse. The 12-course prix fixe menu presents Japanese culinary finesse and features in-season ingredients only.
Ikkagoya is located at 115 Amoy Street, #01-04, Singapore 06993.
Le Bon Funk Holland Village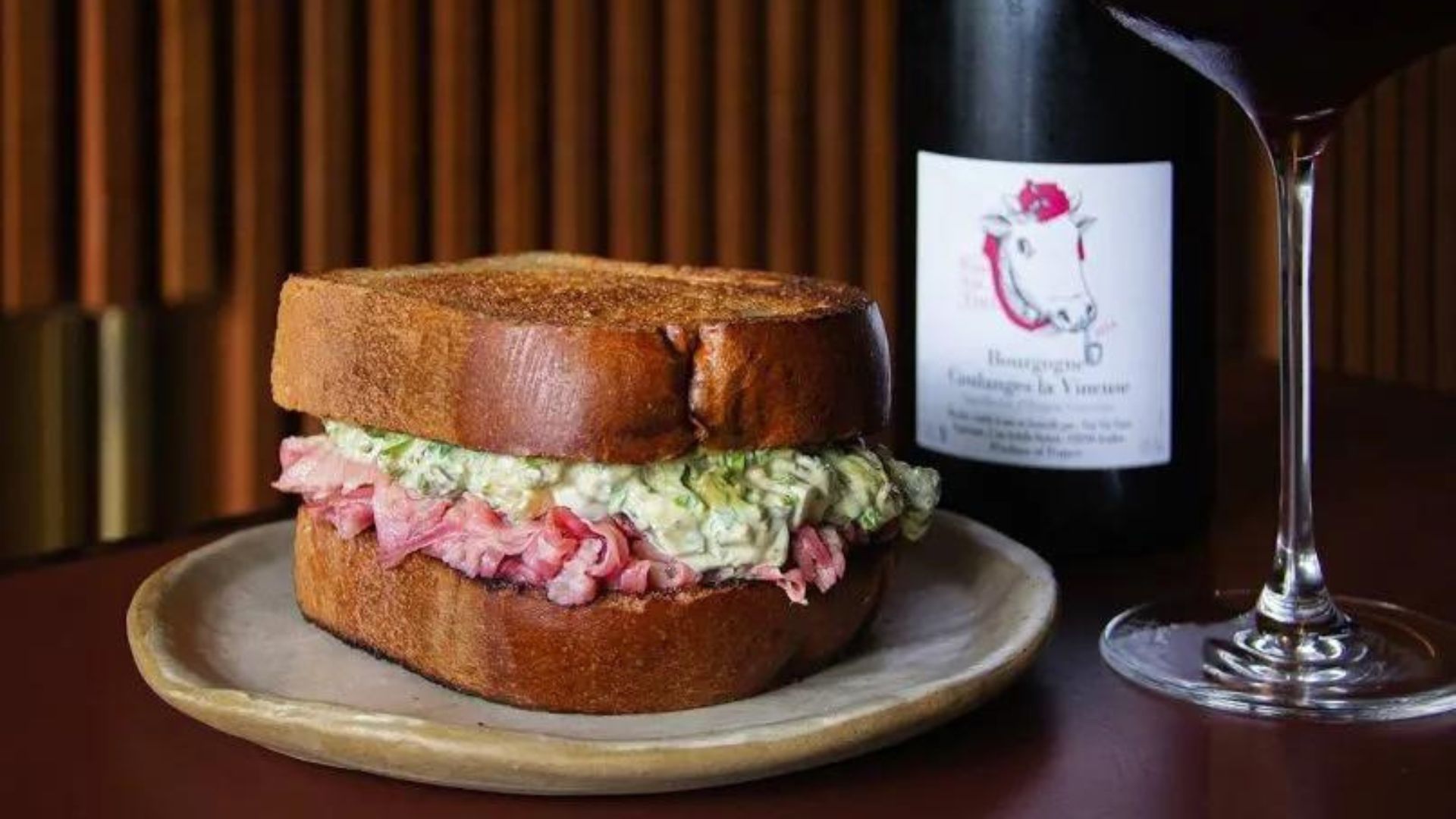 Those who are staying in the West and craving natural wines can head to Le Bon Funk's new Holland Village outpost for their fix. This 68-seater day-to-night wine bar and restaurant offer an extensive wine list, which pairs well with mouth-watering bites like Foie Gras Toast, housemade Leek Ravioli, and Lamb Neck with rapini and grilled gnocchi. Diners can also chill alfresco at the airy outdoor terrace while appreciating their favourite pink or orange wines.
Le Bon Funk Holland Village is located at 277 Holland Avenue, Singapore 278994.
Eden Restaurant at Pullman Singapore Orchard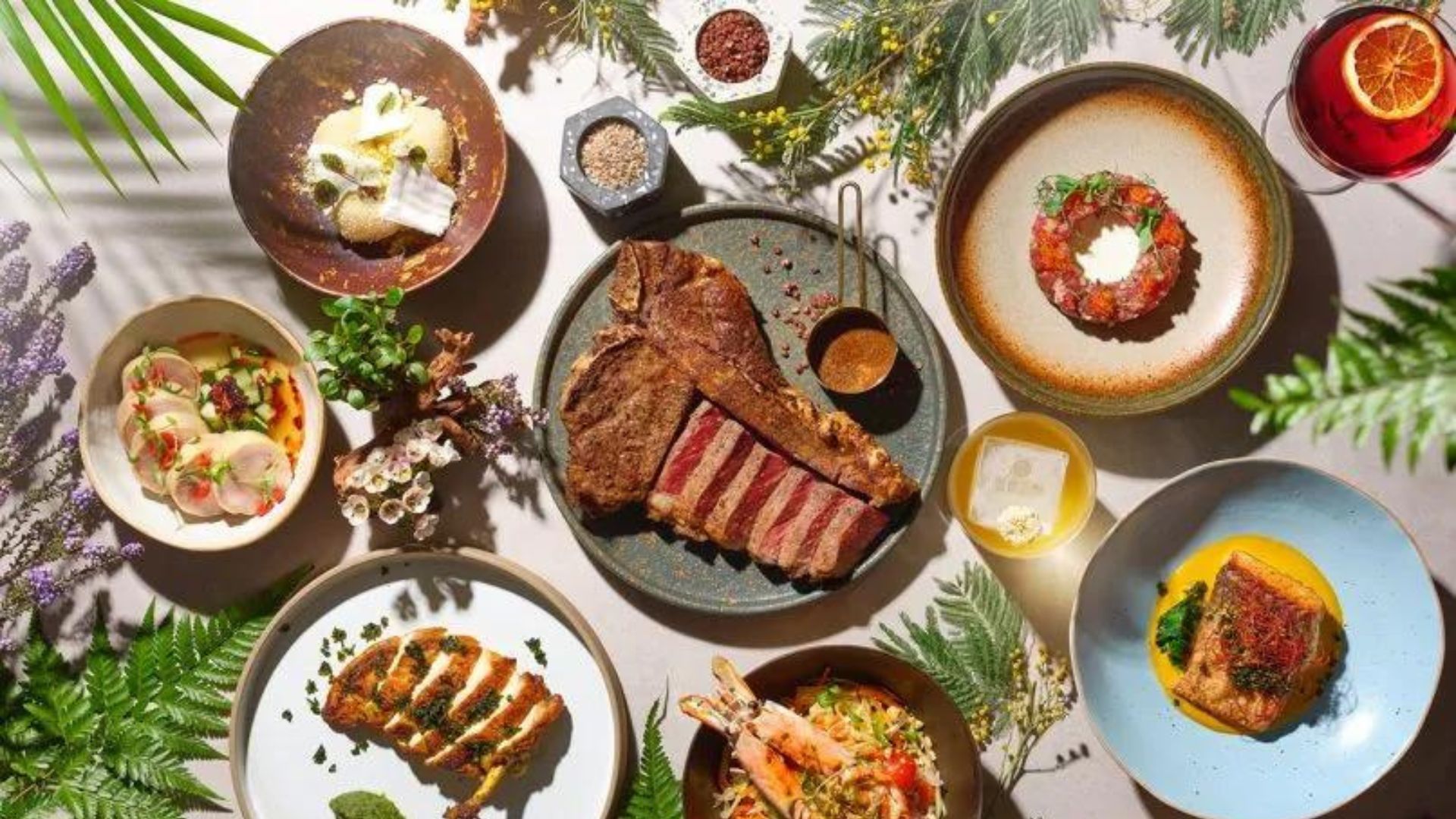 Inside the new Pullman Orchard Singapore is the Asian cuisine-focused Eden. Upon entering the luxurious glasshouse restaurant, what awaits is both visually appealing and appetising plates like Tuna Ceviche with Ikura, Eden Crab Cakes (inspired by Koi Pla), and Szechuan T-Bone Steak. Besides ala carte options, diners can sample a two-course curated lunch menu consisting of a choice of main, dessert and a drink.
Eden is located at 270 Orchard Road, Pullman Singapore Orchard Leve 4, Singapore 238857.
Art di Daniele Sperindio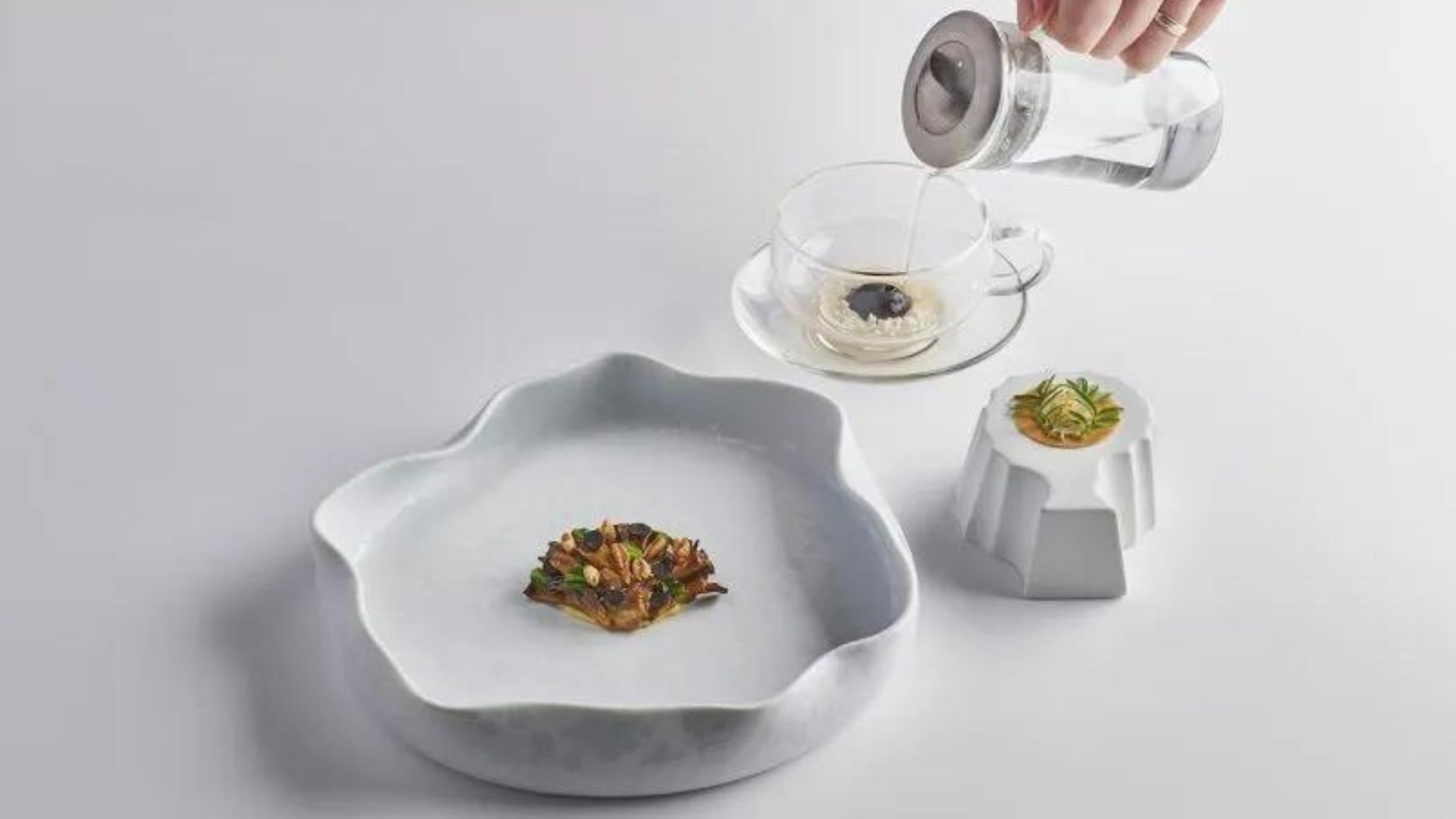 What was formerly Art managed by ilLido now sees its previous group executive chef Daniele Sperindio taking over the reins as a chef-owned establishment. This fine-dining Italian restaurant at the picturesque National Gallery Singapore presents its best with the seven-course Art 4.0 tasting menu. Other highlights include pasta dishes like the savoury La Superba (Taglierini in clams and fish stock with yellowfin tuna bottarga) and moreish Giradito with duck stuffing.
Art di Daniele Sperindio is located at 1 St. Andrew's Road, National Gallery Singapore #06-02, Singapore 178957
All the new restaurants in Singapore to head to this March 2023:
Cenzo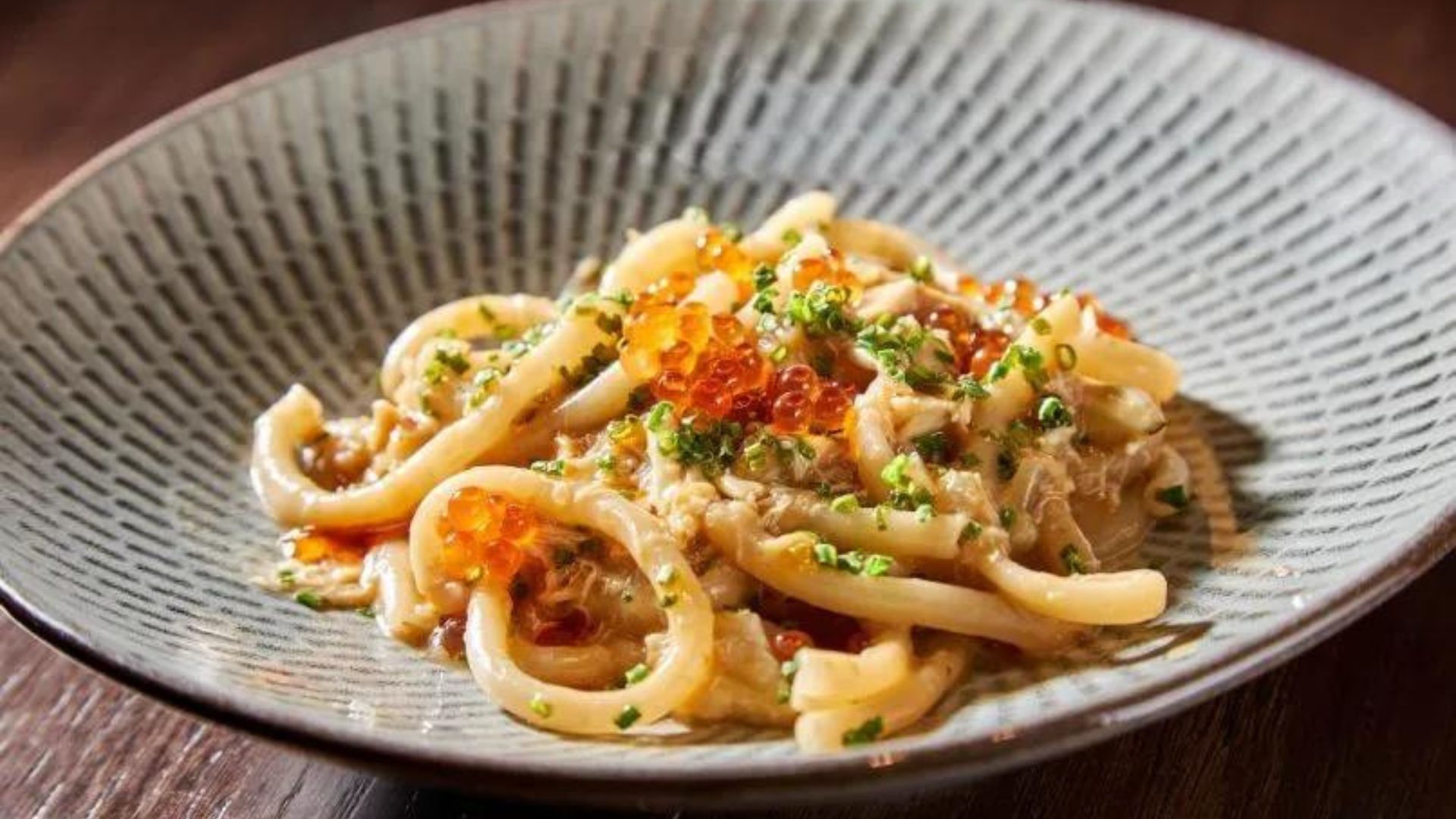 While we're still devastated by the closure of Salted & Hung, you can find Australian chef Drew Nocente (their former head chef) at Cenzo. This new restaurant at Club Street also applies Nocente's ethos of minimal wastage by bringing and curing techniques but with an Italian twist. Look forward to Italian-Australian creations like bucatini with spanner crab and smoked trout roe (above), slow roast porchetta ($48) with pineapple chilli salsa and celeriac slaw, as well as thinly sliced veal tongue.
Cenzo is located at 81 Club St, Singapore, 069449.
Hanazen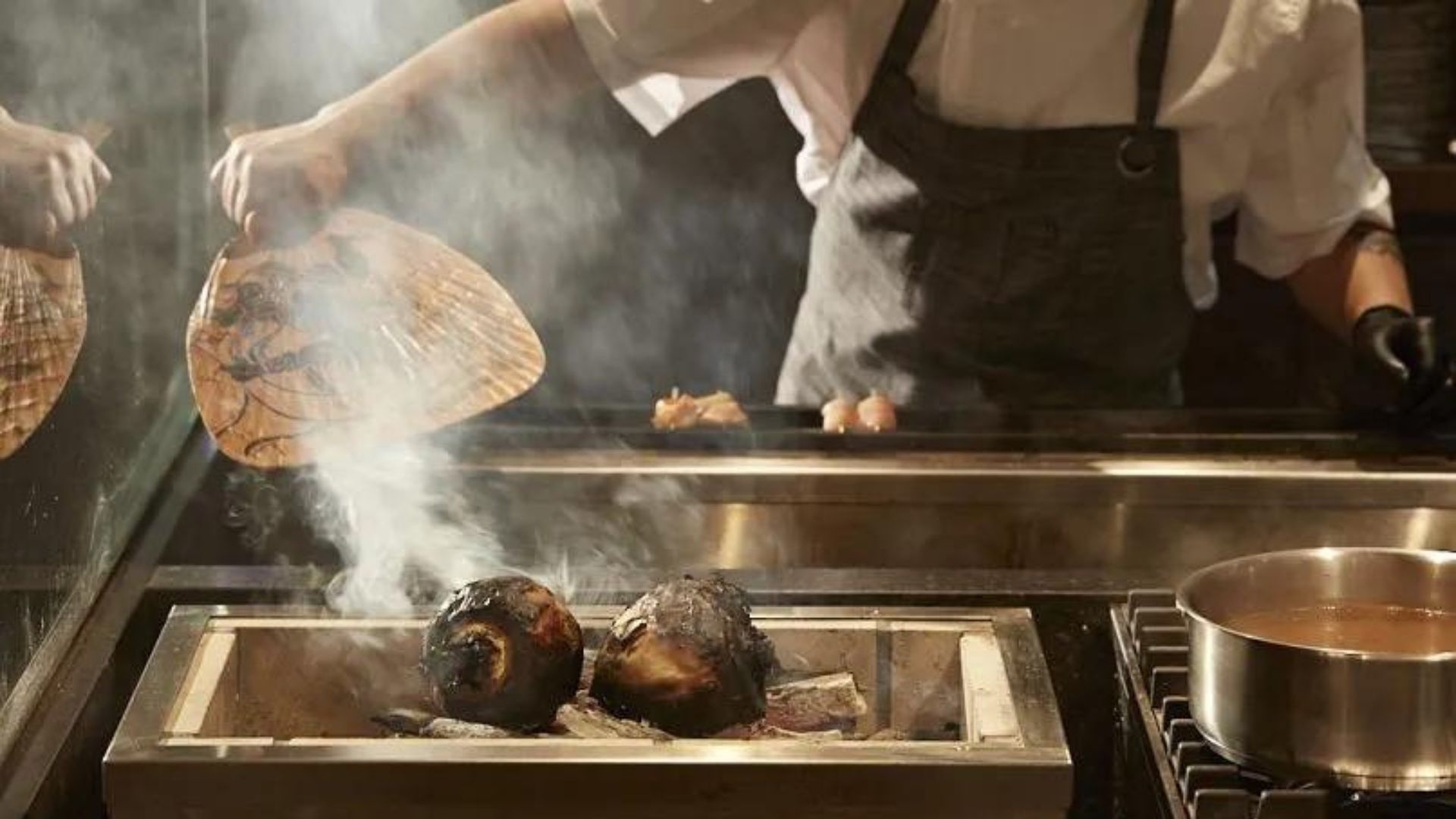 One of the most anticipated new restaurant openings in Singapore this year, Hanazen will certainly impress with its dual concept of Japanese omakase and French brasserie. The new restaurant at Chijmes is the brainchild of chef Yusuke Takada from the two-Michelin-starred restaurant, La Cime. Here, you'll be treated to charcoal-grilled dishes (chicken liver skewers, abalone) done right, with alluring smokey scents and French-inspired sauce dips like white wine raisin sauce on the side.
Hanazen is located at 30 Victoria St, #01-21/22 CHIJMES, Singapore 187996.
Chifa!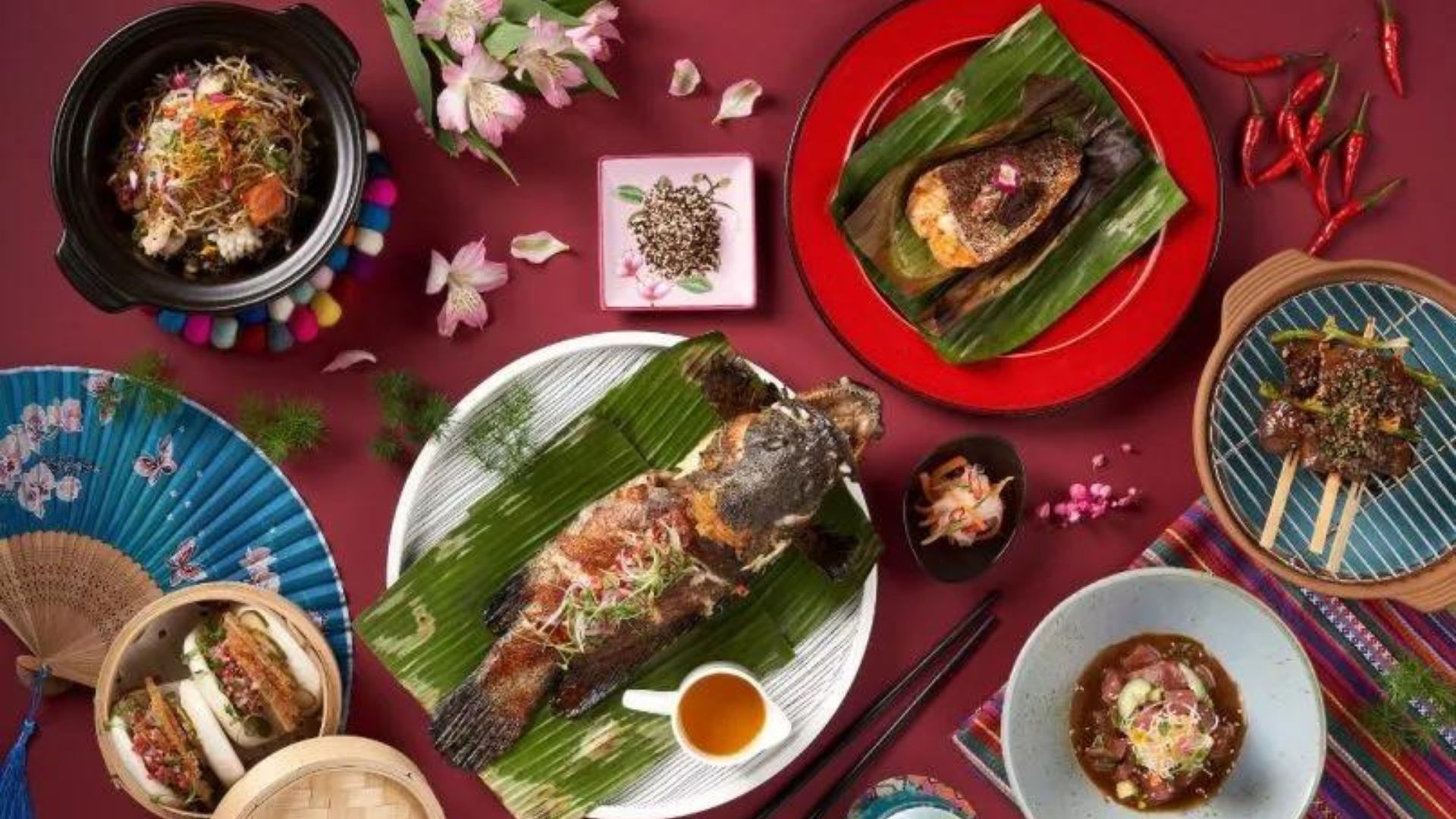 The term 'chifa' derives from the Mandarin phrase 'chi fan', which means 'to eat'. Peruvians adopted this from Chinese immigrants, who opened eateries in Lima's Barrio Chino (Chinatown), to describe the fusion of Peruvian and Chinese cuisine. While the dishes taste familiar thanks to the Chinese flavours and cooking techniques, they are further enhanced with the use of native Peruvian ingredients like root vegetables (the purple potatoes in Sichuan-Peru potatoes) and various Peruvian sauces.
Chifa! is located at 8 Sentosa Gateway, Ave8, Resorts World Sentosa, Singapore 098269.
Au Balcon Housed on the newly renovated second floor of The Summerhouse, the quaint Au Balcon ('on the balcony' in French) was formerly the French Dining Room. In this revamp of their brunch menu and new dinner menu, savour classic French delights like Confit de Canard and Inka Grilled Iberico Pluma, respectively. Decadent French desserts, like the Paris Brest and a Citrus-based Creme Brûlée, are available too, should you desire a sweet ending.
Au Balcon is located at 3 Park Lane, The Summer House, Singapore 798387.
Aniba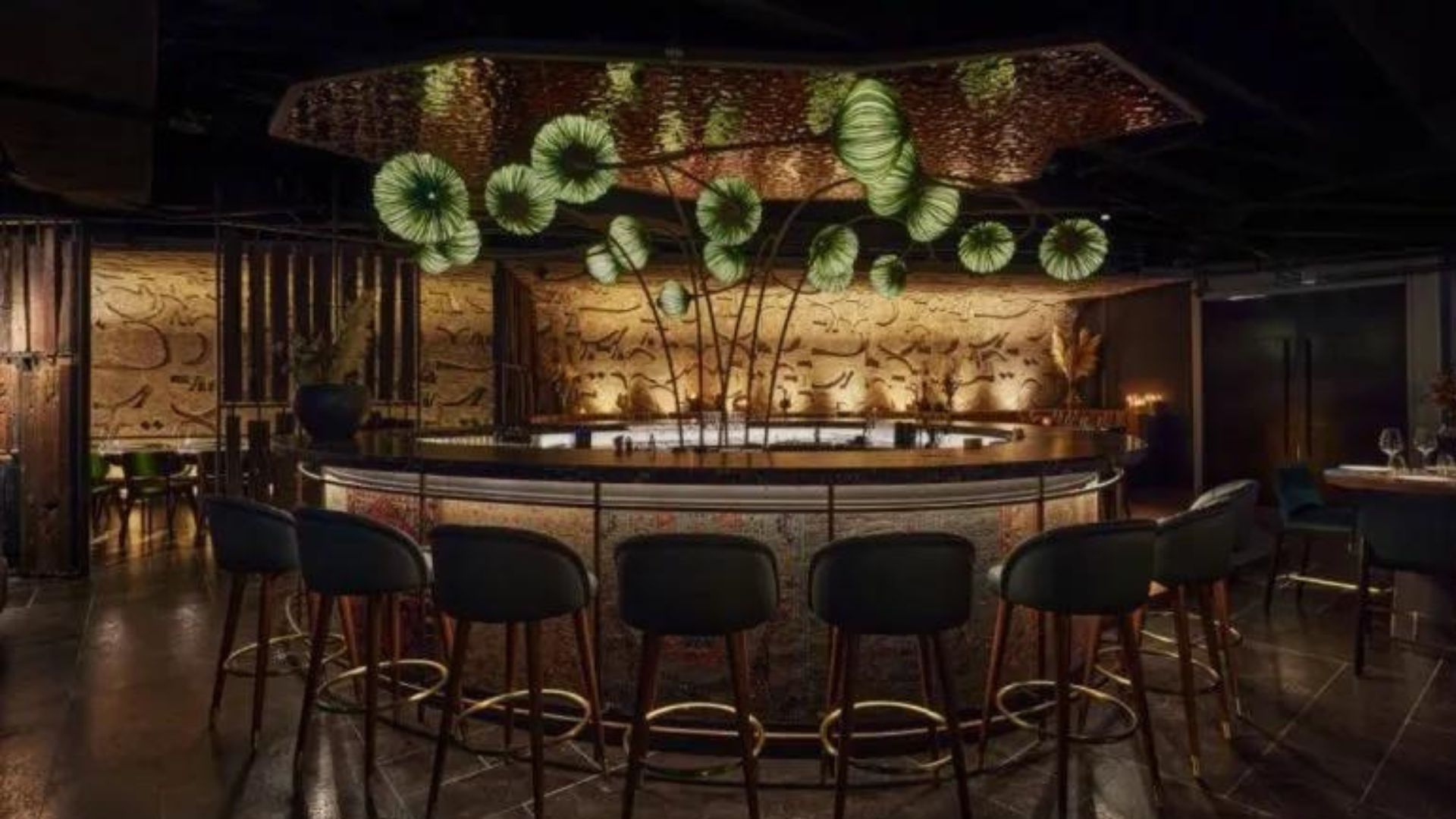 The team behind the successful Miznon and North Miznon brands has conjured another concept: the Middle-East gastronomic kosher diner, Aniba. It certainly makes an entrance as its name's translated to' here I come' in Hebrew. Helmed by international award-winning Israeli Chef Meir Adoni, Aniba features a chef's kitchen, cocktail bar, and lounge. The dishes and drinks here stay true to their Middle-Eastern DNA while pushing the contemporary envelope with European influences. Also, there are no traces of any red meat on the menu, making it accessible to pescatarians and vegetarians.
Aniba is located at 6 Battery Road, #05-03 Bonham Street, Singapore 049909.
Salt & Palm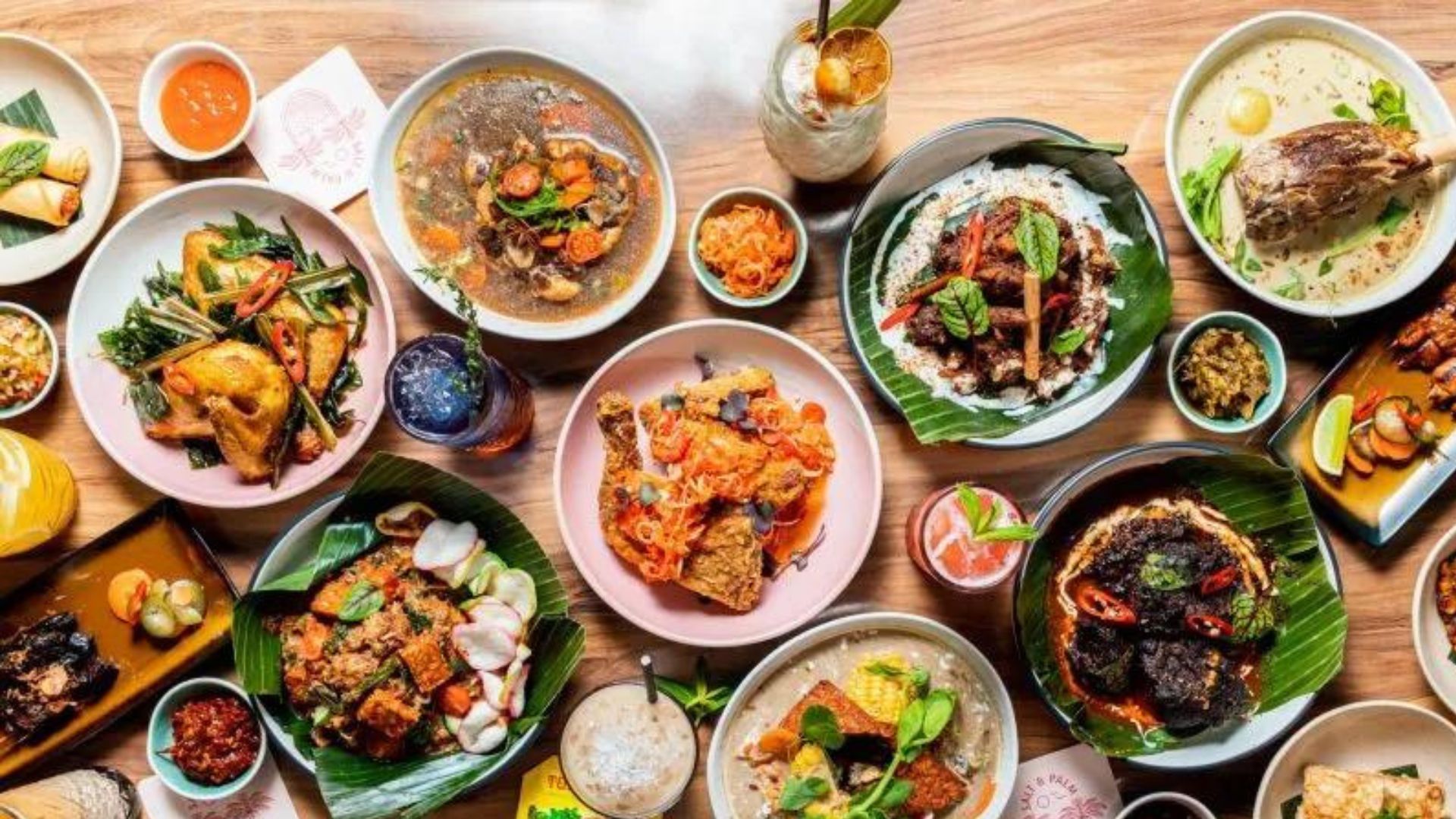 Having already made waves down under in Sydney, Australia, mod-Asian and Indonesian restaurant Salt & Palm will set up an outpost in Singapore come March 2023. With a mission to introduce the creative diversity of Indonesian cuisine, they highlight the archipelago's distinctive palate while experimenting with contemporary techniques to create bold flavours. The Porchetta is a beautiful fusion of East and West, as the Australian pork belly is cooked in a rich coconut gravy of Balinese spice, chilli lemongrass and shallot salsa. Vegan iterations of desserts like Crème Brulee and Pavlova are surprising standouts too.
Salt & Palm is located at 467 Joo Chiat Rd, Singapore 427678.
Charr'd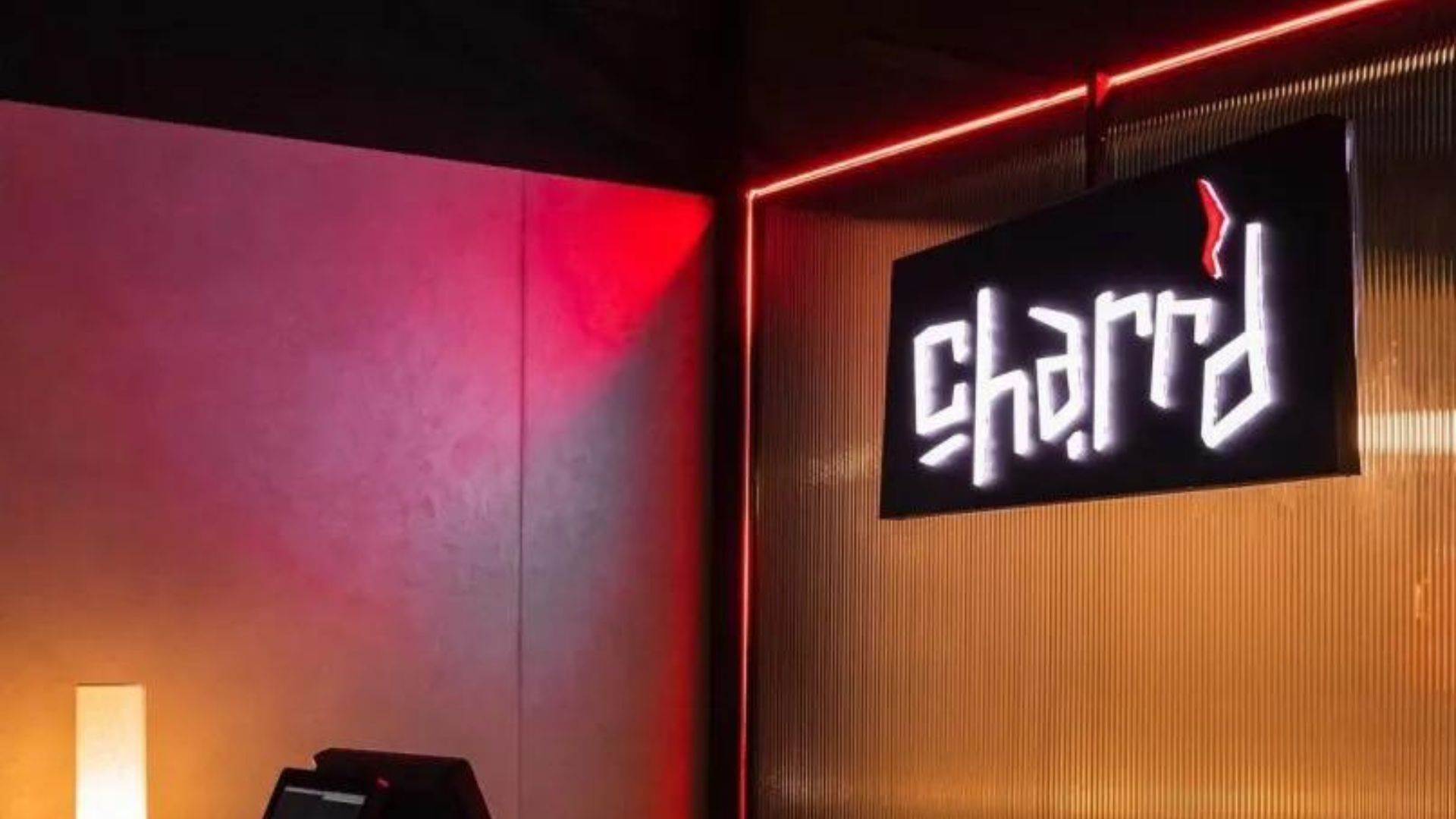 Charr'd pride itself on being the first halal restaurant in Singapore to serve prized A5 Kuroge Wagyu beef from Mie Prefecture in Japan, providing an alternative option for beef buffs to savour the juicy cut. Here, three types of Kuroge A5 Wagyu – ribeye, sirloin, and tenderloin – are the main stars of the menu, and you'll want to savour them at their purest without any sauces or heavy condiments. The Heavenly Meat Board (good for 3 – 4 pax) is a great choice for those who want to taste various selected cuts.
Charr'd be located at 324F Changi Rd, Singapore 419799.
Numb Restaurant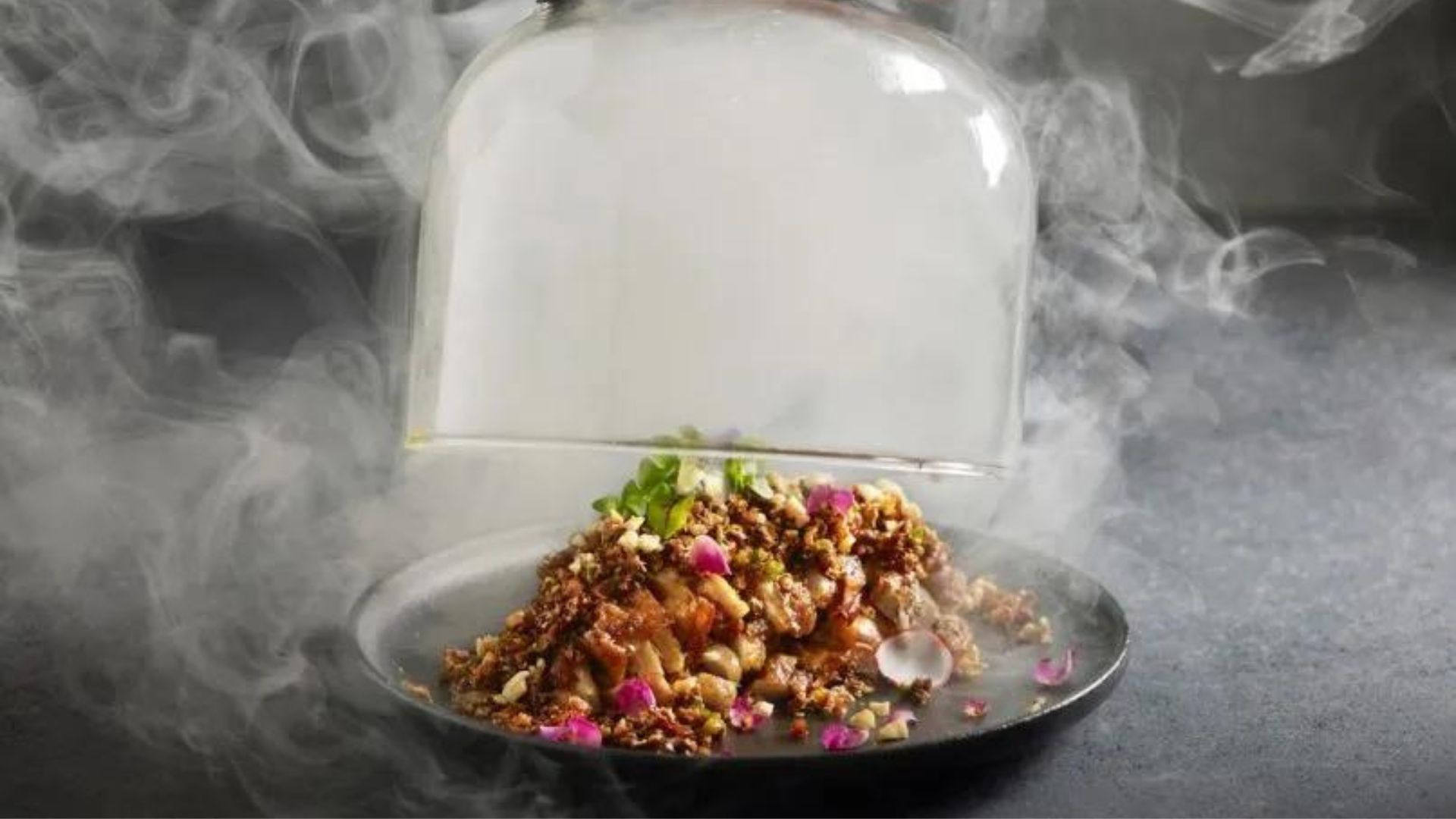 The appetite for mala seems to be going strong and steady still. Thus, have your fix at Numb Restaurant. Founded by the founders of Chengdu Restaurant and Chengdu Bowl, attain the desired mind-numbing sensation from modern takes on classic mouth-watering Sichuan dishes like Imperial Sauced Sliced Beef, Applewood Smoked Crispy Chicken, and the quintessential Chengdu Seabass in Sour Pickled Soup.
Numb Restaurant is located at 5 Straits View, Marina One West Tower, #01-12, Singapore 018935.
All the new restaurants in Singapore to head to this February 2023:
Surrey Hills Deli After launching grocer-café hybrids in Jurong and ION Orchard, Surrey Hills Grocer now heads over to the Central Business District to feed the office crowd as Surrey Hills Deli. This Melbourne-inspired sandwich shop offers eight different signatures catering to various tastebuds.
Choose from classics such as Hendurance (Caeser salad-based with chicken ham and bacon) and the intensely flavoured Oppor-tuna-ty (tuna salad and pickled jalapeño). Meat lovers will also be torn between Let's Pull Through (36-hours pulled pork shoulder and green mango slaw) or Seize the Moo-ment (house pastrami paired with sauerkraut and burrata). Coffee aficionados can also get their caffeine brews from ONA coffee's beans, a popular Australian-specialty coffee roaster.
After delicatessen in the day, Surrey Hills Deli transforms into a chill-out space that serves bar snacks and booze. Wind down with fresh craft beers on tap from cult brands like Moon Dog Lager and One Drop Brewing Co.
Surrey Hills Deli is located at 6 Battery Road, #01-02, Singapore 049909. Website here.
Le Matin ION Orchard After appearing at Paragon, Raeburn Park and Robinson Road, Le Matin settles down permanently in ION Orchard. Besides classic pastry favourites, this famed patisserie will debut a hot brunch menu. Brioche Feuilletée gets paired up with either Wagyu or Chutoro and the humble scrambled egg croissant gets elevated with black truffle shavings. Yes, eight grams of it!
In the evening, brand-new desserts take the spotlight. From the all-cheese-based Fromage de vos Reves and nutty Tarte Aux Noix de Cajou to the honeyed Bais et Abeilles, these intricate confections are indeed gastronomic visual palatable delights.
New petit gateaus like Sake Lees & Macadamia Choux Bun and the savoury-sweet Kombu Tart are also added to Le Matin's current little cake staples. These pastries will be available all day for dine-in and takeaways.
(Image credit: Le Matin)
Le Matin is located at 2 Orchard Turn, #B2-49 ION Orchard, Singapore 238801. Website here.
Cloud Every cloud has a silver lining. Here, it's dreamy coffee. This minimal industrial-themed cafe obtains its name from the fluffy white cloud decor hanging from the entrance's ceiling. No frills, it's all about the cuppa and pastries here.
Cloud brews a single origin from Brazil, roasted by Double Up Coffee. The usual drinks – Espresso, Black, White, and Mocha are crafted afterwards. Those craving to nibble can choose from a selection of small bakes like Sea Salt Chocolate Cookie, Strawberry Lemon Pound Cake, and Banana Bread.
(Image credit: @annathequeer/Instagram)
Cloud is located at 1A Duxton Hill, #01-01, Singapore 089480. Website here.
Hellu Coffee An intimate coffee place has opened in the bustling Far East Square near Telok Ayer MRT. This sixteen-seater indoor and outdoor (eight in each section) space provides a quick caffeine fix. Hellu greets with espresso-based drinks from Tiong Hoe Specialty Coffee's two-bean Brazil and India blend. Those not in the mood for coffee can choose from a selection of teas, Yuzu Lemonade, and White Peach Passion Soda.
Hellu also bakes croffles fresh every morning in limited quantities. Available in three flavours – Plain, Chocolate, and Cheese, they make great coffee companions if you need a quick bite.
(Image credit: @hellu_coffee/Instagram)
Hellu Coffee is located at 135 Amoy Street, Far East Square #01-05, Singapore 049965. Website here.
CATBAKE Sink your teeth in feline-shaped confections that are oh-so-cute to eat at CATBAKE. This Japanese-themed bakery from Hokkaido delivers both taste and presentation in their bakes which blend Japanese and Western flavours. Co-founded by renowned pâtissier-chef Shinya Tajima, creator of Neko Neko Shokupan which went viral in Japan, CATBAKE's all about the cat-faced motif.
The soft and fluffy shokupan remains a classic favourite while hot creations like Croque Monsieur and French Toast charm with their balanced sweet-savoury qualities. Another highlight is also the soft and creamy two-layered cat-shaped cheesecake that looks deceptively simple but delivers in taste.
(Image credit: @catbake.sg/Instagram)
CATBAKE is located at 1 Vista Exchange Green, The Star Vista B1-43, Singapore 138617. Website here.
Nagai Hokkaido Cuisine A new kid on the block has appeared at Suntec City's Eat at Seven space. Hailing from Sapporo, Hokkaido, Nagai Hokkaido Cusine's first international outpost joins the other existing peers at the Japanese-concept food zone. The seafood specialist, established in 1993, has made a name for itself in its home country with its intricate Hokkaido kaiseki techniques and boasts loyal customers including the Japanese imperial family.
Chef Shinichiro Nagai puts equal attention to the premium omakase options and wallet-friendly lunch sets such as the decadent uni and wagyu-topped Kaisendon and crispy assorted Tempura main.
(Image credit: @nagai.sg/Instagram)
3 Temasek Boulevard, Eat At Seven, Suntec City Tower 1 #03-314, Singapore 038983. Website here.
Seng House Behind the brains of Seng Coffee Bar comes stylish Seng House and both are helmed by the daughter of Gu Zao Ren Taiwan Porridge. This new café, located at Tanjong Katong, incorporates traditional Hainanese touches (from the family's roots) into contemporary Western flavours for its hot menu.
Serving entirely different dishes from Seng Coffee Bar, Seng House dazzles with the unique Seng Breakfast Club (toast with homemade kaya, luncheon meat, and eggs), and the Donut Kiap (a deep-fried doughnut bun with yam ice cream in-between).
Lunch is hearty with selections like Hainanese Pork Chop, Oxtail Stew, and British Fish and Chops. Due to its location as a corner shophouse, alfresco seatings are available here, making it pet-friendly for your fur pals to dine with you.
(Image credit: @senghousesg /Instagram)
Seng House is located at 214 Tanjong Katong Road, Singapore 437007. Website here.
All the new cafes and restaurants in Singapore to head to this January 2023:
Yue Bai There's no better way to start the year than with some food that's good for your body and your soul. Coupled with the fact that Chinese New Year's is just around the corner, Yue Bai is our choice pick for a delicious meal that's bound to set the stage for a year of good health. Co-owner and chef Lee Hongwei has dreamed up a medley of dishes built on the foundation of Dietary Therapy, using food to enhance the well-being of those who consume it.
After snacking on addictive plates of Crispy Burdock that's been tossed with sesame seeds and seven-spice powder, nourish your body with a hearty Double-boiled Silkie Chicken Soup that's been enhanced with jasmine flowers, dried longan and wolfberries. Our personal favourite? The Herbal Poached Rice, Atlantic Cod, and Black Fungus.
33 Duxton Rd, Singapore 089497. Website here.
(Image credit: Yue Bai)
Quay House Inspired by the rich culinary history of the region, Quay House looks to create a medley of dishes through the use of time-honoured techniques such as open-fire cooking, fermentation, and ageing. Take for instance the Balinese Kampung Chicken, a flavourful dish that's been wood-fire grilled to an aromatic charred finish, but not before it's been marinated in a spice paste that's made of chilli and a range of fragrant Southeast Asian herbs, of course. Other highlights on the menu include the Quay House Duck 2 Ways, where the aged duck breast is smoked for six hours over lychee wood before being served alongside a duck confit, and finished with a rich Nonya gravy.
(Image credit: @quayhousesg via Instagram)
51 Circular Rd, Singapore 049406. Website here.
Gyutan-Tan Singapore's first-ever ox tongue speciality restaurant has set up shop at the foodie district that is Tras Street. Before you go on about making jokes about making out with a cow, we'd like you to save that thought till after you've tried the dishes here.
While you can always go for sharing plates of the refreshing Cold Roasted Gyutan Carpaccio, or the hearty Premium Gyutan Shabu-Shabu, our go-to is the value-for-money lunch sets here. Choose between the 4mm thin cuts of grilled gyutan in the Sumiyaki Gyutan Set or the 10mm thick cuts of grilled gyutan Sumiyaki Atsugiri Gyutan Set, both of which come with mugimeshi (a mix of rice and barley), two kinds of Japanese pickles, a salad paired with a lemon olive oil dressing, tororo (grated Japanese mountain yam), as well as a choice of oxtail or miso soup. Can't decide? The Sumiyaki Gyutan Combo Set consists of thin and thick cuts of charcoal-grilled gyutan.
41 Tras St, #01-01, Singapore 078980. Website here.
Kurohanabi There's nothing better than a hotpot on a rainy day. Those interested in trying out something a little different compared to the offerings in town will find a new favourite at Kurohanabi. The restaurant, which was born in Hokkaido, is famed for its unique sesame-miso soup base. Its signature dish, the Motsunabe, sees the hearty sesame-miso soup as a base for ingredients such as beef intestine, tofu, chives, cabbage and enoki mushroom.
Besides nabe hotpot, diners can also look forward to original recipe dishes from Japan such as the Natto Motsu Nabe, a motsu nabe that's topped with a blend of natto and minced chicken. as well as the Hokkaido Motsu Ponzu, a refreshing appetizer of the beef intestine with ponzu.
(Image credit: @kurohanabi.sg via Instagram)
3 Temasek Boulevard, Tower 1, #03-316 Suntec City, Singapore 038983. Website here.
Equate Dear coffee lovers here's one for you. Equate has just opened its first concept store at Orchard Central. More than just a space for coffee, Equate's Orchard Central outlet has been thoughtfully designed as an upside-down world, which aims to encourage guests to rearrange their perspective of what the right-side up actually is. Apart from Equate's pour-over coffees, classic lattes, matcha, and cold brews, diners can also expect artisanal bakes like croissants and pastries that are made in-house daily. We're also pairing our brews with the Sandos here; made from house-made Shokupan bread, these flavourful bites come sandwiched with anything from house-roasted Reubens and chicken kimchi to truffle egg spam.
(Image credit: @equatecoffee via Instagram)
181 Orchard Rd, #01-17A Orchard Central Singapore 238896. Website here.
Mooi Ex-Head Pastry Chef from Michelin-starred Meta, Gail Ho, has opened a new patisserie within a quiet business park in Alexandra. Mooi is co-owned by Ken Loon, the restauranteur behind popular dining spots such as Naked Finn and Burgerlabo. The compact menu, which features an updated perspective on classic pastries like tarts and cream puffs, also includes croissants, cookies, and marble cakes. The Mokasha is a crowd favourite – think an aromatic buckwheat sable crust and buckwheat caramel that's topped with coffee-infused dark chocolate cream filling, complete with toasted buckwheat, cocoa nibs and chocolate shavings sprinkled over for a bit of texture.
(Image credit: @patisseriemooi via Instagram)
438C Alexandra Rd, #01-06/07 Block C, Alexandra Technopark, Singapore 119976. Website here.
Yuta A discreet Japanese restaurant, Yuta, has opened within Orchard Plaza and promises to be a true hidden gem that only those truly in the know would be aware of. However, its bright blue exterior is hard to miss if you come seeking it, encasing a cosy diner with high counter seats and a small private room. As of now, they have a single 10-course dinner omakase menu that's priced affordably at SGD 115++ (USD 86++), which includes premium dishes such as a plump Japanese Oyster from Hokkaido served with yuzu ponzu and ikura, A5 Miyazaki wagyu sirloin, Uni sushi rice topped with even more uni, as well as a Hokkaido scallop carpaccio doused in a fragrant truffle soya sauce.
(Image credit: @yuta_orchard via Instagram)
150 Orchard Rd, #02-12 Orchard Plaza, Singapore 238841. Website here.
This story first appeared here.
(Hero and feature image credit: Madison's)
Related: These Are Asia's Top 50 Restaurants
Written By