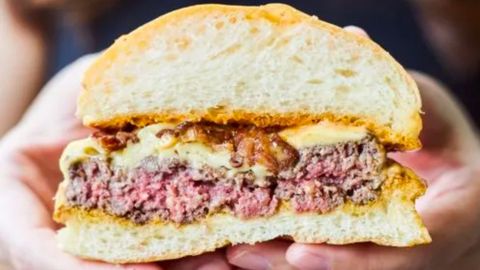 Sweet dreams are made of cheese — and if that cheese is slathered on a juicy patty then put between two buns, you have our undivided attention. Here are some of the best burgers in Bangkok.
Gigi Hadid once said, "Eat clean to stay fit, have a burger to stay sane." It's a good thing we're neither of those, so let's go out and celebrate by having a good, well-made burger. Luckily, burger joints across Bangkok will fulfil any fantasy, no matter what your personal preference may be. From the beef down to the sauce, we've curated a list of the burgers that care about each component—the ones that are worth it.
Let this article serve as a bucket list. Here's where to find the best burgers in Bangkok.
Some of the best burgers in Bangkok
Daniel Thaiger If you ever spot this red-painted truck that has the smell of grilled meat and cheese waltzing around it, you know it's Daniel Thaiger. Pioneering the authentic burger trend, Daniel Thaiger stands in contrast with other places with its classic-but-serious take on the American burger. Diners can expect quality, cooked-to-perfection patties and melted cheddar cheese sandwiched perfectly between fluffy brioche buns. Try the Mr Steve beef burger made with caramelised grilled onions, crispy bacon with a slap of Thaiger sauce. Go for the Cowboy burger spiced up with jalapenos, smoked BBQ sauce and more bacon if you love anything extra.
You can find more information at Daniel Thaiger.
25 Degrees Bangkok The burger game in Bangkok has been heating up lately, and this time, it's at a sensible 25 degrees. We don't know what witchcraft Pullman G's burger joint put in their dishes, but it keeps us coming back. Keep it simple with the Classic American Burger, or spice it up with one of their signature creations that go amazing paired with their milkshakes. The best part: 25 Degrees is open 24/7, which is perfect for a late night snack or if you've just come back from a night out with some good company.
You can find more information at 25 Degrees Bangkok.
Book your stay at Eastin Grand Hotel Phayathai via Booking.com
Book your stay at Eastin Grand Hotel Phayathai via Agoda.com
MadCow Burger MadCow has been a local favourite for those who frequent the Asoke area, and for good reason. From the patty down to the sauce, a lot of premium ingredients are cooked to perfection, then jammed between two buns. Order a medium rare for maximum juiciness, but feel free to customise and have it your way. For sides, we recommend their housemade hash browns.
You can find more information at MadCow Burger by ToniSantos.
Little Market For a place called Little Market, you can expect pretty big quality oozing from their burgers. Chet Adkins from JUA opened this little haven famous for their smash burgers, filled with premium ingredients that will impress. Their beef is Angus beef, 270-day grain-fed, to make sure it captures your heart at the first bite. The beef is then topped with cheese, pickles, and then pocketed between two buns.
You can find more information at Little Market.
Bang Bang Burgers As the pop song with the same name, Bang Bang Burgers churn out quality hits that capture the hearts of diners all over. People go in for their amazing smash burgers made with premium ingredients, and stay for the vibes with the upbeat music they offer regularly. Whatever protein you're craving, choose one of their infamous signature sauces to match, too.
You can find more information at Bang Bang Burgers.
Chunky Like the name implies, Chunky's burgers do not skimp out on quantity nor quality. Their burgers are made from scratch — down to the buns and even the ketchup. Whether it's pork, beef, or chicken, they pride themselves on the creativity of each recipe, along with the amazing sauce that compliments any protein going on the grill.
You can find more information at Chunky.
Book your stay at Mandarin Oriental Bangkok - SHA Extra Plus via Booking.com
Book your stay at Mandarin Oriental Bangkok - SHA Extra Plus via Agoda.com
Bun Meat and Cheese Bun, meat, and cheese—the three essential components of a good burger done correctly. They're not here to reinvent the wheel, they're proving that the wheel's fine if you have it made with love. Try their 'Animal Style' burger, made with two beef patties, their special sauce, and some crisp, fresh veggies. Their expertise also extends to sides, too, from the addicting cheesy tater tots, to the refreshing lychee coleslaw.
You can find more information at Bun Meat and Cheese.
Quickie Asking your friend for a quickie never felt quite the same once this burger joint opened up in Bangkok. Open for 24 hours a day, they surely have everything you might be craving for that can fit within two buns. A juicy beef patty? Sure. Fish fillet? You bet. Eggs and bacon? Of course. Be sure to order a milkshake to go with those burgers and let your taste buds thank you.
You can find more information at Quickie.
Shake Shack Not to be confused with The B-52's song, this recent addition to CentralWorld has people from all over the city queuing up to see if the hype's worth it. As it turns out to many, it is worth it. With their Angus beef topped with fresh veggies, cheese, and their secret sauce, people can find solace from the big city as they bite into these creations. The Shake Shack milkshakes are nothing to scoff at either, as their Bangkok exclusive fish sauce ice cream does wonders for your senses.
You can find more information at Shake Shack Thailand.
Homeburg Dining at Homeburg is like dining at a good friend's house. There's a sense of serenity as you sit down and wait for your meal, and you feel some sort of comfort as you take your first bite. It's no wonder why people fly in to dine at Homeburg. Don't be alarmed by their prices, their burgers are more than just burgers—expect a full on gastronomic journey in a way you've not been acquainted with before.
You can find more information at Homeburg.
Book your stay at Kimpton Maa-Lai Bangkok, an IHG Hotel via Booking.com
Book your stay at Kimpton Maa-Lai Bangkok, an IHG Hotel via Agoda.com
Hero image credit: Little Market/Facebook
This story first appeared here
Related: Where To Find The Best Mango Desserts In Bangkok This Summer
Written By