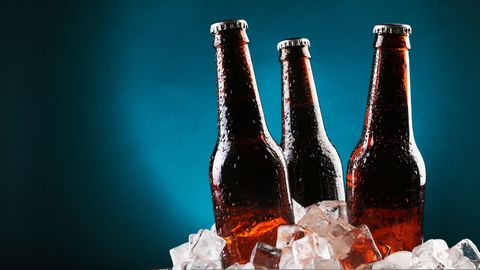 From smooth sips that are signatures of old-school breweries to experimental malts that push the boundaries of what a malt can be — Indian beers are as diverse and exciting as they come. That said, narrowing down on the perfect one to crack open at the end of the week can be an exercise in exhaustion. We're taking cues from the cosmos with this guide to the best bottles of Indian beer to stock up on, based on your zodiac sign.
The country's tryst with brewed beverages dates as far back as 1500 BC, when rice-based libations and fermented barley were combined with fruits and spices. Cut to 1830 and Edward Abraham Dyer set up a brewery in Himachal Pradesh, crafting the popular brand Lion. This was followed by the British practice of adding extra hops to malts to avoid spoilage during the long and hot shipping journey to India — the origin story of IPA.
Today, a dizzyingly large set of homegrown beers populate liquor stores — classic creations from the craft capital Bengaluru to zestier to bold numbers from vibrant Goa — complete, with intriguing backstores and varying ABVs. Naturally, one's more than likely to find themselves puzzled about which to take home for game night or casually sip at the bar. Our recommendation? Turning to the stars. After all, our astrological signs determine our most dominant traits, in turn, influencing our choices in almost everything from jobs to relationships. Here's the perfect Indian beer for you, based on your zodiac sign.
Best Indian beers to sip, based on your zodiac sign
Aries: BroCode Aries is known to be adventurous and wild. BroCode is the life of the party, just like this fire sign. The bold Indian beer is a biere brut (or bière de champagne) — a new style of beer that was first explored in Belgium in the early 2000s. It's top brewed and matured in bottles with champagne yeast cultures. The payoff? A punchy, sessionable sip that comes with fruity, citrusy notes. Combine this with a jaw-dropping alcohol percentage — leading to the reputation of being the strongest beer in India — and it's no surprise why bottles of this beverage fly off the shelves. Besides, this beer goes hard, just like Aries.
ABV: 15 percent
Taurus: Simba Stout Taurus is known to be practical and grounded. Those born under this sign would find Simba Stout — a robust option from a popular brand known for quality malts — a dependable choice. The first of its kind in the country, this easy-drinking beer pours ebony. Every sip sings with notes of caramel, espresso, and dark chocolate — adding a certain warmth to the savouring experience that this comfort-seeking earth sign would appreciate. That aside, the beer is creamy, low in bitterness, and quite sessionable. Nothing but a classic for Taurus.
ABV: 5 percent
Gemini: Geist James Blond Geminis are known to be social and charming. They'd find a kindred spirit in the smooth crowd-pleaser Geist James Blond. The medium-bodied Belgian-style blond ale is named after an iconic gentleman spy — something this pop-culture enthusiast of an air sign would appreciate. It pours pale yellow and is lightly sweet with a fruity character and mild notes of spice. There's a perfect balance of sweet and bitter with this one — mirroring Gemini's duality and making it ideal for a breezy sundowner, which is exactly where you'd find this popular sign.
ABV: 7.7 percent
Cancer: Susegado Vanilla Porter Cancers are known to be sensitive and comfort-seeking. Susegado Vanilla Porter would make them right at home. The Goa-based number combines the sweetness of chocolate with the warmth of coffee — rounding it all out with a touch of vanilla. Every sip is reminiscent of a comforting night in, on a rainy day — music to this water sign's ears.
ABV: 5 percent
Leo: Copter 7 Strong Leos are known to be confident, ambitious, and drawn to the spotlight. They'd enjoy the star factor that comes with Mahendra Singh Dhoni's Copter 7 Strong. The malty amber lager is bold — just like this fire sign — and pours a vibrant orange. Crisp and low in bitterness, every sip of this Indian beer comes with hints of caramel. Reminiscent of freshly baked bread, the experience of savouring this beer is toasty — mirroring the warmth that Leos are known to possess. With a strong buzz, this is a beer of champions. Nothing less would do for this sign.
ABV: 4.8 percent
Virgo: White Rhino Lager Virgos are known to be hardworking and practical. Consistently striving for perfection, they'd appreciate the attention to detail that comes through in every sip of White Rhino Lager. Founded in 2016, this Indian beer brand holds the reputation of being the country's first craft brewery, with a commitment to quality producing exceptional bottles. The lager is brewed with 100 per cent two-row pilsner malt, hopped with only 'noble' varieties. Complex, elegant, and mature — just like this earth sign — this all-day session beer is a classic choice.
ABV: 4.8 percent.
Libra: Kati Patang Zesty Amber Libras are known to be charming, affable, and connoisseurs of all things harmonious. They'd enjoy the perfect balance of complex and caramel notes in Kati Patang Zesty Amber. It's free-spirited and smooth — just like this air sign — and pours an amber-gold. With natural malts and aromatic hops, this one's as breezy as they come. In fact, its official description calls it a 'cool avatar.' If that doesn't spell Libra, we don't know what does.
ABV: 4.8 percent
Scorpio: Godfather The Legendary Original Strong Beer Scorpios are known to be passionate and complex. They'd find a kindred spirit in the bold Godfather The Legendary Original Strong Beer. The iconic Indian beer is a product of a brewing cycle of 25 days and features quality malt, hops, and barley. Every sip is smooth and intense — qualities associated with this water sign — with a stable head and full-bodied flavour. The high-alcohol percentage makes it pack a punch, something the adventurous Scorpio would be thrilled by.
ABV: 7.5 percent
Sagittarius: Faaaak It Sagittarius is known to be free-spirited and adventurous. The optimists of the zodiac would find themselves drawn to 'the happy beer,' Faaaak It by comedian Vir Das. Over a year of experimentation led to its production with Das aiming to spread happiness and allow one to kick back and relax after a long day. Clean and crisp, this Indian beer is low in bitterness with notes of fruit and honey. It's also low in bitterness with a dry finish — making it a crowd-pleaser, just like this fire sign. Not to mention — like Sagittarius — it would be a great fit at a party.
Capricorn: Bira 91 Malabar Stout Capricorns are known to be grounded and practical. The balance of bitter and sweet in Bira 91 Malabar Stout is reminiscent of this earth sign's 'work hard, play hard' approach to life. It fuses coffee beans (Blue Tokai) from the Malabar Hills with roasted malt, oats, and lactose. It pours amber and evokes the experience of savouring a cold brew while offering hints of chocolate and nuts in every sip. Light on the palate, high in bitterness — this one's complex and comes from one of the most popular brands in the country, making for a well-informed, dependable choice for the pragmatic Capricorn.
ABV: 4.2 percent
Aquarius: Goa Brewing Co. Eight Finger Eddie India Pale Ale Aquarius is known to be intelligent and progressive. The rebellious spirit of those born under this sign is perfectly complemented by Eight Finger Eddie IPA from the non-conformist Goa Brewing Co. The Indian beer uses ingredients and stories from the Sunshine State — paying homage to a popular American who put the region on the hippie map and allowed it to be the tourist hub that it is today. It features Goan water, steel-cut oats, and new-age hops. The payoff? A creamy sip with refreshing notes of tropical fruits. This one's as unique as they come — something that would appeal to this air sign that marches to the beat of its own drum.
ABV: 6 percent
Pisces: Maka Di Honey Ale Pisces is known to be romantic, sensitive, and nurturing. Maka Di Honey Ale is as sweet as those born under this sign. The dessert-like, mellow and layered Indian beer features wild honey sourced from Uttarakhand's Jim Corbett Park. Every sip is smooth and reminiscent of spring, with notes of malt. A bottle is easy to find across Goa (its home state) — a seaside destination that this water sign would never tire of being in.
ABV: 7-8 percent
Cheers!
This story first appeared here.
All images: Courtesy Brands/Shutterstock
Related: Best Beers To Add To Your Six-Pack Stash If You're On A Low-Calorie Diet This Summer
Frequently Asked Questions (FAQs)
1. What's the most popular Indian beer?
Kingfisher is believed to be the best-selling Indian beer brand.
2. Which are Indian beer brands?
Popular Indian beer brands include Kingfisher, Bira 91, Simba, Arbor Brewing Co. Maka Di, Susegado, and Goa Brewing Co., amongst others.
Written By