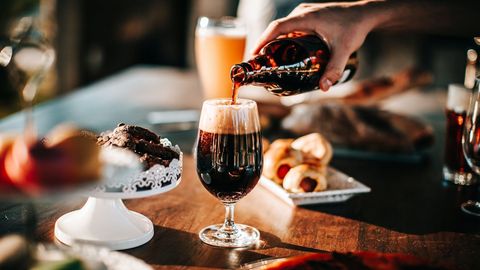 Whether it is the late Queen Elizabeth II's preference for Dubonnet with gin or Prince Harry's love for Red Bull with premium vodka — the British royals have their own drinking style, which exudes aristocracy. Similarly, interesting cocktails like Treasure Chest and Crack Baby, known to be the favourites of Prince William and Catherine, Princess of Wales, are also unique. Although it is difficult to know the exact preferences of the royals, various reports suggest their choices based on the information shared by sources close to the royal family. Want to know more about royal drinking habits and the alcoholic drinks they love? We have the details.
Everything you need to know about alcoholic drinks preferred by Royals
Queen Elizabeth II Drink: Dubonnet with gin
As per various reports, Dubonnet with gin was the Queen's favourite alcoholic drink. In an interview with Insider, Darren McGrady, who worked at the royal residence revealed that "she likes gin and Dubonnet. That's her favourite drink.'' He further added, "She doesn't wake up in the morning and has a large gin and tonic." The report also said, "However, she will occasionally treat herself to a glass of wine with dinner — which is usually her preferred sweet German wine.''
An aperitif (a drink that is consumed as an appetiser before meals), a Dubonnet is created using fortified wine, quinine, herbs and spices. Joseph Dubonnet, a chemist and wine merchant from Paris, invented the Dubonnet Rouge aperitif in 1846. His unique blend gained worldwide renown as a medicinal aperitif. And, gin is typically obtained from a grain mash having juniper berries as its main flavouring component. Interesting combination!
Ingredients: Gin, Dubonnet, lemon slices and crushed ice
How to make: Add crushed ice, gin and Dubonnet in a mixing glass and stir well. Then pour the concoction into a cocktail glass and top it with some ice cubes. Finally, garnish it with lemon slices for a tangy and citrusy flavour.
King Charles III Drink: Martini
According to Mirror UK, King Charles' friend, Count Tibor Kalnoky, once shared, "He likes a Martini before dinner, that's for sure.'' This was revealed as part of the Channel 4 documentary titled The Real Windsors: The Outspoken Heir which was released on 7 August 2022.
Also, under the King's Highgrove estate, liquors of the finest quality are created along with other products. One of its top products is the Highgrove Organic Single Malt Scotch.
Ingredients: Gin, vermouth, ice and a garnish of your choice
How to make: Fill a chilled glass with ice and add a dash of vermouth to coat it followed by the gin (for a dry martini, use 7.5ml of gin and 65ml of vermouth and for a wet martini, use 20ml of vermouth and 50ml of gin). Give it a good stir, at least 18 times as advised by experts. Now pour the blend into your favourite martini glass and garnish the drink with anything you like — green olives, lemon zest, grapefruit twists or any dehydrated fruit slice. Make sure all your drinking glasses and glassware for mixing have been chilled before using.
Camilla, Queen Consort Drink: Gin and tonic
As reported by Express, various claims suggest that Camilla, Queen Consort, enjoyed the Netflix series based on the lives of Royals, The Crown, with a 'large glass of gin and tonic or wine.'
The Queen Consort serves as president of the UK Vineyards Association owing to her love for wine, as reported by Mirror. In fact, at the association's 50th-anniversary reception, she was quoted as saying, "People always ask me how I became involved in it all, well first of all I love wine, but secondly, my father was in the wine business, so I was brought up as a child drinking wine and water rather like the French.''
Gin and tonic make for a much-loved and popular combination because tonic, which is made by mixing water, quinine and sugar, balances the taste of gin well.
Ingredients: Gin, tonic water and lemon slices
How to make: Pour the gin into an ice-filled highball glass, then add the tonic water. Stir just enough to blend, but don't let the fizz dissolve. Top the drink with lemon slices and enjoy.
Prince William Drink: Treasure Chest
According to a 2022 report by Mirror, Prince William enjoyed drinking a cocktail called Treasure Chest from the Mahiki Club London located in Piccadilly, during his younger days. Treasure Chest, which cost around GBP 135 (USD 168 approx.) per serving then, is typically served as a blend of peach liqueur, brandy and champagne and presented in a wooden chest. A royal drink indeed.
As per a report by Business Insider, at Mahiki, it is made using coconut rum, apple and lemon juice, Prosecco, Moet and Chandon or Dom Perignon, based on the consumer's preferences.
Ingredients: Lillet rouge, red wine, tea-infused oloroso sherry, cinnamon syrup and dry sparkling wine
How to make: Other than the sparkling wine, combine all the ingredients with ice in a glass and stir. Now add the wine and enjoy your royal drink.
Prince Harry Drink: Vodka with Red Bull
As per various reports, Prince Harry has often been spotted sipping Cîroc Ultra Premium vodka with Red Bull, which was his favourite alcoholic drink while he was younger. But when his wife became pregnant, he reportedly gave up drinking. However, in the summer of 2019, Harry was pictured having the drink at their Frogmore Cottage home in Windsor.
The combination gives more importance to Red Bull, with the neutral vodka taking a backseat compared to the flavour of the effervescent energy drink. Hence, if you are someone who enjoys Red Bull, this cocktail can be a fun combo to try.
Ingredients: Ciroc Ultra-Premium Vodka and Red Bull
How to make: This classic combination is pretty easy to stir up. Take a cocktail glass, add vodka and Red Bull to it in the quantity you prefer, give it a good stir and enjoy your drink. You can play on this by adding a suitable garnish.
Catherine, Princess of Wales Drink: Crack Baby
The famous drink of West London's bar, Boujis, which has been officially relaunched as B London recently, commonly referred to as Boujis 2.0, Crack Baby is one of the Duchess' most-loved alcoholic drinks as per various sources. The drink is a flavourful combination of different types of liquor and fruits. Also, as per a report by My London, the drink was served at Prince William and Kate's wedding as it is the pair's favourite.
Ingredients: Ice, passion fruit juice, vodka, chopped strawberries, champagne or sparkling wine
How to make: Blend the vodka, strawberries, passionfruit juice and ice well. Pour the mixture into a glass of your choice and add the champagne or wine. Garnish as you like.
(Main and Featured image credit: Helena Lopes/Pexels)
This story first appeared here
Related: 7 Of The Best Cocktails Served In The Sky
Frequently Asked Questions (FAQs)
Question: What are the Royal drinking habits?
Answer: Every member of the Royal family has a different drinking style. For instance, King Charles III prefers martini while Queen Elizabeth II liked Dubonnet with gin.
Question: How do you drink in a classy way?
Answer: The classiest way to drink is to control your alcohol consumption and drink in limits.
Question: How do you drink like a gentleman?
Answer: A good way to drink like a gentleman is to focus on quality over quantity.
Written By