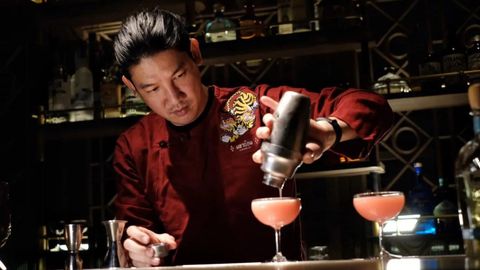 Bangkok mixologists are not afraid to draw inspiration from the local ingredients close at hand. When done right, it's nothing short of magical. Here are the best bars to find Thai cocktails in Bangkok.
The Thai culinary scene has been thriving for a long, and gradually, some of these ingredients have made it onto the bar scene. Some local ingredients can be easily incorporated into a cocktail, such as mangoes, coconut, and palm sugar. Many are perhaps a tad harder to work into a drink — think black peppercorns, galangal, and even cilantro.
Done bad, a Thai cocktail feels like we're drinking cold curry. Done well, it's a tour de force that we would love to revisit often. Below, find some of the best bars in Bangkok that really know their way around local ingredients, and serve some of the best Thai cocktails around town.
Where to find the best Thai cocktails in Bangkok
Mahaniyom When it comes to showcasing Thai creativity, there's no better place than Mahaniyom. The bar is located above the restaurant 100 Mahaseth and has seen praises and glowing reviews from both satisfied customers and people of the industry alike. Each cocktail is named after a local ingredient and the menu makes sure to highlight that ingredient in the best way it can.
The must-try highlight is the "Cow" cocktail, featuring brandy fat washed with brown butter and black pepper, coupled with Thai wagyu beef fat, Thai mulberry juice, miso, palm sugar, red wine, and clarified milk, then topped with blue cheese air. It's sweet, and savoury, and shows the best use of ingredients that come from the cow.
You can find more information at Mahaniyom.
Lost in Thaislation Helmed by the red-haired fairy Fahbeer Suchada, Lost in Thaislation is a new speakeasy that takes the perspectives of Bangkokians into mind. This is reflected in the menu as they utilise a lot of ingredients that are inventive, yet stay true to the concept. Their first signature series pays homage to the street foods of the capital—something all of us, no matter our background or upbringing, can enjoy.
The Thai cocktail menu includes Khao Man Gai, Pad Thai, Moo Sub Kium Buey, Khao Niew Mamuang, and more—all in liquid form, which strangely works really well. Who would've thought to sous vide vodka with chicken?
You can find more information at Lost in Thaislation.
Thaipioka Thaipioka is known for its fun vibes and lively DJ sets playing on the regular, but their drinks department is on point, too. Their menu is filled with fun ingredients Bangkokians are familiar with, combined with the Western spirits you adore. We're never heard of someone leaving Thaipioka disappointed.
Thai cocktail highlights include the "Som Node," a cute drink to play truth or dare with, made from Reposado tequila, torched ginger juice, bay leaf syrup, palm sugar vinegar, lotus, anise, and absinthe, as well as the "Kru Rabiab," crafted with banana-infused rum, passion fruit cordial, lime, condensed milk, and local mustard leaf tincture.
You can find more information at Thaipioka.
Book your stay at Kimpton Maa-Lai Bangkok, an IHG Hotel via Booking.com
Book your stay at Kimpton Maa-Lai Bangkok, an IHG Hotel via Agoda.com
Eat Me Eat Me is a veteran restaurant on the Bangkok dining scene, having celebrated more than 25 years in business. The ground floor bar and courtyard are the perfect place for an after-work catch-up with some company. Trust that they'll treat you right before, after, and during dinner. The bar's menu also boasts a Thai cocktail menu filled with Thai dishes made in drink form.
"Kaeng Tai-Pla" is made from mezcal, kaffir lime leaf, shallot, lemongrass, lime, southern curry, and fish sauce. Meanwhile the "Mieng-Khum" utilises Diplomatico rum, betel leaf, toasted coconut, shallot, ginger, and lime.
You can find more information at Eat Me Restaurant.
Asia Today Asia Today finds itself packed with a crowd very regularly because of the good vibes of the place, as well as the good drinks. The not-so-secret ingredient is the wild honey they bring in from all over the country, alongside some local herbs and spices. Their signature menu is a perfect way to try all the honey they have, but if you're a fan of classics, they have one of the most amazing Gold Rush and Bee's Knees cocktails in town.
You can find more information at Asia Today.
Tep Bar If you want to savour the taste of local Thai spirits and liqueurs, look no further than Tep Bar. They offer a great menu filled with all of those, and it pairs well with the Thai food they serve from their kitchen. Ya dong comes in shots, and the sato (spirit distilled from sticky rice) will give you a new perspective on Thai drinking culture. In the mood to get smashed? You can also order a bottle of the locally-distilled white spirit.
You can find more information at Tep Bar.
Discover More Dining Experiences In Bangkok
Plot Twist Chatuchak is not just a weekend destination for vintage shopping and 1 pm Sangrias any more, for Plot Twist is in town. Inspired by the train lines that run through the country, and with Bangkok being the main hub, the signature Thai cocktail series is crafted using ingredients from the provinces each train line runs through. As you take a sip, you can enjoy the view of Bangsue Grand Station, which ties the concept altogether.
Try the "Nasan," a sweet-and-sour drink utilising the syrup made using rambutan from Nasan, Surat Thani, as well as the "Message From Doi," a refreshing cocktail made from lychee, tonic water, and plums from the hill tribe of Kabu.
You can find more information at Plot Twist.
Jack Bain's Bar Honouring the history of 137 Pillars, Jack Bain's Bar describes itself as a "speakeasy with English flair and Thai-inspired cocktails." Each drink on the cocktail menu is inspired by a part of history, reflected through local ingredients and Thai spirits.
Start your night with a refreshing "Wat Gate," named after the Chiang Mai landmark, and made using Kosapan spirit, Prosecco, lime, and betel leaves, and perhaps the "Teak Wallah," made from Sod Chaeng rum, homemade cinnamon syrup, lime, and egg white.
You can find more information at Jack Bain's Bar.
Book your stay at Anantara Siam Bangkok via Agoda.com
Book your stay at Anantara Siam Bangkok via Booking.com
This story first appeared here.
[Hero and featured image credit: Mahaniyom Cocktail Bar]
Related: 22 Rooftop Bars In Bangkok To Enjoy The Cooler Weather While It Lasts
Written By