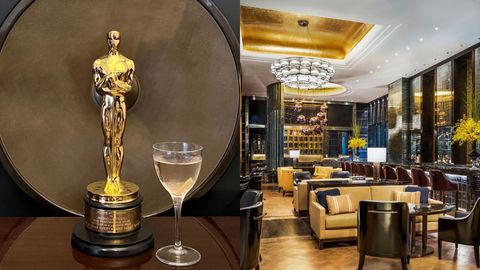 Just a week ago, billboards flashing congratulatory and welcome home messages for Michelle Yeoh were seen at the Kuala Lumpur International Airport. Now, a 5-star hotel has created a cocktail named after the actress herself.
The St. Regis Kuala Lumpur unveils new cocktail made for Michelle Yeoh The Astor Bar, located at The St. Regis Kuala Lumpur, has recently invented a new cocktail named 'The Michelle' as a special dedication to the renowned Malaysian actress, Michelle Yeoh. The cocktail was crafted to celebrate her momentous win of the Best Actress award in the movie Everything Everywhere All At Once at the 2023 Oscars, where she made history as the first-ever Asian actress to win in this category.
Michelle Yeoh herself participated in a private tasting session to create the cocktail, which has a clean and fresh taste that is achieved through a blend of Juniper Gin, Vodka, Cinzano Bianco, Angostura Bitters, and a lemon twist. The creation process of 'The Michelle' has been kept under wraps, but it is evident that Michelle's preference for a clean and fresh taste played a significant role in the cocktail's final recipe.
The Astor Bar

Cigar Lounge at The Astor Bar

Decanter at The Astor Bar
The Astor Bar, where the cocktail was produced, is known for its modern glamour and old-world elegance. Its brass-trimmed panelled entrance with custom-made hammered-brass door knobs reveal an inviting bar area set against horse-hair wall panels, rich leather, brass accents, and luxurious black-and-gold marble. The bar's gold-leaf ceilings and breathtaking gold domed ceiling add to the luxurious ambience.
Interestingly, the Astor Bar was even transformed into the set of the movie Crazy Rich Asians, with its gold wine cellar fridges becoming jewellery display cases for the memorable jewellery store scene featuring Astrid. This further adds to the bar's reputation as a place of timeless elegance and sophistication.
We believe that 'The Michelle' cocktail is a testament to Michelle Yeoh's achievements and contributions to the entertainment industry. It represents a fitting tribute to the actress, and the creation process of the cocktail, combined with the Astor Bar's luxurious setting, makes it an unforgettable experience for those who have the pleasure of trying it.
Book your stay at Grand Hyatt in KL via Booking.com
Reserve a spot at The Astor Bar here.
This story first appeared here.
(All images belong to The St. Regis Kuala Lumpur)
Related: An Itinerary For Michelle Yeoh In Kuala Lumpur, Based On Her Movies
Written By