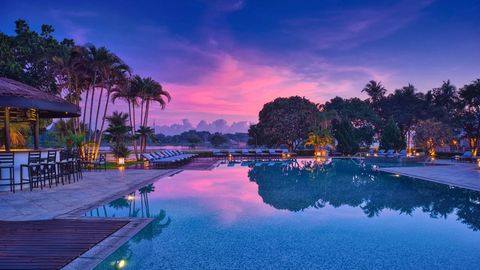 New galleries, garden houses, and river cruises are just a few reasons to visit the ancient city of the capital of Vietnam now. Our guide to Hue.
There's a lot to love about Hue, and the city is full of life post-Covid, thanks to several new initiatives. The ancient capital of Vietnam is home to one of the country's few UNESCO World Heritage Sites, the Citadel. Many travellers stop here to spend a peaceful day or two visiting the moat-ringed Imperial City and Hue's numerous pagodas and mausoleums. But this "masterpiece of urban poetry," as one UNESCO official called it, offers much more than historical sites and museum set pieces.
Situated on the banks of the Perfume River, the city has art offerings, incredible food, gorgeous garden homes to explore, and even a touch of adventure. Hue evokes a feeling of mystical serenity, so we put together a guide on the best of what will bewitch you the next time you travel there. Here's what we saw, ate, and learned on a recent visit. Where to Stay
The Azerai La Residence (doubles from VND 3 million/USD 128 with breakfast) sits in a prime position along the river. With 122 keys, the most beguiling suites are in the main building, a colonial meets Art Deco-inspired mansion built in the 1930s for the French Resident Superieure. Though the brand on the door has changed a few times over the years, this hotel has long been the most sophisticated address in Hue.
Stepping into the grandly curved lobby, guests are greeted by a wall of French doors that provide views of the garden, pool and river beyond. Decorated in shades of terracotta, the space feels cosy and opulent at once. To the left, discover Le Gouverneur Bar, a photo-worthy drinking spot backed by green lighting with a full menu of cocktails, beers and wines. Le Parfum Restaurant is to the right, serving local and international dishes with indoor and outdoor seating.
I unpacked in the gorgeous half-moon-shaped Voyage en Chine suite above the lobby, boasting such a large balcony that I initially mistook it for a public space. A claw-foot tub in the oversized bathroom and a well-situated workstation overlooking the river added to the suite's comfort. Azerai's 40-meter saltwater pool offers relaxed swimming with river views. Service at the hotel is impressive, with smiling staff willing to meet any requests — and even intuiting unspoken ones. On an evening that I returned to the hotel late, I went for a swim hours after the lounger cushions and towels had been put away for the night. By the time I got out, a staff member had quietly laid out both without my ever catching sight of them.
For other hotel options, the newly opened boutique Anhill Vietnam (doubles from VND 2.3 million/USD 98 with breakfast) has a wellness bent and is located outside the city proper in a lush expanse of countryside. Their restaurant caters to plant-based and low-carb lifestyles, and they have yoga classes onsite.
Outdoor Activities Just beyond the Azerai La Residence's gate is the city's river path, which sees little activity by day, but comes to life at dusk. A walk along the river offers a glimpse of real life in Hue. The water ripples as swimmers splash and dragon boats whir. Stroll past joggers, aerobics classes, lively little parks, vendors, and friends enjoying after-work coffee or beer in small cafes that become festively lantern-lit after the sun disappears.
I started my first day in Hue observing river life from a stand-up paddleboard. Organizer SUP Hue K'Event (from VND 100,000/USD 43 per hour) suggests spending an hour or two paddling up the slow-moving river at dawn or dusk – so think 5:30 a.m. or 5:30 p.m. These times allow paddleboarders to enjoy the coolest parts of the day and stunning sunrises and sunsets over the water.
Historical Hue Thien Mu Pagoda has long been considered the city's symbol, and its gardens are a pleasant, shaded place to stroll and admire the monument from different angles. The best time to stop by is after 4 p.m., when vendors arrive selling tofu snacks and golden hour makes the pagoda especially lovely.
Visiting by dragon boat is a solid option, as the pavement by the water was recently expanded and more spots were added for boats to wait for guests. In addition, a new walking and cycling road stretches from the pagoda to Truong Tien Bridge, making biking another attractive choice. The city has just launched its first bike-sharing service, and the yellow cruisers with baskets can be picked up and dropped off at various locations around the city.
One of Hue's most beautiful and frequently visited mausoleums is that of Khai Dinh, the last Emperor of Vietnam. The walls of the mountainside tomb are gorgeously mosaiced, while the ceilings of the inner chambers feature frescoes of dragons' heads, backs, and tails emerging from grey clouds. Because they are partially obscured, locals love to argue over how many dragons appear in each of the two paintings.
Intriguingly, the local legend is that no one has ever seen a gecko step on these art pieces. It's a mystery that most chalk up to the small lizard's fear of their giant mythical relatives, according to a staff member.
Art + Culture The newly opened Lebadang Memory Space (VND 269,000/USD 11; cash only) is a stunningly modern celebration of Vietnamese artist Lebadang. The space is well worth a visit, and the staff is knowledgeable and passionate about the artist's life and work.
After viewing the exhibits, wander through their sculpture-filled gardens or take the stairs to the roof for lush vistas and a close-up look at Lebadang's mirrored artwork.
Garden houses are a big part of Hue's culture, with many greenery-focused compounds restored and open for visits. One of the most charming, An Hien Garden House (VND 50,000/USD 2, has been recently restored, and the entry fee includes a tour followed by tea and refreshments in the garden. One of the newer offerings adds a performance element to the garden house concept. Ben Xuan Garden House and Theater is a 4,000-square meter labour of love for Camille Huyen, a member of the Hue royal family and traditionally trained singer, and her husband, Truong Dinh Ngo.
After four decades living in Switzerland, they spent nine years building the house — a lifelong dream of Huyen's. The lovingly assembled property, made entirely from upcycled and rescued materials, is crafted mainly of ironwood.
The home is open regularly for visits (VND 700,000/USD 30 with refreshments) and occasionally for classical concerts and lavish dinners (reservations are always required). The six-course meals are traditional Vietnamese dishes with European influences to reflect the owners' point of view. The menus are also always built on the food of the season. From plantings to food and drink, seasonality is an essential aspect of garden houses, explained Ngo, who described them as "really more garden than a house."
Food + Drink The street food in Hue is renowned for its deliciousness, and we've got a guide to what and where to eat the best and most representative dishes when you travel to the old capital here.
Take lunch with the locals at Hanh, where fresh spring rolls, shrimp pancakes, and other Vietnamese classics are served fast and fresh with a variety of delightful sauces (dishes from VND 30,000/USD 1).
For traditional Vietnamese coffee, it's hard to top Memoire Cafe (drinks from VND 12,000/USD 0.51), where the sweet brews are only matched by the riverside views. If you're after Vietnamese fine dining, Kim Long Fine Dining, set in a garden house, is a top choice (set menus from VND 300,000/USD 13). Among the best meals I had in the city was on the Azerai La Residence's new dinner cruise, which traverses the river at sunset on a gorgeous, locally built wooden boat with a full kitchen.
I tried crisp and tangy banana flower salad, Hue pancakes stuffed with a variety of local seafood, tender grilled beef in betel leaf, and oversized wok-fried prawns in tamarind sauce as we went gliding past Truong Tien Bridge. As Thien Mu came up on our right and I toasted the pagoda with a chilled glass of white wine, it was easy to think that life doesn't get better than it feels in Hue.
Related: An Eating and Drinking Guide to Hoi An From the City's Hottest Young Chef
Written By