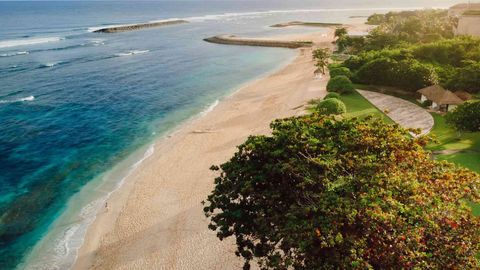 As a destination, Bali seems to get hotter every year. The Indonesian island boasts what is essentially a year-round summer, its seasons categorised as dry and wet as opposed to cold and warm. And it's not only Bali's predictable sunshine and warm waters that lure travellers from across the globe. It's also the province's stunning beaches, lush jungles, artfully terraced rice paddies, and the signature hospitality and culture of the Balinese people.
Once you've selected which dreamy private villa or all-inclusive resort to stay at, it's time to fill your days with excursions and activities. Here are 22 of the best things to do in the paradise that is Bali.
The best things to do in Bali for the perfect tropical vacation
Take a cooking class at Bali Asli
The pristine foothills of Mount Agung are in northeast Bali, and within those hills is a Balinese restaurant and cooking school Bali Asli. Themed classes do way more than teach participants to make a local dish or two. They also incorporate field trips to bucolic nearby sites, markets, and villages, all of which help students experience daily Balinese life and culture.
Visit a water temple You can't visit Bali without getting wet, and often. Water is sacred to the Balinese, and nowhere is that more evident than Pura Tirta Empul, a holy water temple in Tampaksiring near Ubud. With the help of a local guide, guests can plunge into the chilled fresh water and take part in a purification ritual alongside pilgrims from all around the island.
Chase waterfalls This verdant island is a pretty excellent place in which to chase waterfalls. If you'd like to swim under falls, visit the powerful Tibumana. Kanto Lampo is a smaller but wide and picturesque waterfall, and Tukad Cepung, partially hidden in a cave, feels rather magical. A general rule of thumb is to go first thing in the morning to enjoy the falls with fewer people around.
Visit Balinese jeweller John Hardy Internationally acclaimed fine jewellery brand John Hardy has its headquarters and workshop outside of Ubud. On weekdays, when things are humming with creative activity, travellers can book a tour of the site, and it includes a family-style lunch with the John Hardy team. The campus is gorgeous, and it's an incredible opportunity to see how more than 600 artisans work in concert to create intricate pieces of wearable art. Reserve a jewellery master class to dive even deeper into the craft.
Do sunrise yoga at Uluwatu
The Yoga Barn might be Ubud's most famous spot for doing downward dogs, but we recommend checking out Morning Light Yoga as well. This company offers daily 7:30 a.m. yoga in an open-air space at Uluwatu Surf Villas — from here, you can see Bali's most iconic surf break, Uluwatu, and with any luck, a monkey or two.
Go horseback riding on the beach Local tour operator Salty Cowboy offers horseback rides on the beach in Kedungu, as well as rides through gorgeous green rice paddies. What makes the company even more special is that each of its animals has been rescued. There are lessons of all kinds available through Salty Cowboy, including a multi-day horse whisperer course.
Have a plant-based meal at Tanaman If you are vegan, vegetarian, or just into sustainability or the zero-waste movement, a meal at Tanaman is a must. From seed to stem and leaf to flower, everything gets used at this plant-based restaurant in Seminyak's radically sustainable resort village, Desa Potato Head. Dynamic dishes feature local produce and are so clever and imaginative that you're guaranteed to leave with a new perspective on vegan eating.
Take a batik-dyeing workshop Indonesia's textile arts are stunningly diverse, but two of the most famous in Bali are ikat and batik. Threads of Life, a fair-trade shop in Ubud, aims to conserve and promote the craft through heirloom-quality pieces and by putting on special workshops for travellers. Even half-day batik classes combine botany lessons with instruction on wax-resist designs and indigo dyeing.
Book a Balinese massage
Spas are almost as abundant in Bali as coconuts, and it would be a shame for any visitor to leave without booking at least one Balinese massage. Arguably the most epic version is available at Spa on the Rocks at AYANA Resort Bali, where individuals or couples can enjoy a tension-releasing treatment — plus a bath filled with hundreds of flower blossoms — in a spa bungalow perched atop giant boulders, the ocean swirling below.
Climb a volcano at sunrise Hikers, or anyone who appreciates a physical challenge alongside a serious dose of natural beauty, should add a volcano climb to their Bali must-do list. Whether it's friendly Mount Batur, or the highest and most challenging point on the island, Mount Agung (nearly 10,000 feet), the trek typically starts in the wee hours of the morning so that you reach the top as the red sun peeks up over the horizon.
Take a surf lesson
Bali is one of the world's most famous destinations for surfing, so a trip here is incomplete without trying this thrilling aquatic sport. Beginners should head to Batu Bolong in Canggu or Padang Padang near Uluwatu. Dozens of nearby surf schools offer lessons on paddling out to the break and popping up like a pro. They also have boards for rent when you're ready to practice your new skills on your own.
Reset at Raffles Bali The film "Eat, Pray, Love" brought fame to Balinese healers, but today's wellness offerings go far beyond that. The intimate Jimbaran resort Raffles Bali hosts wellness retreats that touch all five senses in order to reset your body and mind in paradise. There's yoga in a secret cave, tai chi on the beach, Balinese ceremonies, chakra treatments, reiki energy healings, bedtime rituals and so much more, customised to each guest's goals and needs.
Book your stay at Raffles Bali via Booking.com
Book your stay at Raffles Bali via Agoda.com
Visit Uluwatu Temple Uluwatu Temple, or Pura Uluwatu, dates back to the 11th century, and it is stunning for several reasons. First, it's built atop sheer limestone cliffs, standing over 200 feet above the turquoise Indian Ocean. It is also a gathering spot for travellers every night at sunset when you can take in the mesmerising Kecak dance, which involves a blaze of fire and lots of chanting. It's a singular experience and not to be missed.
Plan a beach day
There's so much to do in Bali, but of equal importance is to do nothing, or at least next to nothing. A beach day or two is just right for that. We recommend the family-friendly Melasti Beach for its striking jewel-toned water, or Nyang Nyang, which is often quiet. Nusa Dua's clean beaches are postcard-perfect, and for an off-the-beaten-path option, head to the bright white sand of Virgin Beach in eastern Bali.
Have brunch at Mandapa
Nasi goreng and mie goreng (fried rice and fried noodles) are delicious and easily found around Bali, but it would be a shame not to sample other diverse Indonesian dishes while you're in the destination, and Sawah Terrace at Mandapa, a Ritz-Carlton Reserve is one of the very places to do so. Book a reservation for the restaurant's Sunday brunch, which is an unlimited buffet — plus live-station cooking — featuring mouthwatering local dishes, including babi guling (slow-roasted suckling pig), bebek betutu (spiced baked duck), nasi campur (a staple rice dish) and es serut (Indonesian coconut shaved ice).
Book your stay at Mandapa, a Ritz-Carlton Reserve via Booking.com
Book your stay at Mandapa, A Ritz-Carlton Reserve via Agoda.com
Swim in Bambu Indah's riverside pools
The glimmering riverside pools of Sayan resort Bambu Indah are magical, as are the property's antique Javanese houses and curvaceous bamboo accommodations. The natural spring-fed pools here are dotted with stepping stones you can use to navigate the cool water, and you'll find plump cushions and lounge chairs on which to laze nearby, too. A resort day pass starts at IDR 500,000 (USD 33) per person, or about USD 34
Visit Pura Lempuyang Luhur Many of Bali's gorgeous temples are holy sites, and that's true for the ancient Pura Lempuyang Luhur. This temple is associated with the Balinese god Iswara and is most known for its soaring carved stone gate. The temple is an incredible sight to see and experience, as a visit here usually involves tying on a sarong and climbing myriad staircases through the complex and up into the clouds. From here you might spot Mount Agung if the skies allow.
Shop for arts and crafts
There are many places to shop across Bali, but if your ideal souvenir is something crafted by a local artisan, check out Sukawati Art Market, where you'll find textiles, paintings, wood carvings, and lots of decor and design items. Alternatively, there are also villages that specialise in specific art forms, such as Mas, where wooden masks are made, and Celuk, which is home to many silversmiths who sell their wares.
Cycle through rice terraces Tegalalang is the most prominent and shapely set of rice terraces, but it's so well known that it can feel a bit crowded. To avoid the crowd, you might opt for an epic bike ride through rice paddies instead. There are dozens of operators offering this type of trip, and hotels like Capella Ubud and Four Seasons Resort Bali at Sayan also have beautiful cycling excursions for guests.
Book your stay at Capella Ubud, Bali via Booking.com
Book your stay at Capella Ubud via Agoda.com
Experience a Melukat ceremony Bali is beautiful in its singular traditions, beliefs, and rituals. While tourists can usually only experience these in passing, some hotels, such as Jumeirah Bali, offer authentic priest-led blessing ceremonies called melukat for their guests — a great option for anyone hoping to tap into the spiritual side of the island.
Book your stay at Jumeirah Bali via Booking.com
Go whitewater rafting down the Ayung River Stretching more than 40 miles (64.37 km), the Ayung River is the longest river in Bali, and it's a particularly great body of water for whitewater rafting. During the rainy season (November through March), the current will get your adrenaline pumping. Four Seasons even has a whitewater transport option — you can ride the current from its beach resort in Jimbaran to its rainforest retreat in Sayan.
Book your stay at Four Seasons Resort Bali at Sayan via Booking.com
Book your stay at Four Seasons Resort Bali At Sayan via Agoda.com
Soak in hidden hot springs Bali's waterfalls are often on travellers' itineraries, but many people don't know the island has lots of hot springs worthy of a visit, too. Known as air panas, or "hot water," hot springs can be found in Tabanan (try Angseri hot springs) and north of Canggu. If you're close to Lovina, visit Banjar Hot Springs.
(Hero and feature image credit: Nuture/Getty Images)
All currency conversions were done at the time of writing
This story first appeared on travelandleisure.com
Related: How To Plan A Bali Trip And Things To Do In The Tropical Paradise
Written By