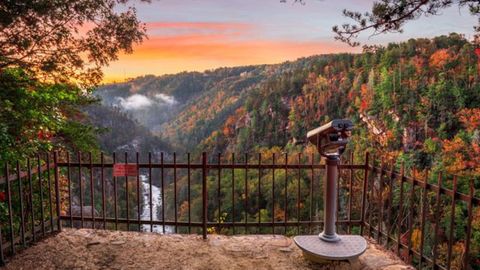 While the state of Georgia may be synonymous with peaches and resounding chants of "Go Dawgs," it's also a region filled with history, charming small towns, bustling cities, and an incredible amount of biodiversity. There's a high chance you've found yourself passing through Hartsfield-Jackson Atlanta International Airport — it is the busiest airport in the world, after all — but you'll need to make your way outside of the terminals in order to experience the quaint bookstores of Savannah and the adrenaline-pumping hikes in Tallulah Gorge. During the hot, muggy summer months, nothing beats a dip in Lake Oconee or an oceanfront breeze on Tybee Island.
With so many amazing places within Georgia's nearly 60,000 square miles (1,55,399 square kilometres), it can be hard to narrow down your must-see list — so we did it for you. From the breathtaking Blue Ridge Mountains to the picturesque beaches of the Golden Isles, here are the best places in Georgia.
15 Best places in Georgia you should definitely add to your itinerary
Savannah Famous for its highly walkable Historic Landmark District, Savannah is one of those rare cities that's just as beautiful in person as it is in stylised, perfectly lit pictures. Its cobbled streets, tree-lined squares and parks, and gorgeous 18th and 19th-century buildings make it one of the South's most photogenic cities — not to mention, its culinary scene is one of the best in the region. Be sure to grab an espresso from The Paris Market Cafe, pick up a new novel from E Shaver Booksellers, go on a ghost tour, and tuck into a meal at Chef Mashama Bailey's The Grey.
Book your stay via Booking.com
Athens You don't need to be a die-hard University of Georgia fan to visit Athens, although we wouldn't recommend going during football season if you're rooting for the other team. Outside of sports, the college town has a lively music scene, numerous craft breweries, and a variety of family-friendly activities, including the State Botanical Garden of Georgia and Bear Hollow Zoo.
Book your stay via Booking.com
Lake Oconee A boat day is the perfect antidote to Georgia's humid summers, and you'll find plenty of respite from the oppressive heat on Lake Oconee. Halfway between Atlanta and Augusta, the man-made lake offers opportunities for boating, swimming, fishing, and water sports. It's also the backdrop for the luxurious Ritz-Carlton Reynolds, Lake Oconee, which hosts the Lake Oconee Food & Wine Festival every year, making it one of the best places to visit in Georgia.
Book your stay via Booking.com
Cumberland Island Accessible only by ferry or boat (although public docking is temporarily prohibited), Cumberland Island is one of the most majestic places on the East Coast. Wild horses, historic ruins, long stretches of untouched beaches, marshes, and maritime forests can be found on the 9,800 acres of Congressionally designated wilderness. Its remoteness and sheer beauty were, no doubt, two of the reasons it served as John F. Kennedy, Jr. and Carolyn Bessette Kennedy's wedding locale in 1996.
Atlanta It'll take more than just one trip to hit all of Atlanta's hot spots, so return visits are recommended if you want to see everything the capital city has to offer. First-timers, however, should make sure to reserve tickets to the Georgia Aquarium (the largest aquarium in the United States), have a meal at Ponce City Market, check out a Braves game at Truist Park, and stop by the Martin Luther King, Jr. National Historical Park, which includes the home where the Civil Rights leader was born, the Historic Ebenezer Baptist Church, and the resting place of both King and his wife, Coretta Scott King.
Book your stay via Booking.com
Dahlonega You'll only need to drive about an hour north of Atlanta to make it to Dahlonega, the site of America's first gold rush and the setting of quite a few Christmas movies. The small town lies in the foothills of the Blue Ridge Mountains, and its charm leaks into every aspect of the area — from its art galleries and boutiques to its various wineries and vineyards. Dahlonega is also in the heart of Georgia's wine country, boasting incredible spots like Cavender Creek Vineyards & Winery, Wolf Mountain, and Montaluce Winery & Restaurant.
Sea Island
Each of Georgia's Golden Isles has a distinct personality, and Sea Island is, by far, the grandest of the four. Resort reservations are required to get past the gates (unless you're a Sea Island Club member), but once you do, you'll find complete paradise. The Cloister at Sea Island is probably the most recognisable sight on the 5-mile-long (8.04 km) island, but there are also pristine beaches, championship golf courses, a tennis club, and a world-class clay shooting school.
Book your stay via Booking.com
Jekyll Island In the winter months of the Industrial Age, the Rockefellers, Morgans, and Vanderbilts (among other wealthy families) ventured to Jekyll Island. Today, its draw is still strong, thanks to its stunning landscape, culinary feats, and concerted effort to preserve the land and that is why it is one of the best places to visit in Georgia. Whether you're staying at the storied Jekyll Island Club Resort or pitching a tent at the Jekyll Island Campground, the Georgia Sea Turtle Center and the otherworldly Driftwood Beach deserve spots on your itinerary.
Book your stay via Booking.com
Blue Ridge When the mountains are calling, a trip to Blue Ridge, Georgia just might be the answer. Like many mountain towns, Blue Ridge has a thriving art scene as well as seemingly endless outdoor activities. If you'd prefer to explore the area by train, hop on the Blue Ridge Scenic Railway at the historic depot downtown for an out-and-back adventure along the Toccoa River.
Chattahoochee-Oconee National forest Georgia's mountains refuse to be overshadowed by its spectacular beaches, so it's no wonder millions of travellers make their way to the Chattahoochee-Oconee National Forest every year. Encompassing nearly 867,00 acres, the national forest is home to miles of freshwater streams and rivers, waterfalls, numerous campgrounds, and plenty of space to hike and breathe in the fresh mountain air.
Augusta Every spring, fans of the "greatest game ever played" descend upon the city of Augusta and, more specifically, the Augusta National Golf Club. Washing down one of the famous pimento cheese sandwiches with an Azalea cocktail is basically a requirement of attending the Masters, but you can also find quintessential Southern cuisine outside of the golf club. Frog Hollow Tavern, Beck's, and Abel Brown Southern Kitchen & Oyster Bar frequently make the "best of" Augusta restaurant lists.
Tybee Island A 20-minute drive will take you from Savannah to Tybee Island, one of the best beach towns in the South. Here, you'll find miles of bike-friendly beaches, unparalleled sunsets, and Georgia's tallest (and oldest) lighthouse. House rentals are easy to find, but if you're just visiting for the weekend, book a room at the historic, recently renovated 17th Street Inn.
Book your stay via Booking.com
Tallulah Gorge state park Tallulah Gorge State Park is rife with heart-pumping activities, including hiking along the two-mile (3.21 km) Tallulah Gorge. One of the most popular trails includes a staircase descent to an 80-foot suspension bridge crossing over the Tallulah River. If you're there in the autumn, your views of the powerful river and waterfalls will be accented by the colourful foliage that covers the region.
Book your stay via Booking.com
Lake Rabun 25 miles (40.23 km) of shoreline outline Georgia's Lake Rabun, an isolated body of water surrounded by the Blue Ridge Mountains. While the phrase "stepping back in time" may be clichéd, it's also accurate — especially if you take into account the flotilla of vintage wooden boats that traverse the lake.
Okefenokee National wildlife refuge Okefenokee National Wildlife Refuge is located in the southeastern corner of Georgia, just north of Florida. The 680-square-mile (1,761 square kilometres) wilderness can be explored by foot or by boat (guests can rent canoes and kayaks), but no inch of the refuge is the same. No matter which area you choose to visit — the forested cypress swamps or the wet "prairies" — you'll probably see at least one of the 15,000 alligators who call the Okefenokee Swamp home.
(Hero and feature image credit: Sean Pavone/Getty Images)
This story first appeared on travelandleisure.com
Related: This LA Hotel On Ocean Avenue Has Been An Art-Deco Icon Since 1933; And It Just Reopened
Written By