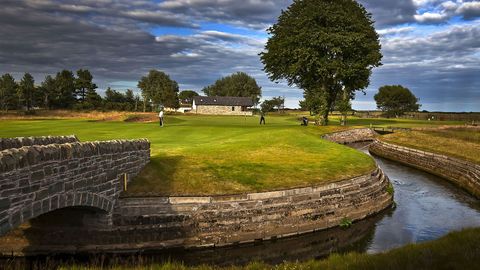 Teeing up week in and week out at the same golf course might be good for the ego, given that familiarity often breeds contempt due to the strong scores that follow. But, the challenge, if at all a player is up for it in the endeavour to get better, is to venture into uncharted territory.
The yardage book in front, and strong on-course and mental notes are the first requisites before taking on a new golf course, especially if it's about a venue that is known to be brutal on the trained and uninitiated alike.
The first brush anywhere can be bruising but it is imperative to let go of expectations at the first tee and go out with the mind a clean slate. To all those trying to muster the courage to test their skills, here's a mantra — go out and express yourself without the fear of failure. After all, it's a sport and the joy of trying should not be greater than what reflects on the scorecard at the end of the round.
Confidence is the best antidote to fear, but will only come with time and practice. Till then, here are some quick facts on navigating a tough golf course.
Play to your strengths as trying anything out of the ordinary can have disastrous consequences. An in-depth study of the course layout is imperative to identify the trouble spots or hazards to avoid. Sticking to the fairways and greens is easier said than done, though.
Par-3s are often termed birdie holes, and if focus and patience are in place, this can be the trump card in tackling a tough golf course.
Irrespective of the level of familiarity, there will be bad shots in golf, but staying in the moment and playing one shot at a time is a key mantra. If you're up for a challenge, read on for the most difficult golf courses to play at in the world.
Here is our list of the 12 toughest golf courses in the world:
1. The ocean course, Kiawah Island golf resort, South Carolina, United States The Ocean Course at the Kiawah Island Golf Resort was opened in 1991 to host the 29th Ryder Cup. Famous golf course architects Pete and Alice Dye were behind its creation. The course was meticulously designed not only for golfers to enjoy the oceanfront view, but also to expose them to the Atlantic's strong and unpredictable winds. The 7,876-yard, par-72 course features enormous dunes, thorny wetlands, substantial slopes, and nightmarish pot bunkers that make even the finest players shudder. The Ocean Course consistently ranks among the world's most difficult layouts.
Kiawah Island Golf Resort, One Sanctuary Beach Drive, Kiawah Island, SC 29455
2. Carnoustie golf links, Carnoustie, Angus, Scotland Allan Robertson, one of the earliest professional players, designed the Carnoustie Golf Links, which opened its doors in 1842 (181 years ago). A par-71 course measuring 7,402 yards, Carnoustie is popularly referred to as "golf's greatest test". It is well-known for its intimidating pot bunkers dotted across the layout. The course is so challenging that it is often dubbed "Car-nasty" due to its ultimate difficulty, especially in stormy weather. The phrase "the Carnoustie effect", which refers to a psychological shock experienced during a collision, has oddly become associated with the Carnoustie Golf Links.
Carnoustie Golf Links, Links House, Links Parade, Carnoustie DD7 7JE, United Kingdom
3. The championship links, Royal county down golf club, Newcastle, County Down, Northern Ireland Established in 1889 (134 years ago), the Championship Links was designed by Thomas Mitchell Morris, aka Old Tom Morris. Set against the spectacular backdrop of the Mourne Mountains, the link course stretches along the coastline of Dundrum Bay, offering a stunning vista. Measuring 7,186 yards from the back tees, this par-71 venue is all about craggy terrain, impenetrable marram grasses, dense clumps of heather, sweeping dunes, and tumultuous slopes. Regarded as the finest of all links courses, the Championship Links offers a stern challenge even to the best of the best in the business.
Royal County Down Golf Club, 36 Golf Links Road, Newcastle Co Down. BT33 0AN, Northern Ireland
4. Whistling Straits, Kohler, Wisconsin, United States Another Pete and Alice Dye created a links-style golf course, the Whistling Straits was established in 1998. A shoreline location, this course is defined by the open, rugged, and windswept terrain exposed to Lake Michigan. Set on an abandoned airfield, the course is a par-72 layout, stretching 7,790 yards and speckled with around 967 pot bunkers. This means about 54 bunkers per hole and some of the holes are diminutive so there's hardly any room for golf players and balls. The infamous bunkers here often remind people of the Dustin Johnson debacle that unfolded during the 2010 US PGA Championship.
Whistling Straits, N8501 Lakeshore Road, Sheboygan, WI 53083
5. Cape kidnappers, Hawke's Bay, New Zealand Established in 2004, the Cape Kidnappers was designed by the celebrated golf architect Tom Doak. Hailed as a golf marvel, this is a par-71 course, measuring 7,147 yards and challenges players of all skill levels. Set atop dramatic cliffs 460 feet above the ocean, this course features holes unlike any other in the world. The canyons, elevations, deep gullies, precipitous slopes, rolling hills, fairway and greenside bunkers, and mature trees all contribute to its distinctive characteristics.
Cape Kidnappers, 446 Clifton Road, Te Awanga, New Zealand
6. Jade dragon snow mountain golf club, Lijiang, Yunnan, China This is set in the bed of a picturesque valley that confronts the famed Jade Dragon Snow Mountain range (18,360 feet above sea level). Designed by Nelson and Haworth, this is a par-72 course with a length of 8,548 yards. The Jade Dragon Golf Club entered the Guinness Book of World Records for the longest regulation golf course in the world. Owing to its massive elevation of 10,000 feet above sea level, the balls hit in this course typically aviate about 15%-20% further than normal, making it an extremely demanding golf course for even the most accomplished golfers from around the world.
Jade Dragon Snow Mountain Golf Club, China, Yunnan, Lijiang, Yulong Naxi Autonomous County, 674101
7. The Palm course, Saujana golf club, Shah Alam, Selangor, Malaysia Established in 1986, the Palm Course at the Saujana Golf & Country Club was designed by American golf course architect Ronald Warren Fream. This par-72 course is 6,992 yards long, earning the moniker "The Cobra" for its exacting and difficult design. The course is characterised by rows of palm trees, undulating fairways, hillocks, bunkers, lakes, ridges, and ponds. While the sloping greens are fast, the staggering elevational shifts and undulating fairways present great challenges even for professional golfers.
Saujana Golf & Country Club, Jalan Subang, U 2, 40150 Shah Alam, Selangor
8. Hirono golf club, Hirono, Miki, Hyogo, Japan Charles Hugh Alison, a renowned British golf course planner, created the Hirono Golf Club, which opened its doors in 1932. Hirono, a par-72 course that is only 6,925 yards long, is often regarded as Japan's toughest golf course. The course is a masterful blend of elevated greens and fairways and rocky, yet walkable, topography. It takes a lot of effort to hit precise shots on this hilly golf course. In addition, Hirono is renowned for its multi-tiered greens, doglegs, and traps that are strategically placed.
Hirono Golf Club, 7-3 Hirono, Shijimi-cho, Miki-shi, Hyogo
9. The Eden course, Hong Kong golf club, Fanling, New Territories, Hong Kong Opened in 1970, the Eden Course at the Hong Kong Golf Club was designed by golf architects Peter Thomson and Michael Wolveridge. One of the finest composite courses in the world and one of the toughest golf courses in Hong Kong, the Eden measures a relatively humble length of 6,106 yards for par-70 but still, several holes are daunting due to fully-grown trees standing tall on both sides of the narrow fairways. The course is known for its tight fairways, fully-grown trees, ponds, steep slopes, bunkers, and two-tiered greens. The 18th hole of this course is named "The Ultimate" and is regarded as one of the most notorious holes for its complexity.
Hong Kong Golf Club, Lot No. 1 Fan Kam Road, Sheung Shui, New Territories, Hong Kong
10. Kingston Heath golf club, Cheltenham, Victoria, Australia A par-72 measuring 6,352 metres, Kingston Heath is one of the toughest golf courses in the world. This top-notch layout, created by former Australian golfer Dan Soutar, perfectly complements the Melbourne Sandbelt. The bunkering on this course, set on nearly flat terrain, is one of the most intriguing features. Golfers around the world highly regard Kingston Heath's strategic bunkers. The trees and other vegetation give a lot of character to the layout. The combination of bunkers and short holes on this course makes it a formidable test for any player.
Kingston Heath Golf Club, Kingston Road, Cheltenham Victoria 3192, Australia
11. Ile Aux Cerfs golf club, Ile Aux Cerfs, Off Trou D'Eau Douce, Mauritius The Ile Aux Cerfs Golf Club, formerly known as Le Touessrok Golf Course, was created by former German Masters winner Bernhard Langer and opened in 2003. This course's breathtaking topography and difficult layout set it apart from others. It is situated on a lovely island that can only be reached by boat or helicopter. This course, which is one of the hardest in the world, was made to challenge professional players while still being exciting for amateur golfers. Many golfers' memories of this course include its tight fairways, massive bunkers, stunning ocean scenery, mangrove swamps, the unusual 18th hole, numerous obstacles, and water hazards, among other things.
Ile Aux Cerfs Golf Club, Ile Aux Cerfs, Trou D'Eau Douce, Mauritius
12. Bethpage Black, Bethpage state park, Farmingdale, New York, United States One of the five regulation courses at the acclaimed Bethpage State Park Golf Course, the Bethpage Black (par-71, 7,468 yards), is the only golf course in the world that welcomes the players with a warning sign at the entrance, "The Black Course is challenging and is recommended only by very competent golfers." The tight fairways, tricky rough, crisscrossing bunkers, and plateau greens are some of the few characteristics of Bethpage Black that make it the most feared public or private golf course in the world. This overwhelming course always has a way of humbling even the most experienced golfers in the world.
Bethpage Golf Course, 99 Quaker Meeting House Rd, Farmingdale, NY 11735
(Hero image credit: Ile Aux Cerfs Golf Club, Feature image credit: Carnoustie Golf Links)
This story first appeared here
Related: 25 Of The Best Golf Courses In The World
Frequently Asked Questions (FAQs)
Question: What are some of the oldest golf courses in the world?
Answer: Old Course - St Andrews Links<br> Established: 1552<br> Location: St. Andrews, Fife, Scotland<br><br> Carnoustie Golf Links<br> Established: 1842<br> Location: Carnoustie, Angus, Scotland<br><br> The Championship Links - Royal County Down Golf Club<br> Established: 1889<br> Location: Newcastle, County Down, Northern Ireland
Question: Where is the most challenging golf course in the world located?
Answer: Bethpage Black is the most challenging golf course and is located at Bethpage State Park, Farmingdale, New York, United States
Written By