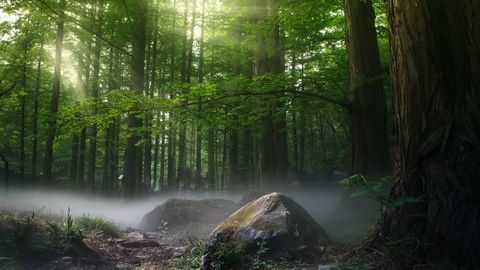 In the winter of 1777, the writer Johann Wolfgang von Goethe set off on horseback from his home in the central German city of Weimar and travelled a hundred miles (160.93 km) north to the forests of the Harz region. The 28-year-old Goethe, who had been struggling since the death of his sister the previous summer, hoped to encounter a sign. On December 10, accompanied by a forester, he climbed the Brocken, a mountain in the Harz that is, at almost 4,000 feet, the highest in northern Germany. Visiting this snowy, densely wooded landscape left him exhilarated and renewed; the experience later inspired the poem "Harzreise im Winter." By Gisela Williams
An altar of grateful delight
He finds in the much-dreaded mountain's
Snow-begirded summit,
Which foreboding nations
Crown'd with spirit dances.
The story of Goethe's bracing journey would become a cultural touchstone, epitomising Germany's fascination with its wilds and woodlands. Unlike in Japan, where the tradition of forest-bathing involves the quiet contemplation of light and shadow, the Germans wrestle with the forest as if it were their own spirit. From Germania, Tacitus's first-century description of the Germans, to Grimm's Fairy Tales, the forest has long been integral to the national identity.
This connection between nature and culture has galvanised the country to position itself at the forefront of the environmental movement. One-third of Germany is woodland, and while most of that area is planted with trees that are harvested for timber, more trees are planted than are felled.
A guide to visiting some of the most gorgeous German forests in the world I've lived in Germany for almost two decades and have taken hundreds of walks through its parks and forests. Last summer, to better comprehend my adopted country, I set out on a road trip to several wilderness areas. I wanted to better understand what the rest of the world can learn from the country's relationship with nature.
I had been told that the Black Forest was the birthplace of many fairy tales, but when I read about Goethe's adventures, among other things, I soon learned that the Harz region is also rich with history and myth. So my husband, our three children, and our dog, Kiko, drove about 2 ½ hours from our home in Berlin to the mountains, where we visited a friend who rents a charming brick house, part of a fortified castle, in the town of Hornburg.
At the home of my friend's neighbour, an 18th-century map of the Harz hung on the wall. It showed a dozen witches flying over the Brocken; legends of witches and devils have swirled around the mountain for centuries. "Now to the Brocken the witches ride," Goethe wrote in his play, Faust. Some like to believe Rapunzel's tower — where the witch Gothel hid her away — is located in the Brocken town of Wernigerode.
Dieter Runge, an expert in local lore, led us partway along the 93-mile (149.66 km) trail known as the Hexen-Steig — or "witch climb." We started our hike in the city of Thale and passed through tourist attractions, including a small adventure park, but soon enough were following a dirt path alongside a river in the narrow Bode Valley. Through gaps in the trees, we spotted two angular peaks, the Hexentanzplatz and the Rosstrappe. Runge explained that it was on these mountains that the most dramatic moment of the folktale about a princess, Brunhilde, and a giant, Bodo, took place. Brunhilde spurred her horse to leap from one peak to the other to escape Bodo, whom her parents had arranged for her to marry. She made it — and her horse left a hoofprint on the Rosstrappe, which can still be seen today — but Bodo tumbled into the valley, which still bears his name.
In pre-Christian times, Runge said, the Hexentanzplatz was an important site for pagan ceremonies. Legend has it that witches gathered there on Walpurgisnacht, the last night of April when Christians lit bonfires to ward off evil spirits. Today the Harz witches live on in the form of a kitschy folk festival that takes place every spring.
We spent a night at the Torfhaus Harzresort, an upscale retreat made up mostly of cosy cabins with wood-burning stoves on the edge of Harz National Park. On the drive from Thale, we passed vast open spaces punctuated by tree stumps. In some areas outside the park, workers were loading trees onto trucks. Later I was told that the Harz's forests, about half of which consist of non-native conifers, were being devastated by a combination of climate change and bark beetles, which finish off the weak trees by cutting off all nutrition to their roots.
While humans were suffering an epidemic, so were the German forests; more trees died in 2020 than in any other year since surveys were begun in 1984. At the Torfhaus, however, very few trees were damaged, so the property seemed very green (and was almost completely booked). Kiko and the children happily explored the surrounding paths while my husband and I tried out the resort's sauna.
From the Harz, we drove nearly two hours to Kassel. When we turned off the autobahn onto more scenic roads, passing towns with fairy-tale half-timbered houses, I realised my mistake of writing off central Germany for so long. Thanks to the mining industry of the Harz, the area was a centre of wealth in the Middle Ages, while abbeys and libraries made it a capital of knowledge.
As we approached Robins Nest Baumhaus Hotel, which occupies a series of tree houses, we saw a dramatic stone-and-timber castle in the distance. This was the 14th-century Schloss Berlepsch, which has been lived in by the same family for 20 generations and upon whose land Robins Nest is located.
Peter Becker, the founder of the property, is a hip-looking thirtysomething with a small hoop in one ear. He grew up in the nearby town of Gertenbach and was a friend of the sons of Count Hans-Sittich of Berlepsch, the current owner of the castle. "I know every tree in this forest," Becker told us.
When he was in his early 20s he lived the Berlin clubbing life, ran a gallery and bar with friends, and travelled the world. On a journey to Nepal in 2009, he began to think about returning to Gertenbach. "After being away I saw my roots from a different perspective," he said. "Ironically, it was in the Himalayas that I started to understand how much I loved my home."
Becker came back a year later. After a long amble in the forest, where he lay on the ground staring into ancient beech trees, he had an epiphany. "I thought how cool it would be to build a village of tree houses," he recalled. Two days later he asked permission of one of the count's sons, who leased him a little more than an acre of the castle grounds for 15 years. Becker opened Robins Nest in 2014 with three suites built around the trunks of trees more than 20 feet off the ground, accessible by stairs and suspension bridges. He also built a house for eight guests on stilts, as well as "tree tents" — cocoon-like hammocks — and a suspended geodesic sphere.
My family successfully — if timidly — crossed the bridge to our cosy home in the canopy. The 80-square-foot room was outfitted with a double bed, a bunk bed, a seating area, and a bathroom. With no Wi-Fi or TVs to distract them, our children ran in the woods and jumped on the trampoline while my husband and I took short hikes. I noticed patches of dying pines, but this forest seemed noticeably healthier, thanks to a mixture that included beeches and oaks, some hundreds of years old.
Becker explained that the project was both entrepreneurial and spiritual; he wanted to show how small businesses in protected forests could support the habitat while drawing young people to experience this landscape. This summer, for example, Robins Nest is hosting art and music happenings connected to Documenta, the contemporary art event that takes place every five years in Kassel. In his best-selling "The Hidden Life of Trees," Peter Wohlleben writes about how he grew to understand that Germany's practice of forestry, long considered sustainable, was in fact driven by the business of planting and harvesting conifers, indigenous to the Arctic, northern Europe, and high mountains, but not most of Germany. When he became a forester, he imagined he would be a keeper of trees. Instead, he became an industrial farmer of them.
I had thought that forests of pine trees had been part of the country's landscape for millennia. Reading Wohlleben's book, I learned that many of these forests were, in fact, artificial plantations. The pines had replaced trees, primarily beech and oak, that had covered the hills since ancient times. In an engraving of the Brocken made at the time of Goethe's visit, the land is ravaged: massive swaths have been deforested, with large wounds dug into the mountain for mining. And that was a few decades after the mining official Hans Carl von Carlowitz proposed that wood harvests should be limited to what the land could produce and that trees should be replanted, after which Germany began to manage its forests.
Now it seems the country is once again rethinking its forest management. We drove toward the Eifel National Park, not far from the Belgian border, to visit Wohlleben at his Waldakademie — literally, "forest academy." I had imagined a log cabin; instead, we arrived at two modern buildings on a residential street in the village of Wershofen. "This building is completely energy-self-sufficient," Wohlleben said as we sat together at a table in the yard. The programs include lectures, school visits, and camping expeditions.
Wohlleben, not one to sit for long, directed us to follow him out of the village toward wide meadows. (Depending on his schedule, he is available to give lectures and lead group hikes.) We continued on a dirt path that led to a forest while he explained that the monoculture industry of harvesting nonindigenous conifers for timber is not sustainable and that humans can no longer afford to use so many forests for commercial purposes.
A few minutes later he stopped us. "Look here," he said to my children, all three of them mesmerised by this giant of a man, a suburban Gandalf. He pointed to the straight lines of spruce and Douglas fir to our right. "This is a conventional plantation. And on the other side of the path is a deciduous forest of beeches." This was a wilder mix of trees, young and old, and of various heights. Wohlleben told us to step into both, noting that when we entered the deciduous forest, it would feel several degrees chillier.
"A mixed indigenous forest is cooler, contains more moisture, and doesn't support the amount of undergrowth that a plantation forest does," he explained. "That means fewer forest fires, fewer deer, and fewer ticks and disease." I thought back to our time in the Harz, where the ailing conifers are particularly vulnerable to pests. If he had the instruments to measure the ultrasonic vibration of the tree's vascular system, which transports water up to the leaves, "you would hear the trees on the right screaming," he said.
I had a flashback to so many different hikes in pine forests, walks during which I felt immensely peaceful and grateful to be in the company of such towering trees. Now I realised I had been naïve. Had they been screaming, too? How many other landscapes had I travelled through, imposing false perceptions and histories on my surroundings?
I asked Wohlleben what could be done to save the forests. As golden light filtered through the green canopy, he said, "Every time humans try to correct something we tend to create another problem. We just need to let nature lead us, rather than interfering."
As we headed home to Berlin, I thought about how, like Goethe's journey to the Harz, this road trip had been more than just a vacation. It had, in fact, been a kind of quest — one that left us wiser and more inspired than when we set out.
How to visit Germany's forests
Where to stay
Robins Nest Baumhaus Hotel: A collection of rustic but comfortable tree houses — including a geodesic sphere, a house on stilts, and a covered wagon — outside the town of Gertenbach. Doubles from USD 105.
Torfhaus Harzresort: This handsomely appointed hotel on the edge of Harz National Park has individual cabins outfitted with fireplaces and saunas. Doubles from USD 108.
What to do
Wohllebens Waldakademie: Conservationist Peter Wohlleben's "forest academy," in the town of Wershofen, offers a range of experiences that bring visitors closer to the German woodlands, from nature walks to camping trips.
(Main and feature image credits: Zhang Kaiyv/Pexels)
(This story first appeared on travelandleisure.com)
Related: Bucket List Material: 12 Beautiful Forests Around The World
Written By