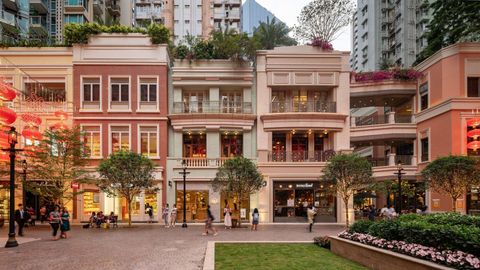 Wan Chai is that odd middle child nestled between favourite Central and bustling Causeway Bay. But this neighbourhood has transformed itself into a vibrant area. Moreover, with the opening of the Exhibition Centre MTR Station, it's become a much more accessible place to visit. There's plenty to experience here, with food options, art spots, and waterfront views. Read our neighbourhood guide to Wan Chai so you can easily navigate your way around.
Years back, Wan Chai gained a notorious reputation for being Hong Kong's red-light district. However, it is now known for its eclectic mix of dining establishments, boutique stores, and local markets with stunning harbour views. If you ask us, there's always something happening in Wan Chai. Located between Central and Causeway Bay, it is a double-edged sword. On the one hand, it can be ignored in favour of the two. But it also serves as a getaway and entry point to the two places and even Hong Kong Island. In fact, it can rival the two. It still maintains its local charm, evident in the revitalised heritage buildings in the area.
So, take advantage of the place, whether you're on the hunt for diverse food options, the latest events to go to, or simply looking for a place to explore! Find out what you can eat, drink, and do in this buzzing neighbourhood.
Your ultimate guide to exploring Wan Chai
Where to eat
Wan Chai is so big that it has not one but two stations! And in fact, you can also exit at Admiralty Station if you're heading to Star Street Precinct. Our Wan Chai guide starts there as it's one of the most vibrant areas to dine given its plethora of options. Immediately, you'll be greeted by a range of dining establishments serving different cuisines. Le Garçon Saigon is a favourite when it comes to Vietnamese food while Danji offers delicious Korean fare. Ask for Alonzo is also a viable option for pasta and brunch lovers and Artemis & Apollo for Greek delights.
Just a few blocks away is Lee Tung Avenue, which is bustling with shops and restaurants. There's also an excellent selection here but The Baker and the Bottleman is an immediate standout. Whether you're looking for a midday bite or a full-on meal, they have it. Over at Ship Street, the options are great for get-togethers. Our go-to is 22 Ships for their multi-regional tapas dishes.
View this post on Instagram
Who can miss the Thai restaurant, Samsen? If the lines tell you something, it's that Hongkongers are willing to wait just to try the food here. On the topic of Southeast Asian food, be sure to give Holy Gaw a try. They serve modern and fusion Filipino dishes that are super healthy. You also have the cosy JOM for a Singaporean and Malaysian casual bite. Those on the lookout for healthy dishes should get over to Jaja. The vegetarian meals here not only look amazing, but they also pack a punch. It's a great place to live out your Barbie dream. Cafe Bau's farm-to-table concept is also a must-try for its sustainable dining option. Besides, it's by the famed "demon chef" Alvin Leung!
Need a lavish dining setting? Wan Chai has a lot of that too. Just head over to Grand Hyatt Hong Kong and take your pick. One Harbour Road's Cantonese offerings are world-class while Grissini's Italian dishes feel like comfort food. Over at The Hari, Zoku serves up authentic and modern Japanese dishes to your heart's content.
Don't forget Honbo or Boy Burger if you're craving some extra crabs. The juicy burgers aren't to be missed! Meanwhile, if you're on the go and need a quick bite, Wan Chai has much to offer. Chotto Maki's range of creative sushi is perfect for takeout. The bread and pastries from Bakehouse will leave you wanting more, especially the sourdough egg tarts. Bengal Brothers recently reopened as a boozy canteen, but the Kathi rolls to-go is still on the menu.
View this post on Instagram
Book your stay at The Ritz-Carlton Hong Kong via Agoda.com
Book your stay at The Ritz-Carlton Hong Kong via Booking.com
Where to drink
Sure, the sports bars in Wan Chai are always an option. But if you want to avoid the roaring crowd and loud cheers, there are other places to be. Take, for instance, Mizunara: The Library, a quiet whisky bar with an extensive whisky list. And from the same team behind Mizunara is Maison Meiji. While it's technically a restaurant, the handcrafted shochu and awamori cocktails here alone are worth a visit.
Feel mesmerised by the amazing view of Wan Chai with a drink at hand, courtesy of Uncle Ming's. It's located on top of the boutique hotel AKI Hong Kong – MGallery. If you want to experience the Wan Chai nightlife, complete with live music, then we recommend The Wanch. It's a neighbourhood hangout spot for music lovers and boozehounds. Cinta-J also boasts amazing live vocals on top of affordable tap options. We already mentioned The Baker and the Bottleman previously, but they also have an impressive selection of wines, sourced from sustainable wine farms around the world.
View this post on Instagram
Whether it's a place to work, chill, or simply get coffee, these cafes and coffee shops should be on your radar. Elephant Grounds is a local favourite given its accessibility and spacious setting. To make sure you get a (good) seat, we recommend coming by during non-peak hours. T.W.I.G's spot is a little hidden so we can slightly guarantee that no matter the time of day, you can always get a table. Or at least won't have to wait long. The clean, minimalist look of this place earns extra points for us. It's such a cosy place to work. Another option you can consider is Ninety's, an Aussie-inspired cafe loved for its brunch and excellent latte.
Between Coffee is so popular that it expanded its Tai Kwun location to Wan Chai. You can taste Japanese-inspired brews whether it's coffee or matcha. They even have a turmeric latte! And if you take coffee seriously, there's no better place to be than Omotesando Koffee. The coffee here is top-notch, although it doesn't come cheap but at least you know you're sipping on a Japanese-standard cuppa. Other options include Matchali for their matcha options, Latter Cafe for the artisanal drinks, and Blue Bottle Coffee for seriously good coffee.
View this post on Instagram
Where to shop
Wan Chai is a place for shopping too! Though not as well-known as options in neighbouring Central and Causeway Bay, the area has one of the best-wet markets. Wan Chai Market offers fresh produce, meat, and vegetables for your daily needs.
For affordable finds, head over to Spring Garden Lane. Browse through the trove of bargain clothes and garments. Star Street Precinct has boutique shops so be sure to keep an eye out for hidden gems. We also recommend retail stores Kapok for lifestyle products like homeware and Lane Eight for your footwear needs.
View this post on Instagram
Book your stay at The Jervois Hong Kong via Agoda.com
Book your stay at The Jervois Hong Kong via Booking.com
What to do
Once you are done with shopping, explore the neighbourhood. Feel inspired and spark your creative juice at the Hong Kong Arts Centre. They regularly host exhibitions, performances, and film screenings for public enjoyment. At times, arts and cultural-related festivals also take place here. No Wan Chai guide is complete without mentioning the Blue House cluster. It's a must-visit to gain more understanding of Hong Kong and particularly Wan Chai's history. You won't miss this spot, thanks to its iconic blue colour.
Built in the 1920s, it houses restaurants, residential flats, and a community centre today. It's also home to Hong Kong House of Stories, a space that showcases the city's cultural heritage. Just a stone's throw away from the iconic house is Pak Tai Temple, one of the largest temples on Hong Kong Island. It was constructed in 1863 so it's guaranteed to have plenty of history! We also recommend dropping by Comix Home Base to learn more about local animation and comics. The repurposed heritage setting is an added plus.
View this post on Instagram
After art-hopping, head over to HarbourChill, a harbourfront space next to Wan Chai Ferry Pier. There are various activities here, such as riding a pedal boat or paddling. Or you can simply admire the beautiful view of Victoria Harbour from the Hong Kong Island side. If you're looking to cross over to the Kowloon side, ditch the train or bus and take the ferry instead!
On days when there are big events, you also can't miss the Hong Kong Convention and Exhibition Centre. Be sure to check the official website for the latest events! Otherwise, you can drop by Grand Hyatt Hong Kong and pamper yourselves at the Plateau Spa or enjoy a staycation.
Bookmark this Wan Chai guide and have fun exploring!
Shop the best travel experience here
This story first appeared here.
Hero image credit: Lee Tung Avenue/Facebook; featured image credit: Alison Pang/Unsplash
Related: Sheung Wan Guide: The Best Places To Eat, Drink And Explore In The Hip Neighbourhood
Frequently Asked Questions (FAQs)
What is Wan Chai like now?
Wan Chai is a bustling neighbourhood boasting an eclectic mix of restaurants, shops, galleries, and markets.
What is Wan Chai known for?
Wan Chai used to be known as Hong Kong's red light district but it has since been popular for its range of restaurants and event spaces.
Written By