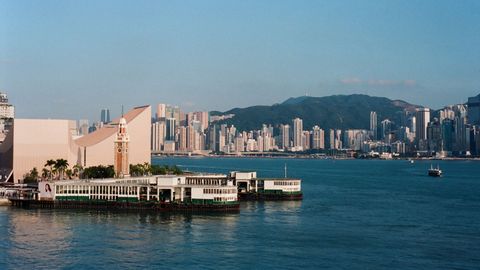 Tsim Sha Tsui is one of Hong Kong's most popular neighbourhoods and for good reasons. It has almost everything that you're looking for, as a local and a visitor.
For starters, it offers the best views of Hong Kong's stunning skyline. It also has seemingly endless rows of shops, restaurants, malls, bars, and everything else in between. A mixed bag of sorts, Tsim Sha Tsui is a great example of modernity and tradition. You have the staggering shopping malls on one hand, and the 1881 Heritage on the other. There are boutiques in the nooks and crannies of Grandville but also luxury brands sprawled all over Canton Road. It's also a melting pot of food and culture, with Chungking Mansions and Kimberley Street. Read our guide to this bustling neighbourhood and find out the best places to eat, drink, shop and explore!
Your ultimate guide to Tsim Sha Tsui
Where to eat
When it comes to the best dining places in Tsim Sha Tsui, where do we even start? For those with a hefty budget, we recommend checking out restaurants located at some of the best hotels in town. At Rosewood Hong Kong alone, you have Bluhouse and Chaat to choose from. The former is a family-friendly Italian restaurant while the latter has rich Indian dishes, elevated in a modern setting. Make sure to book in advance though as Chaat is notorious for its highly coveted table reservations. Over at the neighbouring and newly-reopened Regent Hong Kong, The Steakhouse is offering the juiciest cuts of meat. And speaking of meat, Wooloomooloo Prime and La Vache are two other steakhouses to try.
View this post on Instagram
You'll never run out of places to choose from when it comes to Korean food. Just head over to Kimberley Street, also known as "Little Korea" and simply take your pick. Whether you're looking for Korean barbecue, Korean fried chicken, or even whole chunks of kimchi, the restaurants and grocery stores here have an endless supply. Similarly, inside Chungking Mansions, you have a plethora of halal restaurants. Bismillah Kebab House has delicious kebabs to try. Tsim Sha Tsui is one of the best places to get a view of Victoria Harbour. And who doesn't want to dine with a view? Hutong serves great Northern Chinese cuisine, complete with incredible views of Hong Kong. Alternatively, you can also head over to Aqua for some toothsome food, great drinks, and good views. The brunch here is a must-have—it lasts until 4:30 pm! Meanwhile, Kaboom not only has breathtaking views but also serves Southeast Asian fusion cuisine. The shisha lounge is a plus. If you're on the lookout for casual eats, Kabo serves affordable yet equally delicious burgers. The Truffle Cheeseburger and the Ox Tongue Burger are a must-try! In case you're travelling in a group, In Beef Hotpot is perfect for large gatherings. Remember to come hungry so you can try more! When it comes to cafes, we recommend Mamaday Cafe not only for its hipster and fun interiors but for the equally interesting menu. Another place you can try out is How to Live Well—a Japanese-style cafe, co-working space, and furniture shop all rolled into one.
View this post on Instagram
Where to drink
Head over to Knutsford Terrace and immediately, you'll come face to face with an array of bars and shisha lounges. It's an alternative to the relatively busier (and more expensive) Lan Kwai Fong. But if the noise gets too much, you can also explore East Tsim Sha Tsui where some of the bars offer stunning views of the skyline. For a more intimate vibe, you can't go wrong with DarkSide. The award-winning bar has a range of vintage cigars, cocktails, and aged spirits to try. Meanwhile, room 3 also offers a selection of wine, sake, whisky, and cocktails. On the other hand, coffeeholic shouldn't miss Koffee Mameya, the sister brand to the popular Omotesando Koffee. Expect to find bespoke blends and single origins sourced from around the world.
View this post on Instagram
Where to shop
As with food, Tsim Sha Tsui is simply packed with stores and shopping malls. Indulge in some retail therapy at Harbour City, one of Hong Kong's largest shopping malls. You'll get dizzy just roaming around and covering over 450 shops and restaurants. For a more artsy destination, K11 Musea is the place to be. With its impressive architecture and artistic interiors, K11 Musea is really more of a cultural and retail experience compared to other shopping malls in town. The K11 Art Mall is the smaller sister of Musea, where you'll find more affordable shops and cute cafes. If you don't mind outdoor shopping, Grandville Road is simply the best place for cheap finds. Whether it's clothing, beauty products, tech stores, or even musical instruments, you'll likely find it here. In addition, high-end shoppers shouldn't miss Canton Road and its strip of luxury brands like Chanel and Louis Vuitton.
View this post on Instagram
What to do
Tired of shopping? There are still other things to do in Tsim Sha Tsui. You can browse through amazing works of art at the Hong Kong Museum of Art. Then, try museum hopping and visit the Hong Kong Museum of History and the Hong Kong Space Museum as well. We recommend visiting on a Wednesday so you can get free admission. The Hong Kong Cultural Centre also hosts regular cultural events and performances. Did you really visit Tsim Sha Tsui if you didn't walk along the promenade? This view of Hong Kong is the postcard image of the city so regardless of whether you're a local or tourist, it's simply a must-see. We also recommend riding the iconic Star Ferry to Wan Chai or Central not only because it's an experience itself, but you also get varying views of the city.
Book your stay at Hotel Icon in Tsim Sha Tsui via Booking.com
This story first appeared here.
(Featured and hero image credit: Sharon Cho/Unsplash)
Related: Best New Cafes And Coffee Shops To Try In Hong Kong Right Now
Written By