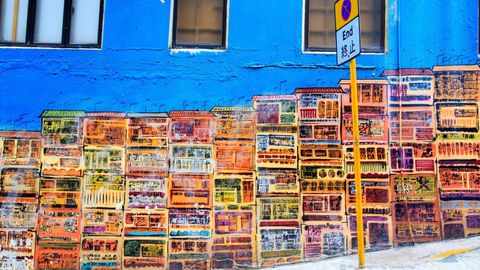 Sheung Wan is undoubtedly a neighbourhood favourite with its hipster cafes, under-the-radar galleries, bustling restaurants, and hole-in-the-wall shops. And while it is easy to pass off Sheung Wan for its bustling sister, Central and shopping paradise, Causeway Bay, Sheung Wan has a quaint and hip vibe. Moreover, it's located downtown, so you have no excuse not to visit. Need help figuring out where to start? Our Sheung Wan guide has got you covered.
Your ultimate guide to Sheung Wan
Wait, did we mention how quirky this place is? Just take a look at the defunct underground toilets and vibrant street art. Back in the day, Sheung Wan was lined with antiques, and while fewer, it still managed to retain that old-school charm. It's difficult to imagine that the place was once known for its coffin shops. Today, it's transformed itself, replacing coffin shops with coffee spots. You will see a coffee shop on every corner. With a mashup of old and new, it's truly a place worth exploring in Hong Kong. Read our Sheung Wan guide and discover the best places to eat, drink, and shop and what you can do in the neighbourhood!
Where to eat
If you're feeling adventurous, we can't recommend the Queen's Road Cooked Food Market enough for affordable, quality food. You'll be spoiled for choice with the many stalls inside the market. We're sure you'll find something you like, local or western-inspired delights.
Hollywood Road is brimming with restaurants, and Chachawan is a crowd favourite. It serves dishes from Thailand's northeastern Issan province and classics like pad Thai. Another Sheung Wan stalwart and Thai restaurant mainstay is Samsen— where guests queue up for hours to get a table. Given the waiting time, we suggest coming a little earlier or later than lunch or dinner hours.
View this post on Instagram
Michelin-starred izakaya Yardbirdhas a cult following and is known for its hard-to-book seats—by that, we mean you have to book a table in advance. Dig into their yakitori skewers with a drink or two if you can get a seat.
A little further ahead is Honjo, a great place for any time of the day. With beautiful interiors to boot, eating here is one for the books. The Japanese restaurant offers classic dishes with modern iterations. Enishi is great if you're feeling moreish, as its teppanyaki serving is super filling. The husband-and-wife duo serving up your meal makes everything feel homely.
View this post on Instagram
Meanwhile, those seeking more affordable options can head to For Kee Restaurant, a favourite lunch spot. The old family diner serves delicious no-frills pork chop rice (get it with egg on top). Last on the list is Katsudo, a small eatery serving Japanese comfort food without hurting your wallet. We love how the portions here are filling. However, be mindful of the long queues—again!
Our next recommendation Bedu is tucked between Central and Sheung Wan. It offers delicious Middle Eastern fare and specialises in shareable small plates. So, it's a great place to eat with a large group. Need your Italian food fix? Ramato offers traditional Italian dishes served family-style. It's also best paired with wine, so we recommend heading here for pre-dinner drinks.
Where to drink
View this post on Instagram
Have we mentioned just how overwhelmed we are when it comes to the number of cafes in Sheung Wan? Make it a weekly affair just to visit one at a time! There's always the neighbourhood hang-out spot, Elephant Grounds. It's also a viable option if you need a place to work.
Kaffeine has great breakfast options, Halfway Coffee is ideal for your mid-afternoon coffee run, and Meanwhile Coffee has flavourful desserts. If you care about the interiors (hello Instagrammable cafes!) just as much as your coffee, then we have three cafes in mind. Oldish for its vintage trinkets, Relieve Cafe with Japanese-style aesthetics, and Melt for all the cat-related art! Other places to drink include eco-friendly Clean, Nordic-style Hjem, and refreshing Soul Fresh.
For booze hounds, there are plenty of bar options in the hood as well. You can't miss Coa, which ranked at the top of Asia's best bar list in 2022. The mezcal-focused bar serves drinks made up of mezcal, Raicilla, and tequila. If you love your wine, then head over to Bianco & Russo. Take your pick from the wide selection of wines and vermouths but there are cocktails available too. After a nice meal at 69 on Jervois, hit the sister establishment and stylish speakeasy Behind 69 for some tipples.
Where to shop
View this post on Instagram
If you're an old soul, Sheung Wan is an antique playground. Just walk through Upper Lascar Row(also known as Cat Street) to Hollywood Road, and you have a treasure trove of all vintage things. Think retro magazines, antiques, historical memorabilia, jades, and more. Also, take a trip down memory lane at Select 18, a place that screams throwback. The old-school knick-knacks will bring back memories of the bygone era.
Remember to stop by The Floristry for all your flower needs. Other boutique stores include Nelle Gemmes for its crystals (and amazing interior design), Mount Zero for bookworms, and Western Market for a little bit of everything.
What to do
Adding to its hip charm is the endless number of galleries in the area. Whether you love Western art or photography, there's bound to be a gallery to visit. History buffs can admire the robust Ming and Qing Dynasty display collection at the four-storey Liang Yi Museum. On the other hand, Contemporary by Angela Li showcases Chinese artworks from modern artists.
View this post on Instagram
Go Namjooning (a reference to BTS RM) at Soluna Fine Art and admire artworks from South Korean artists. Photography enthusiasts can head over to Blue Lotus and see the latest captures from photographers worldwide. Some other galleries worth visiting include Over the Influence, Karin Weber Gallery, and Double Q.
Or if you can't make up your mind, just drop by PMQ. It was once the Police Married Quarters and now serves as an arts and design venue in Hong Kong. The historic site houses little shops, pop-up galleries, and other art-related events. Also, if you're feeling peckish, there are also restaurants in the area, including alfresco favourite Louise—if you have the budget.
Lastly, did you really visit Sheung Wan without going to Man Mo Temple? A Sheung Wan guide isn't complete without a mention of the famous temple. It pays tribute to Man, the God of Literature and Mo, the God of War—hence, its name. Its stunning interior became an Instagram hotspot, with the incense spirals overhead.
So, remember to bookmark this Sheung Wan guide!
Shop The Best Travel Experiences Here
This story first appeared here
Featured and hero image credit: Tommy Hsu/Flickr
Related: Where To Find The Best Roast Goose In Hong Kong
Frequently Asked Questions (FAQs)
Question: What is the meaning of Sheung Wan?
Answer: The name Sheung Wan can be interpreted as "Upper District" or" Getaway District".
Written By