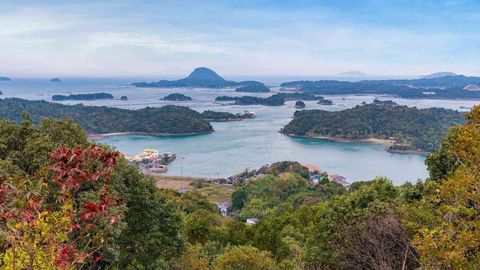 Japan is renowned for its delicate cherry blossoms and mesmerising bamboo forests, but that's only the beginning of the country's charms.
From the snowy wilderness of Hokkaido to the tropical forests of Okinawa, Japan has enough natural wonders to keep you in awe. Come explore some of the most stunning places across the country's 47 prefectures.
The most beautiful places to visit in Japan
Takachiho Gorge, Miyazaki, Kyushu The Gokase River has carved a deep slash through volcanic rock, creating an undulating surface resembling dragon scales climbing toward the sky. Visitors can rent a rowboat to paddle down the river and along the Minainotaki, a waterfall plunging down the sheer cliffs into the river.
Iya Valley, Tokushima, Shikoku The remote and isolated Iya Valley was an escape for the retreating Heike samurai clan. The valley is characterised by plunging gorges, verdant mountains with terraced farms, centuries-old thatched-roof farmhouses, and suspended woven vine bridges swaying precariously over rushing rivers.
Yakushima, Kagoshima, Kyushu The green island of Yakushima, off the southern tip of Kyushu's Kagoshima Prefecture, is home to native deer and monkeys, as well as ancient cedars. It also happens to be the stomping ground for migrating turtles and dolphins. One-fifth of the island is a dedicated UNESCO World Heritage Site, and the heady mix of subtropical forest, hot springs, and dozens of peaks of more than 3,000 feet served as major inspiration for the Studio Ghibli animators of "Princess Mononoke."
Tottori Sand Dunes, Tottori The enormous sand dunes on the Tottori coast have an otherworldly quality. The surreal scenery is also the backdrop for Kōbō Abe's 1962 novel (and later film) "The Woman in the Dunes."
Shiretoko National Park, Hokkaido At the very top of Hokkaido lies Shiretoko National Park, a UNESCO World Heritage Site sprawling more than 70,000 hectares. It's the habitat for one of the densest populations of brown bears in the world and is frequented by whales, porpoises, and sea birds among the drift ice in the Sea of Okhotsk.
Goshikinuma, Fukushima One of the most beautiful places in Japan, The back side of Mount Bandai in Fukushima Prefecture is home to Goshikinuma, which means "five-coloured ponds" and refers to a collection of water bodies that shift their brilliant hues to blues, greens, and reds based on the time of day, season, and weather. The pond trail winds through the forest and can be hiked or snowshoed, depending on the time of year.
Ogasawara Islands, Tokyo It may be part of Tokyo, but it's more than 620 miles (997.79 km) away, in the middle of the Pacific Ocean. The Ogasawara Islands, a UNESCO Natural World Heritage Site, are only accessible via a ferry that departs from Tokyo and takes 24 hours to reach Chichijima, the largest of the islands. Along with Hahajima, only two islands in the archipelago are inhabited. They're also home to sperm whales, dolphins, crystal-clear waters, coral reefs, and even a submerged shipwreck for snorkel exploration.
Gokayama, Toyama Gokayama and the neighbouring area of Shirakawa-go are UNESCO World Heritage Sites home to rustic farm villages that maintain the structures and visage from centuries past. The villages are set in green valleys surrounded by towering, snowy mountains dotted with farmhouses featuring steeply pitched, traditional thatched roofs that insulate the homes against the cold and keep snow from piling up. Try a farm stay with firewood heat, tasty country food, and hot spring baths.
Iriomote Island, Okinawa Closer to Taiwan than mainland Japan, Iriomote Island is one of the country's wildest and most remote places. Thickly forested, the jungle-like centre gives way to mangroves and sparkling blue and white beaches at the edge. The island is also home to the Iriomote cat, a critically endangered wildcat that is only found here.
Mount Zaō, Yamagata In January and February, a curious phenomenon takes over the ski resort at Mount Zaō. Aomori fir trees meet Siberian winds, and before long, the slopes become covered by juhyo, or "snow monsters" — an army of giant, shaggy beasts with long beards and stumpy arms, seemingly ready to shuffle forward in battle.
Northern Alps, Nagano Multiday treks are possible along Japan's Northern Alps, which stretch across four prefectures. The Panorama Ginza route is a three-day hike ending at an 8,769-foot summit. Along the way, you'll enjoy dramatic views, starry skies, and alpine flora. You might even spot some endangered birds.
Lake Kawaguchi, Yamanashi Part of the Fuji Five Lakes area, Lake Kawaguchi offers exceptional views of Japan's most revered mountain, often perfectly reflected in the water's glassy surface on a clear day. The lake is a destination for pleasure seekers, who come here to walk, cycle, and boat. Campgrounds abound, as do numerous hot spring hotels offering thermal baths with open-air views of the mountain.
Shiroyone Senmaida Rice Terraces, Ishikawa On Ishikawa's Noto Peninsula, the rice paddies at Shiroyone Senmaida border the sea. Every spring, the paddies are flooded with water, and the sunset glints on the ocean and inland over the rice fields. As the season develops and the rice grows, the colours slowly change from the reflected sky to deep green and harvest yellow.
Matsushima, Miyagi Matsushima Bay in Miyagi Prefecture is dotted with 250 pine-covered islands famously immortalised in Basho's haiku and woodblock prints. Hike along the bay on foot, sail its waters, and visit the many temples along its shores.
Mount Yoshino, Nara One of the most beautiful places in Japan, Nara Prefecture's Mount Yoshino becomes a vision in pink during the spring, as 30,000 cherry blossoms bloom on the hillside in stages. Dating back hundreds of years, the trees are interspersed with walking paths, temples, and shrines.
Kumano Kodo, Wakayama The millennium-old trails, a UNESCO World Heritage Site, have been walked by spiritual pilgrims, from emperors to samurai to peasants. Today, parts of the trail still exist, weaving across valleys and ridges, through tiny villages where walkers can find a meal or a bed for the night, and to sacred shrines that incorporate both Shinto and Buddhist religions.
Jodogahama, Iwate Jodogahama means Pure Land Beach, named after a Buddhist monk who compared it to paradise. Characterised by white rocky beaches, blue-green waters, and dramatic stone formations jutting out from the water, this beach is enjoyed by swimmers and kayakers alike. Small blue caves off the coast are accessible by boat tour.
Wazuka Tea Fields, Kyoto With gently rolling hills and terraced fields, the tea plantations in Wazuka offer some unique experiences. Visitors here can walk or even cycle among the plants, while farmers pluck the tender leaves, getting ready to roast, ferment, or grind different types of green tea. Tea education and ceremony experiences are on offer here as well, and you can drink and take home the freshest imaginable leaves for your own drinking rituals.
Takeda Castle Ruins, Hyōgo Originally built in 1441, Takeda Castle was destroyed after the Battle of Sekigahara in 1600 and fell into ruins. The ruins are perched atop Shiroyama, a mountain rising more than 1,150 feet above sea level. Come autumn and winter, the ruins are shrouded in mist, giving off an eerie image as the ghostly remains of a past era seem to float in the clouds.
Lake Chūzenji, Tochigi A longstanding retreat for European diplomats on holiday, Lake Chūzenji is a remote and spiritual escape located a few hours outside of Tokyo in Nikko National Park. The highest elevation lake in Japan it's marked by Mount Nantai, which rises out of the water; the picturesque Chūzenji Temple; and the famous fall foliage view along the hairpin roads that lead to the area, making it one of the most beautiful places to visit in Japan.
Oirase Gorge, Aomori Oirase Stream meanders through the forest along Oirase Gorge in Aomori Prefecture. Awarded two stars by the Michelin Green Guide, the gorge is laced with waterfalls and carpeted with moss. It sparkles white in winter, shimmers green in summer, and glows with yellow and red foliage in autumn.
Hakone, Kanagawa This mountainous hot spring resort town is perched in the Fuji-Hakone-Izu National Park just 1.5 hours from Tokyo. Packed with hot spring inns, Hakone sits on the banks of Lake Ashi, serviced by pleasure boats and home to the Hakone Shrine, complete with a splendid floating torii (gate). Here, retro railroads chug up the mountain, the Hakone Open-Air Museum combines sweeping views with contemporary art, and a cable car leads to Owakudani (Hell Valley), where locals boil eggs in natural sulfurous springs.
Book your stay at Hakone Gora KARAKU via Booking.com
Book your stay at Hakone Gora KARAKU via Agoda.com
Miyajima, Hiroshima The entrance to Miyajima is guarded by the spectacular Itsukushima Shrine, with its iconic floating torii offshore. The island is heavily populated with native deer, and on the hike up Mount Misen, you may also encounter the occasional mischievous Japanese macaque.
Hitachi Seaside Park, Ibaraki One of the most beautiful places in Japan, this 350-hectare park offers fields of gold, blue, pink, and more, depending on the season and what's in bloom. The 5.3 million nemophila flowers are popular with crowds, and there's a 6.8-mile (10.94 km) cycling course for a spring morning diversion.
Mount Aso, Kumamoto, Kyushu Japan's largest active volcano, Mount Aso is exciting enough in itself, with its near-constant spewing of smoke and 15-mile (24.14 km) north-to-south diameter caldera. The gently undulating grasslands of Kusasenri at the foot of the mountains are spotted with ponds and grazing livestock, They're also open for hiking and horseback riding.
Shop the best travel experiences here
(Hero and feature image credit: Supoj Buranaprapapong/Getty Images)
This story first appeared on travelandleisure.com
Related: Explore The Historical Side Of Japan Through These UNESCO World Heritage Sites
Written By