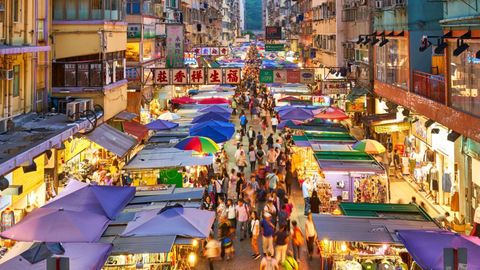 Even if you're not a frequent visitor to Hong Kong, you might come across Mong Kok–one way, or another. After all, it's home to famous night markets. Hong Kong ranks among the top places of the world's busiest and most densely packed cities, and Mong Kok simply exemplifies that. In case you're looking for places to discover, read our neighbourhood guide to Mong Kok so you don't find yourself lost amid the hustle and bustle
Mong Kok is always busy. It's unsurprisingly one of Hong Kong's most popular neighbourhoods. A literal paradise for shoppers on a budget, the district is loved for its affordable eateries and shops as well as its lively vibe. So, whether you're looking for the trendiest makeup or clothing, a must-have souvenir item, the latest tech, or the most delicious street food, you'll find it in Mong Kok.
Like most megacities that have an area that represents the youth, such as Hongdae in South Korea or Harajuku in Japan, it's Mong Kok for Hong Kong. So much so that "MK fashion" became a style trend, referring to the type of style you'll spot in Mong Kok. Yes, the place is full of youthful energy, but people of all ages (and walks of life) visit this hood. We created this handy neighbourhood guide so you can curate what to eat, drink, and do in Mong Kok.
Make sure you bookmark this!
Your ultimate guide to exploring Mong Kok
Where to eat
Start off your day with a hearty breakfast at Hui Wing Kee. It's a long-standing noodle shop that sells oyster porridge among other breakfast staples. A meal here costs under HKD 100! What a treat, right? For those still looking for similar affordable munches, Mong Kok truly has so much to offer from Kam Wah Cafe to Nam Kee Spring Roll Noodle.
For a combination of wallet-friendly and delicious food, No Money So Lonely is a favourite. The trendy restaurant offers a fusion of Thai and Western dishes. But it also has vegetarian options! Thanks to its location inside a mall, it's become a popular lunch stop for shoppers in Mong Kok. Another go-to hang-out spot is Graceland, which prides itself on its range of Southern American snacks. Think, crispy, salty and fried servings of burgers, hot dogs, chicken wings, and chicken tenders. This is the place to be if you want those extra carbs!
View this post on Instagram
Those looking for a more refined setting can head to any of Cordis' dining establishments. How can anyone say no to Michelin-starred Ming Court? It earned its reputation for serving authentic Cantonese cuisine. We also can't leave out The Place, especially for a weekend meal. It's the perfect choice for a 'spoil me' treat because of its buffet and all-day dining options.
Dignity Kitchen deserves a special shout-out. They not only brought Singapore's famed hawker food (and cuisine) to Hong Kong, but they also employed differently-abled and disadvantaged to run their stalls. Savour the delicious servings of Hainanese chicken rice, nasi lemak, bak kut teh (pork rib dish) and more—all made with extra love.
Did you really go to Mong Kok without having a hot pot? You'll be spoiled for choice in the neighbourhood but Akune Wagyu Tachikui Yakinikumise wins the hearts of many. In addition to serving Japanese-style barbecue, the Japanese wooden sliding doors and red lanterns make diners feel as if they're dining right in Japan. What's more, here you get to relish the mouthwatering cuts of A4 and A5 Wagyu beef from Kagoshima.
View this post on Instagram
Need an extra kick in your food? Chuan Palace is among the best when it comes to Sichuan cuisine and dim sum. Sichuan food is known for its spicy dishes, and you know you'll get the best at Chuan Palace as almost all the ingredients come from Sichuan. The spicy sauce is even homemade! And dare we mention, a visit to Mong Kok isn't complete without trying street food! From Cheung fun (rice noodle roll) to siu mai and stinky tofu, make sure to leave some room for these!
Where to drink
Drinking in Mong Kok is divided into alcoholics and non-alcoholics. While the neighbourhood certainly has its fair share of bars, it's really the beer joints that stand out. Who can forget the award-winning taproom, The Madhouse? They serve world-class craft beers and local brews in addition to finger-licking snacks. Meanwhile, The Ale Project has received legendary status in Hong Kong. After all, they're the first craft beer-focused taproom in Kowloon. Their humble beginnings have grown, now cultivating a local cult following. Stylish Moonkok is also at the top of our list when it comes to craft beer. Good food is an added plus.
View this post on Instagram
Elsewhere, Cordis' Alibi – Wine Dine Be Social is great for those looking for bespoke cocktails and wines. It's the place to be for pre-dinner drinks or after work hours. Cafe Hachiko might have the word 'cafe' in its name but don't be fooled, as this is a Japanese wine bar by nature. Sure, you can enjoy some cafe-style food during the day but at night the place lights up as a bar.
Mong Kok has plenty on the table for non-alcoholics too. Turn a corner here and you'll find a coffee shop or cafe that you can easily drop by. Knockbox Coffee Company is already a well-known name in the city and Mong Kok has its own branch. For something a little more unique, we recommend The Hut. It's a garden-themed cafe that gives off a rustic vibe.
Where to shop
The word 'shopping' has become synonymous with Mong Kok, especially for affordable shopping. No matter what you're looking for, we're 99.9 per cent sure you can find it in Mong Kok. Souvenirs? There's plenty to choose from on Tung Choi Street. We recommend haggling to make sure you get the cheapest price!
View this post on Instagram
For all things hip and trendy, head over to Argyle Centre. You'll find Korean-style clothing, skincare, beauty products, tech accessories, and vintage stores. It's like a maze inside with all the options available! Techies and gadget lovers must check out Sino Centre as it has everything from laptops to gaming accessories and video games.
Sneakerheads aren't left out as well because they even have a dedicated place just for them: Sneaker Street. There are rows of sneaker brands and outlets along this stretch of road. Then, CTMA Centre is perfect for anime and comic lovers while photography buffs can't miss Showa. If you aren't looking for anything specific then we recommend going to malls such as T.O.P, Langham Place, and MOKO to browse around.
Book your stay at Hotel Ease Mong Kok via Agoda.com
Book your stay at Hotel Ease Mong Kok via Booking.com
What to do
No matter what age you are, it's never too late to have fun! Game Zone is possibly the city's most well-known arcade and it's located right at the heart of Mong Kok. And because it has a reputation, you can expect the place to be packed. Bring out your best dance moves in games such as Danz Base or Dance Evolution Arcade.
If you're looking to avoid the crowds, then Namco is an alternative. The vibe here is a little more "relaxed" as you can find more gacha games rather than usual arcade games. You can still play favourites such as Pac-Man Smash Air Hockey and Taiko Master.
View this post on Instagram
On the subject of games, there are also a lot of broad game cafes in Mong Kok. It's exactly what it's called: a cafe that offers broad games. You can play jenja, pictionary, or Monopoly while munching on comfort food at Odd Broadgame Bar & Cafe, Station 3 Cafe, and Jolly Thinkers.
Culture buffs can't miss Lui Seng Chun, a tong lau shophouse in the neighbourhood and one of the few that still remains. The structure is a Declared Monument and boasts a Chinese-Western style design. Today, it's used as a Chinese medicine centre but the ground floor houses an herbal tea shop and exhibition space for visitors.
After a long day, when it's time for some relaxation, pamper yourselves at Chuan Spa, a five-star luxury hotel spa. Choose from a range of treatments, massages, and facials all inspired by the five elements and traditional Chinese medicine. You deserve it!
Shop the best travel experience here
This story first appeared here.
All images credit: Fraser Hall/Getty Images
Related: Wan Chai Guide: The Best Places To Eat, Drink, And Explore In The Vibrant Neighbourhood
Frequently Asked Questions (FAQs)
What is the famous street in Mong Kok?
There are many famous streets in Mong Kok including Sneaker Street and Tung Choi Street.
Is it Wong Kok or Mong Kok?
It's Mong Kok.
Written By