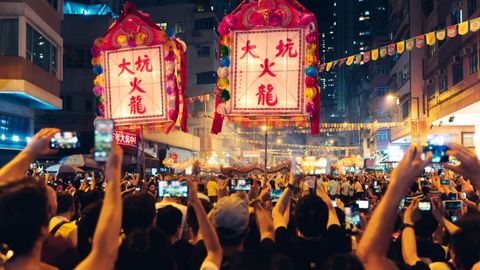 'Ber' month is finally upon us which means that the holidays aren't too far. But before we can look forward to year-end happenings, it's time to enjoy what September has to offer. And the good news is, this month really has something for everyone.
Whether you're into fashion, watches, music, art and culture, or beer, these events are worth attending. See our top picks of the best things to do in Hong Kong this September.
This month, various flagship events are returning at full capacity. For instance, the stylish crowd can attend two events — Watch and Clock Fair and Centrestage. Music lovers can head to TrendyToo SPLASH! and Diva Music Fest. Meanwhile, Disney and the Hong Kong Philharmonic Orchestra are celebrating their 50th anniversary/season this month. So, there will be out-of-this-world performances to witness. In addition, the Tai Hang Fire Dragon Dance also finally returns, ready to put on a dazzling show.
So, bookmark this page for events happening throughout September.
Hong Kong events: The best things to do in September
1. Hong Kong Watch and Clock Fair
View this post on Instagram
Hong Kong's annual Watch and Clock Fair returns in full force at the Hong Kong Convention and Exhibition Centre! Split into five zones, the fair will showcase prestigious watch brands and limited-edition pieces. For instance, the World Brand Piazza zone will put the focus on rare timepieces from leading brands. This year's theme, "Guo Chao" shines light on local talents and exceptional Chinese watchmakers. On top of the watch displays, the fair will also host panels and discussions, a clock design competition, and lucky draws.
When: September 5 to 9
Where: Hong Kong Culture and Exhibition Centre
Website: hktdc.com/event/hkwatchfair
2. Centrestage
View this post on Instagram
Fashion enthusiasts, assemble! Asia's premiere fashion event Centrestage is back this month. The four-day event will feature runway shows, curated presentations, and interactive seminars on fashion trends. The opening gala show will put the spotlight on the latest collection from Hong Kong designer Wilson Choi. Additionally, the event will also present the debut of FETICO, a women's brand founded by Emi Funayama. Now in its eighth year, Centrestage will continue to champion sustainability in fashion, showcasing brands and organisations that support and embrace the practice.
When: September 6 to 9
Where: Hong Kong Convention and Exhibition Centre
Website: hktdc.com/event/centrestage
3. Hong Kong Lesbian and Gay Film Festival
View this post on Instagram
The longest-running LGBTQ film festival in Asia is back this month. The Hong Kong Lesbian and Gay Film Festival is once again putting LGBTQ characters and their stories on the screen. This year's opening films are Peafowl by Byung Sun-bin and Cora Bora by Hannah Pearl Utt. The festival will also screen films from Africa, Asia, and Europe, some of which will have their Asia premiere. Queer short films will also be highlighted during the festival in addition to free panel discussions about filmmaking in Asia.
When: September 8 to 23
Where: Various venues across Hong Kong
Website: hklgff.hk
4. TrendyToo SPLASH!
View this post on Instagram
Wait, a water concert? You read that right! Hong Kong's first multi-sensory immersive water concert will take place at Water World Ocean Park this month. The line-up includes teen idol Gigi Yim, dancer-singer Yumi Chung, singer Aska Cheung, drummer Jason Loi, and more. So, make a splash while you enjoy heart-pounding performances! During the event, the Horizon Cove at Water World Ocean Park will transform into a stage, complete with kaleidoscopic lighting effects. Concertgoers can even listen to the music on floaties! It'll be a party like no other.
When: September 9
Where: Water World Ocean Park
Website: bochk.com
5. Disney 100: The Concert A fan of Disney? Then, you can't miss this concert which celebrates the 100th year of Walt Disney. D:100 The Concert will feature some of Disney's most inspiring film scores, performed by the Hong Kong Symphonic Winds and other Hong Kong and US-based musicians. Witness the magic of songs from classics such as Cinderella, Beauty and the Beast, Lion King, Frozen, Moana, and Encanto. Oh, what a magical night it'll be!
When: September 9 to 10
Where: Star Hall, KITEC
Website: premier.hkticketing.com
6. HKPhil 50th Season
View this post on Instagram
The Hong Kong Philharmonic Orchestra (HKPhil) is celebrating its 50th season this year. So, to go with the occasion, HKPhil and music director Jaap vaan Zweden will host two programmes in September. In the season opener, renowned violinist Joshua Bell will present the Asia premiere of The Elements, a collaborative work by five leading American composers. In addition, legendary pianist Rudolf Buchbinder will join forces with Jaap and HKPhil to entice the audience with Beethoven's popular Piano Concertos nos. 4 and 5. In addition to the concerts, a special exhibition highlighting HKPhil's journey will be on display at the Hong Kong Cultural Centre until September 9.
When: September 8 to 9 (Joshua Bell), September 15 to 16 (Rudolf Ruchbinder)
Where: Hong Kong Cultural Centre
Website: hkphil.org
7. Better With Beer
View this post on Instagram
Drink all you can at Hong Kong's ultimate craft beer festival! Better With Beer is organised by the same team behind Clockenflap in partnership with the Craft Beer Association of Hong Kong. The inaugural festival will feature over 150 beers from more than 20 local breweries and distributors. Sample the creations of Maks Beer, Yardley Brothers, Brewdog, and many others. But is drinking really complete without music? Listen to some of Hong Kong's best bands and DJs including Crimes Against Pop, Uptown Rockers, Mr. Koo, and more. Other than music (and beer), there will be outdoor games to enjoy such as Hong Kong-style hopscotch, Chinese snooker, giant Jenja, and other tabletop games.
When: September 15 to 16
Where: Central Harbourfront
Website: betterwithbeerhk.com
8. Diva Music Fest
View this post on Instagram
Missed the Next Wave Beach Music Festival? Or do you want a similar encore? Well, the Diva Music Fest will take place this month. More than 30 of the top DJs in Asia will perform at this outdoor electronic music festival. The exciting line-up includes hot names in the scene like DJ Soda and DJ Mao. They will not just be performing as you'd normally expect but will face off in a DJ battle! To add to the fun, a 360-degree mobile stage will be installed to allow the DJs to get up close with the audience during their performance.
When: September 16 to 17
Where: AXA x Wonderland, West Kowloon
Website: tix-get-go.kktix.cc
9. Halloween Fest
View this post on Instagram
It might only be September, but Halloween festivities are in full swing at Ocean Park! The annual Halloween Fest is back with a school-themed haunted house for this year's edition. It will transport horror fanatics to an abandoned school, where there's no escape—unless you're lucky to find one. The haunted house will be divided into six zones, each with a different theme like a decaying classroom or a creepy laboratory. In addition, parkgoers can also enjoy enchanting performances. Remember, Ocean Park will be open until 11 pm on selected nights!
When: September 15 to October 31
Where: Ocean Park
Website: oceanpark.com.hk
10. Disney Halloween Time
View this post on Instagram
Time to channel your inner baddie at Hong Kong Disneyland's Halloween celebration! For this year's edition, Disney's most notable villains will be taking over the park as they entice those who enter to join the dark side. Expect the "happiest place on Earth" to become a spooky town complete with games. It'll be the "scariest place on Earth" from September. The fan-favourite "Let's Get Wicked" musical stage show will also return! So, get ready for the spine-tingling performance that won the hearts of many.
When: September 16 to October 31
Where: Hong Kong Disneyland
Website: hongkongdisneyland.com
11. Tai Hang Fire Dragon Dance
View this post on Instagram
Capping off the month and adding to the Mid-Autumn Festival celebrations is the long-awaited return of the Tai Hang Fire Dragon Dance. Watch in awe as 300 participants perform through the streets of Tai Hang carrying the 67-metre-long dragon. It's made with a whopping 72,000 incense sticks! The parade will start at the Lin Ka Fung Temple and make its way around the neighbourhood. The dance will take place over the course of three days, so don't miss it!
When: September 28 to 30
Where: Tai Hang
Shop the best travel experiences here
(Hero and feature image credit: Barnaby Robson/Flickr)
This story first appeared here
Related: From Island Trips To Museum Tours: 10 Things To Do In Hong Kong That Are Absolutely Free
Written By