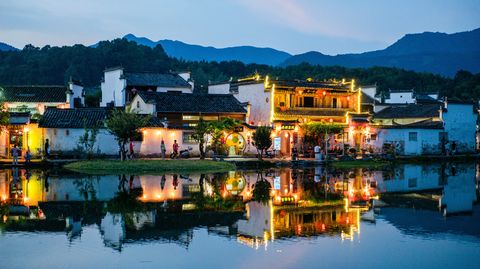 If you wish to visit one of the most picturesque parts of China, then Anhui is perhaps the best place to begin with.
This province in eastern China is renowned for its natural landscapes, particularly the cloud-covered mountains, that have attracted famous classical poets and painters for over a millennium, making it an important part of China's glorious history.
The name, Anhui, means 'peaceful beauty.' It comes from two of its major cities — Anqing and Huizhou, the latter of which is now part of Huangshan City.
It is one of the smallest provinces of China and is about 570 km from north to south. Though landlocked, the province's natural beauty is accentuated by the basins of River Yangtze and River Huai.
Best time to visit Anhui Most of Anhui's best-known attractions can be visited all year round, but the months from April to November are the best for exploring due to the pleasant weather.
For those who love snow, it is best to visit Yellow Mountain and Mount Jiuhua between December and February. These landmarks, otherwise picturesque anytime, turn into an enchanting white paradise during the winter months.
Anhui weather
Generally, Anhui's climate is characterised by hot, wet summers and cool, dry winters. However, the inland province undergoes climatic variations due to the distance between its northern and southern regions.
For instance, the northern parts beyond the Huai basin are relatively cold during winter. These parts are also battered by winter dust storms from the Shanxi province. In July, however, the temperature is almost the same, at around 28 degree Celsius, in both parts.
In summer, the humidity is higher in southern Anhui. The region also receives almost twice as much rainfall as the northern areas.
How to reach Anhui
Anhui is well-connected to other parts of China as well as several international destinations.
By road
The roads are one of the best ways to explore Anhui province you arrive at any of the major cities such as Hefei, Huangshan City and Wuhu.
Anhui's most famous tourist destinations are closer to Huangshan City and Chizhou. These places are well-linked by road. Buses ply regularly for the scenic tourist areas, not only from Huangshan City and Chizhou but also from other parts of Anhui. Hiring private cars to travel between cities and to the mountains is also possible.
By train
Several major cities in Anhui, such as Hefei, Chizhou, Wuhu, Anqing and Huangshan City, are connected to China's high-speed railway network. It is incredibly easy to take a train from Beijing to any of the big cities.
However, travellers usually opt for Huangshan City and Chizhou, as they are the gateways to the famous mountains.
By air
Being the capital of Anhui, Hefei is well-connected to some international destinations in the neighbourhood by air, including Macao, Bangkok, Taipei, Seoul and the Russian city of Novosibirsk. But currently, there are no airlines that connect international destinations directly to Hefei, which means that all flights make pit stops at other major cities in China.
Beijing, Xi'an, Chengdu, Guangzhou and other Chinese cities are connected directly to Hefei and Huangshan City through domestic carriers.
Book your stay at Hilton Hefei
Best places to visit in Anhui
Mount Jiuhua Located in Qingyang County of Chizhou City, Mount Jiuhua is hailed as one of China's five sacred Buddhist mountains. It is dedicated to Ksitigarbha Bodhisattva, whose 99-metre statue is located at the Great Vow Culture Park at the mountain's foot.
It has 99 peaks and four main scenic areas — Jiuhua Street Scenic Area, Heavenly Scenic Area, Flower Scenic Area and Minyuan Scenic Area.
The Jiuhua Street Scenic Area has most of the temples and ancient buildings such as Incarnation Hall, Longevity Palace and Huacheng Temple. It also has most of the stores and hotels in the mountain region.
Mount Jiuhua's highest point, Shiwang Peak, is located in the Heavenly Terrace Scenic Area. The tops of most scenic areas can be accessed by hiking or a comfortable cable car ride.
Time required to explore: At least two days
Mount Huangshan (Yellow Mountain) A UNESCO World Heritage Site, Mount Huangshan is also called "the loveliest mountain of China." As one of the country's biggest tourist destinations, it is renowned for its unique rock formations, crystal-clear hot springs, odd-shaped pines and snow during winters. No wonder that director James Cameron has used Mount Huangshan as one of the major inspirations for the terrain structure of the fictional Pandora in Avatar (2009).
The mountain has four scenic areas. Measuring about 1,864.8 metres, Lotus Peak is the highest peak and is located in the Jade Screen Scenic Area which is part of the front of the mountain.
The Tianhai Scenic Area marks the centre of the mountain, while the other two areas — Beihai Scenic Area and the West Sea Grand Canyon — are on the east and west sides, respectively. The West Sea Grand Canyon is particularly renowned as the finest hiking hotspot on Huangshan.
The base of the mountain is easily accessible by road from Huangshan City. Visitors can either hike up Yellow Mountain or take the cable cars to the summit.
Time required to explore: Entire day
Book your stay at Banyan Tree Huangshan
Mount Tianzhu Mount Tianzhu is located in Qianshan County of Anqing city and is the heart of the eponymous geopark which was added to the UNESCO Global Geopark Network (GGN) in 2011.
The geopark has 45 peaks, 86 unique rock formations, 18 waterfalls and springs, besides canyons, gorges and secluded caves.
The Tianzhu Peak is the highest point of the mountain, measuring 1,488 metres. The peak cannot be climbed and is usually hidden in clouds for almost half of the year. On the mountain are ancient villages, valleys and the Liandan Lake.
Roads lead to the mountain's scenic area from Qianshan. From that point, visitors can choose to climb all the way up or take the cable car ride.
Time required to explore: One day
Mount Langya The area of Mount Langya is about 115 sq km, of which 86 percent is covered in forests. As such, Mount Langya is rich in biodiversity and is home to around 54 protected bird species. The region is known for its scenic beauty; brooks, springs and caves are among the many natural attractions here.
Several prominent writers and poets of ancient China built their pagodas and pavilions on the mountain after being drawn to its charm. The most famous is the Zuiweng Pavilion, which was built during the Song Dynasty (960-1279 AD), and gets its name from a verse from the prose Zuiweng Ting Ji, which translates to "Pavilion of the Old Drunkard."
Among the famous temples here is the Langya Temple, which was built during the Tang Dynasty (618-907 AD).
The mountain is located around 48 km away from Nanjing City and about 130 km from Hefei.
Time required to explore: One to two days
Book your stay at Grand Hyatt Hefei
Mount Qiyun Mount Qiyun is about 50 km from Yellow Mountain but is lesser known and attracts fewer visitors. Yet, like its more famous cousin, it has an extremely rich history and equally amazing natural beauty.
The mountain's name in Chinese means 'as high as the clouds,' and it is indeed surrounded by a sea of clouds for most of the year. The mountain, which is located in Xiuning County of Huangshan City, has 36 peaks; its highest point is about 585 metres.
Located on the bank of the River Shuaishui, the mountain is historically famous for its association with Taoism — one of the ancient religions and philosophies of China. Over a millennium, several prominent Taoist priests and followers made pilgrimages to the mountain, earning it the sobriquet 'Home of the Taoists.'
The Taoists left behind over a thousand tablets and stone inscriptions in praise of the mountain, but only around 450 or 500 remain today.
On the mountain is a street named Yuehua, along which are some Taoist temples and elegant Hui-styled houses.
Time required to explore: One day
Taiji Cave Taiji Cave is the largest natural karst cave in East China. It was formed around 250 million years ago and had its first recorded visitors sometime during the Han Dynasty (206 BC-220 AD). It is a sacred cave for Taoists who revere it as the 'Place of Enlightenment,' quite like the Bodhimanda of Buddhism.
The cave covers an area of 22 sq km; it has a core area of 2.2 sq km. Visitors are allowed access to around 140,000 sq m of the cave, which has 19 halls and over 300 scenic spots.
The cave is part of the Shilong Mountain in Guangde County of Xuancheng city. Buses and private cars ply from the city all the way up to the cave.
Time required to explore: One day
Hongcun Ancient Village Located at the foot of Mount Huangshan, this 900-year-old place is famously called 'an old village in a Chinese painting.'
Hongcun village was already famous among the Chinese, but it shot to international fame after Ang Lee used it as a filming location for his acclaimed Academy Award-winning film, Crouching Tiger, Hidden Dragon (2000).
As one of the biggest attractions in Anhui, the village is known primarily for the Hui-style architecture of its buildings, which were constructed over the course of its history under different dynasties. From archways to ancestral halls, the buildings have symmetrical white walls and grey slated roofs.
Shaped like an ox, the village has a semicircular artificial lake, Moon Pond, at its centre. It is one of the most photographic spots in the village.
Hongcun is located in Yi County of Huangshan City and is easily accessible by road from Huangshan North Railway Station, which is the main station along China's high-speed railway network.
Time required to explore: Four to five hours
Book your stay at Huangshan Old Street Hotel
Xidi Ancient Village Like Hongcun, the ancient village of Xidi also has a history of around 900 years and shares similar architectural characteristics with it too. It has over 100 well-preserved wooden buildings that date back to the Ming and Qing dynasties.
One of the most famous attractions in Xidi village is the Hu Wenguang Memorial Archway, which was constructed in memory of a Ming officer named Hu Wenguang. The archway stands 12.3 metres in height and 9.95 metres in width. Animal motifs and characters from traditional Chinese legends are inscribed on its four columns and five roofs.
The village is located around 40 km from Huangshan North Railway Station and is midway to the village of Hongcun. This means that Xidi can be explored before Hongcun if one is coming from Huangshan North Railway Station.
Both Xidi and Hongcun ancient villages are on the UNESCO World Heritage Site list.
Time required to explore: Four to five hours
Tunxi Ancient Street Tunxi Ancient Street, or Tunxi Old Street, is located in the centre of the Tunxi District of Huangshan City, which means that it is one of the most easily accessible places in Anhui province.
The pedestrian-only Tunxi Ancient Street is over 600 years old and is the best-preserved old street in China. Its fame draws tourists from around the world, who feel as if they have been transported back in time the moment they step onto the street.
The ancient street is about 1,200 metres long and seven metres in width. It has three bystreets and 18 alleys. Along the entire stretch are rows of Hui-style homes and shops, none over three floors in height.
The unique feature of the buildings is that the front part is used as a shop and the rear is used either as a store or as a living room. Some of the two-storey buildings have living rooms on the upper levels.
The street is famous for its tea and calligraphy shops. As such, they are either frequented by those who wish to taste the various types of teas that are part of Huizhou cuisine or those wishing to buy the 'Four Treasures of Chinese Study' — writing brush, ink stick, ink slab and art paper.
The old street is around 5 km from Huangshan Tunxi International Airport.
Time required to explore: Two hours
Book your stay at Hui Boutique Hotel
Hu Kaiwen Ink Factory A little distance away from the Tunxi Ancient Street is the Hu Kaiwen Ink-stick Factory. Though it's called a "factory," it is essentially like a museum and exhibition centre where the time-honoured tradition of making Chinese ink sticks is presented before visitors.
The factory was opened in 1782 during the reign of the Qianlong Emperor of Qing Dynasty. The ink it makes is considered one of the finest in the world.
Visitors can see for themselves how the workers create the ink sticks and ink slabs at the factory. They can also buy ink sticks, of which there are two types — the light-shaded pine soot ink which is used for painting and the blacker oil soot ink which is good for calligraphy.
Visitors can also try their hands at making these highly valued ink sticks.
Time required to explore: One hour
Tangyue Memorial Archway A group of seven arches made from high-quality stones of green or blue colour are together called the Tangyue Memorial Archway. They were erected in two different periods — the Ming Dynasty and Qing Dynasty. The oldest of the archways was erected over 580 years ago.
All the arches were built in honour of a family with the surname Bao to highlight the virtues of some of its members. Hui-style carvings adorn the body of the arches, which do not have nails or rivets supporting them.
The Tangyue Memorial Archway is the best-preserved archway of its kind in Anhui. It is located in the Tangyue village near Shexian County in Huangshan City and can be easily accessed by road. Exploring the arches and the surrounding fields takes between 2 and 4 hours.
Time required to explore: Half a day
Book our stay at Banyan Tree Huangshan
Huizhou Ancient City Recognised as one of the 'Four Greatest Ancient Cities' of China along with Lijiang, Pingyao and Langzhong, the Huizhou Ancient City is a historic town with Han-style architecture from the Ming and Qing dynasties.
It is part of what is commonly known as the Ancient Huizhou Cultural Scenic Area and is the best place to appreciate the Han architectural style of mediaeval China besides the ancient Huizhou culture itself.
Most of the buildings in the ancient city have white walls and black tiles, quite like the Xidi and Hongcun villages. Within the ancient city is the 16th-century Xuguo Stone Archway, China's only eight-sided decorative archway standing today. Among other old-world buildings are Huizhou State Office and the nearby Yuliang Ancient Dam — the only surviving stone rolling dam in China.
Huizhou Ancient City is closest to Huangshan City, located at a distance of about 40 km.
Time required to explore: Half a day
Things to do in Anhui
Anhui is globally known for its mystical mountainous landscape of which the Huangshan mountain range is the crown jewel. These mountains have inspired Chinese classical poets and painters to create some of their best works while spending time in the enchanting natural wonderland where rocks and pines peek from behind low-hanging clouds.
Apart from the mountains, the province is well known for its historic association with Taoism and Huizhou culture. While Taoists built temples and pagodas on the mountains, the Huizhou culture gave birth to a unique architectural style that is best experienced in the ancient villages which have been standing for around 1,000 years.
There are museums, old streets, parks and the massive Yangtze river which are perfect for everyone — from history buffs to casual adventurers.
What to eat in Anhui The cuisine in Anhui, also called Hui cuisine, is one of the eight recognised cuisines of China. It is believed that it originated in Huizhou at the foot of Yellow Mountain. The influence of the mountain is visible in the cuisine's ingredients which are mostly wild and natural, such as various types of fish, fresh mushrooms, bamboo shoots, fungi, chestnuts and Chinese medicinal herbs among others.
Generally, dishes are light in flavour and are prepared with more oil — particularly the local colza oil variety. Some of the famous dishes that are part of the region's cuisine include steamed partridge, li hongzhang chop suey, stinky mandarin fish and stewed bamboo shoots of Wenzheng Mountain.
Some of the best places to try Anhui cuisine are Old Street First Food House in Tunxi and Shicheng Huiyan Restaurant, which has multiple branches in Hefei.
What to shop in Anhui Shopping in Anhui can be best done in either Hefei or Huangshan City area. Anhui is famous for its 'Four Treasures of Study'. As such, items such as ink slabs and paper are prized souvenirs for tourists who visit Anhui. Other things, such as Xuan Paper and Xuan Pen, can be found in Jin County of Hefei. The best quality ink and inkstones can be bought at She County in Huangshan City.
Artworks such as those made using hair or a part of bamboo known as zhuhuang are among the famous crafts sold in Hefei. Being a capital city, it also offers everything from supermarkets to local shops selling a wide range of products for its visitors.
Tea connoisseurs can head to Huangshan City, as it is known to be a hub of tea production. One of the best-known varieties in the region is Maofeng, a type of green tea considered one of the finest in China. Elaborate tea ceremonies are held at performance halls, and special tasting halls let patrons take a sip from a wide range of beverage.
Where to stay in Anhui
There is no dearth of luxury accommodations in Anhui province. The capital city has some of the best hotels. Cities and towns closer to the mountains have quaint establishments that are perfect for travellers who prefer to relax in the lap of nature.
But the following are some of the best options for a luxurious stay in the main cities or other major areas.
Hotels in Anhui
Hilton Hefei, Grand Hyatt Hefei, Shangri-La Hotel Hefei, The Westin Hefei Baohe and Holiday Inn Hefei are some of the best hotels in Anhui province.
Hotels are also available in Huangshan City. Chief among the luxury hotels in the city are Crowne Plaza Huangshan Yucheng, Banyan Tree Huangshan and Huangshan Old Street Hotel.
Resorts in Anhui
Anhui has numerous resorts, nestled within the outstanding natural environs of the mountainous regions.
Among some of the famous resorts are Holiday Inn Resort Chaohu Hot Spring, Chaohu Shumyip Hot Spring Hotel, Jingting Mountain Resort and Hui Boutique Hotel.
Related: A Guide To The Best Places To Visit In Krabi And Other Things To Do
(Main image: 钉钉 – Own work/CC BY-SA 4.0/Wikimedia Commons; Featured image: White.Rainforest ™︎ ∙ 易雨白林./Unsplash)
Frequently Asked Questions (FAQs)
Question: What is Anhui famous for?
Answer: Anhui is famous for its mountains and ancient villages. It is also known for classical Chinese cultural traditions such as ink stick making and tea ceremonies, which are well-preserved to date.
Question: How to explore Anhui in 48 hours?
Answer: It is impossible to explore Anhui in 48 hours as it is a large province. But the time is enough for exploring Mount Jiuhua, one of the most famous mountains of Anhui.
Question: How do I get to Anhui?
Answer: Anhui is easily accessible by road, trains and air from anywhere in China. Its capital, Hefei, is also well-connected to international cities by air.
Question: How to reach Anhui from Shanghai?
Answer: Anhui's capital Hefei can be easily reached from Shanghai via high-speed trains. Hefei is about 500 km by road.
Question: Which language is spoken in Anhui?
Answer: In southern Anhui, people speak Huizhou language. Other languages spoken in the province include Hefei Mandarin, a Chinese dialect that is spoken specifically in Hefei.
Question: Which is the most beautiful province in China?
Answer: China has several beautiful provinces; each more beautiful than the other.
Question: What is average temperature in Anhui?
Answer: The average maximum temperature in Anhui is around 32 degree Celsius. But temperature in some months may vary greatly between the northern and southern parts of the province.
Question: Which is the nearest airport to Anhui?
Answer: Anhui's major airport is the Hefei Xinqiao International Airport in the capital city. The other one is Huangshan Tunxi International Airport near Huangshan City.
Written By