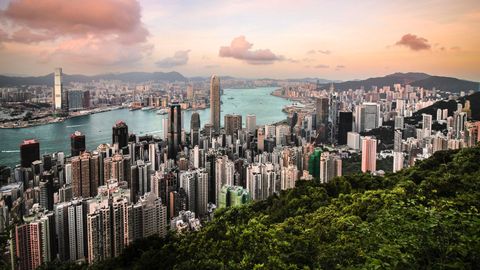 We know that Hong Kong is one of the most expensive cities in the world. A trip to this sophisticated metropolis certainly isn't cheap. From its lavish food and giant shopping malls, you're bound to stretch your wallet a bit to enjoy what the city has to offer to the max. But that doesn't mean that everything in the city comes with a price. Hong Kong is certainly a place that has the best of both worlds. And with good planning, you can enjoy many things in Hong Kong for free. Read our guide to find out more!
Travelling to Hong Kong on a budget? Never mind those who say that's impossible. Add a bit of creativity to your plan, ditch 'tourist traps', and travel the local way to make your experience more rewarding without having to spend too much. Hong Kong has plenty of free things to offer when it comes to art, nature, culture, and history. Whether you're looking to go gallery hopping, escape to the beach, dive into natural wonders, or simply do some window shopping, we have you sorted with our list of the best free things to do in Hong Kong for a rewarding trip like no other.
Free things to do in Hong Kong for an enjoyable trip
1. Go gallery hopping and marvel at beautiful artworks This is the perfect activity not just for art aficionados but also for travellers looking to discover more about the city's art scene. Hong Kong is home to plenty of independent art galleries that exhibit works from various artists around the world. While galleries are spread across the city, we argue that the best place to go gallery hopping is around Central and Sheung Wan.
Go to Namjooning (a nod to BTS' RM) and admire Korean art at Soluna Fine Art, browse through amazing photographs at Blue Lotus Gallery, or check out the works of contemporary artists at Contemporary by Angelia Li. And yes, you can visit the galleries in Hong Kong for free! Regardless of what type of art you have a penchant for, you'll never run out of options.
Location: Hollywood Road between Central and Sheung Wan
Time: Each gallery has its own opening hours but is typically open daily from 10 am to 6 pm
2. Find your zen at the beautiful temples Find your inner zen at Hong Kong's countless temples with stunning designs. When it comes to Instagrammable Interiors, Man Mo Temple is among the best. The Declared Monument is built in honour of the God of Literature (Man Cheong) and the God of War (Mo Tai), which is also where it got its name. The coils of incense hanging from the ceiling make for an excellent backdrop.
To dive deep into the city's spiritual and local traditions, there's no better place than Wong Tai Sin Temple. It's home to three religions—Buddhism, Taoism, and Confucianism—and is among the busiest, especially during Lunar New Year. The temple's architectural features are also something to marvel at. Then, head over to Chi Lin Nunnery for an escape to an unlikely oasis in the middle of the city. This temple is an important Buddhist sanctum but also boasts an impressive aesthetic and design.
Location: Man Mo Temple is located in Sheung Wan, Wong Tai Sin Temple in Wong Tai Sin, and Chi Lin Nunnery in Diamond Hill
Time: Each temple has its own opening hours but is typically open daily from 8 am to 4 pm
3. Get up close with nature at one of the scenic hiking trails We know that it's easy to conjure up images of Hong Kong's stunning skyline when thinking of the city. But we swear Hong Kong is also filled with lush greenery, mountains, and amazing natural landscapes. So, explore the great outdoors and go hiking at any of the scenic trails the city has. For hiking novices, The Peak trail is among the easiest and in the end, you'll be treated to epic views of Victoria Harbour. Also perfect for newbies but a little more into nature is Dragon's Back. It boasts a glorious view of the Southern Island and coastlines. As the hike ends at Big Wave Bay, you can even reward yourself with a swim right after!
For something a little different, head over to the High Island Reservoir Dam and take in the dramatic rock formations. You also can't go wrong with Sunset Peak as it makes for a romantic view at the summit. History buffs should try hiking along Devil's Peak, located next to a seafood market and fishing village. Along the way, you'll spot remains of batteries and the Old Lei Yue Mun Quarry. And of course, who could forget Lion Rock? It has an incredible panoramic view of Kowloon, Victoria Harbour, and even parts of Hong Kong Island.
Location: Each hiking trail is located in various parts of Hong Kong
Time: Open daily, all year round. We recommend checking the latest weather information before hiking
Book your stay at The Ritz-Carlton Hong Kong via Booking.com
Book your stay at The Ritz-Carlton Hong Kong via Agoda.com
4. Enjoy lush greenery at the urban parks On the topic of greenery, you also don't need to venture so far out to enjoy the city's green oasis. Take a stroll at one of Hong Kong's parks to get some fresh air in the middle of the city. Among the top choices is Tamar Park, which is perfect for picnics, thanks to its verdant open space. Many also use the grassy area for yoga and meditation.
Another famed picnic spot is West Kowloon Art Park. Located near a waterfront, parkgoers can take in the stunning Victoria Harbour view. It's also great if you want to attend cultural events nearby as M+ Museum and Freespace are both within reach! Go cycling, jogging, watch the sunset, and enjoy a great meal. Other options on our list include Hong Kong Park for its beautiful water features, Lai Chi Kok Park for its sporting facilities and Lingnan-style garden, and Kowloon Walled City Park for some history lessons.
Location: Each park is located in various parts of Hong Kong
Timing: Open daily, all year round
5. Step back in time to the traditional villages Get to know Hong Kong's history by visiting its remaining traditional villages, before they completely disappear. Due to urbanisation, these villages have been in massive decline throughout the years. With those still standing today, it serves as a time machine to showcase Hong Kong's past. Among the best-preserved villages is Tsang Tai Uk, the stronghold of the Tsang Clan. The original brick, timber, and granite materials are still well-maintained within the walls.
Meanwhile, the 400-year-old Hakka village of Lai Chi Wo may be difficult to get to, but we promise, it's worth the adventure. It houses many cultural sites including an ancestral hall, a temple, and a monastery. The village also serves as a mid-way station for hikers. We also recommend the abandoned Yim Tin Tsai for some cultural inspiration. Despite having no residents, the village underwent a revitalisation and its iconic St. Joseph's Chapel received UNESCO recognition. During the Yim Tin Tsai Festival, the village transforms into an open museum.
Location: Each village is located in various parts of Hong Kong
Timing: Open daily, all year round
6. Take a cultural trip to the museums A little-known fact among the majority of public museums in Hong Kong is that they actually offer free admissions on Wednesdays! There are some exceptions for special exhibitions, but permanent ones are normally free of charge. There's no better time to visit the Hong Kong Museum of Art (HKMOA) than now, following its four-year-long makeover with various artworks on display from different parts of the globe.
Science geeks shouldn't miss out on the Hong Kong Space Museum and Hong Kong Science Museum. The Space Museum's iconic dome-shaped exterior is already one for the books. To learn more about Hong Kong's rich history and culture, head over to the Hong Kong Heritage Museum or Hong Kong Museum of History.
Location: Tsim Sha Tsui (HKMOA, Space, Science, and History Museums), Sha Tin (Heritage Museum)
Time: Opening hours vary per museum but typically from 10 am to 6 pm
Book your stay at The Jervois Hong Kong via Agoda.com
Book your stay at The Jervois Hong Kong via Booking.com
7. See the glorious beauty of the Big Buddha There are many sites in Hong Kong that require no entrance fee, but the Big Buddha tops our list. It's the most iconic attraction on Lantau Island and a must-visit spot for any tourist or resident. Besides, it sits next to Po Lin Monastery and Ngong Ping Village, making it a wonderful day trip option for any traveller. The majestic 34-metre bronze statue is simply a sight to behold! It symbolises the harmonious relationship between man and nature and is a major site of Buddhism in the city. While you can view the statue from the outside for free, going inside comes for a fee. Just be prepared for the flight of stairs before reaching the hilltop!
Location: Ngong Ping, Lantau Island, Hong Kong
Timing: Daily from 10 am to 5:30 pm
8. Bask in the turquoise waters and stunning sunset at the beach Treat yourselves to a lovely dip at one of Hong Kong's beaches. Whether you're looking for pet-friendly ones, a spot for the whole family, or scenic views, there are plenty of sandy options to choose from. For first-timers, Shek O Beach's laid-back vibe is perfect. Because of its location, it also has calmer waves and a peaceful vibe. Water sports lovers should consider Big Wave Bay, and as its name suggests, it is simply the place to be for surfers.
For families, Repulse Bay Beach is your hangout spot. It has many restaurants and has everything you need from supermarkets, shops, and even a day spa. If you're considering a day to camp out, Pui O Beach is the place to pitch your tent and enjoy a barbecue. Meanwhile, Hong Kong also has its own version of Maldives over at Long Ke Wan Beach, known for its fine white sand and pristine waters.
Location: Each village is located in various parts of Hong Kong
Time: Open daily, all year round. We recommend checking the latest weather information before visiting
9. Get touristy at the street markets Shopping isn't free but who says you can't visit Hong Kong's famed street markets and simply browse through the array of products? You'll easily lose yourself in the plethora of goodies to see at the markets. Dig through the treasure trove of silk jackets, paintings, toys, and even food!
The Temple Street Night Market is a bustling bazaar you can't ignore. It's brimming with restaurants, performers, and street vendors. Elsewhere, the Ladies' Market is a full-kilometre stretch of shops and stalls. And if you have the time for it, then a day trip to the idyllic Stanley neighbourhood is a great excuse to drop by Stanley Market.
Location: Each market is located in various parts of Hong Kong
Time: Open daily, all year round
10. Take a rejuvenating trip to the islands Escape the hustle and bustle of Hong Kong and spend a day (or two) on its many islands. While you may need to spend money on transport, entering the island is free of charge. Take your pick between crowd favourites Lamma Island and Cheung Chau or quaint getaways like Peng Chau and Tai O.
If you're feeling adventurous, Po Toi Island's unique geological formations can't be missed. Meanwhile, Tap Mun's grassy hills are perfect for camping, stargazing, and sunset viewing. Thriller seekers can consider a trip to Sharp Island for water sports activities or Tung Ping Chau for its natural wonders.
Location: Each island is located in various parts of Hong Kong
Time: Open daily, all year round. We recommend checking the latest weather information before taking off
Bookmark this list!
Shop the best travel experience here
This story first appeared here.
Related: 20 Most Incredible Things To Do In Hong Kong For A Memorable Trip
Frequently Asked Questions (FAQs)
– Is entry free in the museums of Hong Kong?
Public museums in Hong Kong often do not charge any fee on Wednesdays.
– Do I need cash for Hong Kong?
It's recommended to bring some cash when you're in Hong Kong in case some places don't accept credit or debit cards.
– Is Hong Kong budget-friendly?
Hong Kong can be budget-friendly if you know how to plan your trip, including places to visit that are free of charge.
Featured and hero image credit: Florian Wehde/Unsplash
Written By