Travel + Leisure Luxury Awards Asia Pacific 2023 reveals our readers' picks of the best hotels, pools, spas and even general managers in Thailand. The impressive breadth of luxury options make this country the most competitive in our awards. WHO DOESN'T LOVE THAILAND? Picture-postcard views, lip-smacking food and vibrant fun all steeped in culture and an innate sense of hospitality: this would sound like a list of platitudes and clichés, if it weren't for the fact that everything is true. If your vibe is urban, the cosmopolitan capital Bangkok will deliver energy, creativity and yes some chaotic sprawl to get your juices flowing. If you want your feet in the sand, you have your pick of island and coastal paradises, not just in Phuket and Samui, but islands like Koh Chang and or the long sandy beaches of Phang Nga, to name but a few. Thailand also offers an abundance of nature, a vibrant arts scene, history, culture, diving and other adventures.
That variety extends to the hospitality front. New and established hotels cater to families, couples, and individual travelers looking for endless activities, indulgent pampering or the bliss of doing nothing at all. New hotels keep coming: six out of 10 of the city hotels on our list opened less than three years ago. Wellness is a huge draw: in addition to our city-center winner of Best Hotel Spa in Thailand, Sindhorn Kempinski (is there anything more decadent than luxuriating on the marble slab of the steamy hammam as you are being joyfully exfoliated and rejuvenated?), witness a dizzying array of holistic mental and physical health treatments in a stunning jungle location at Kamalaya (No. 8), or check yourself in for a total reset with state-of-the-art treatments at RAKxa (No. 3). Another trend: hotels have upped their food game. From Michelin stars for Pru at Trisara in Phuket or Côte in Capella Bangkok, restaurants are now a reason to pick a particular property. There is no denying that the decriminalization of cannabis has created a whole new category or products and services, from tasting menus with a little zip to swanky laced spa treatments. All of that has kept visitors coming back. In droves.
The winner of the Best Beach and Island Resorts category, Rosewood Phuket delivers what Rosewood does best: tasteful, luxurious attention to detail, all in a beautifully landscaped lush green, villa-with-pools, beachfront site ideal for gazing into the Andaman Sea. A ways north, 137 Pillars Chiang Mai, No. 1 of Upcountry Hotels, is close to the center of town, but its elegant wooden houses set in a peaceful garden feel like they could be a million miles away. Also the property's Jack Bain's Bar is a destination in its own right. Speaking of destinations: Bangkok is booming again, and No. 1 City Hotel in Thailand, Kimpton Maa Lai, has been buzzy and fun pretty much since it opened its doors in 2020, offering something for hotel guests and outside visitors – including the four-legged variety – all day long. The Best Pool in Thailand, at the Park Hyatt Bangkok, offers a tiered tropical haven in the city, and is the best place to admire the dramatic swirl of the tower that rises above Central Embassy that was designed by renowned architect Amanda Levete.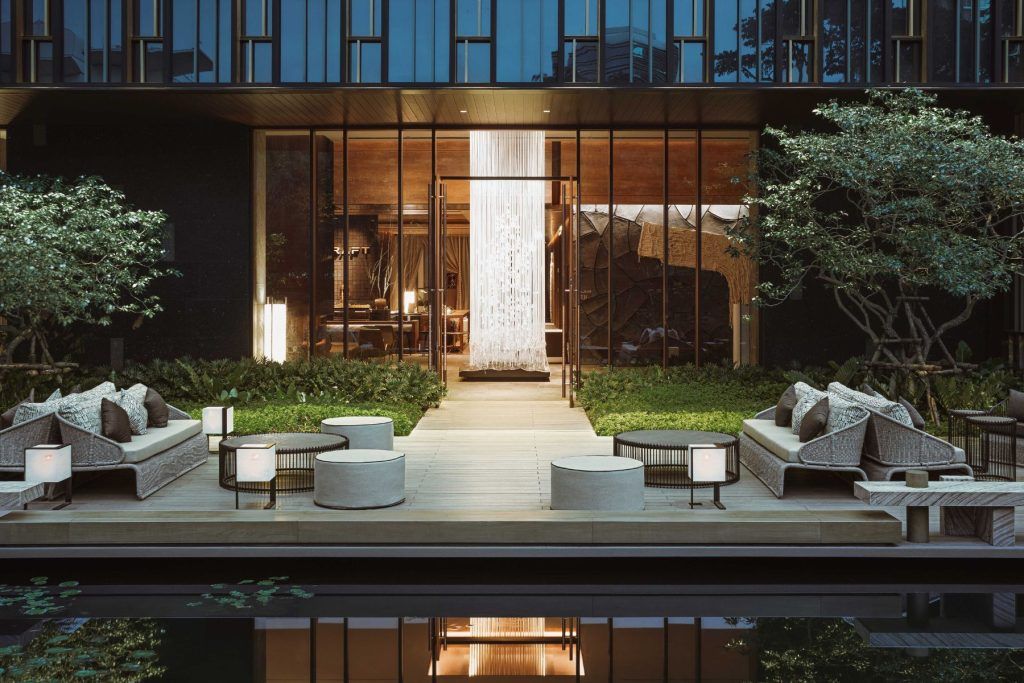 The general managers singled out here are among the unsung heroes of the hospitality world. All of them are exceptional leaders, like Nopparat 'Kai' Aumpa, whose personal touch is evident at Banyan Tree Bangkok. But it was debonaire polyglot John Blanco who claimed the title. He makes everything at Capella Bangkok look so easy: from the understated elegance of the property, overseeing an tirelessly gracious staff and one of the finest fine dining experiences in town, it would be easy to forget that he also runs a pitch-perfect hotel.
Best Beach + Island Resorts in Thailand 2. Amanpuri
3. JW Marriott Khao Lak Resort & Spa
4. Four Seasons Resort Koh Samui
5. InterContinental Phuket Resort
6. Anantara Layan Phuket Resort
8. Cape Fahn
Best City Hotels in Thailand 5. Four Seasons Hotel Bangkok at Chao Phraya River
6. Sindhorn Kempinski Hotel Bangkok
7. Anantara Siam Bangkok Hotel
8. The Standard, Bangkok Mahanakhon
9. The Siam
Best Upcountry Hotels in Thailand
1. 137 Pillars House Chiang Mai 2. InterContinental Khao Yai National Park
4. Four Seasons Resort Chiang Mai
5. Anantara Golden Triangle Elephant Camp & Resort
7. Four Seasons Tented Camp Golden Triangle
10. Rachamankha Hotel Chiang Mai
Best Hotel Pools in Thailand 6. 137 Pillars Suites & Residences Bangkok
7. Anantara Golden Triangle Elephant Camp & Resort
9. Anantara Riverside Bangkok Resort
10. InterContinental Hua Hin Resort
Best Hotel Spas in Thailand 4. BDMS Wellness Clinic Retreat at Anantara Riverside Bangkok Resort
5. Clinique La Prairie Aesthetics and Medical Spa, St. Regis Bangkok
6. Chiva Som
8. Kamalaya
9. Four Seasons Hotel Bangkok at Chao Phraya River
Best Hotel General Managers in Thailand
1. John Blanco , Capella Bangkok
2. Nopparat Aumpa, Banyan Tree Bangkok
3. Abbimanyu Sing, JW Marriott Khao Lak Resort and Spa
4. Nick Downing, The Siam Bangkok
5. Patrick Both, Kimpton Maa-Lai Bangkok
Read on for the full lists of our readers' picks of the Best Hotels, Pools, Spas and more in Thailand for 2023. And for all of this year's Luxury Awards Asia-Pacific winners, click here.
---
Lede image credit: boykpc/Getty Images/Canva.