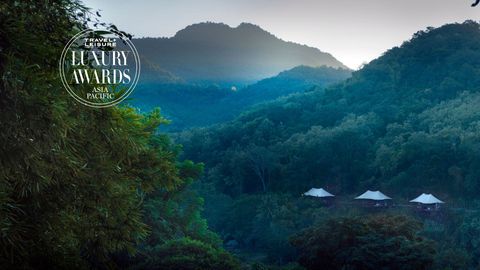 Travel + Leisure Luxury Awards Asia Pacific 2023 reveals our readers' picks of the best hotels, pools, spas and even general managers in Laos. This sublimely serene and beautiful country waits with open arms. LANDLOCKED LAOS MAY NOT boast the beaches of its neighbours, but its rich nature, untouched natural beauty and diverse landscapes whets the appetite of its visitors. Think rolling mountains, soaring rivers, ancient mysteries, and authentic culture. And with next year marking Visit Laos Year 2024, this list of the Best Hotels voted by our readers should serve as inspiration to plan your next trip.
Courtesy of Amantaka

Courtesy of Satri House
Chill, northerly Luang Prabang remains a hit, with a hefty chunk of winners in each category hailing from the charming historic town that sits amid swathes of national park. Luang Prabang's preserved past shines through in the swathe of historic hotels that won accolades. Satri House was once the childhood home of Prince Souphanouvong, Sofitel Luang Prabang served as a prison and then the French governor's residence, and Belmond La Résidence Phou Vao was a revered hillside retreat for Laotian royalty and political elites.
Amantaka rose victorious in the Best Hotels in Laos ranking. Evoking the exquisite Indochina charm for which Luang Prabang is famed, this historic gem encompasses charming French colonial buildings scattered throughout a sprawling garden estate that is in perfect fitting with the vibe of the UNESCO protected town. The property ticked all the boxes with readers, claiming fifth in the best hotel spa category and fourth in the best hotel pool section. Rosewood Luang Prabang has been causing a stir since opening its doors in 2017, and it also ranked well in each category, earning it a well-deserved mention. Bill Bensley has worked his magic on the property, modeling it on the Laotian hill stations that were popular at the turn of the 20th century. The result is a jaw-dropping hilltop forest hideaway that also offers a luxury glamping experience. The resort came in as second Best Hotel and Best Hotel Spa, as well as fifth Best Pool in Laos.
While Sofitel Luang Prabang may be the international hotel brand's smallest property worldwide with 25 suites, it has emerged a strong contender in this year's luxury awards. As well as its soothing Le SPA taking the top spot in the Best Hotel Spas in Laos list, its 30-meter pool flanked by trees and manicured gardens was crowned the Best Hotel Pool.
Courtesy of Sofitel Luang Prabang

Courtesy of Sofitel Luang Prabang
While Laos has always embodied a laid-back vibe, visitors still remain fewer than pre-pandemic, making now the perfect time to plan a trip and enjoy lazily sinking into the lap of Laotian luxury in even serener surroundings.
Read on for the full lists of our readers' picks of the Best Hotels, Spas, Pools and more in Laos for 2023. And for all of this year's Luxury Awards Asia-Pacific winners, click here.
---
Lede image courtesy of Rosewood.
Written By