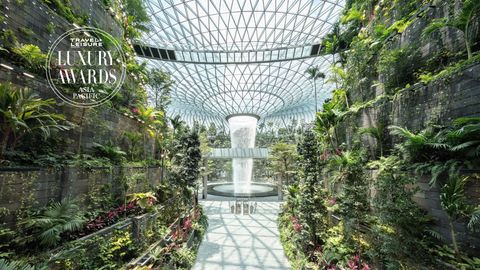 Travel + Leisure Luxury Awards Asia Pacific 2023 reveals our readers' picks of the best airlines, airports and cruises for 2023. With these winners, getting there is most definitely half the fun. ANY TRAVELLER UNFORTUNATE ENOUGH to have experienced the hellscape of JFK, Charles De Gaulle or Heathrow will probably think they're dreaming upon touching down at Singapore's Changi. "Surely I'm still asleep in seat 33B," they'll think, as within mere minutes of stepping off the plane, they descend an escalator to a vast arrivals hall, where they may have to face a passport control queue of two or three people — if they're terribly unlucky.
"Did we crash? Is this… Heaven?" they'll silently ponder. After their documents have been inspected by a friendly official, they'll take their time selecting some duty free, expecting a wait of a half-hour or more before their bags emerge. But no, their suitcases will be circulating before they even step up to the carousel. (If, heaven forbid, their luggage has gone missing, someone will know this before they do, approach them and with profuse apologies, begin solving the problem.) The befuddled passenger will exit the airside secure area, unmolested by customs, and be in a taxi moments later, thinking, "Wait now, wasn't I on the plane just 15 minutes ago? How?"
Changi may have infuriatingly shifted many of its airside bars and restaurants to the new landside Jewel complex, making it tricky to get the obligatory preflight bloody Mary unless you have lounge access. Nevertheless, it remains the world's most efficient, customer-friendly, painless airport. If only for that, it is the deserving winner of the Luxury Awards' Best Airport 2023 prize. Similarly, post-pandemic, Singapore's national carrier "SQ" has come in for criticism due to what some perceive as slipping service standards and diminished F&B; criticisms underlined by the announcement of a record US$1.63 billion profit during the last financial year, when the airline charged markedly higher fares than those levied pre-Covid. But the fact that travelers were willing to pay those inflated fares suggests that Singapore Airlines' product continues to be superior to the competition's — a hypothesis borne out by the fact that you voted it Best Airlines for 2023. Superior standards are par for the course on Silversea Cruises, whose legion of loyal clients expect nothing less than the finest accommodations, experiences and service. Silversea prides itself on providing an elevated cruise experience, with at least one crewmember per passenger, vessels carrying no more than 608 guests (and sometimes, just a couple of hundred), internationally renowned expert guides, plus a top-quality inclusive wine and dine offering. If even the Best Airline leaves you dissatisfied, perhaps the 2023 Best Cruise Line presents a better way of getting there.
Best Airlines in Asia-Pacific 3. Emirates
6. Korean Air
7. Etihad
Best Airports in Asia-Pacific 2. Hamad International Airport
3. Kuala Lumpur International Airport
4. Samui International Airport
5. Hong Kong International Airport
Best Cruises in Asia-Pacific 6. Tauck
8. Uniworld Boutique River Cruises
10. Royal Caribbean
Check out the full lists of our readers' picks of the Best Cruise Lines and the Best Airlines as well as Best Airports for 2023. And for all of this year's Luxury Awards Asia-Pacific winners, click here.
---
Lede image courtesy of Changi Airport.
Written By